I don't really have a "winter wardrobe" and a "summer wardrobe".
When the sun starts to shine I don't pack away all my winter knits and black opaques until November. Rather things just gradually slip into the "not appropriate for the weather" pile until the temperature starts to fall and I rediscover them again.
This means that despite having stared at this dress repeatedly all Summer, I feel a bit like I've rediscovered an old favourite, because that tartan just didn't feel appropriate in the hot sticky weather we had this Summer.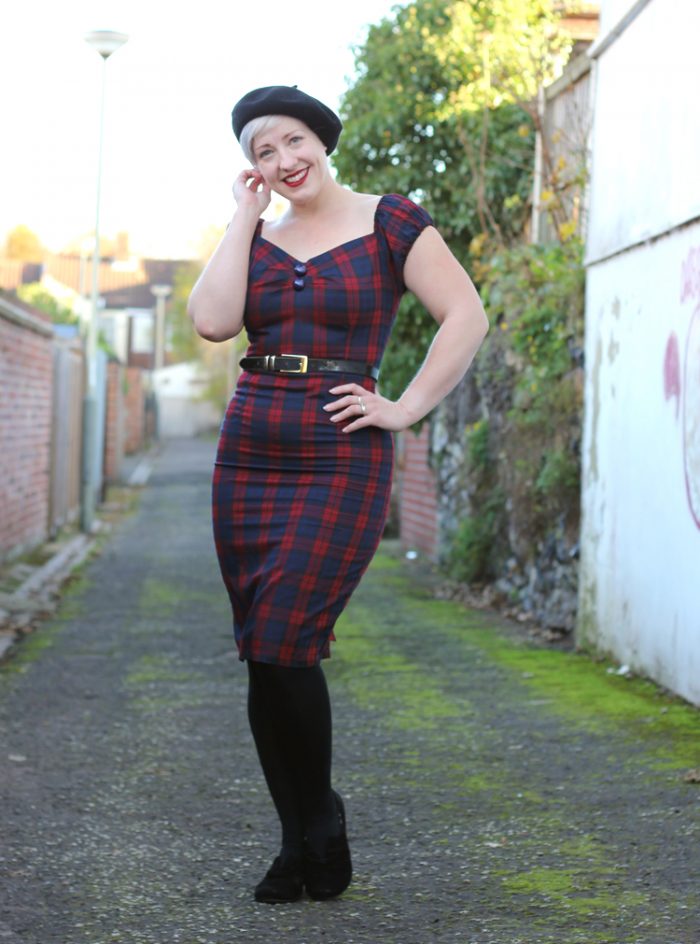 It would be nice if I could claim that I'd done something more imaginative with it this time around than I did the last time I wore it back in February. But, well, it's a tartan dress, there's only so much imagination you can bring to it. This outfit is different in that I am wearing black tights, different suede shoes from Hotter, and a beret.
What an innovative and ground breaking fashionista I am.
NOTE: Today only you can get 25% off at Collectif with code BLACKFRIDAY16 and 30% off at Hotter with the code CYBER
The other thing that's different about it this time is that the sun was shining and I could take photos outside instead of in the weird lighting of a hotel corridor, because last time I wore this dress the weather was completely and utterly foul. In fact today the sun was so bright that I've got that over exposed face thing going on, but you can't have everything.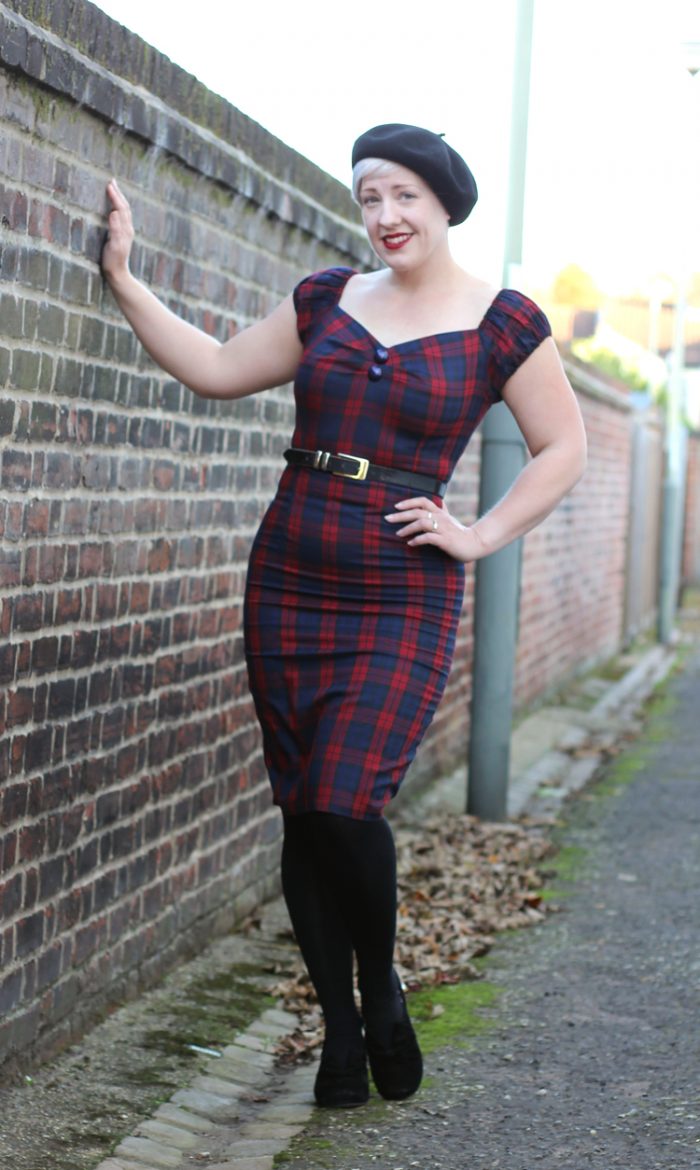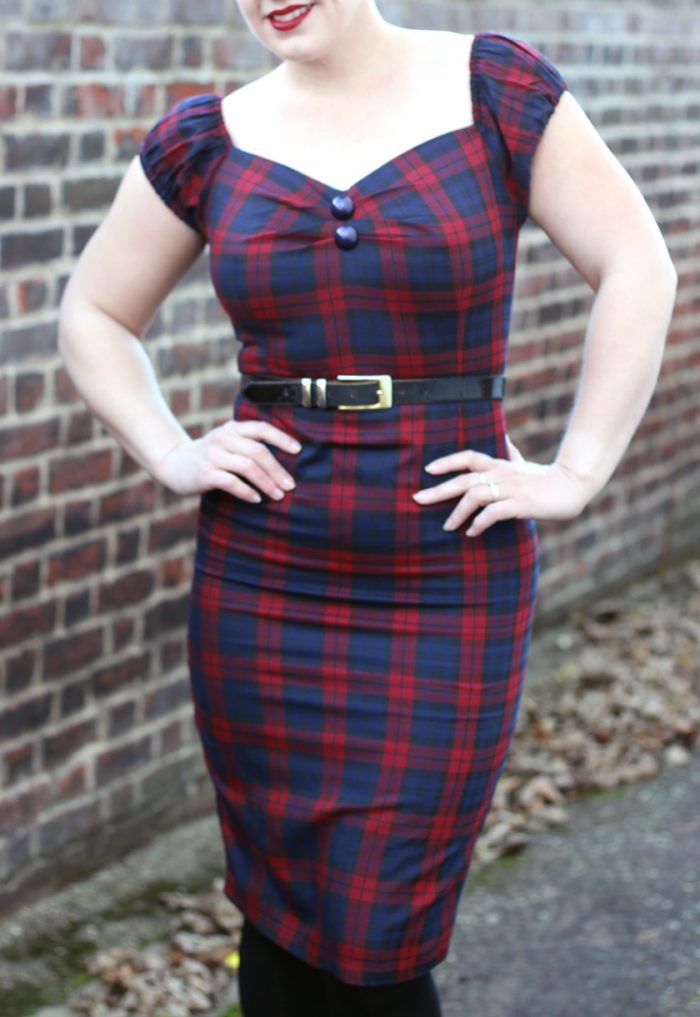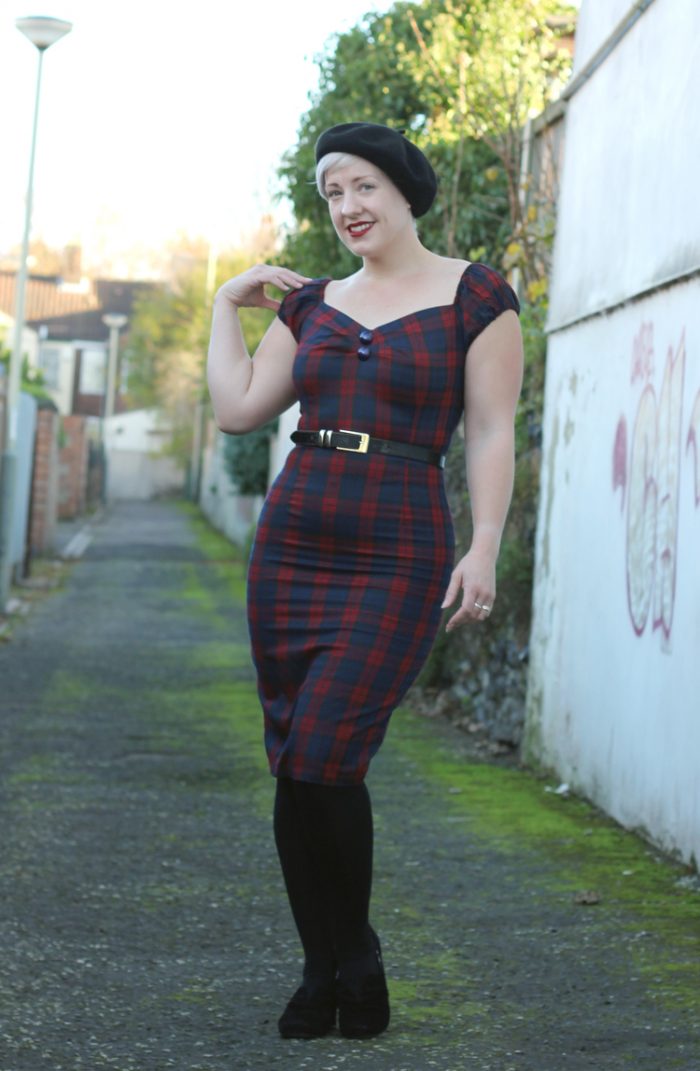 I bought this dress in the Collectif January sale, so unfortunately it is now sold out. They do have the Dolores Pencil dress in a range of other colours, including black and leopard print. They also have this very similar pencil dress in a black watch tartan that I now really want.
I feel super chic in this outfit, even if I have to be very careful when I sit down because the dress has no stretch and I have a bottom half that probably belongs in the next size up. This is an issue that I'm used to though, as even this dress still fits quite loosely on my waist. Any bigger and it would be too baggy on top to keep that wiggle look, so I'm used to spending a lot of time standing and only sitting down veeerrry slowly.
And don't think I'm joking, I once split the entire back seam; crotch to waist; of a pair of high-waisted trousers by sitting down into a bucket chair too quickly. Thankfully I was at home, not out and about, but it has scarred my psyche and made me all to acutely aware of the risks of fitted non-stretch clothes and big hips.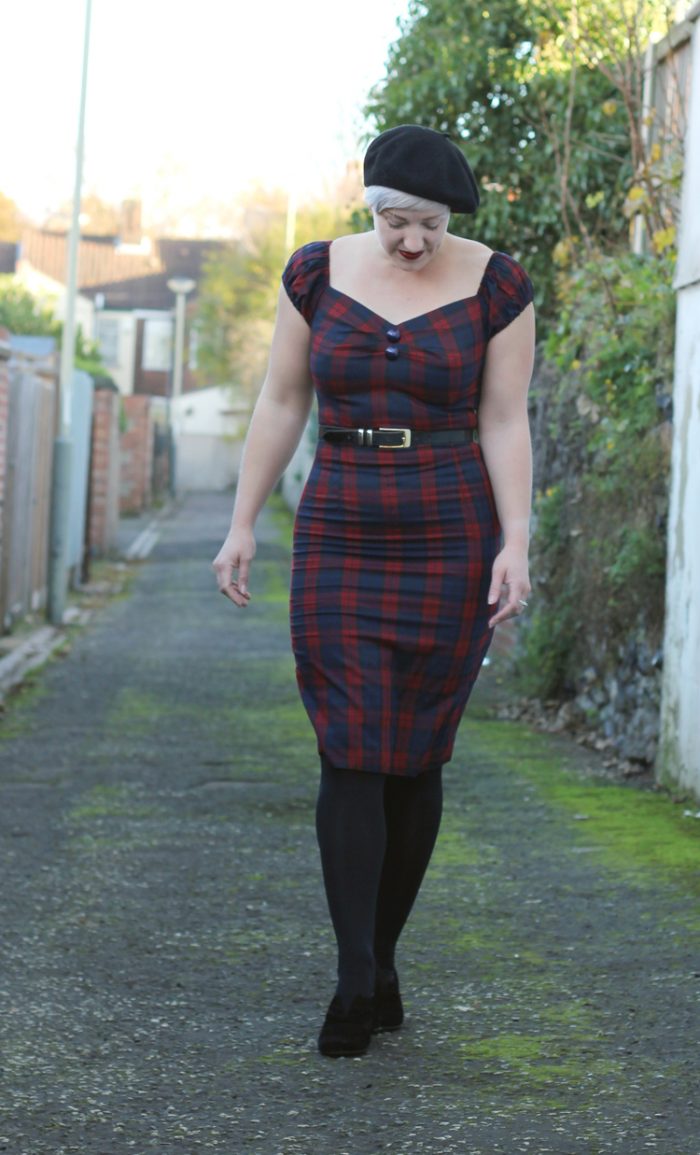 ♥ Dress – Collectif (Similar) ♥ Beret – eBay ♥ Belt – Vintage ♥
♥ Shoes – Hotter* ♥ Lipstick – Besame Cherry Red ♥