I've been waiting a whole year to share this recipe!
Every time I make it it's a dark Autumn evening. I keep thinking one day I'll make it, set up some lights and take some great photos, or maybe I'll make it for a lunch but I never do. This is fabulous comfort food and it gets made on days when we want something delicious, warming and sweetly sticky, and, well, those just aren't the days when you want to faff about taking elaborate photos of your dinner.
So after a year I've decided to just share it with the photos I managed to snap when we ate this for dinner on Halloween. They might not be pretty, but then a big mush of sausages, sweet potato, apples, sugar and marshmallows probably won't be pretty no matter how good my lights.
It is, however, super easy to make, and really, really tasty. It's the perfect thing to dish up for a Bonfire Night supper.
So, enjoy!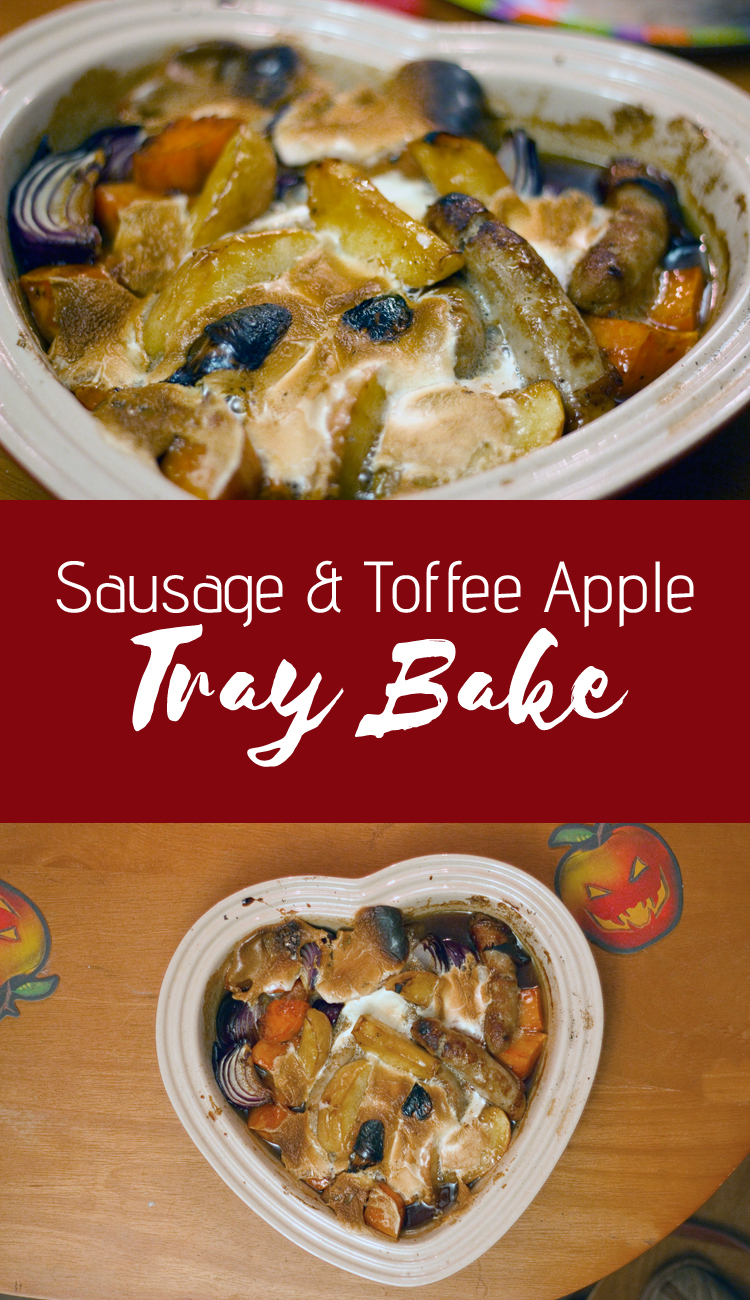 Ingredients
6 Sausages – I used Pork and Apple, but plain sausages would be just as good!
Approx 350g Sweet Potato
1 large Apple
1 Red Onion
Bag Marshmallows
Oil
Butter
Sugar
How To:
Pre-heat the oven to 200 degrees for a fan oven.
Put a splash of oil in a roasting tin or casserole dish and put it in the oven to heat up.
Peel and chop the sweet potato into chunks.
Once the oil is heated (I normally leave it for 10 minutes) add the sweet potato to the dish and return to the oven for 20 minutes.
While this is cooking peel and chop the red onion into wedges, and core and cut the apple into wedges.
Heat a teaspoon of butter in a frying pan and brown the sausages.
Add the sausages and red onion to the roasting tin or dish and return to the oven for a further 20 minutes.
Add a tablespoon of butter and tablespoon of sugar to the frying pan and heat until the butter is melted and frothy.
Add the apple wedges and cook for 3-4 minutes or until they are starting to caramelise.
For the last 10 minutes of cooking time add the apples to the roasting tin and pour over the butter and sugar mixture in the pan. Top with a large handful of marshmallows dotted around, about 6-8.
When you take it out of the oven you should have a sticky melted puffy marshmallow crust and a sweet gravy in the bottom of the pan.
EAT!