Hi there!
Hope you're all well today? We overslept this morning, so we had to take the Pugs out for a walk before I had chance to write my weekly catch up, which means that I am now writing this from the sofa while attempting to stop Peppa sitting on the keyboard. She thinks her rightful place in the world is sat on my lap, and she will fight to the death anything that tries to take her place, including laptops.
The rest of todays plans include giving the Pugs a bath and Dungeons & Dragons. Which is pretty exciting as a Sunday goes.
But firstly this week I….
Started watching Peaky Blinders
No, not season 4, season 1. I am many years behind everyone else.
Mr LLL has already watched it and suggested I should catch up. So we binge watched Cillain Murphy and his cheekbones season 1 and 2 on Netflix.
Then we paid a whole £6.99 for season 3 on Amazon, only to find that our very old Wii that we watch it through inexplicably now has no sound.
Being the only people in the world not to have a Smart TV that means our only option now is to watch it on a laptop, which is a bit rubbish and made me grumpy, though it's not hard to make me grumpy.
Also, when did they become seasons? I'm pretty sure we used to watch series, right?
Was married for 12 years
Apparently the 12 year wedding anniversary gift is silk, but we didn't bother with any of that malarky. I'd probably only bung anything silk in the washing machine and accidentally ruin it anyway.
Instead we started the day by taking the Pugs for a long walk with a flask of Hot Chocolate.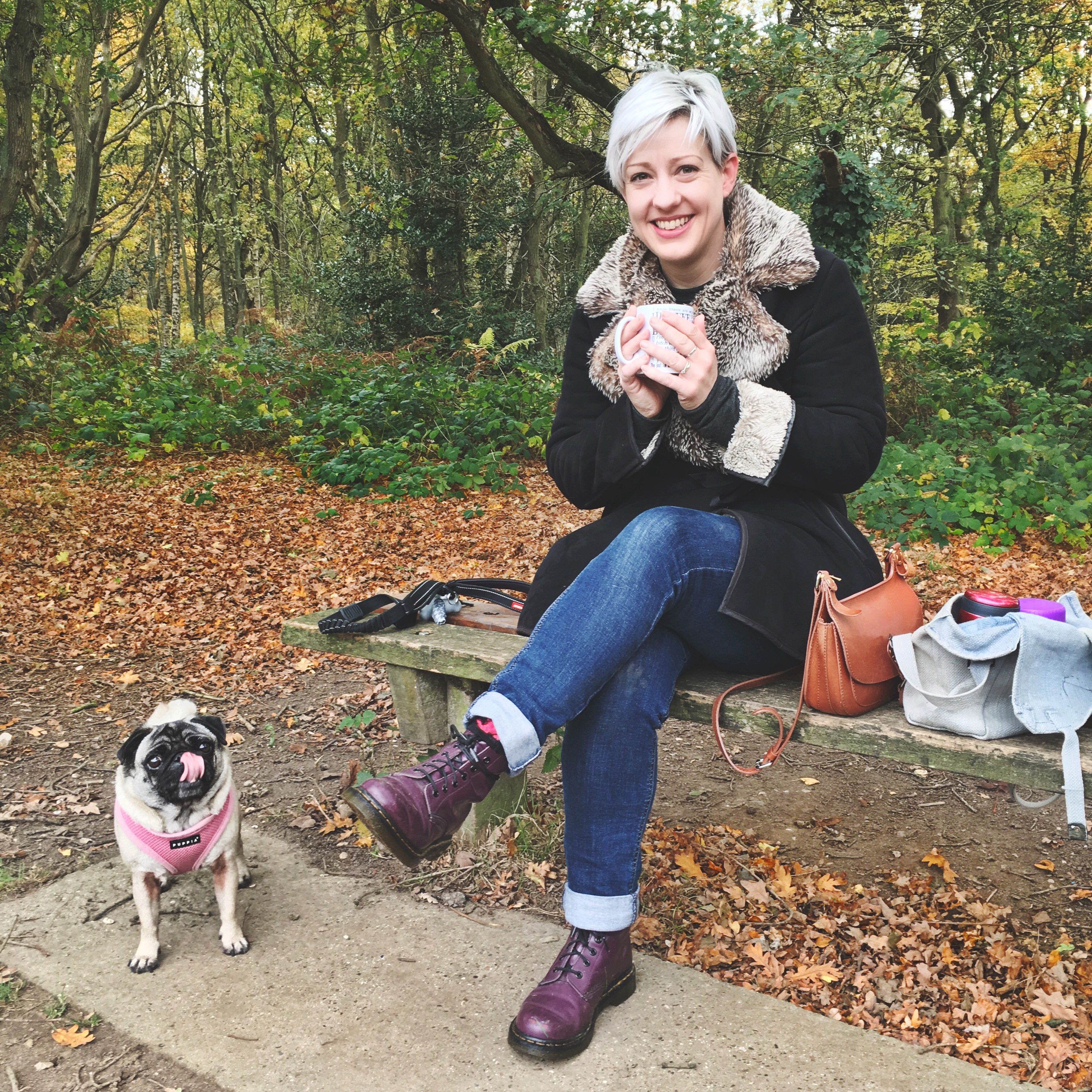 Then we went to watch a Roller Derby game in the afternoon.
We went home and cooked ourselves (I cooked) a delicious steak dinner.
We had planned to go back out for a Cocktail, but the weather was so terrible we changed our minds and decided to stay in and drink Champagne and watch Peaky Blinders.
There was no silk involved, but it was a lovely day.
Said farewell to the car
I mentioned this earlier this week, so I won't dwell on it, but no round up of the week would be complete without this little nugget of joy.
Yes, the mechanic took a full minute to go "Oooh, that sound's not good" and tell us it's basically not worth the money to fix it. Apparently it's also veeery unusual for an engine to go downhill so fast as we only bought the car, with a full service history and a year MOT, a year ago. Which means we won't be going back to that garage for our next car I can promise you.
First job is to get rid of this car. We won't get much money for it, but at least we won't be paying tax and insurance on it. Then we can think about getting a new one.
Honestly it's a stress and hassle we really don't need. But who does?
We'll get over it, and maybe we'll have a better car that doesn't make stupid noises and has air conditioning that works.
Maybe.
Started Christmas
Our Wedding Anniversary is over, so now I can start Christmas.
That meant that this week I had a Christmas sandwich and not 1, but TWO  Christmas Starbucks coffees, though I'm still saving the Egg Nog latte for later. You have to build up to this Christmas thing.
I also spent a disturbing amount of time on ASOS looking at Christmas pyjamas. Oh, and this morning I MAY have bought mince pies and some Winter Spice Ribena, who can say.
Had a Birthday
Not me, Peppa.
Peppa the Pug turned 4 on Friday, so we had a little party.
Peppa, of course, is a dog, and has no concept of birthdays. We, however, are people and felt the need to celebrate by putting deely boppers on her and pinning a huge "IT'S MY BIRTHDAY" badge to her harness when we took them for a walk.
We then took them to the pub for a pint (us, not them) and the badge earned her extra treats that the bar staff keep hidden behind the bar, which she did appreciate I'm sure.
Honestly she was less bothered by the deely boppers than the look on her face in this photo would suggest. That's just how her face looks.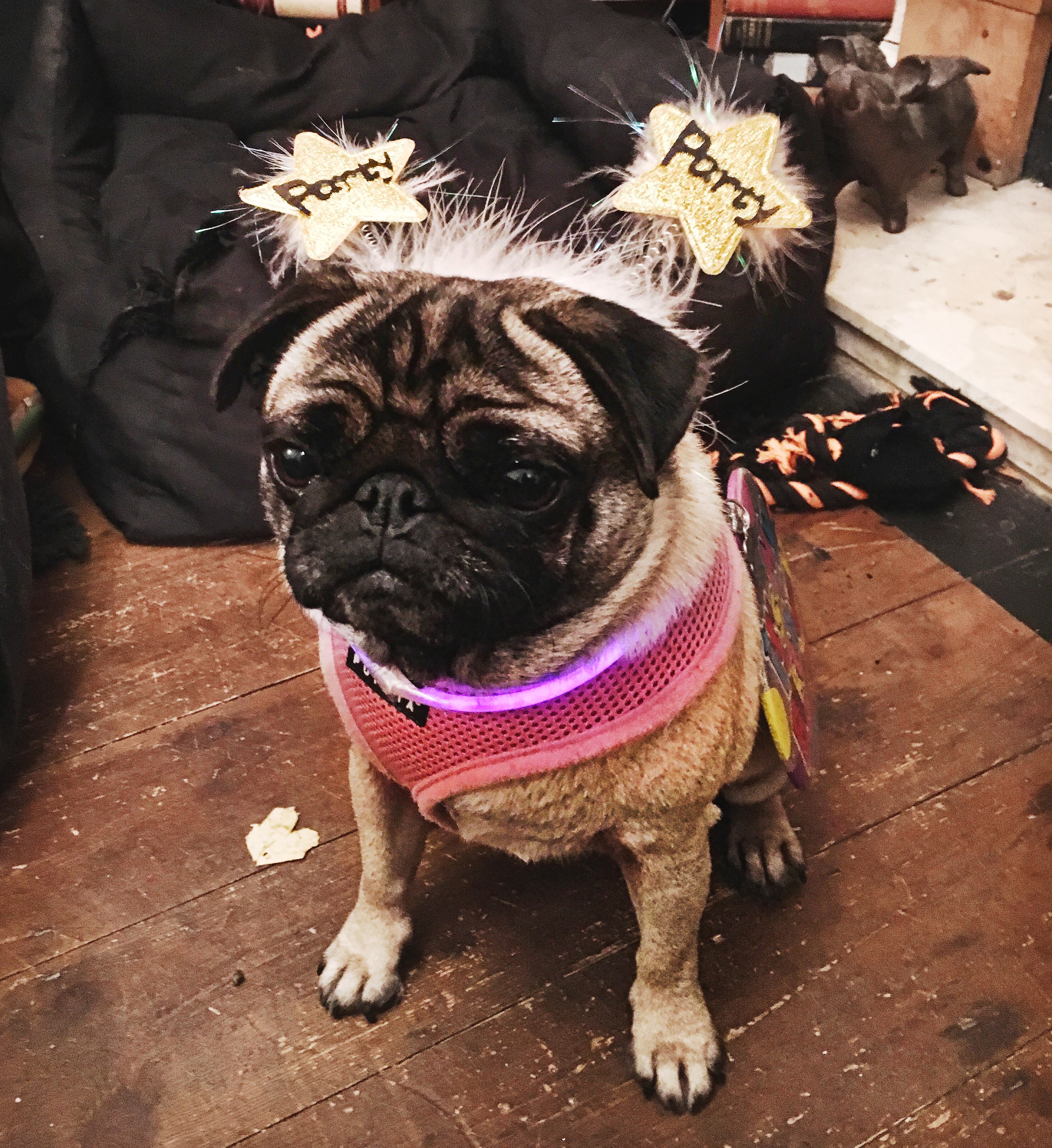 And that was another week in my exciting life!
How was your week?