It's nearly 2 years now since the Pugs came into our lives and their presence has changed things a lot. We have less money, obviously, because Dog Insurance, food that suits their sensitive tummies, eye drops, soft toys, treats, poo bags and all the other things they apparently need just to exist don't come cheap. We also go out less and have to plan our nights out around 2 needy pugs and the fact that they need walking and feeding at certain times.
People with children will no doubt be raising an eyebrow at this point, and yes, dogs do come with the added advantage over babies that you can leave them unattended in the house for a few hours and no one calls social services. But they also have the downside that while there are very few places that will flat out refuse to let you bring a baby in, there are many, many places that will flat out refuse to let you bring in a dog. Even if it's super cute.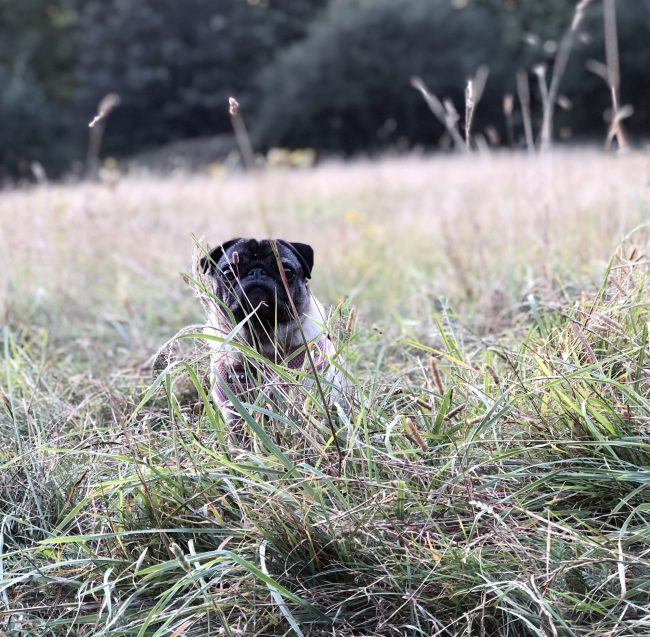 So we've become experts on ways to have fun with the Pugs in tow. From taking a picnic and a bottle of wine down to the river on a warm summer evening to morning breakfast picnics in the woods. We know all the local pubs and restaurants that let dogs in (especially the ones with treats behind the bar). Over the last 2 hot Summers, we've also become somewhat expert at keeping them cool and happy as Pugs are a breed that is particularly susceptible to the heat.
Last week Petplan, providers of Pet Insurance, and, conveniently, providers of OUR pet insurance, so I can vouch for them personally, got in touch and asked if I'd write a post about how to spend Summer days out with the dogs. As it turns out, bank holiday Monday was apparently National Dog Day, so it was great opportunity to take the Pugs out for a treat anyway.
I was thinking that Summer was coming to an end, but this weekends return to heatwave temperatures of 25 degrees plus meant the tips on the Pet Summer Safety hub were even more relevant!
The super hot weather meant we couldn't take them out during the day. So we followed some of Petplan's advice about walking them at cooler times of the day and took them for a breakfast picnic. Ham and cheese croissants, coffee and orange juice for us and dog treats for Peppa and Waldo. In retrospect, this would also have been a perfect opportunity to use another of the tips, which we have used before at home, and freeze some dog treats into ice cubes!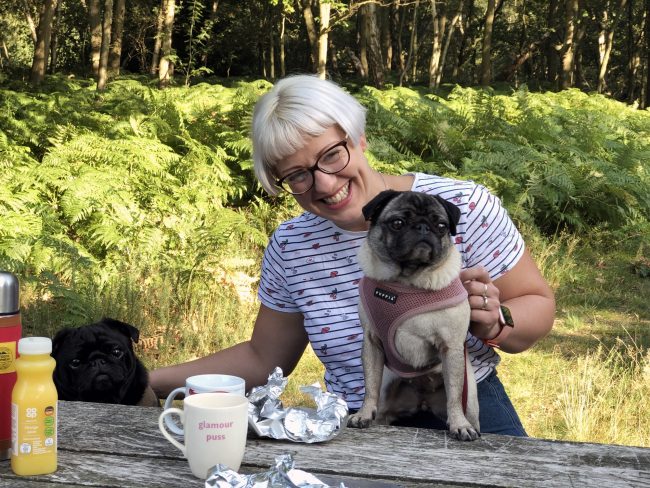 We've found that the evenings are always still too warm right up until late, so getting a longer walk in super early in the morning means they've had a decent run around for the day if evening walkies needs to be short and sweet.
Another top tip from the hub is to make sure that you have plenty of water to hand. We're lucky that a couple of the places we walk them have water stations left by kind people who leave old milk bottle cartons full of water, we also have several pubs and houses nearby that leave water outside for doggos, but when the weather is super warm we still carry one of these handy travel water bottles with us.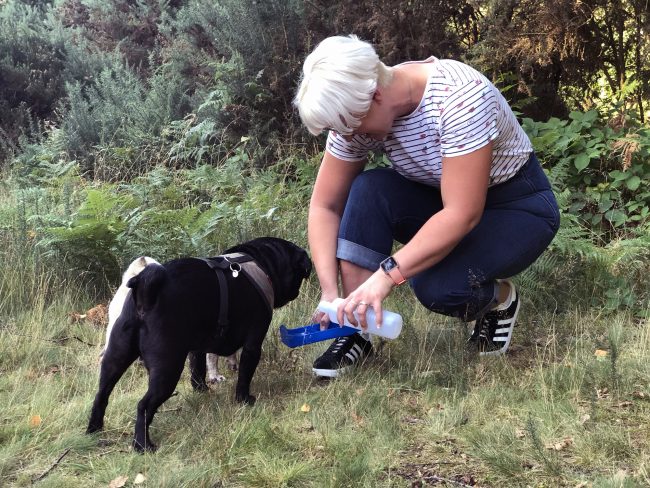 Once we're back home Pugs like nothing better than snoozing on the sofa, and honestly, I think one of my favourite things is to snooze with them! When it's really hot indoors we use a gel-filled cool mat and some cooling jackets that you soak in water to keep them cool, but Petplan also have the genius, and cheaper, tricks of placing ice packs inside pillowcases to make impromptu cool mats, keeping a spray bottle of water to hand to damp down their fur (though this does make my 2 shake and stare at me like I'm an evil torturer) and also keeping their collars in the freezer so they're cool when you put them on.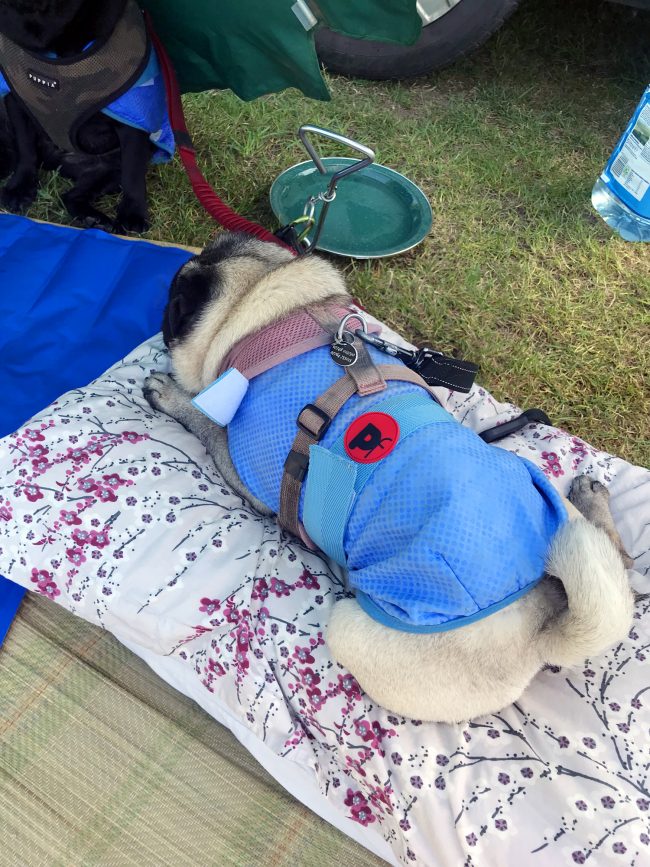 Once the evenings have started to cool, we enjoy taking the Pugs to the pub. They love getting made a fuss of and having something new to look at, and it extends their evening walkies, without too much of that exhausting exercise lark, plus we get a nice refreshing pint! If you are taking your dogs to the pub, a top tip of MINE is to check the floor area around your table before you sit down. If your dog is a scavenger like ours then your evening will be far more relaxing if you've cleared the area of cigarette butts, dropped peanuts and crisps, bits of tissue paper and all the other things they love to eat. Grapes and Raisins are particularly toxic to dogs, and other common pub snacks like pork scratchings and crisps are very high in salt and unlikely to do them any good.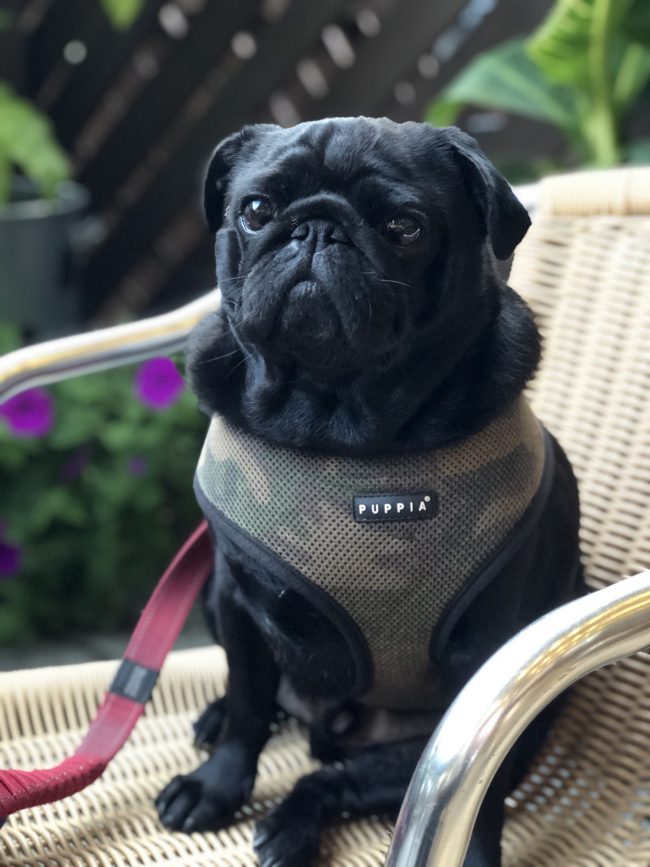 For Norwich based folk I shall leave you with a handy list of some dog-friendly pubs and restaurants I'd recommend. If you have any to add, then please let me know in the comments!
The Wallow – Dog-friendly wine bar and cafe with those fancy self-service wine machines. SERVES FOOD
St Andrews Brewhouse – Dog-friendly pub that serves food, so perfect for a weekend lunch. SERVES FOOD
Brew Dog – With a name like that you'd expect dog-friendly and they are. They sell dog-friendly beer behind the bar that our two are particularly fond of and you can even book in for dog birthday party with party hats and dog-friendly cake. SERVES FOOD
Chambers Cocktail Company – For the classier pooch, pop in for what I would say are currently some of the best cocktails in Norwich. Sells topped chips, I think at the weekends only.
The Plasterers – A proper pub with a great beer selection and dog-friendly. SERVES FOOD
The Cottage – A nice pub with an enclosed courtyard out the back, so well behaved pooches on quieter evenings can have a bit of a stroll around!
The Leopard – Dog-friendly pub with a small enclosed beer garden. Comes with it's own pub dog, so maybe one for dogs that don't mind other dogs!
The Whalebone – A friendly local pub that is VERY dog-friendly. The bar staff will almost certainly provide treats. There is food available in the courtyard beer garden on Friday and Saturday nights. Also right next door to a very handy dog-friendly park!
The Fat Cat Tap – A real ale pub that occasionally has live entertainment. They serve food in the form of the epic MotherChips on certain days, but can get very busy.
Park Britannia – A cafe in a park that's perfect for stopping off for breakfast after walkies. Dogs are allowed inside as well as out on the patio, so perfect in the winter months as well.
This post was sponsored by Petplan (who I really do get our pet insurance from!) as ever, all opinions and pub advice is entirely my own.