I've been trying to perfect faux bangs for some time.
I gave them a go back in May last year for a Bladerunner inspired hair do, but while they looked good in the pictures I found that by the end of the evening my fine hair meant that the rat underneath started to show through. Not so bad for an evening out, in a dimly lit club, but not really great for daylight hours! I tried a few times since, but have never been able to hide the rat sufficiently well to make it work.
Then, I saw this post on Snoodlebug using a pin curl set to get a faux bangs look without a rat, and I thought I'd give it a try. I set a rectangular section on top of my head in 2 rows of stand up pin curls using setting lotion. I didn't want lots of curls at the back and sides, I just wanted some waves and volume, so I set it in more stand up pin curls,2 on each side and 2 rows of 3 at the back of the head, it only took about 10 minutes.
You can see the set far clearer on Snoodlebugs original post as she's blonde!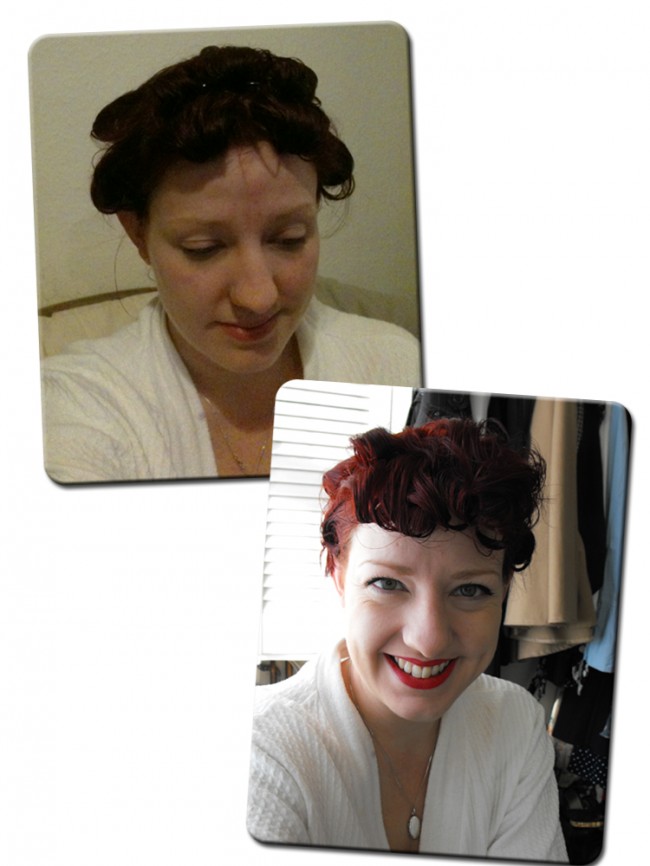 As you can see when I took the pin curls out next morning I looked utterly terrifying, but after brushing, a lot of back combing to the underside and rolling it under it looked like this, and I was pretty pleased!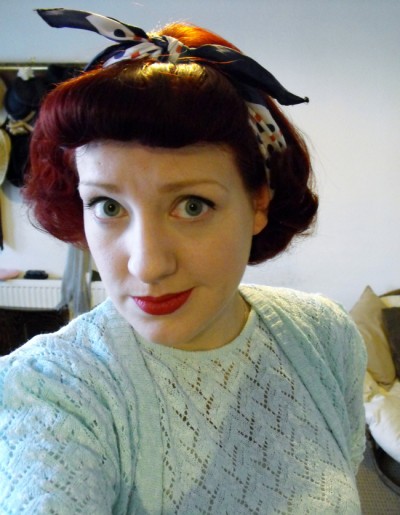 A few tips if you fancy giving it a try.
Don't skimp on the backcombing, just keep the top smooth.
Don't roll too tight or too narrow. Let the curl set do the rolling work and just pin into place, the more you move it with your hands the more likely it is to look messy.
So that's hair sorted, but I also have new trousers! My swing trousers from Heyday! turned up on Saturday and I couldn't wait to wear them.
The twin set is also technically new, at least to me! I bought it in a Charity Shop before Christmas, it has lovely gathered sleeves and the jumper has cute pearl button fastening on one shoulder. I hadn't yet got around to wearing it and it seemed ideal to pair with my new trousers for a relaxed Sunday style and a wander to the shops for cocktail ingredients.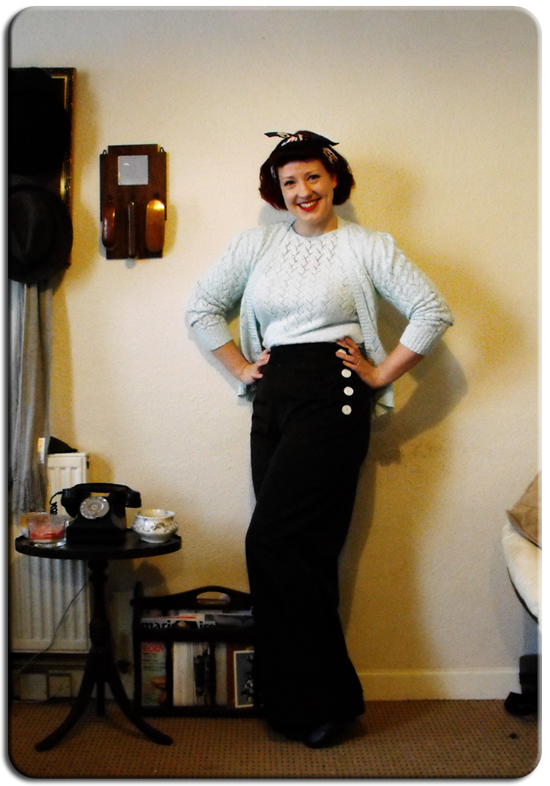 ❤ Head Scarf - Vintage ❤ Twinset - Charity Shop ❤
❤ Trousers - Heyday! ❤ Boots - Hush Puppies ❤
I hope you all had fabulous weekends.
While you're here, in case you missed it, don't forget to enter the What Katie Did Besame Lipstick Giveaway. There's 10 beautiful vintage style red lipsticks for you to win to brighten up January!