It's that time of the month again….
No, not THAT one. The one where I have to take out my contact lenses and look like a librarian for a couple of days in glasses.
I decided to embrace the look and go for camel shades, sensible low heels and a nice round neck blouse.
Is this the LEAST sexy outfit ever?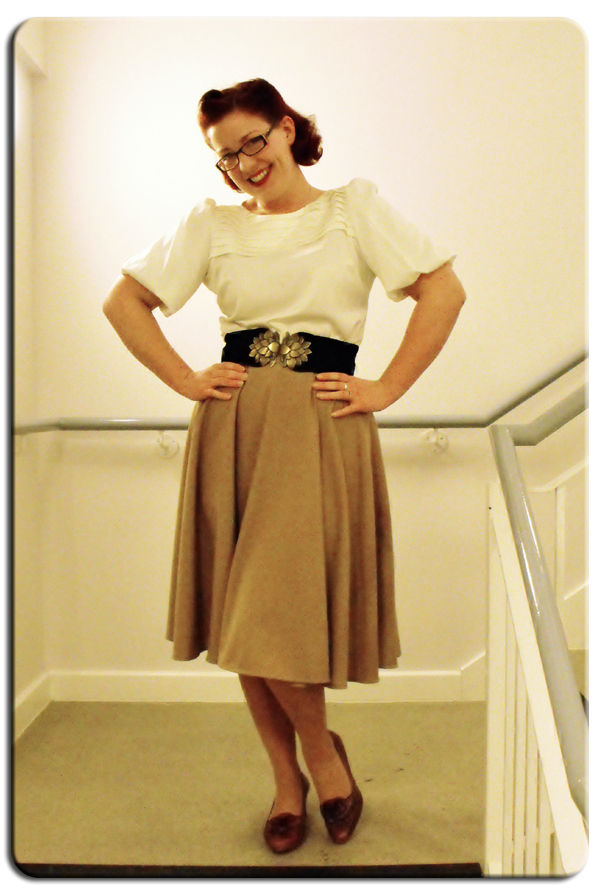 ❤ Blouse - M&S via a Charity Shop ❤ Belt - Primark ❤ Skirt - 

Poppy Valentine

 ❤
❤ Stockings - 

WKD Back Seams

 ❤ Shoes - Clarks via eBay ❤
The answer you're looking for is probably yes. Though there are seamed stockings under there so it's secretly sexy.
I apologise to anyone who actually IS a librarian. I know several and they are all incredibly sexy people and natty dressers, but I don't intend to let that stop me using a massive stereotype in the search for an easy blog title.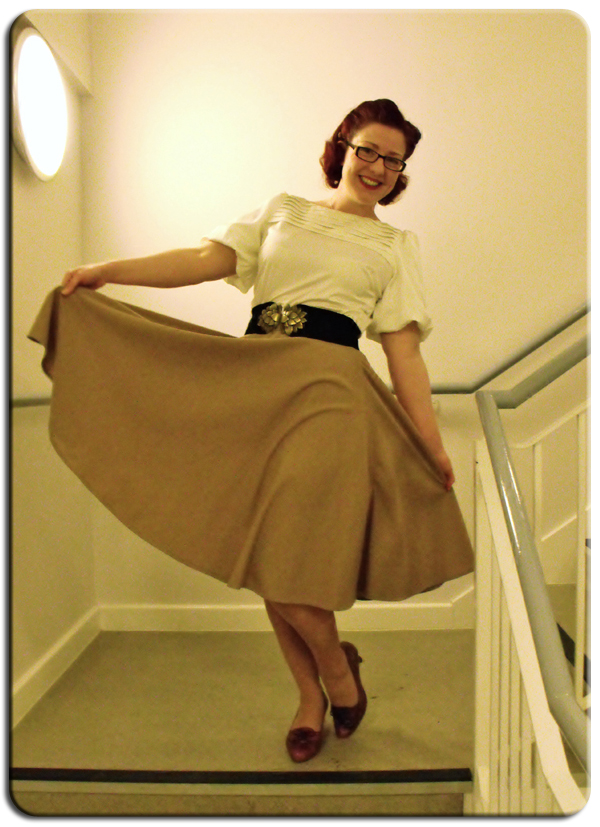 I loove this skirt, but this is the first time I've worn it in an outfit post. It's a lovely soft wool circle skirt from Poppy Valentine (currently online in black). It's nice and swishy, but heavy enough that I don't think I'm going to flash my stocking tops every time there's a stiff breeze! The waistline looks best when I wear it with a wide belt, but I'm in dire need of a new elasticated one. I wear this one all the time. It's fantastic, but being from Primark I keep seeing other people in the same one and have to hide till they go away.
The blouse is an M&S creams satin one with buttons down the back and lovely puffed sleeves. I bought it at the weekend in a charity shop for the princely sum of £2 and couldn't wait to wear it!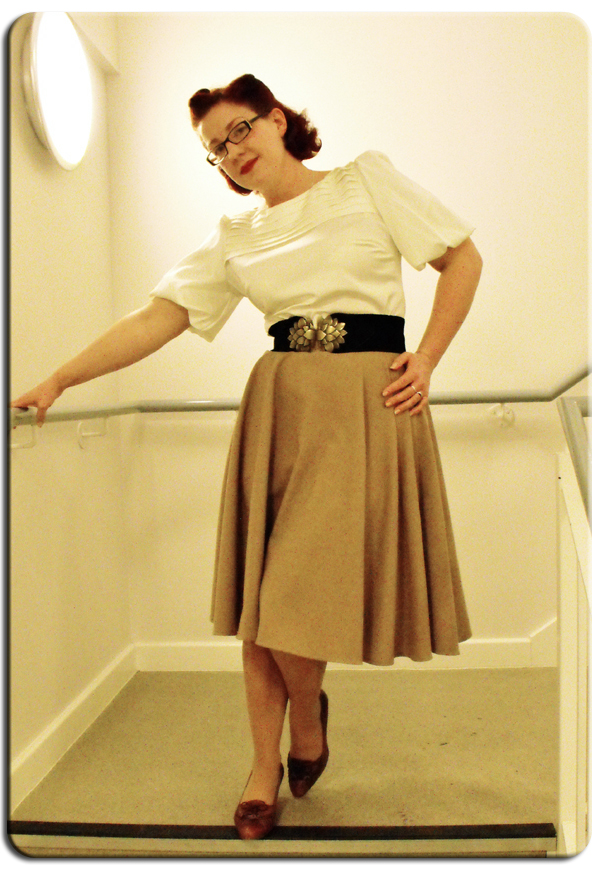 I also did victory rolls in my hair, which I haven't done much since it's been shorter. I'd forgotten how hard it was on the arms! I would have done a closer view of the hair, but those of you who follow me on Twitter will know that I am away at the moment and I came without my make up bag *gasp*. I've been to Tesco for ultra cheap replacements, but I still feel far too grotty for close ups, even in grainy hotel corridor light.
I wasn't going anywhere exciting. Just to the pub for dinner, so that's all you get I'm afraid. 3 photos of me posing in a corridor. One of them was supposed to be of the back, but I kept turning round and they're all blurry. I really need to learn to be a better model, or get a more patient photographer!
Today, of course, is the start of Chinese New Year, and it's the year of the Rabbit. I should really wear something red for luck apparently, but I don't have anything with me so I hope red lipstick and red hair will cover it.
In the spirit of "any excuse to celebrate" I hope you are all planning Chinese Feasts tonight, whether you're Chinese of not. But let me just wish you all a Happy New Year!