This weekend I *thought* it was Boot Fair season again.
Sadly it seems I was mistaken and the big fair at Arminghall doesn't start up again till March. Judging by the number of cars turning round as they got there it seems I wasn't alone in thinking it was February. At least it means a few more weeks of lazy Sunday morning lie ins rather than dragging myself out of bed with the inevitable groggy head to go and fight people for chipped china.
What WAS on though was the undercover market/boot fair at the Garden Centre near Fritton Lake. It's a fair few miles out of Norwich, but it's a lovely drive. If you've not been you should pay it a visit, it's open Saturdays from 1pm and Sunday from 9am-1pm. A few stalls open on Sundays only, so when we went out on Saturday afternoon some were still covered over.
Last year I shared most of my Boot Fair and thrifty purchases through Facebook, but I thought maybe it might be something I could post on the blog about occasionally. Do let me know if you think you'd rather I kept it to Facebook!
It takes a lot to persuade me to part with more than £5 at a time for anything, but I fell in love with a couple of things on one stall and after a bit of haggling I came home with a heavy glass lemonade set and a Picquot ware coffee pot and milk jug for £13.
A lot of this heavy cut glass dates to around the 1930s. I believe it was called Depression Glass in the US and it's widely collected, but I don't know a lot about it's production in the UK. I love it anyway and I can't wait to drink Pimms out of it come summer!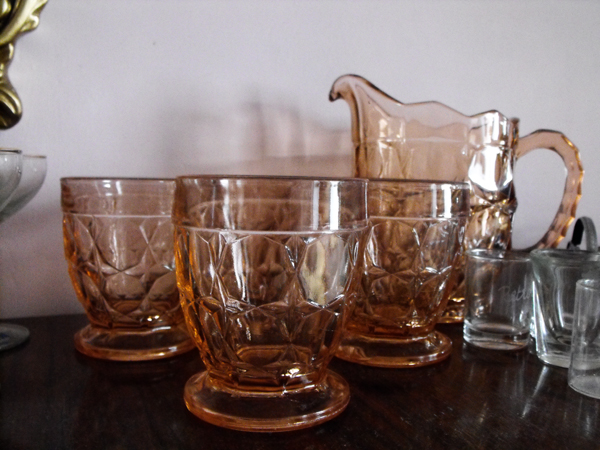 The Coffee set dates from the 1950s. I really want a full set including tea pot, tray and sugar bowl, but they seem to be so expensive that it'll probably be cheaper to buy it all piece by piece!
On Sunday I also bought a Martini glass from an Antique market in Norwich. It's really heavy and has a beautiful curve to the bowl. I'm not sure it has any particular age, for all I know it was made last week, but I really like it anyway.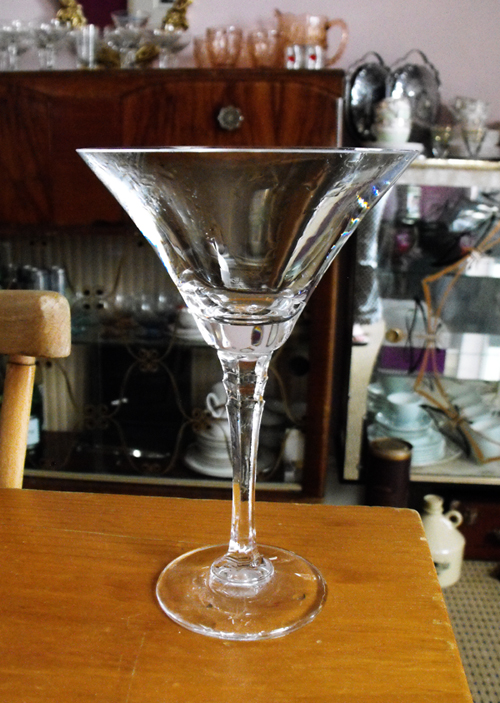 Onto the Fancy Frock mentioned in the title. I finally got a chance to wear my green Heyday! dress out on Saturday night to go for dinner. It seems like weeks since I've been out in the evening and it was nice to get dressed up!
❤ Dress - Heyday! ❤ Bag - 40s Vintage ❤ Necklace - eBay ❤
❤ Stockings - WKD Back Seams ❤ Shoes - Bertie via eBay ❤
❤ Feather Hair Comb - 

Abilu Creations

 ❤
You can't really see my hair very clearly. It was a bit of an emergency solution! The weather is crazy windy here, and during the day I've just been sticking my hair under a beret, which it suddenly occurred to me wasn't really going to work in the evening. Instead I rolled my fringe and then pinned the back up so that there were a few curls on the top of my head and tucked a feather hair comb in the side. The curls at the top don't seem very noticeable in the pictures but looked quite nice in the flesh (if I do say so myself…)!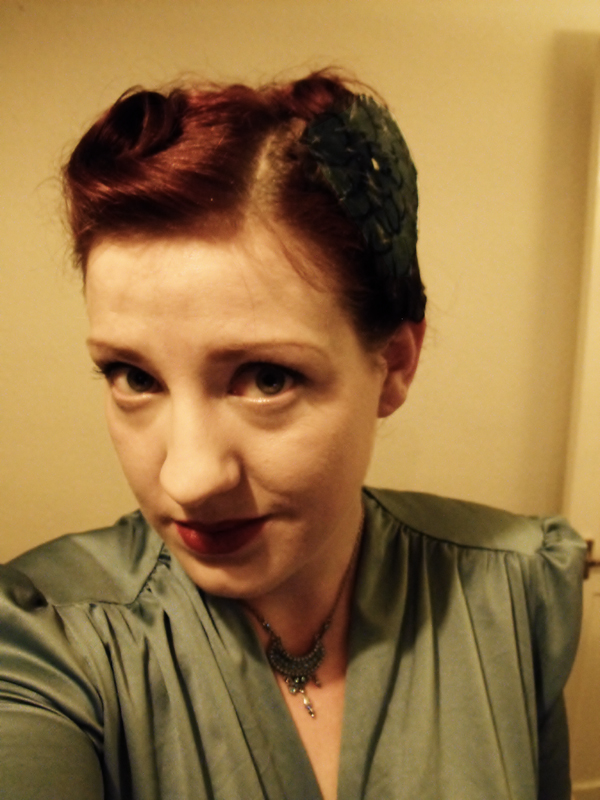 I'm feeling much perkier now we're out of January, and I've got some exciting things in the pipeline now. First up you'll be able to find me at Poppy Valentine on the evening of the 23rd February offering "vintage styling advice" as part of her Norwich Fashion Week Vintage event. Essentially what this means is that I'll be trying to persuade people to try things on and offering tips on how you can style things to suit you and your lifestyle. You can also ask me any questions you like on getting a little bit of vintage style into your every day life! It's the first time I've done anything like this and it's a bit nerve racking, so please do come along and ask me questions so I don't just feel like a spare part!