We all like to look nice.
We do. Our concept of what constitutes "nice" might differ, but at the end of the day when you feel like you look your best you feel good about yourself.
I witter on a lot about dressing up and how no one makes an effort anymore, but the truth is it's all too easy NOT to make an effort. No one really minds if you just fling on a jumper over jeans and trainers when you're just popping to the Post Office, Supermarket, doing the School run, or even going to the Pub.
We all live varied and busy lives, we don't often have domestic help and most of us like an extra half an hour in bed in the morning. None of these things are conducive to perfectly coiffed pin curls and elegantly manicured red nails, but it IS possible to look groomed in a hurry, even if you're only going to the shop. Trust me. I don't get up any earlier than I have to.
These are my top tips for minimal effort glamour. They probably require a little thought, but they're not hard, if they were I wouldn't do them…..
Natural nails
File them into a nice shape, keep them a sensible length, a maximum of half a centimetre over your finger tip, and paint them a neutral or clear shade. Your nails will look nice and glossy, breakage will be minimised, and they can be chipped to hell but no one will know unless they look really closely.
Manageable Hair
This is different for everyone and only you know how much effort you can be prepared to make. I can be bothered to set my hair twice a week and spend 10 minutes before bed putting it back in pin curls so it stays curly. If you can't don't try this hair do!
I also work from home so if I want to spend all day in curlers that's fine. It might not cut it in the office.
Wear it longer so you can put it in a bun, cut in a fringe, wear it short and deliberately tousled or get a perm. Whatever is manageable for you, your hair and your lifestyle.
When your pin curls fall flat, you couldn't be bothered to set it last night, you've got no time to brush it out or it's in dire need of a wash it's always handy to perfect 2 or 3 hair styles and have some tips and tricks to freshen it up.
A few suggestions, they might not work with all hair styles/types, so play around!
A Hat – I tuck mine under a beret and roll the fringe. It takes about 2 minutes and everyone thinks I have lovely hair. This also works with no time to brush out curls. Just unpin the front few and cover the rest with a hat.
A Hair Rat – Roll your hair around it into a long bun and stick in a few pins. Speedy and looks good when your curls have fallen flat. If you've a bit more time you can roll your fringe or just twist the sides and stick in some combs. This looks elegant and grown up.
Dry Shampoo & A Hair band – Spray on some dry shampoo, brush it out, then scrape all your hair back into a high bouncy ponytail or turn it into an Audrey Hepburn style high bun with a bit of backcombing and some grips.
A scarf – wrap it round your head Rosie the Riveter style or fold it into a hair band and tie it on top of your head. roll your fringe back into a quiff and tie the back in a pony tail for a cute rockabilly look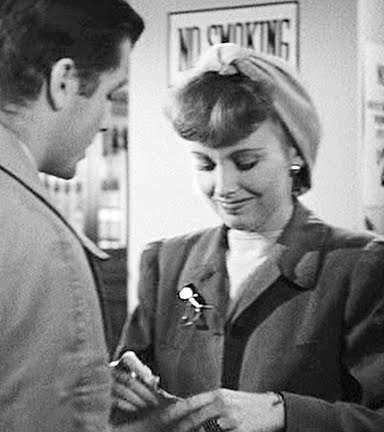 Clothes
Don't leave choosing what to wear until the morning, especially if you have an early start. You don't need to lay it all out but at least check that your essentials are clean and have a few outfits that you can wear if all else fails. That way you won't end up in a screwed up blouse with custard down the front just because everything is still wet in the machine.
My fall back outfits are a couple of black jersey dresses. I know if they're clean I'll be able to cobble together some kind of outfit by adding a cardigan and shoes. In the winter it's probably best to try and be a bit organised about things like tights and stockings too, or have fall back trousers!
My top tip is to take the time to dry things flat. Stretch your trousers and skirts out as straight as you can before you hang them on the line and smooth down collars and turn ups. Fold and hang them as smooth as you can too. I hardly ever iron anything apart from a couple of cotton 50s summer dresses!
Accessories
It's amazing the psychological impact of a few accessories. It's like peoples brains fill in the gaps and decide you must have made a massive effort to pin that brooch on your coat lapel/put in a pair of earrings/tie a scarf round your neck/pick up some gloves.
Keep things like shoes in good clean condition. If you don't have time to remove mud from them then wear another pair until you do. Scruffy shoes can make the rest of you look scruffy. Most people won't notice your shoes UNLESS you go out with them covered in mud. They don't have to be polished to a high shine, but don't wear them dirty.
Perfect Minimal Make Up
On an ideal morning we'll all spend several hours in front of our vanity.  Sipping earl grey tea from vintage china while we perfect a leisurely toilet ably assisted by bluebirds and squirrels from the nearby forest. In reality I, at least, never get up when my alarm goes off. I sit grumpily in bed for half an hour before getting up in a panic knowing I have to be out of the door in 20 minutes.
It's ok! I can put a hat over my pin curls, I know my nails are already neat and I've checked my emergency fall back clothes are clean so I can leap into a dress, stockings and little cardigan.
Make up, however, you can't do in advance. I can do a full face of make up in under 10 minutes. Foundation, concealer, bit of blusher. Eyeliner, mascara, eyebrow pencil and a slick of red lippy.
If I'm really pushed for time I skip the eyeliner. And if I'm really, really pushed then I'll wear a neutral lipstick. I NEVER skip the eyebrow pencil. Well groomed brows make your face look finished. If you already have dark eyebrows you might just need to tidy them with clear mascara or vaseline.
If you have perfect skin you can probably skip foundation (and I hate you). The key is knowing the minimal elements you can add to your face to give it a polished finish in the time you have remaining. Multi purpose products like blusher/lipsticks and full coverage powder/foundations can save time. Do try not to end up doing full make up on the train though. Lipstick and a touch of powder is one thing, but tweezing your eyebrows in public is probably a step too far, other people have to watch you!
Last minute cheats
Shhh, you'll have to pretend I never mentioned any of these.
Fix the bits people can see
The corner shop is a minute and a halfs walk away, you're watching TV in your pyjamas. Do we really want to do full make up and hair to go and buy milk?
In winter a smart coat is a life saver. Fling it over any old thing and run to the shop (but PLEASE don't go to the shop in your bunny print pyjamas, it's just rude. You must have a pair of trousers to fling on?)
Wearing curlers? A beret will fit over the lot, or just swap the front couple for pin curls and let them poke out of the front
No make up? A bit of concealer and a light stain of red lipstick will convince casual observers that you're fully made up. Dab a bit of lipstick on your cheeks and rub it in for last minute blusher. Roll on Summer when we can add a huge pair of sunglasses without looking like we're avoiding the paparazzi!
That's all I can think of for now! When ever I do these kind of posts someone else always comes up with the most amazing tip that I forgot to mention, so……
Do you have any tips for looking good in a hurry?