Still not finished that comparison chart.
Sorry!
But won't it be worth the wait?!
Today I am reviewing a lipstick by DuWop in Private Red. We're back up at the pricier end of the scale as this one is available on QVC for £16.
The Blurb
This is a magic colour changing lipstick. Oh yes.
"Get the classic Hollywood glamour look with this fabulous red lipstick. Private Red Lip Stick (4g) features an innovative formula which adapts to your lips and transforms into a variety of red hues. It contains naturally derived pigment for long-lasting colour, and vitamin E for a silky smooth finish."
The Pros
The lipstick was a dream to apply, barely any pressure was needed and it felt silky and smooth on my lips and light as a feather whilst still giving a really good coverage.
It was reasonably long lasting. It had a glossy finish and wore off quite quickly, but my lips still retained a nice red tint, almost a stain after a few hours wear.
I remain unconvinced that the lipstick actually changed colour in wear, but the colour was a very flattering shade of red and would, I imagine, be flattering on many skin tones. Apparently the lipstick is supposed to change colour within the first 5 minutes of being applied to your lips. So I took photos. Personally I see no difference.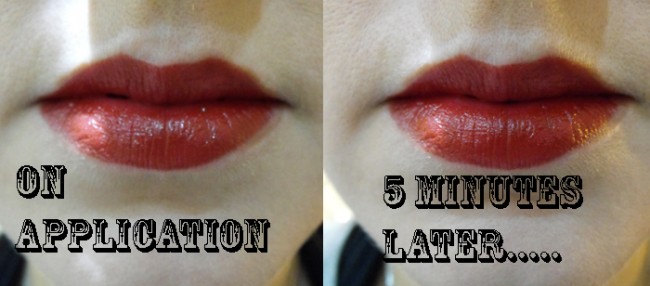 It also has pretty shiny packaging with a kiss mark on it, which appealed to me.
The Cons
The light and silky texture means it doesn't last long really. It also means that if you rub your lips together after application it slides around a bit and you can end up with missing patches. Really you need to apply it and then let it sit for a bit to dry, much like you would a long lasting lipstick.
The ease of application also means it's tricky to get an even lip line with the lipstick straight from the tube, which is how I like to apply it. You have to be really careful as the slightest jog and it'll shoot off across your face!
I also found that the stain it left behind wore off with greasy food, leaving a line around the edge of my lips, but I guess that's par for the course with red lipstick!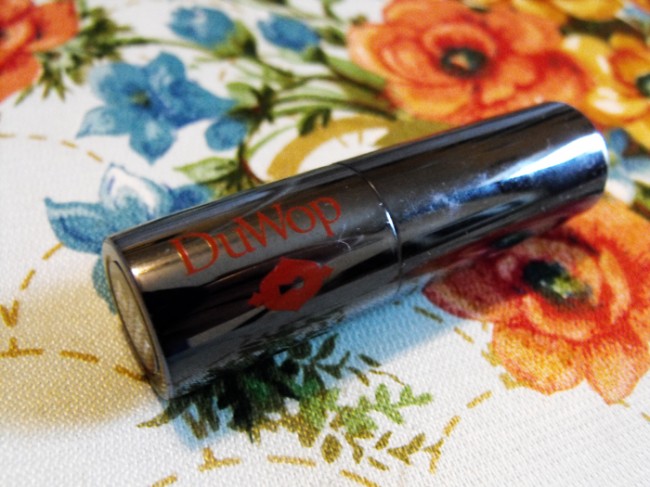 The pretty shiny tube is also incredibly prone to finger marks and doesn't really feel as sturdy or good quality as I would like from a £16 lipstick. The Stargazer one felt sturdier.
The Verdict
Would I buy it again? Yes I would. Despite it's flaws I really love how it feels on the lips and although it wears off quickly the stain it leaves makes it ideal for every day wear.
Now for the full face "what the lipstick looks like on me" picture. I have some nice, sensible, straight on photos, but I'm using this one. It amuses me as I'm not looking at the camera and it makes me think of a Film Noir Femme Fatale caught in some nefarious act.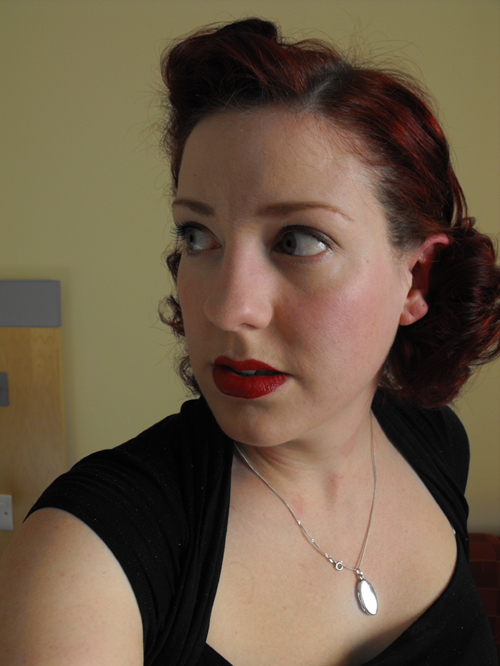 DuWop Private Red Lipstick is available at QVC for £16

Related