Van Dal Shoes has launched a "vintage collection"
This is the latest thing for shops with a bit of history behind them with Marks & Spencer, Clarks and even Boots also having done something similar.
I was quite excited. Van Dal are a Norwich based business who've been making shoes since 1936, so a trawl through their archives could throw up some lovely vintage style shoes for those of us with feet far beyond dainty vintage sizes.
Unfortunately I can't help but be a bit disappointed. I don't know if I'm being unfair on them as many people seem to like them, but looking at these designs next to the sketches from the original 1957 catalogue they are taken from makes me a bit sad. They seem to have taken all the distinguishing vintage features, like the distinctive heel shape, and changed them for modern design leaving shoes that to me are just a little bit blah.
Corsica £90
Where is the vintage heel and the low sides that make this such a stylish 50s shoe in the original sketch? Why replace it with that bland wood effect that is just on all cheap shoes everywhere, and then charge £90?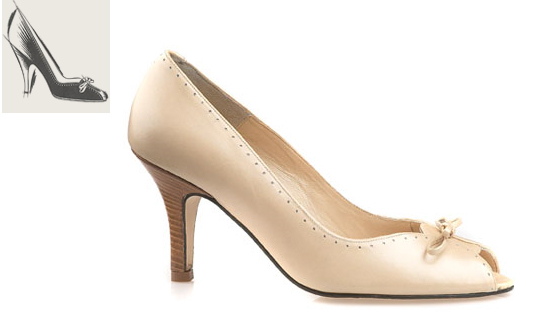 Profile £95
I am bemused as to how such an elegant looking peep toe became such a bland style. Why replace that pretty heel with a frumpy low wedge?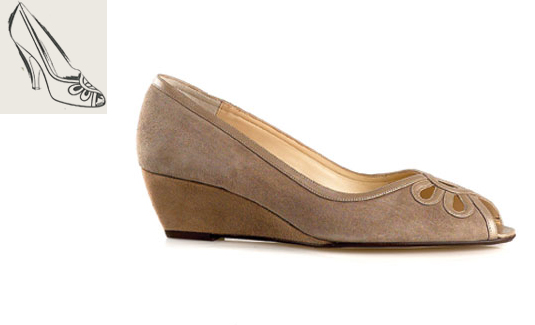 Bangle £85
Probably one of my favourite out of the styles, but little changes, like the angle of the heel, make it look cheap. I certainly wouldn't want to pay £85.
Plato £85
Another elegant 1950s stilletto shoe, transformed into frumpy, cheap looking footwear.
It's not that they're awful shoes in their own right. It's just they're nothing special and one would hope a trawl through 75 years worth of archives might have inspired something a bit differnt?
Maybe they're nicer up close? They're available to buy from Mid March, so I'll try and wander down to the Norwich store and see if they have in. You can visit Van Dal Vintage to see the whole range and find out more
What do you think?