I remember once a cashier in M&S asked me where I bought my clothes from.
She'd gushed about my hair as I had a little fringe roll and we had a little chat about pin curls. But at the time I was wearing a top from Matalan, a Laura Ashley Skirt and New Look Shoes.
I like a certain vintage inspired, lady like I suppose, look. But I actually don't have a wardrobe full of vintage clothes. A lot of vintage these days can be expensive, it can be fragile and find it difficult to stand up to modern lifestyles, and if you have a waist measurement over 26″ it can even be really difficult to find to fit!
The key is being creative with what the High Street has to offer. Just because they team it with a mini skirt and knee high boots doesn't mean you have to.
With Spring nearly sprung I have had a bit of a trawl around the "new in" sections and I bring you some fabulous vintage inspired buys from the High Street.
White Lace Collar Blouse £29.99 River Island
I think this would look gorgeous with a black pencil skirt and a little black hat. Very chic.
Limited Edition Pastel Maxi Dress £150 TopShop
Top Shop's prices drive me completely crazy, but this 30s style "maxi" dress is absolutely gorgeous. Florals aren't always for day wear and I think this would make a gorgeous evening gown for a spring event.
Red Crossover Wedges £38 Dorothy Perkins
Eeek! I think I love these! Lovely 40s style wedges that would look fab with a playsuit or a nautical style summer ensemble.
Black Cotton Shirt Dress £45 Next
I don't often look in Next, but this 50s style cotton dress looks like a great basic for Spring and Summer AND from the model pictures it doesn't look too short.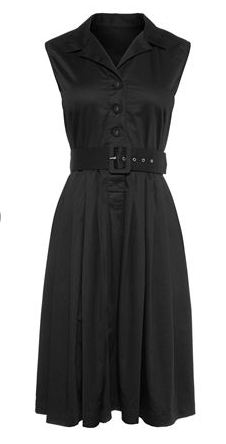 Related