I had an odd Bank Holiday weekend.
After all the planning for the Marvellous Cocktail Party I'd completely failed to plan anything to do over the weekend, or even realise it was a Bank Holiday at all, and in consequence the weekend felt a little "bitty" and fragmented.
Of course the wonderful British weather didn't really help either. The weekend was a proper mix of sunshine and showers and I'm convinced that Mother Nature spent each day waiting to see what I decided to wear before settling on freezing rain or tropical sunshine for the day.
On Sunday, for instance, I took a peek out of the window and saw blue skies and sunshine. We decided to go for drive out into the country, so, dressed in tropical shades with flowers in my hair we headed out. As we stopped off in Reepham force 9 gales whipped my petticoats round my legs and I spent much of the rest of the day wrapped in a cape with tropical prints and platform shoes peeping incongruously out of the bottom.
I did take the time to stop in front of a cutesy shop selling bunting to take an outfit photo before I froze to death though. Aren't you lucky…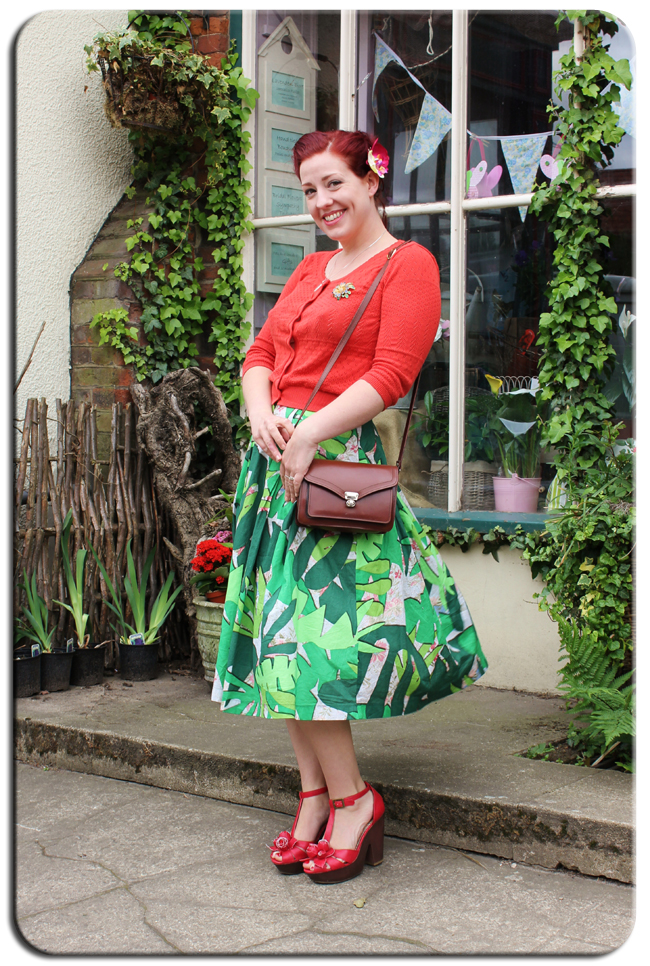 ❤ Orchids in hair - Daisy & Lola's and Abilu Creations (not seen!) ❤ Cardigan - H&M ❤
❤ Brooch & Bag - Vintage ❤ Skirt - Antoni & Alison (via TK Maxx) ❤ Shoes - Rocket Dog ❤

The following day when I left the house in wool trousers, a cardigan, a blouse and a beret, of course, the sun came out and I endured several hours of baking heat. *sigh*
Several of you have asked about my outfit for the cocktail party. To be honest it wasn't that exciting as it's much the same as the outfit I wore to the ball a few weeks back. My gorgeous Able Grable M'Lady in green satin, I just left off the belt and had slightly different hair!
I can now show you a couple of photos from various people on Facebook though! Missy Vintage came up with this beauty.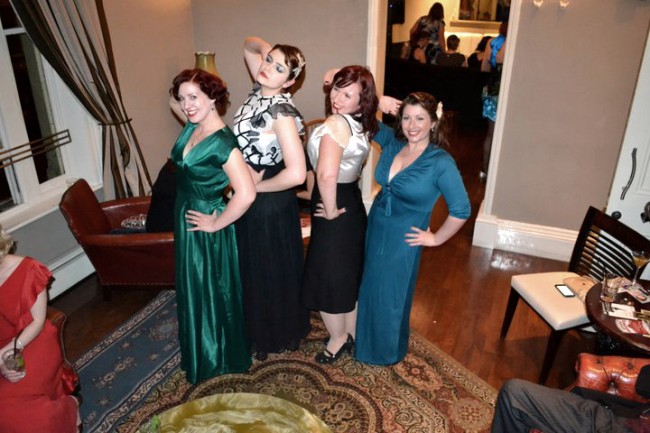 Left to Right that's Me (obviously), Margaret from Penny Dreadful Vintage, Claire from Lady Cherry Loves and Kerry from Missy Vintage, another Norwich based vintage blog.
This one is courtesy of Flamingo Amy. I spent much of the evening running around like a crazy thing making sure everything was running as smoothly as possible, so I think I look slightly frazzled in all the pictures. It's highly likely no one else will notice any such thing, of course! I do look scarily pale here, blame the flash because I think if I were really that pale someone would have called an ambulance!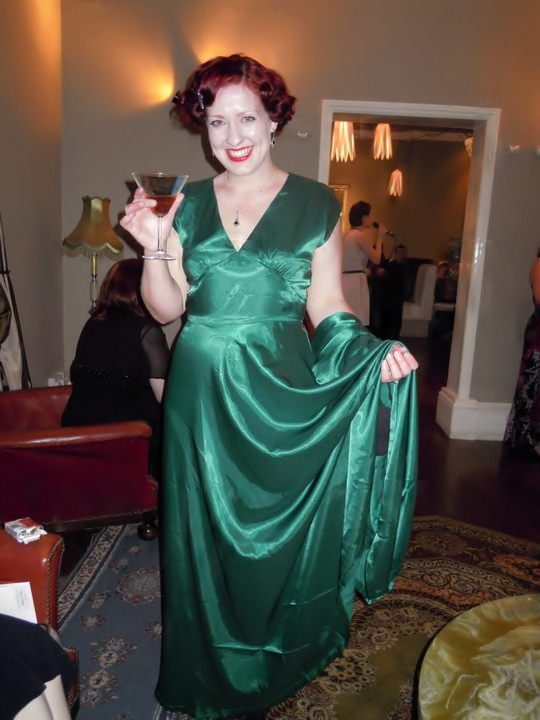 Related