Retro Chick is taking a well earned holiday, but never fear, she has arranged some fabulous guest bloggers to keep you entertained.
Today the lovely Róisín from Dolly Clackett gives you some great advice on sewing for the vintage lover.
_______________________________________
For those of us who are interested in a retro or vintage-inspired lifestyle, being able to sew is a great hobby and a fab way to work some vintage style into your life on your own terms.
I'm no Edith Head, but being able to sew a little is an excellent way to expand your vintage wardrobe. So today I'm going to share with you some of my top tips on how to sew yourself some vintage glamour.
Vintage patterns
The obvious place to start is with vintage patterns. There was a time when these popped up frequently in charity shops and car boot sales and although it's becoming harder to find them it's always worth having a look. I picked up some awesome (and rather weird) 70s tennis dress patterns for 30p each in my local Save The Children.
For something more specific, etsy and folksy are good places to start. You'll get a better variety of eras and sizes here and, while you'll probably pay a good bit more than 30p you'll have more control over what you find. The benefit of sewing from vintage patterns is obvious. You're sewing the honest-to-goodness period styles but to fit you. There are some drawbacks too. I've only been sewing for about a year and a half and I find the prospect of sewing from vintage patterns quite daunting. Even the patterns from the 70s come from a time when most women could sew, and so the instructions assume a level of knowledge and skill that you might not have. The patterns themselves – especially those from the 50s – were drafted for women who were often a different shape to today's women, and were designed to be worn with different undergarments so achieving a good fit might be a bit more of a challenge.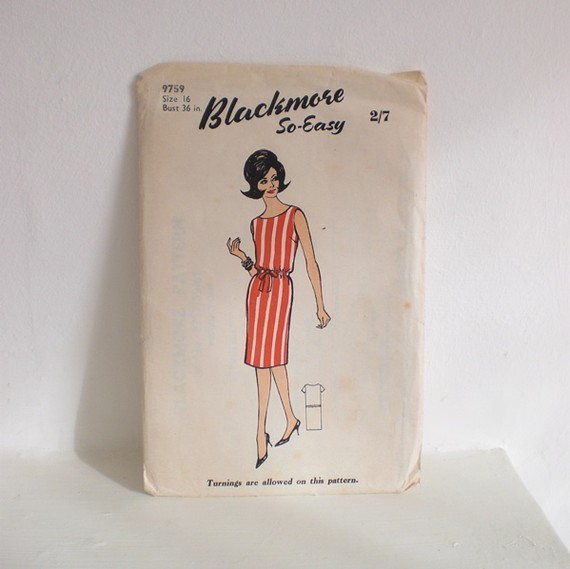 Look at this gorgeous 60s shift dress pattern, unused! You can pick this up from The Cathedral on etsy for £5!
Luckily, if you do decide to go down the route of sewing with vintage patterns there are lots of resources out there. There are tons of sewing blogs where you can get tips and find inspiration from more experienced sewists. An excellent starting point is the fabulous Gertie's Blog For Better Sewing . Gertie is a home seamstress who embarked on a project to sew all of the garments from the 1952 Vogue New Book For Better Sewing. Gertie's blog has it all – sewing tips, dress discussions, sew-a-longs. She's a gem when it comes to giving good advice and the comments underneath her blog posts are a treasure trove as well.
Another excellent source of ideas is Sew Retro which is a collaborative blog run by vintage focused home sewists. This is a great place for discovering new blogs, and for seeking help with vintage sewing patterns.
There are so many benefits to sewing from vintage patterns and there's a real sentimental appeal as well. I love the idea that these patterns have been lovingly preserved by the sewists of the past, and I'm sentimental about the idea of the experience these women had of sewing these garments. It's the same appeal as buying and wearing vintage clothes, it's a little bit of social history and a window into the past.
Sewing using vintage materials
If sewing from vintage patterns seems a little bit daunting, a good way to get started is by using vintage materials. As with patterns, there are often really cool vintage sewing notions to be found in charity shops and boot fairs. Some interesting vintage buttons can give any kind of sewing project a bit of retro flair, and these can be picked up for pennies in a charity shop. If you're lucky you might even stumble on things like vintage metal zippers or trims like lace or ric rac. As with patterns, etsy and ebay are good sources if you're looking for something specific.
Sewing using vintage or thrifted fabric can be lots of fun. You can go right from using historical fabrics like feed sacks (which are hard to find) through to finding a pair of ugly 70s curtains and turning them into dresses, as I did recently. In fact, my success on that score has led to me scouring the charity shops for old curtains! You might get lucky and find vintage dressmaking fabric, but there is lots of potential in repurposing things like curtains, tablecloths and even sheets.
Again, there are amazing resources out there on the web to inspire you. Mena from The Sew Weekly has chronicled her endeavour to create a hand-sewn wardrobe, and most of her garments have been made from thrifted fabrics and notions. She's even opened up a forum for others who are interested in doing the same. She leads projects such as A Common Thread, where recently sewists from all over the world received a yard of vintage lace to incorporate into a garment of some kind. Zoe now repurposes vintage and thrifted fabrics for a living, and her blog is an interesting mix of articles about her sewing and larger sustainability issues. You should totally go and check out the amazing mini skirt she made out of an offcut from a vintage curtain.
I made two dresses out of these vintage curtain that I bought for £3!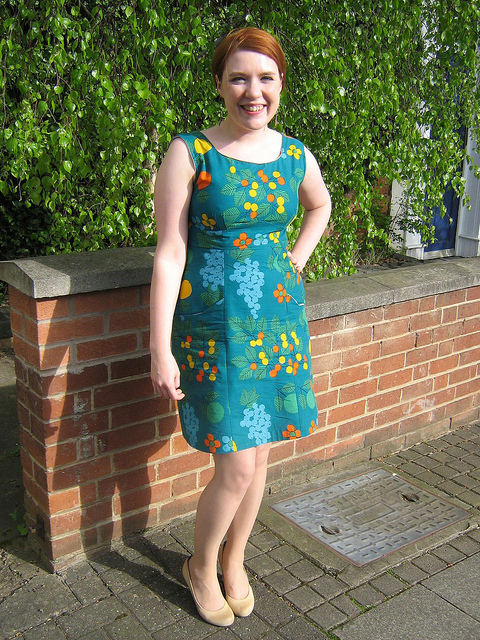 Sewing using vintage materials is pretty cool, and it's a good way to inject a bit of retro charm into modern styles. If you're imaginative enough, there are lots of ways to source fabric and notions and you have the added charm of knowing that your garment is totally unique.
Vintage-inspired sewing
If the idea of sewing a frock out of someone's old curtains gives you the creeps, don't worry. Just as the shops are full of vintage inspired ready to wear clothes, there's lots out there for the vintage inspired seamstress. Vogue Patterns have reissued lots of their archive patterns. They've been updated to some extent; most notably the patterns are usually multi-sized. These are easy to find, if you go into your local haberdashery shop they should have a catalogue from which you can order patterns and you can buy them online from a variety of places. They're not cheap, but some of the patterns are absolutely stunning. The additional benefit to them being widely availably is that you can find and read detailed reviews and guides on websites like Pattern Review.
It might sound bizarre, but sewing patterns for fancy dress costumes can also be a good way to create your own retro outfits. Check these out:
Bobbysoxer costume – this actually comes with a transfer for the Poodle design!
Even retro lingerie – from this pattern you can sew yourself your own strapless slip or corset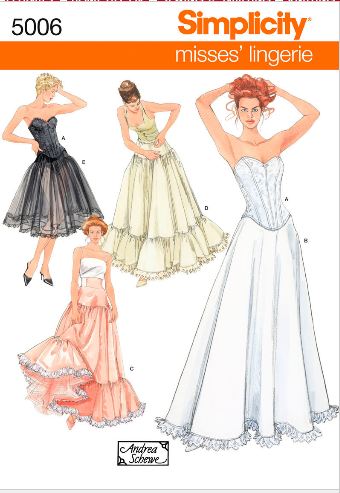 Even the most resolutely contemporary patterns can be used to create a retro-flavoured outfit. It's all in the detail. Take this pattern for a pencil dress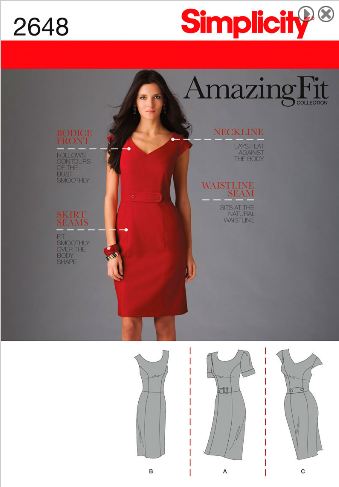 Sew this up in a stretchy navy fabric, add some white piping and lengthen the skirt a bit and you've got a Bettie Page-esque nautical beauty.
The most widely available patterns come from the four big American companies – Simplicity, McCalls, Butterick and Vogue and they definitely have loads of options. There are some smaller independent companies that are creating patterns focused on vintage-inspired designs. Colette Patterns are based in Portland, Oregon and their patterns have a distinctly retro charm.
The pretty Sencha blouse has a delicate 40s feel to it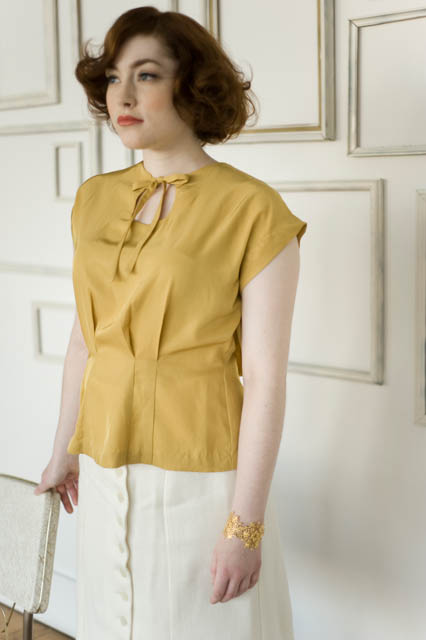 Sew this up in some Liberty print fabric for a Land Girl feel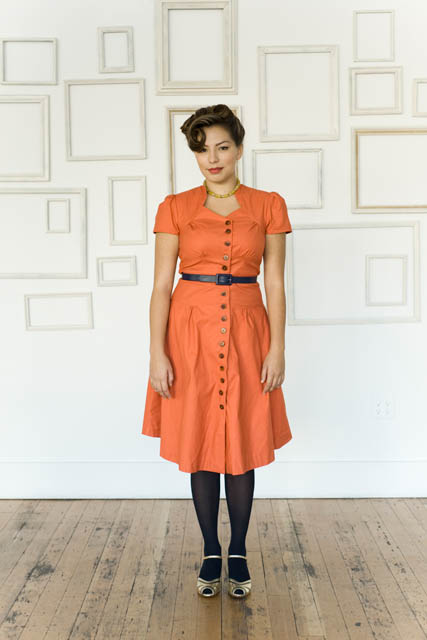 I"ve sewed from a number of their patterns now and they are fab. The instructions are clear, and there are so many ideas for ways to make these designs even more personalised. Sarai Mitnick, the designer, runs a blog and a forum as well at Colette Patterns for tips and advice. There's also a Flickr group where you can look at what other people have made with these patterns. I could spend hours looking through those!
Another brilliant source for vintage inspired sewing patterns is Sense and Sensibility As the name suggests, you can find Regency inspired patterns here as well as patterns from other eras.
How much do I want to make this Swing Dress?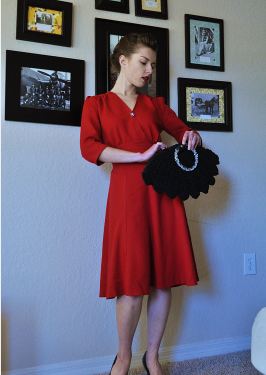 This is modelled by vintage-loving seamstress Casey who hosted a Swing Dress Sew a long on her blog recently.
These patterns are also available for download and, as with Colette, you'll find linked blogs and a forum at Sense and Sensibility. You can even download e-classes and reproductions of vintage sewing manuals!
Finally, a word for a new pattern company Sewaholic Patterns. Tasia Pona has released two patterns specially designed for pear-shaped ladies and has plans for more. Her Pendrell blouse has a distinctly retro feel to it! Check out her blog Sewaholic for lots of tips on sewing from vintage patterns – and be sure to have a look at her breathtaking picnic dress, inspired by one of Betty Draper's many beautiful frocks
Whichever way you choose to do it, there are absolutely oodles of resources out there for us vintage-inspired seamstresses.