Hellooooooo!
Remember me? I hope you enjoyed last weeks guest posts from such lovely people, but I also secretly hope you're glad to have me back!
I wish I could say I was glad to BE back. Not that I didn't miss you all, but after a week of (completely unexpected) 25 degree + temperatures, lazy dinners overlooking the Mosel and afternoons sightseeing punctuated by cups of peppermint tea and cold glasses of Bitburger I was entirely unimpressed to be back in grey, rainy Dover on Friday night.
If you hate holiday photos, look away now. If you've got the patience to deal with a week of pictures of mountains and vineyards then there might be a little treat for one of you later on!
Where to start? How about on a Norfolk Line ferry, on a grey and drizzly Friday morning a week ago?
❤ Rosie Trousers - Lady K Loves ❤ Cardigan & T Shirt - Primark ❤
❤Shoes - Rocket Dog ❤ Beret - eBay ❤ Brooch and Belt - Vintage ❤
This is a perfect travelling outfit for someone who had to get up at FOUR THIRTY IN THE MORNING (I didn't even know there was one!) everything is comfy and stretchy and the beret covers unbrushed out pincurls.
A mere 12 HOURS, with which I won't bore you, after this photo was taken and we arrived in Beilstein, our home for the next week.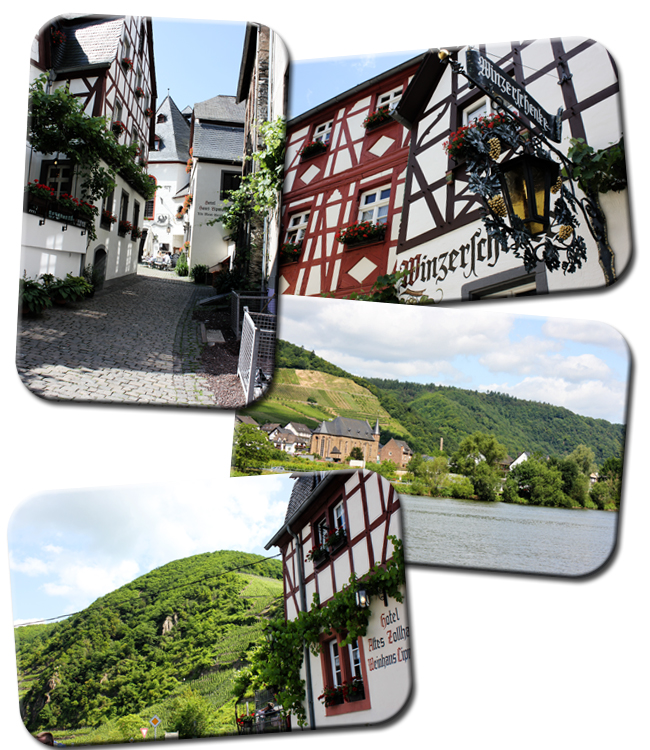 It was finally time for beer, and lots of nice, sturdy, German food. All I had to do first was carry my bags up these steps, and then another 2 flights of swirly steps to my room *sob*
I have helpfully pointed out one of the windows of my attic garret for you.
After plenty of beer I woke up miraculously hangover free, ate a yummy breakfast of cold meat, cheese and bread and we set off for a boat trip down the Mosel to Cochem, the nearest town.
❤ Cardigan - Sainsburys ❤ Skirt - H&M ❤
❤Bracelet - Notorious Kitsch ❤  Brooch - Vintage ❤
Cochem was excitingly full of shops selling sticky brightly coloured liqueurs, plastic grapes, cuckoo clocks and other "tat" of the kind to set my little heart beating. I really love tat.
Apart from that it's a beautiful little town, restaurants by the river and some nice statues and buildings to take photos of.
On the way back home we got stuck in a lock for about 45 minutes, which was a trifle dull, but don't ever let it be said I don't know how to keep myself entertained.
Have camera, will annoy everyone taking photos of glasses, books, windows and drinks.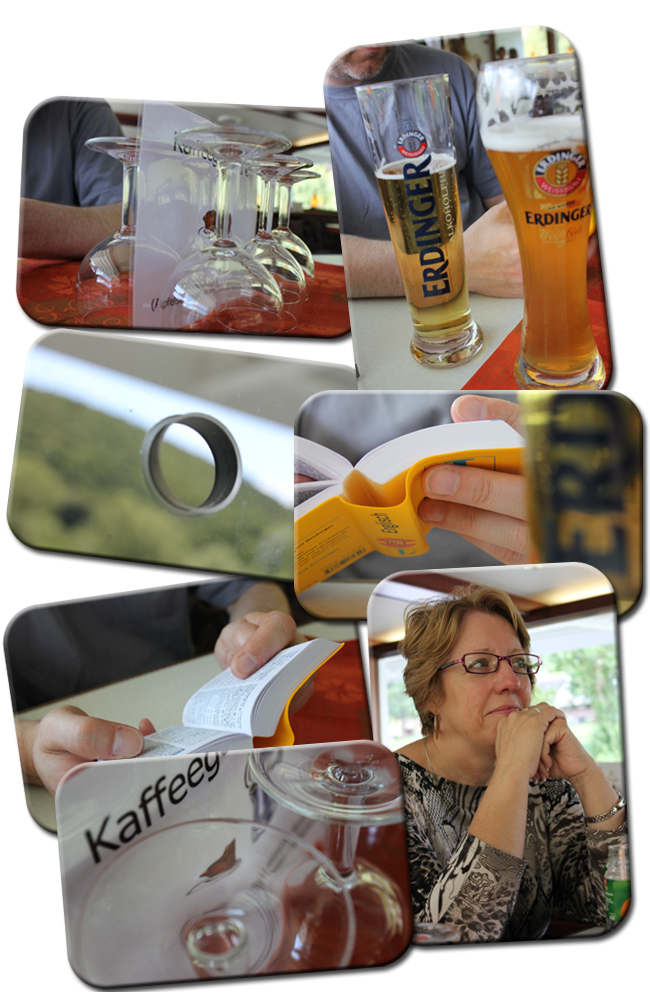 Are you bored yet? 400 words and I'm only on Day 3, I'll speed it up a bit I promise!
Day 3 was spent at a wine festival in Senheim, we were pretty much the only people there, till our bus left at 7pm and the entire village showed up. I think they were waiting for us to go.
I looked like this: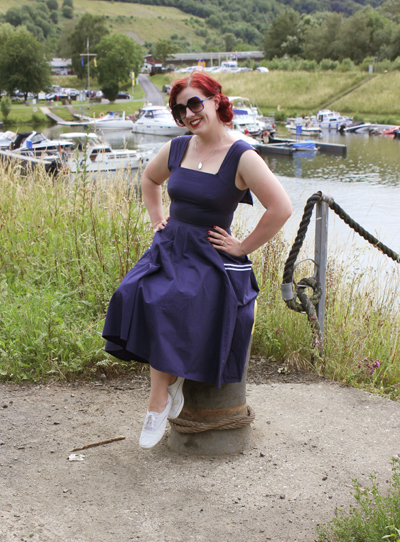 ❤ Dress - Lady K Loves ❤ Shoes - Keds ❤ Sunglasses - Vintage ❤
The rest of the day looked like this: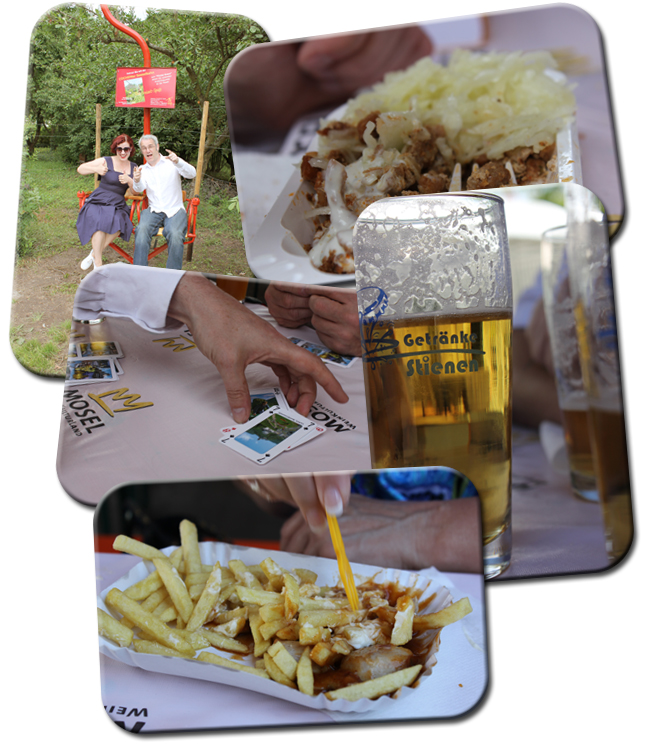 Monday was a bank holiday in Germany and we went into Koblenz (twinned with Norwich, fact fans!) which was entirely shut.
Koblenz has a large statue of Kaiser Wilhelm, I read an interesting fact about it, something about it being destroyed and the one you see here being a reproduction made sometime in the 1990s. If I was cleverer I would have made a proper note about it so I could tell you actual interesting facts, but I'm not, so you'll just have to pretend to be interested anyway.
I can tell you it was very large and impressive.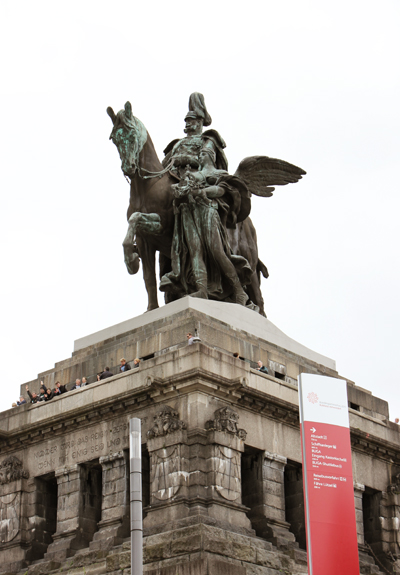 Fortunately there were some shops open in Koblenz, they sold tat. I bought an umbrella with pictures of Germany all over it of which I am inordinately proud.
Koblenz was having some kind of massive garden festival, in which all the signs were in German, so I don't know if there was anything particularly interesting. I did take approx 4000 photographs of flowers though, but I'll just post one, as the thought of wading through them all currently fills me with dread!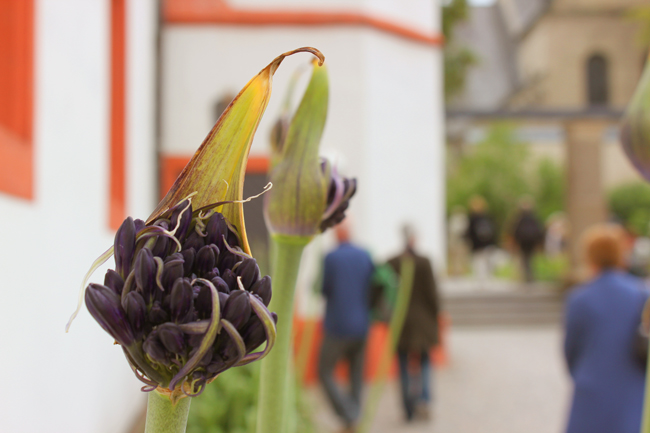 Tuesday was quite a pleasant leisurely day. I say that, actually it was exhausting. It was boiling hot, humid, my packing was inappropriate for such heat. So we obviously decided that today was the time to take a midday stroll up a huge mountain to the ruined castle above Beilstein and eat a picnic with no shade.
Once again, my lack of German leads to a lack of useful information, apart from the fact that the castle is 11th century I'm pretty much all out of information. The English translation contained the stunningly useful fact that it "changed hands many times", thanks for that.
So instead here's me and my parents having a lunch time picnic with no shade in the midday sun.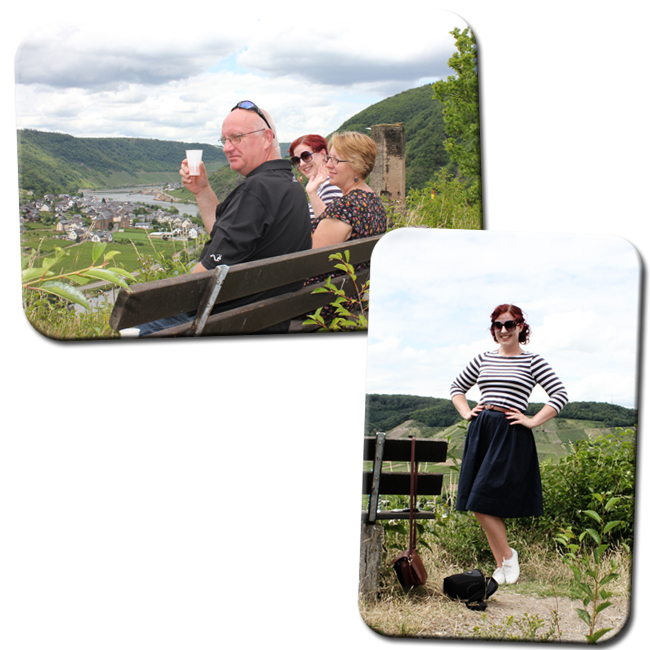 We did wander on a little further where we found a Jewish cemetery. Apparently Beilstein was originally a Jewish settlement and in 1840 a quarter of the towns 300 inhabitants were Jewish. It seems most left for America in the 1800s, and by the 1930s there was actually only one Jewish family left in Beilstein to face the Nazis. Apparently there are no practising Jews left at all today, but the town is so tiny that perhaps that's not surprising.
I don't know what finally became of the one family left there in the 1930s, but the most recent grave I could find contained an inscription that as far as I could work out was for a woman who died in 1938, and then mentioned the rest of her family in 1942, which was rather sad.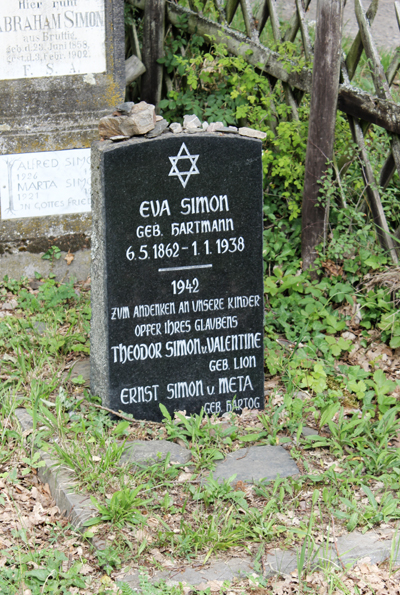 Hmmm, where do I go after such a sad story?
Well, mostly out for dinner and drinks, then bed.
Then, another hot and sunny day finally gave me a chance to wear my excessively large sun hat….
❤ Hat- TK Maxx ❤ Dress - Vintage ❤ Shoes - Clarks ❤
We went to Trier, which is pretty, but this was still the thing that excited me most.
Then we went to Bernkastel.
On the way in Mr Chick spotted a load of "junk" by the side of the road, so we went back and hunted it down. It turned out to be the weirdest junk shop/doll museum, I have ever seen. We knocked on the ladies door and she let us in to peek around. I could have stayed for hours, but I was a bit scared as she kept trying to make conversation in German and show us things! We came away with a vintage leather trimmed suitcase, picnic set and a brooch in the end.
I draw your attention to the Teddy Bear hanging from a tree. I took my life in my hands knocking on that door, all in the name of the search for vintage!
Sadly, for me, my story now starts to draw to a close, for that was Wednesday. We finished the day with a lovely candle lit evening on the balcony (my Mother will kill me for posting photos of her in her pyjamas, but they are very fetching)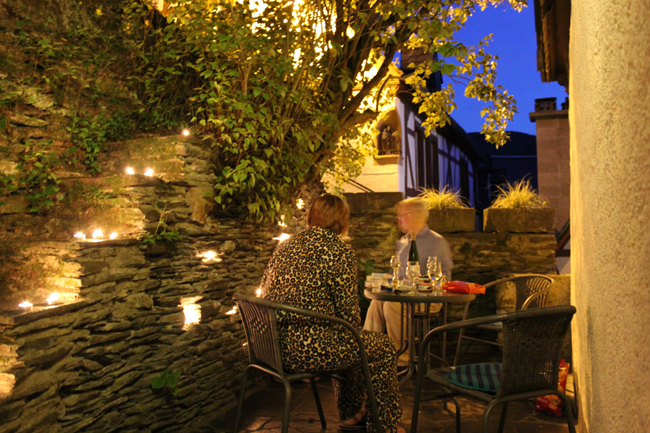 Thursday was our last full day in Germany, and I spent much of it sat by the river with a glass of wine.
We did get the little ferry across to the other side of the river, which enabled me to take this photo of the whole of the tiny village of Beilstein.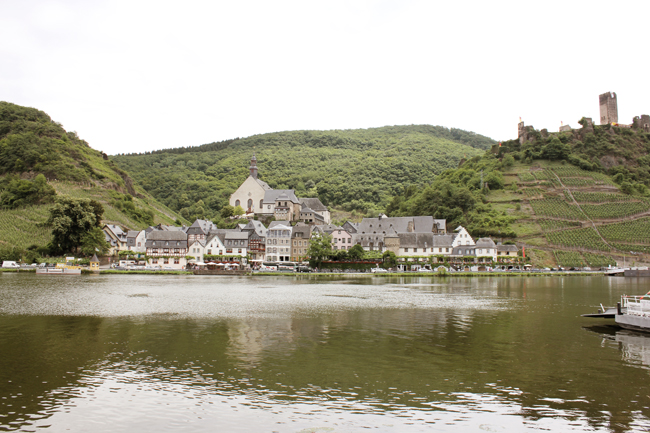 Friday morning was an early start and a long drive. Ending up in a miserable, drizzly ferry terminal in Dunkirk with machines that ate the last of my Euros and left me with a £3 cup of coffee. See how impressed I am with my £3 cup of coffee.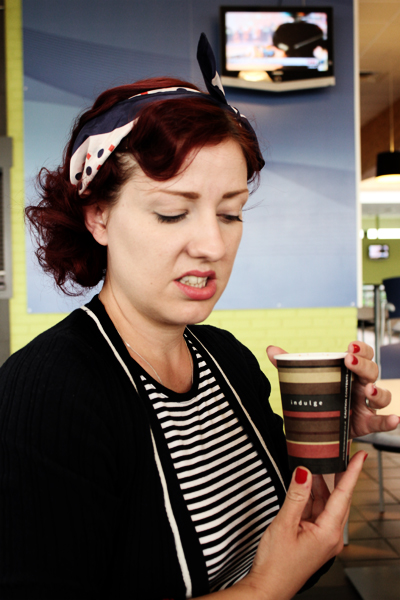 I was, as you can imagine. equally impressed with this view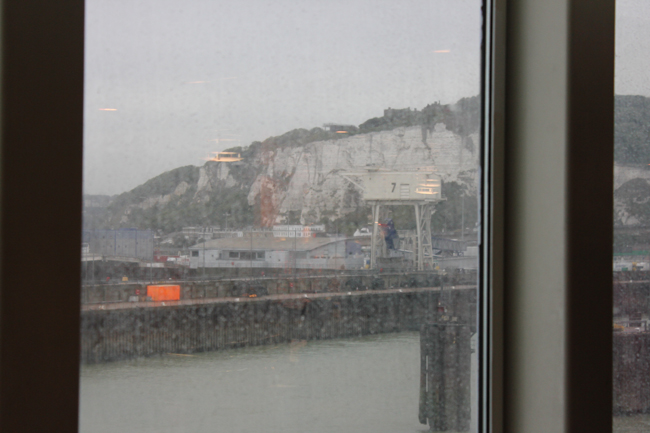 Though this one leaves me slightly more cheered.
Phew.
If you made it this far you can give yourself a hearty pat on the back and admire the little present I have bought you home:
I wanted to bring you all something, but I fear that frankly that's just not possible. So instead I have bought a pen with a boat that sails down the Mosel when you tip it up, a small bottle of a very tasty fig liqueur and a shot glass with a picture of a castle on it which I will give away to just one of you!
All you need to do is leave a comment and I'll pick a winner on Friday (You do need to be over 18 to get the fig liqueur though, very important!)
And that was my lovely week in the sunshine. I have come back with booze, a bit of a tan, 3lb of extra weight and desperate urge not to do any work. *Sigh*. though I'll do my best, just for you…..
Related