I've been meaning to start doing videos again more often for some time.
So. This week I thought I'd do a little tutorial on the super easy hair style I've been doing every day this week while the weather's been humid. It keeps my hair off my neck and avoids problems with dropping curls when the weather is humid, it can also be done on completely straight hair, meaning no sleeping in rollers when the nights are boiling.
In the video I use a large flat lily on the smaller side of the parting, but this morning I've actually tried it with a little cluster of small roses right on top of my head by the parting and it looks good, very 40s. What I'm trying to say is, once you've done the twisting and pinning bit, try experimenting with different flowers and accessories till you find one that works for you!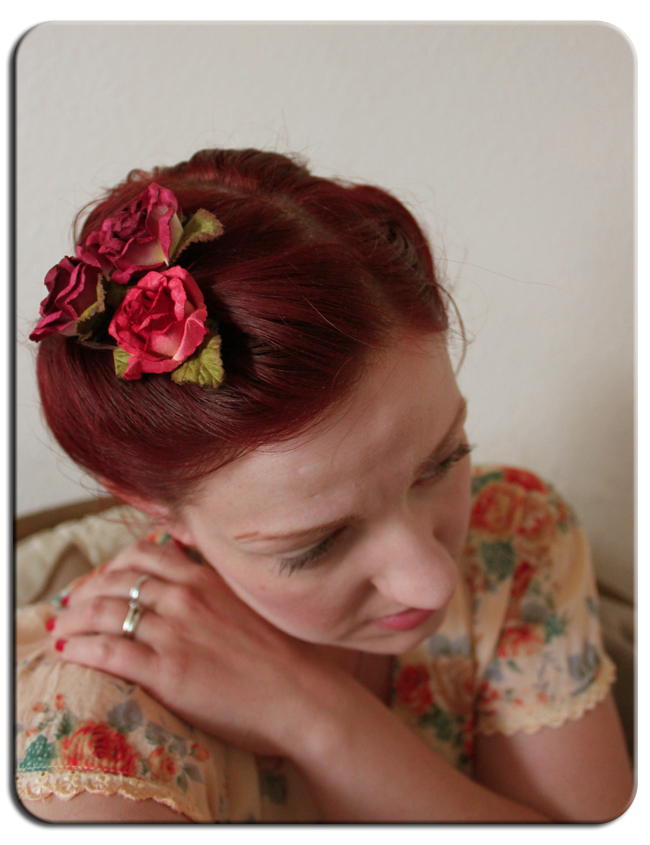 Paper roses £3.50 each at Abilu Creations, by the way!
I have to confess, that now I've made it I was in 2 minds about posting it. I'm not completely happy with the video itself as the software on my new laptop is nowhere near as good as the old stuff (any recommendations for software that doesn't cost a fortune?) I'm also not sure as it REALLY is such an easy hair style. A couple of people on Twitter reassured me I should post it, and frankly I have nothing else interesting to say today, so, now I've convinced you it's rubbish, here it is!

I've not done it as well as I can do in the video (isn't that always the way?!) it really is just "twist and pin". The volume at the front provided by pushing it forward and a bit of backcombing, along with the nice twisty effect, do give it a nice retro look though. I got actual compliments from a complete stranger this week with my hair like this, so if you're a complete hair beginner, it's worth a try!
Do you have an easy do for hot days that looks good?