Monday morning dawns again.
At least it's bright and sunny which relieves the trauma slightly, and it was a lovely bright and sunny weekend too!
I went to Clutter City (which I'll write up on Vintage Norwich in the next few days) wandered round a few vintage shops. Fell in love with a 1940s wool dress which I then noticed was full of moth holes (sob!), went to a party, grabbed some Boot Fair bargains, watched the tennis and generally had a busy and very weekendy weekend.
But first, an announcement.
DRUMROLL PLEASE………………….
I am very, very excited to announce that I am now a "House Model" for the wonderful Able Grable.
Being a house model should mean some lovely new designs, and I get more chance to prance around in pretty frocks, so I'm very excited!
I own 2 pieces from Able Grable, the M'Lady dress I treated myself to for a ball in April and the stunning Miss Loretta Blouse. Miss Matilda of Able Grable made me the blouse to say thank you for sending her a 78 record from Mr Chicks collection to replace one she'd bought that got broken in the post.
We shot some photographs of the blouse with Miss Demuir and as a result you can now buy the Miss Loretta blouse on Able Grable and I am now a house model!
Should you decide to treat yourself (and you probably should!) it'll be custom made to your measurements and you can choose any colour you like from her gorgeous array of satins. It's a beautiful fit, with a side zip fastening giving it a nice smooth line at the front and a lovely 1930s bow detail at the neckline.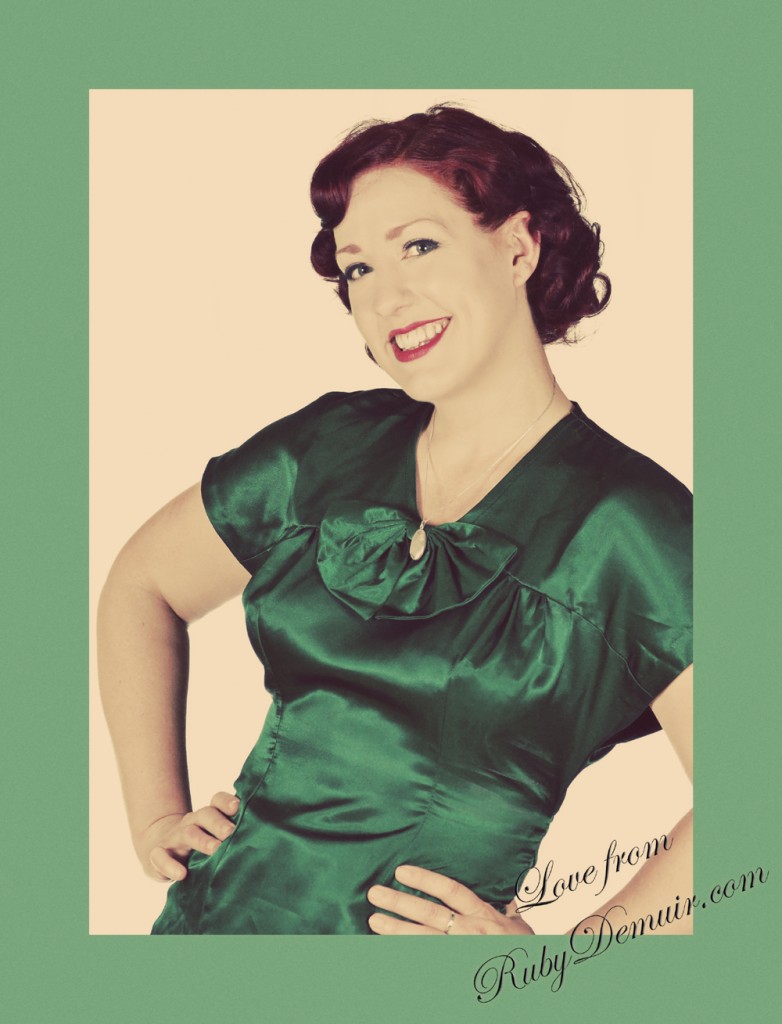 Having clothes custom made for you is a real investment, they might seem expensive, but the fit is just perfect, it's a real revelation after years of buying High Street clothes that never quite fit right.
Now, I plan to bore you with some pretty things I bought over the weekend.
First up I bought these lovely green beads from Betsy & Rose on her stall at Clutter City. I love green, but I'm a bit concerned now that everything I own will soon be green and I'll have nothing to contrast it with without looking like the Green Goblin.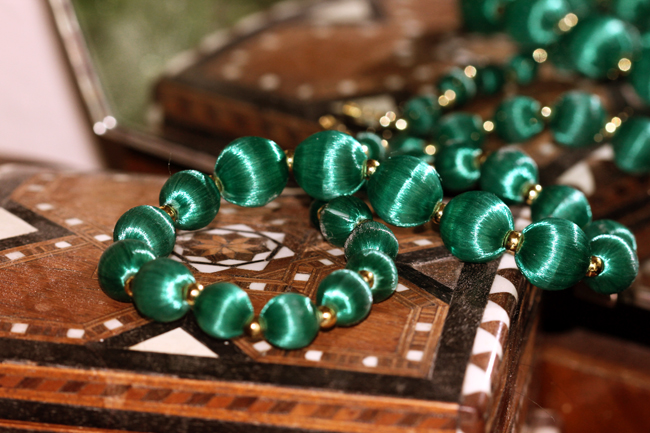 I also managed to get a cute black lace bow necklace from Dolly Bird Boutique, I actually won it in the tombola so it was only £2, huzzah!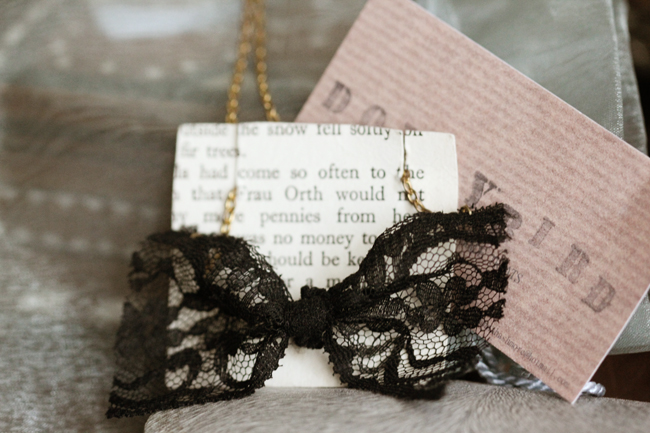 Also on Saturday I got this adorable little lobster brooch from Back in Time on Anglia Square. It's a great vintage shop, but has no online presence at the moment. I recommend you pop down there if you're local and have the time! She actually gave me the brooch as a present as I was taking some photos to run a little feature on the shop on Vintage Norwich, which was very kind of her!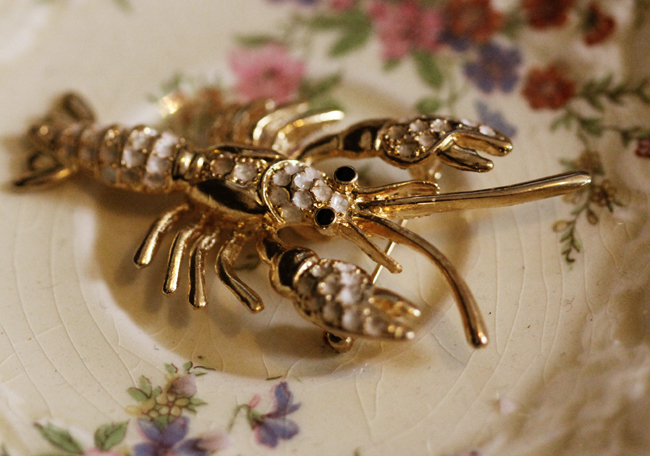 On Sunday at the boot fair it seemed to be glassware day. For weeks I've been looking for some nice champagne coupe glasses. I've seen a few in antiques markets, but they were all proper antiques and therefore hugely expensive. Then on Sunday I spotted 3 glasses with a little leaf design on them and snapped them up for £1, then a few stalls later I spotted a pair of crystal coupe glasses. Turned out the guy had 6 of them, and I bought them all for £5. Hurrah! I also bought some cocktail glasses and some Brandy glasses as well while I was there, just for good measure! Now all I need is to find somewhere to put them all!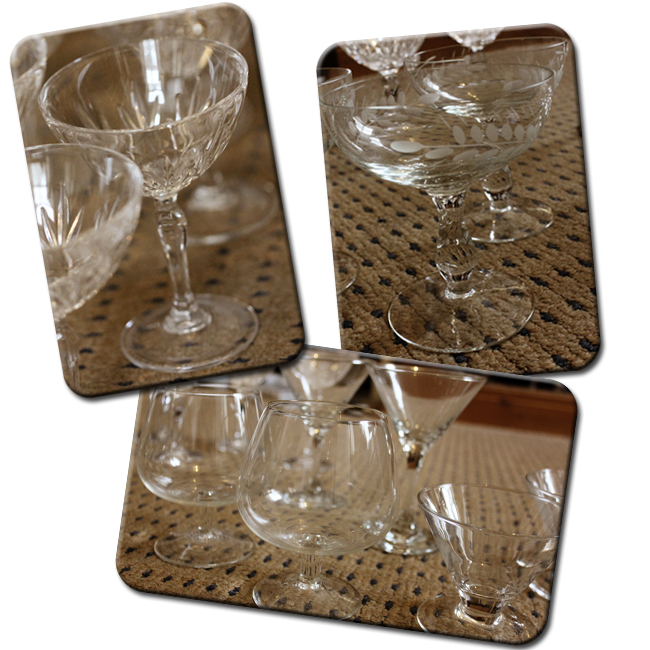 My final boot fair bargain, was some pieces of vintage plastic. I'm not sure what plastic it is, but it's fairly light and I have a vague feeling it might be celluloid, I seem to recall that often comes in a tortoiseshell colour, but I'll need to do some research on it. If it is celluloid I might place it in a fire proof box while I'm out of the house as it's very flammable! I've got a vanity tray, trinket box, nail buffer and a ring tree.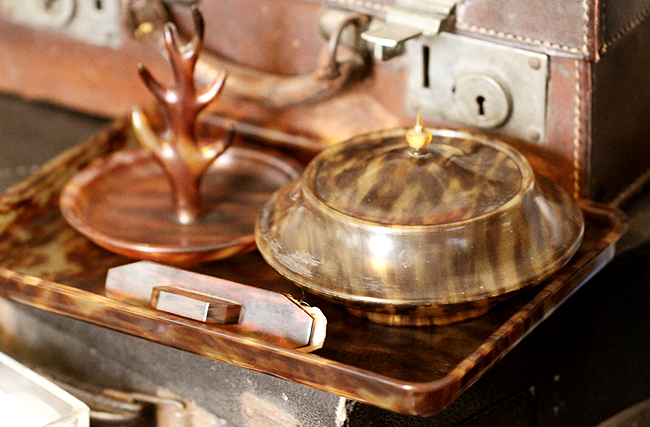 How was your weekend?