Did you notice I was missing yesterday?
Twitter followers definitely know why, as that's where I like to whinge and rant, and I did mention it on Facebook too, but the reason was my laptop decided to have terminal meltdown on Friday. It didn't matter how many times I pushed the on button, how long I held it down for or how much I shook it, it just did nothing. I even tried the time honoured "leave it a bit and try again later" method of laptop repair with no joy. This stressed me out a great deal and led to me slamming the front door in the face of "Chugger" (she started dancing on my doorstep and singing "Charidee" over and over, you'd have done the same thing). It also meant that ultimately I have had to spend all of the no money I have on a new laptop, spend a whole day transferring everything over from my old hard drive, and mentally cancel Christmas as I am now skint. I do have a new laptop though, it is shiny and red.
But never mind!
I'm back now, with a belated tale of Historical Saucery and other weekend things!
I've mentioned the Historical Sauces before, but in case you missed it, here's a catch up lesson.  Me, Lucy from The Glamourologist and Kerry from Missy Vintage have teamed up and we've been taking our Pop Up Vintage Reading Room to The Little Vintage Lover Fairs in Norfolk. In the New Year we've got a number of other exciting things planned too, including Vintage Glamour Afternoons, talks and demonstrations.
This weekends Little Vintage Lover Fair was at Sussex Barns, near Burnham Market, which is actually about an hours drive from Norwich, so instead we stayed over night at Lucy's parents house in Wells. By happy coincidence Santa was also visiting Wells that day and the village was feeling rather festive, so we went out and joined in the fun.
I would like to mention at this point that no one warned me in advance that we would be leaving the house, and I had curlers in as I had a photo shoot on Sunday! Santa arrived, but we were too busy drinking beer to meet him. We did, however, meet 4 other sub-Santa's on our way up the road, so the evening wasn't wasted. (Do take a peek at the bonus Santa creeping out of the door in the last photo, she makes me giggle)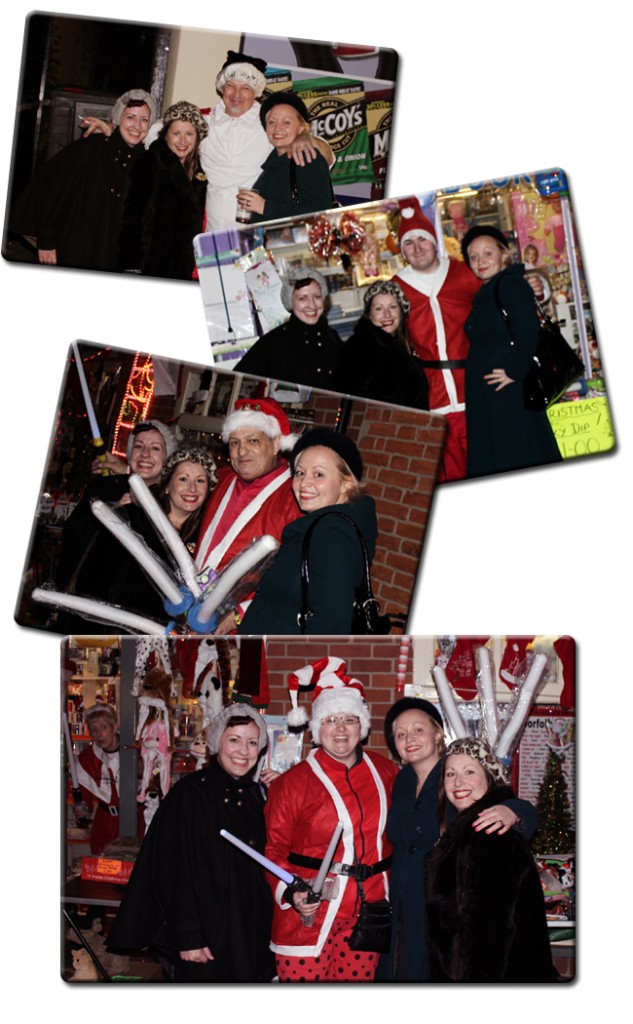 We also met, Baby Jesus, and took him gifts of beer. Way better than the stupid gifts those Wise Men took him.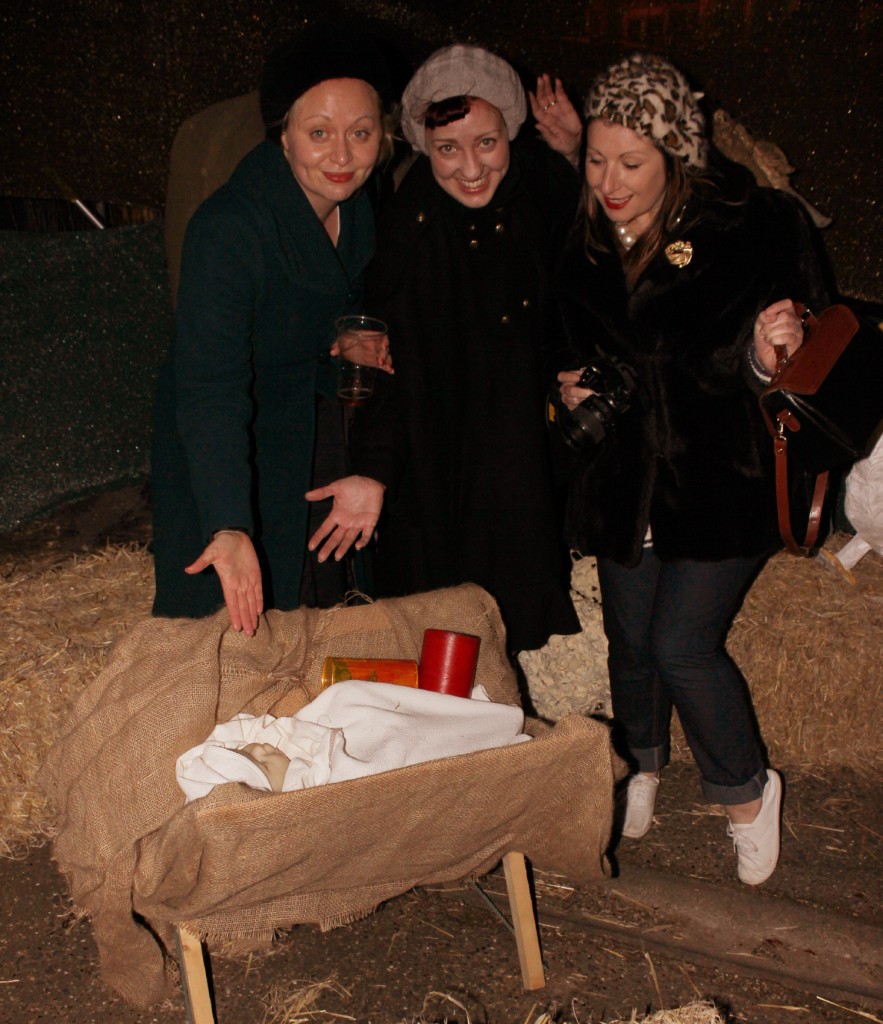 Then we found a lovely pub selling Adnams Yuletide beer before enjoying some traditional seaside fish and chips.
On Sunday I could only help with the setting up of the reading room and library as I had a photoshoot with Zoe Noir booked in the afternoon (more on that when I see the pictures!), but I made it back for the last hour, which gave us a chance to debut our adorable new Mortar Board fascinators that the supremely wonderful Sugar and Hatter made for us. (Take a peek at their mini berets, they're really fabulous!)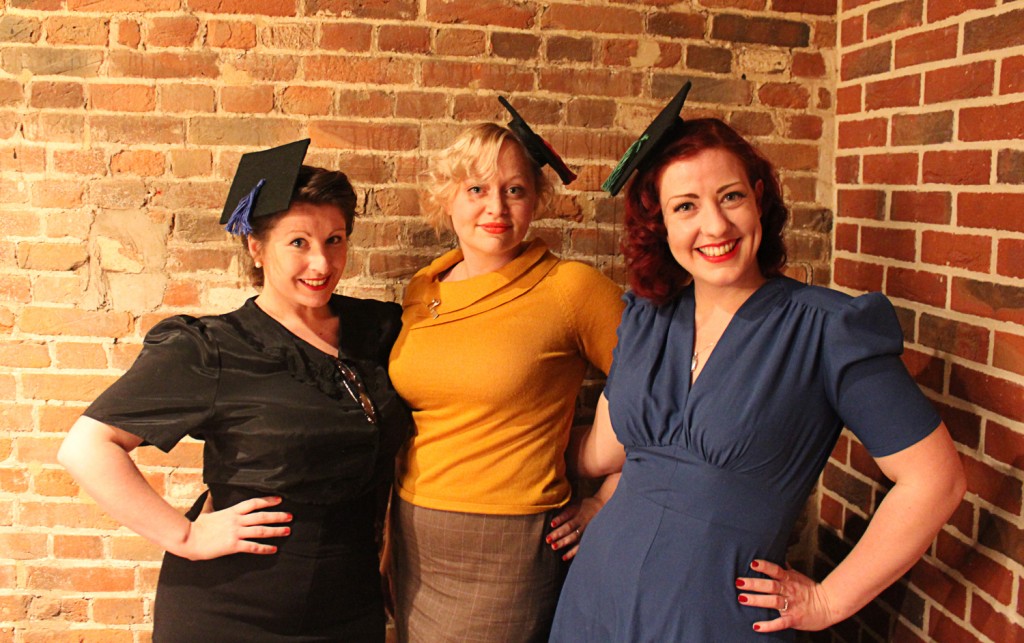 We also had a bit of a pose with Reginald Spleen's Travelling Snuff Bar.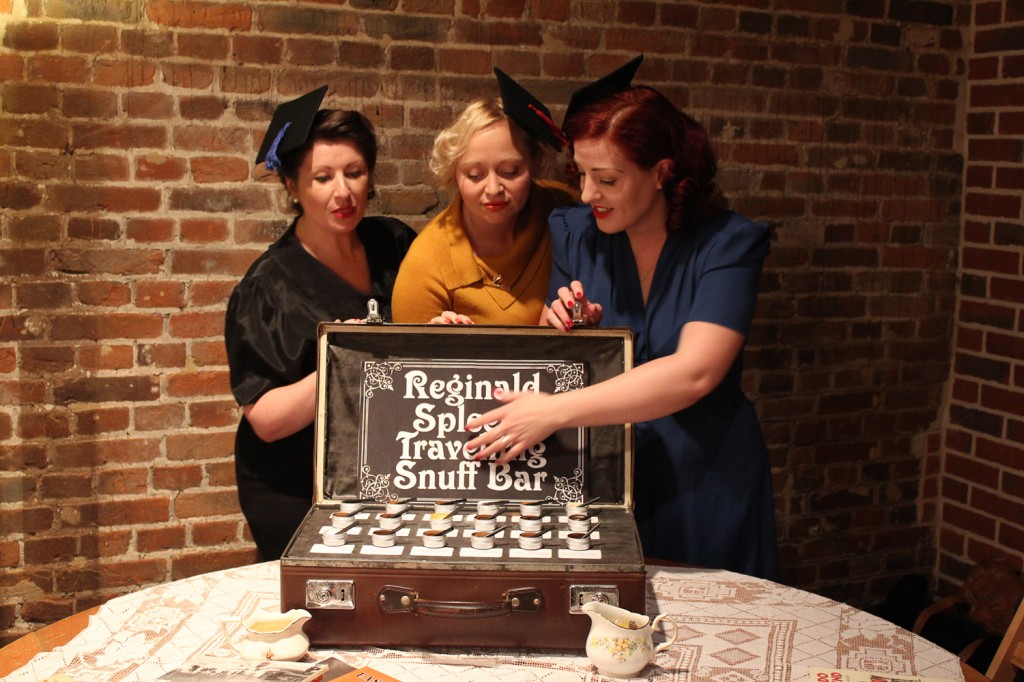 There's more about the fair over on the Historical Sauces website, and it's also worth a peek as we're running a little giveaway at the moment to celebrate reaching 100 Facebook Fans in our first month. We have handy handbag hair kit including some Batiste dry shampoo, hair grips, mini hair brush, hair net, and a vintage rain hat to giveaway, as well as a copy of Make Do and Mend.
If you fancy a bit of Saucery then our Reading Room / Library is available to hire for events, perfect as a little "chill out" area, but less 90s night club sounding.
We're also available to hire without our books. Our aim is to bring a little bit of glamour to the world, and prove it doesn't have to be hard work. So if you fancy a girly afternoon of pampering and some tips on how to do your hair and make up with a little bit of vintage glamour then drop us a line and see what we can do for you! We're thinking birthday treat, or hen party with more class and less flashing L plates.
Well, that's enough pimping out for now, if you want to visit our reading room then at present our next outing will be at A Most Curious Vintage Wedding Fair on the 11th February where we'll be not only running our reading room, but a few lectures (the fun kind) and demonstrations throughout the day.