On Thursday night I mentioned I was headed to 7 Dials for a blogger reception and Christmas Shopping Evening.
Seeing as my posting schedule is all messed up this week I thought I might as well tell you about it now! Prepare for a post quite heavy on festive photographs full of twinkly lights!
The evening started at the rather lovely Dial Bar in the Mercer Street hotel. It felt all warm and Christmassy inside, and the festive cheer was much added to by a 7 Dials Cocktail, allegedly it is inspired by the unique flavours of each of the streets of the 7 Dials, which sounded a bit risky to me, it wasn't always such a lovely area! I didn't catch what was in it, though I think I heard mention of sloe gin and juniper berries. It was delicious either way!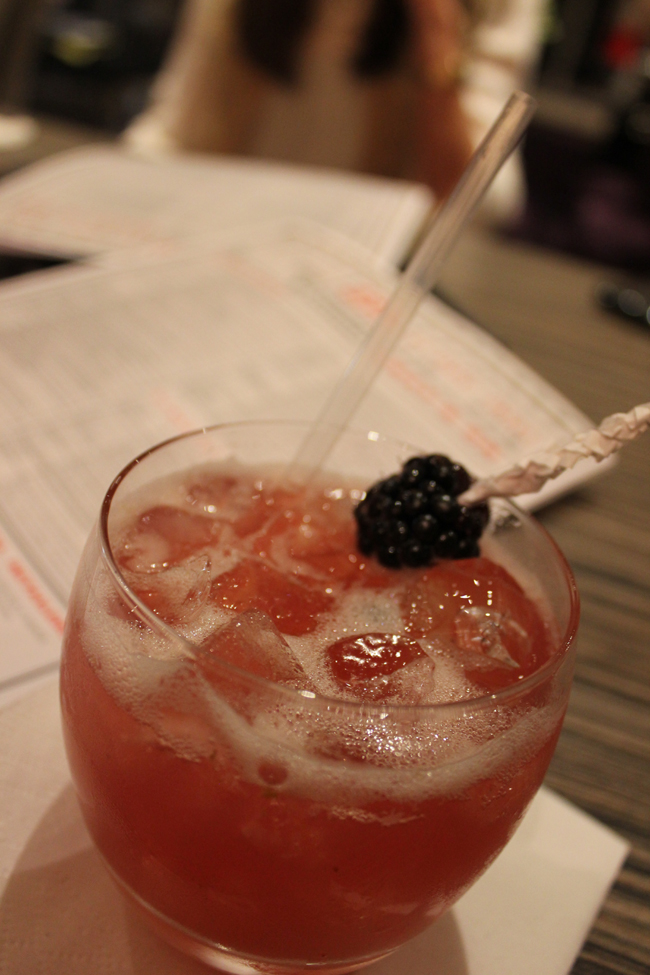 The other bloggers invited along were Fritha Louise of Fishtank Fashion and Frankie of Swell Vintage, Frankie I'd met before, but Fritha I hadn't so we browsed through the list of events happening at the areas stores that evening, generally got caught up and tucked into yummy mini mince pies.
Please try and ignore that mans bottom in the background, I have no other pictures. I think he was picking something up rather than deliberately trying to moon my photograph.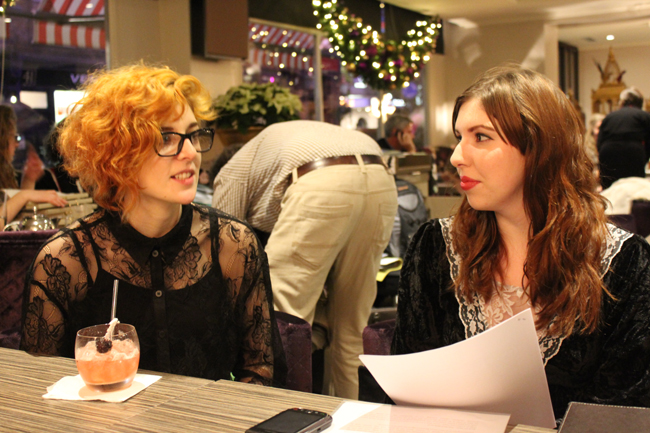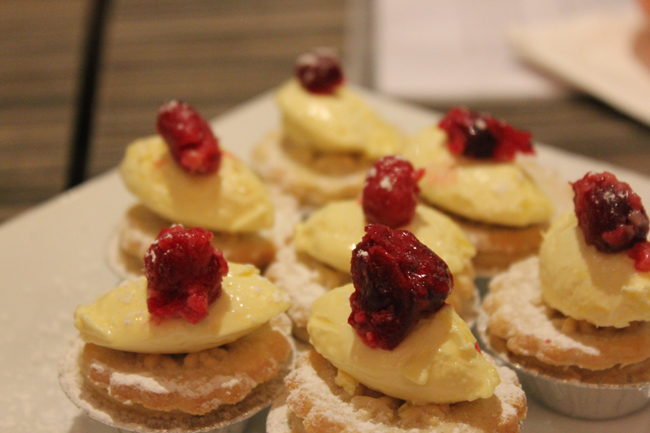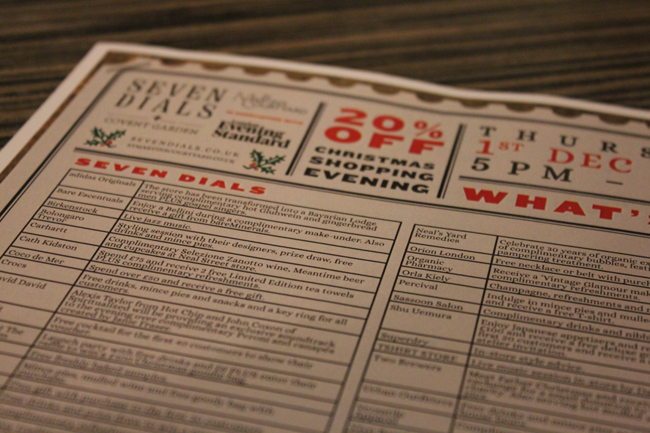 My memory of the 7 Dials area is from back in the 90s when I used to get my hair cut at Stuart Philips in Neals Yard. I thought it was a fabulously quirky area and I used to enjoy browsing the shops after my hair cut. They were always the kind of shops that sold those brands that were a bit unusual, cutting edge, and achingly trendy. Like that Hard Candy nail polish that came with a ring and was so popular in matt pastel shades in the 90s *cough* showing my age *cough*
Well, it's nice to see that nothing has changed. The shops are still upmarket, cutting edge and fashionable, and the area is still way less packed and touristy than neighbouring Covent Garden.
Absolute highlight of the evening was a trip to one of my old favourites – Neals Yard Remedies. They were celebrating their 30th anniversary in their very first store and the staff were astonishingly friendly and accommodating! I had a lovely glass of champagne under twinkly lights in a packed courtyard while I listened to a talk by the founder, and was even treated to a free massage (apparently I'm very tense!)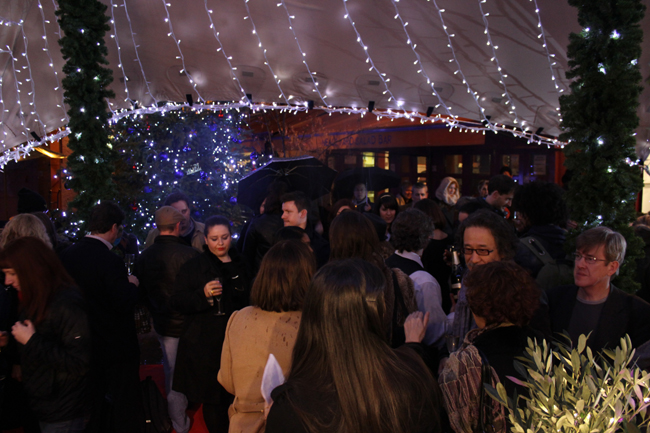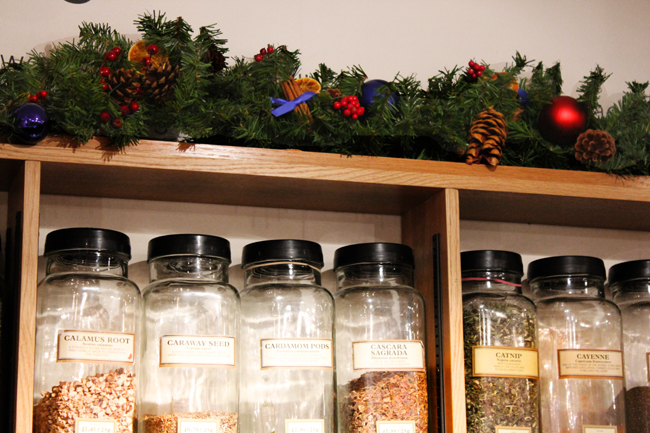 It was somewhat rainy last night, but the rain didn't seem to be dampening anyone's enthusiasm as many of the shops were packed! We popped into a few more stores like Urban Outfitters (bit loud for me!) and Bare Escentuals (gorgeous). Organic Pharmacy had been promising "vintage glamour makeovers" on my program, but when we arrived and asked about it we were met by slightly bemused faces, so I had to make do with my own brand of vintage glamour for the evening.
Eventually the rain began to get to me a bit, so I abandoned the Adidas bavarian lodge and Santa in the Two Brewers and headed off to catch a tube to my second appointment of the evening, which was a German bierkeller called Katzenjammers where I, along with several others, had arranged to meet Miss Matilda of Able Grable who was paying a visit to London. We were all in Dirndl, but sadly I was far too busy enjoying the beer and sausages to remember to take any photos, so I hope someone else will blog about it soon!
We were given a lovely goodie bag of little gifts from the stores in 7 Dials and St Martins Courtyard to take home. Highlights of which for me include a game of fashion top trumps from MAGMA and a hilarious wooden ruler with "spank you very much" written on it from high class erotic boutique Coco De Mer. I was also lucky enough to manage to win an Orla Kiely bag in a lucky dip, so all in all a successful trip! I had been a little unsure about going along, there's nothing more depressing than looking around expensive shops full of things you can't afford, but actually there's quite a nice range of shops in the area. All quite quirky, but not all super expensive. I genuinely had a fantastic evening, so I'm glad I made the trip.
From my perspective there were also 2 or 3 really good pubs, with real ale on tap, in the area. I'll definitely take a trip back there on one of my rare trips to London when I'm not rushing around to things. It was quite nice to reminisce about the times when I was a trendy cutting edge 17 year old apart from anything else!
If you're a Londoner then I expect you know the area, but you can apply for a privilege card on the Seven Dials website that gets you discounts off some of the shops, which you might NOT know! If you're not and happen to be paying the city a visit before Christmas then I recommend you pay it a visit, the lights are really pretty and there's some nice cakes!
Related