I hope you had a wonderful Christmas?
This year was a bit more low key than some past years, for various reasons, but it was still lovely and relaxing. In fact probably more so because I now have a very unvintage dishwasher, which means I can make as much mess while cooking as I like and the dishwasher will deal with the aftermath. Bliss.
Once again, as is becoming traditional, I shan't tax your post Christmas brain with complicated philosophical arguments, and I'm certainly not ready to think about shopping just yet.
So this is Christmas. As told by the photos on my Instagram feed.
Christmas Eve
Christmas Eve was spent putting up the last few kitchen cupboards, hiding piles of building materials under sheets and making room for the astonishingly 70s vintage orange tinsel Christmas tree. All while wearing glittery heels.
Christmas Day
I was very lucky to get some fabulous gifts. Mummy & Daddy Chick got me a personalised Zatchel and a fantastically chunky phoenix bracelet by Rosie Fox. While Mr Chick got me the Betsy Hatter tilt hat I fell in love with back in October.
My Christmas outfit was a little more low key than normal. Heyday! trousers and a Christmassy cardigan. Though I couldn't resist glittery shoes and stick on glittery gold eyeliner. Looks great, feels like sticking grit to your eyelids. Later on, of course, it was time for Christmas PJs. Has to be done.
Christmas Dinner in our house this year was fillet steak with port and stilton sauce, eaten off a wobbly folding table, but we didn't scrimp on the festive drinks, with snowballs and Champagne being the drinks of the day (and bucks fizz for breakfast, naturally).
Boxing Day
Boxing Day was the day we were going out for our "proper" Christmas Dinner. So I started the day with a run in a half hearted attempt to burn off some of those snowballs. I had mistletoe in my hair. Don't worry, I assumed I could outrun anyone who thought that was an invitation for a snog.
Glammed up a little more for Boxing Day dinner, with a rather fetching gold jacket I bought in Oxfam just before Christmas. The brooch is my Nana's and I think it looks like a little Christmas wreath.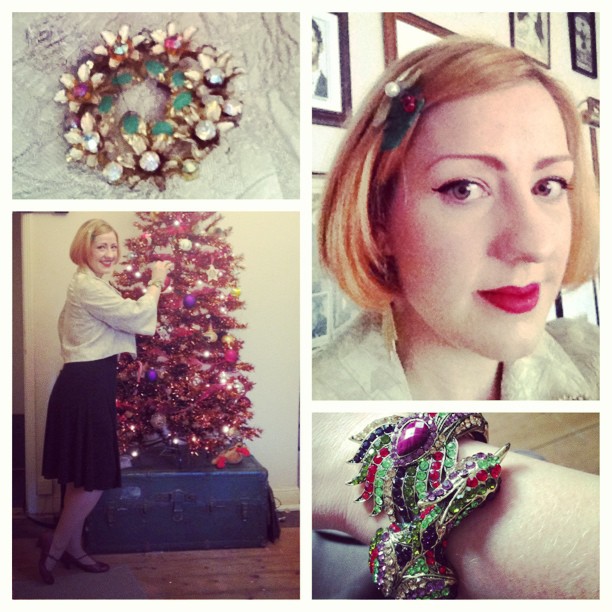 Boxing Day seems to be the day the cheese board comes out, judging by the amount of instagram photos of cheese I saw. We ended the day snuggled up drinking beer and eating cheese after it decided to bucket it down with rain on the 2.5 mile walk home from the pub. By the way, I don't recommend the Insanely Bad Elf. It was so foul I poured it away.
How did you spend Christmas?