If you follow me on Facebook or Instagram you might have helped me get dressed this weekend!
I'm normally quite organised with outfits, having planned what I'm going to wear well in advance for big nights out. Last week, however, was so busy that when I woke up Sunday morning to head off to London to see Casablanca at Future Cinema I still had no clue what I was going to wear.
So I roped Instagram and Twitter into helping me chose between 4 frocks. How I managed to get dressed before Social Media I have no idea!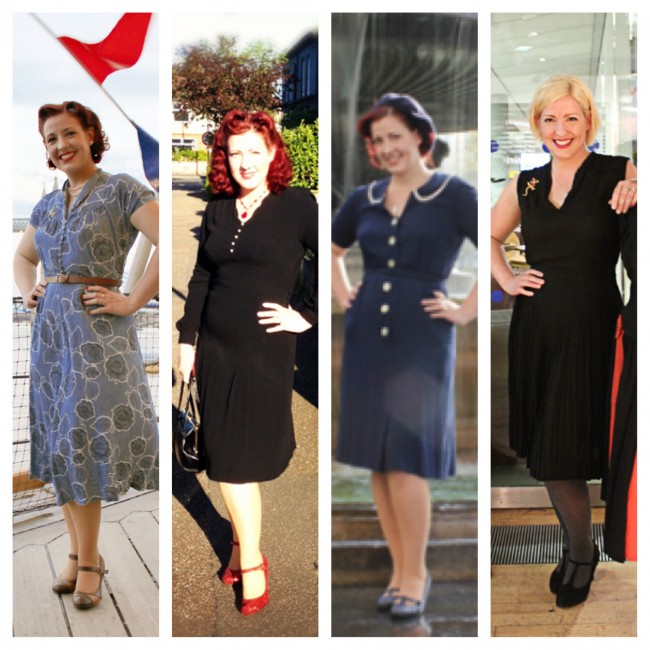 The trip to Future Cinema was a post Norwich Fashion Week break, I'd organised 2 events, plus covering a lot of others and was a little stressed, so a night at the movies seemed the ideal getaway.
In case you haven't read about Future Cinema already, it's basically an immersive theatre experience, with a movie screening. The Troxy in East London is a glamorous old theatre with art deco styling, and inside it has been transformed into Ricks Bar from the movie Casablanca. You can get as involved in the activities as you want. Whilst queing to get in we were interogated and asked for our papers, and inside various walkabout characters act out little scenes from the movie, or you can interact with them and try and negotiate some exit papers for yourself.
I didn't take my camera out with me for the night, so my final outfit choice is snapped in a hotel corridor. Glamorous. My persona for the evening was Antonietta Marino, a French refugee.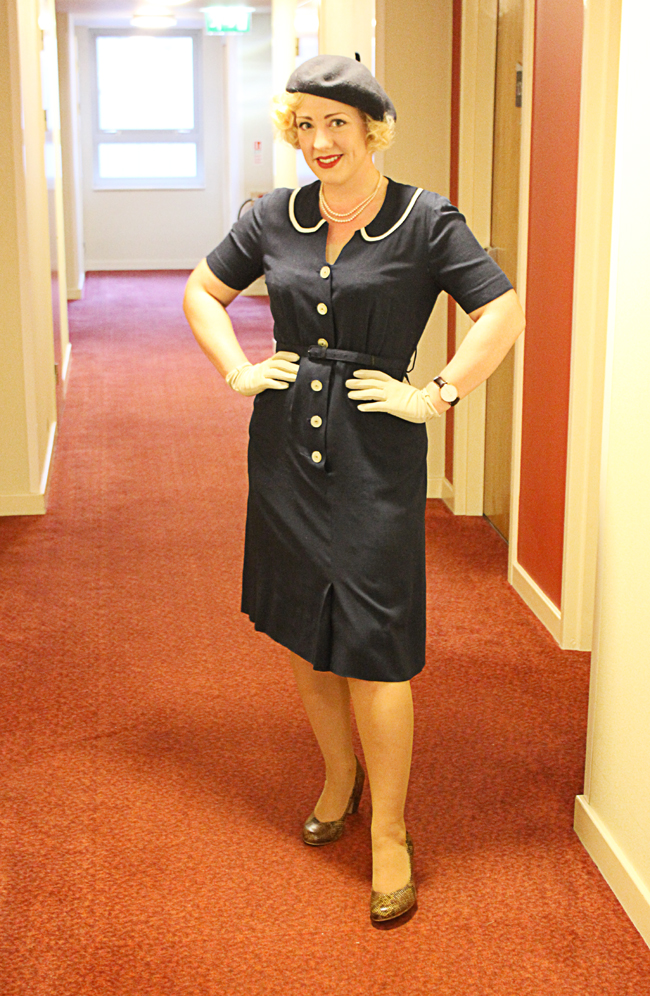 ❤ Dress – 1940s Lord & Taylor ❤ Shoes – Office sale ❤ Gloves – vintage ❤
❤Beret – eBay ❤ Pearls – vintage from my Nana ❤ 40s Faux Fur Jacket –  Penny Dreadful ❤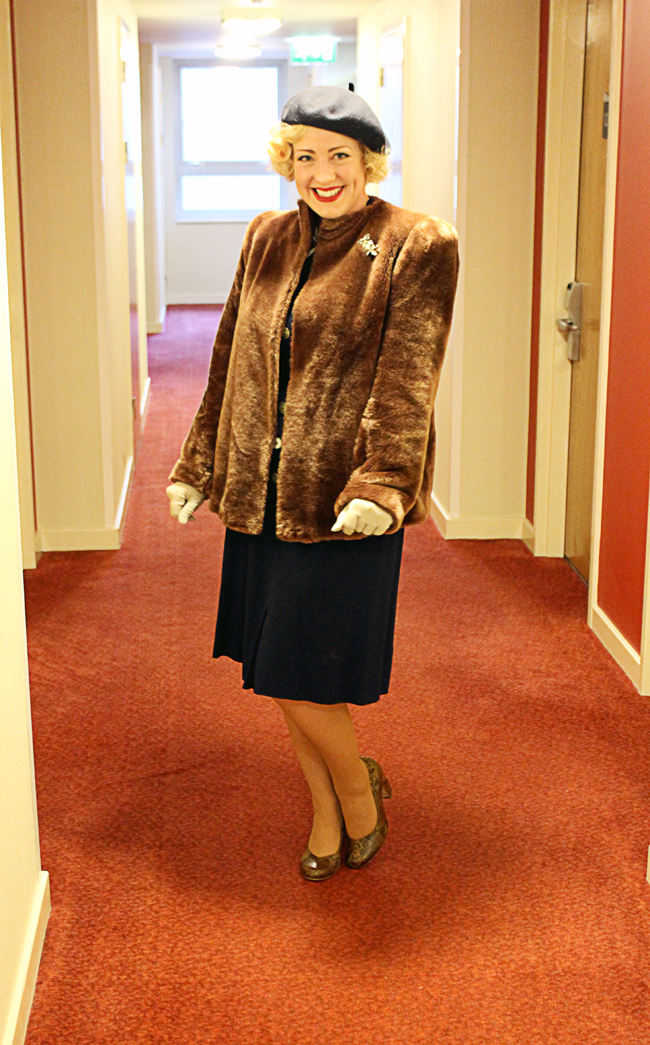 Because I didn't take my proper camera I didn't get many good photos inside, Mr Chick packed a vintage suitcase with silverware hidden underneath some pyjamas and a teddy bear, but apparently the Chief of Police was only interested in women, and I didn't fancy being sold for exit papers.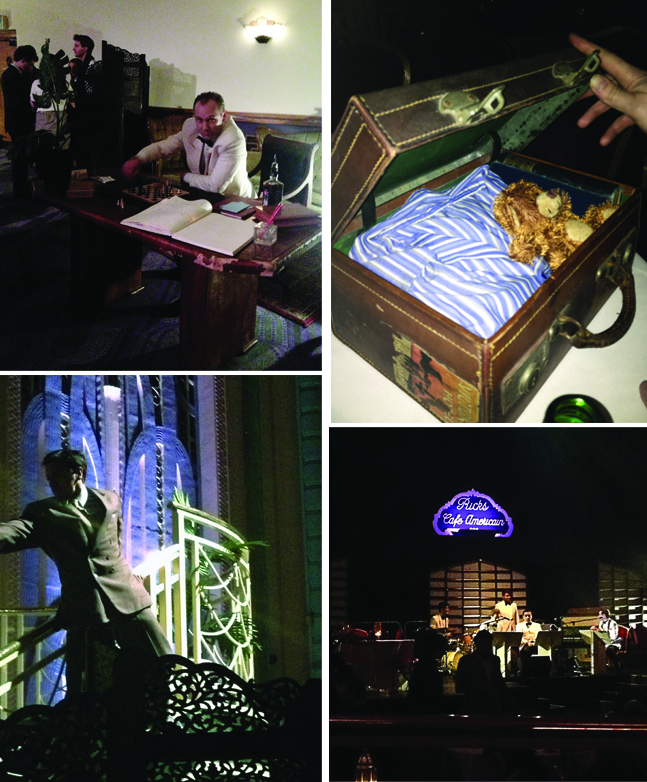 I did also meet a lovely lady called Amanda Loverseed, who is a wonderful illustrator and gave me these illustrated cards of a vintage shop, if you turn them over on the back is the inside of the shop.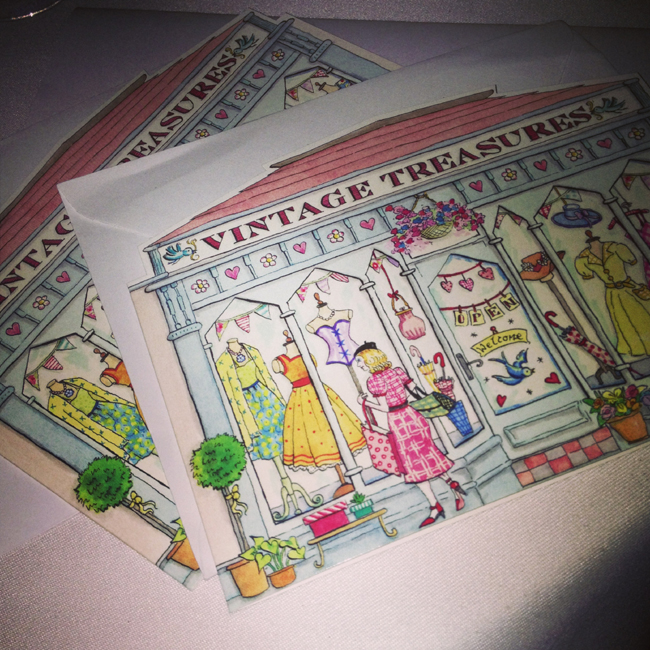 I am sad to say I drank a somewhat excessive amount of wine, and was somewhat worse the wear by the end of the evening (sorry anyone who spoke to me!) but the evening was a totally fabulous experience. Tickets are £25 each, though they then add lots of obligatory charges on like booking fees and an extra charge for the privelege of using your own ink to print the tickets, so they are in reality about £28, but it's worth every penny. There is so much attention to detail in everything from the entrance to the theatre, to the decor, to the actors, performers and musicians that make it an amazing experience.
The film starts about 9pm, and entrance times are staggered so that people are treated to a full performance on the way in. We were an early arrival at about 6:15pm, and I'd recommend this as it also meant we were able to nab a good table, which we shared with some other very nice people who in no way deserved to have to put up with such drunkeness.
Sadly, what I thought was merely a hangover on Sunday got worse throughout the day, and soon transpired to be my turn with the sickness bug that has been going around. It picked a very bad day, as I am not at home in my comfortable bed, but rather as I type this am fending off waves of nausea in Wetherspoons as I am away from home.
If you'd like to make me feel better, I have one last favour to ask. The lovely blog Rarely Wears Lipstick is running a blog awards to celebrate its 10th anniversary and I have been nominated for the Fashion Blog category! Voting ends tomorrow, and I'm actually able to go to the awards ceremony, so it'd make me very happy if you could spare a couple of minutes to pop over and hit the VOTE NOW button, and vote for me. If you don't know anyone in any of the other categories then you don't have to vote, but there are some lovely people in there too!