I went away for 4 days without my wash bag.
This is an unmitigated disaster. I had to immediately go to Boots and rebuy an entire washbag full of products. Instead of buying cheap stuff to see me through I decided to buy my regular products, as I knew I'd have to buy more again at some point. Fortunately Soap & Glory was on 3 for 2 in Boots. I always use Soap & Glory Night in Shining Armour Night Cream, and I like their Day Creams, so tried a new one of those, but for my third, and free, item I tried something completely new and picked up a tube of Fab Pore Hot Cloth Cleanser.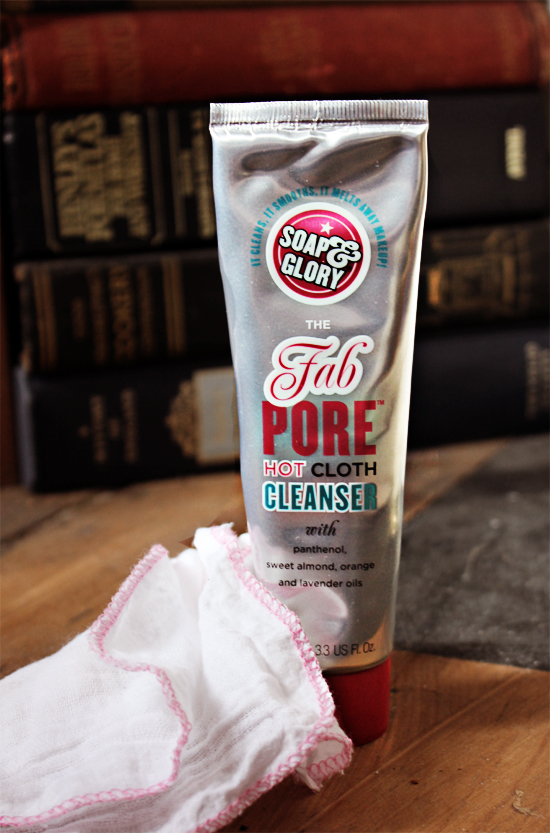 It's a tube of cream cleanser containing panthenol, natural sweet almond, orange and lavender essential oils. You massage it into your face, wait a little and then wipe it away with a muslin cloth provided in the pack, that you run under hot water.
I stopped using facial wipes at least 3 years ago now in favour of a very similar process to above using cold cream and a hot flannel. My skin improved, was less dry, less spotty and generally brighter and clearer.  The only reason I ever use face wipes now is when camping when hot running water is in short supply. I've never found turning on a tap to be that complicated, even when I've had a few (many) drinks and I've never fallen asleep in my make up and as a consequence waking up in the morning is a far more plesant experience! A pot of cold cream costs about £2.40 for 200 ml, or Astral cream costs under £4 for 200ml, so far cheaper than face wipes or the Fab Pore Cleanser.
So how did the Fab Pore Hot Cloth Cleanser square up against a £4 pot of cold cream and a flannel?
The Blurb
It cleans, it smooths, it melts away makeup! With panthenol, natural sweet almond, orange and lavender essential oils. Free muslin face cloth inside.
The Pros
Like most Soap & Glory products it smells gorgeous, which is nice when you're massaging it into your skin. It has a nice texture, lighter than cold cream, so probably nicer in Summer, and not too greasy. I also found that as I was travelling the tube was more portable than a tub of cold cream, and the muslin cloth much quicker to dry to be packed away into a suitcase again next day.
I used it much like I do cold cream, massage it on, brush my teeth, remove with cloth. I then followed with witch hazel and moisturiser. It removed all my make up, if anything slightly better than cold cream as I found less on the cotton pad when I used the witch hazel as a toner (oh yeah, I had to buy another bottle of that too!). It also left my skin feeling soft and smooth, not greasy, and the muslin cloth was rough enough to add a bit of exfoliation.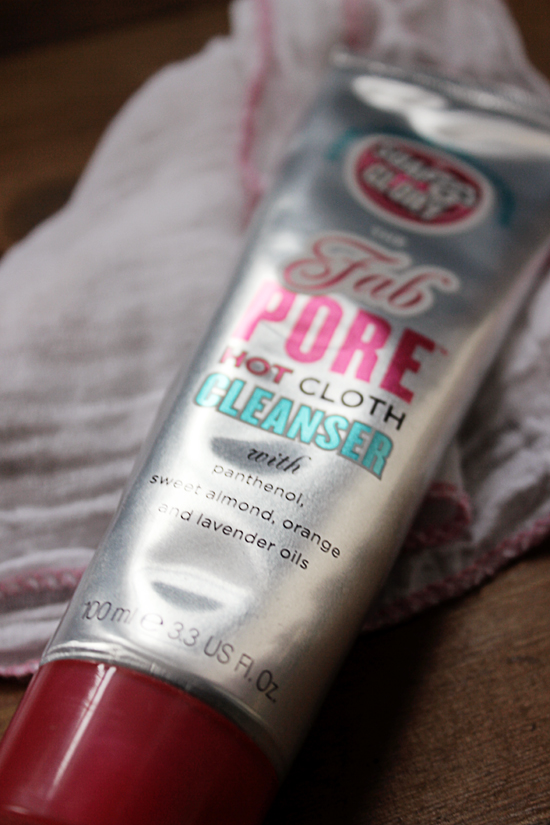 The Cons
Really just the price, but that's a big one. at £10 for a 100 ml tube it's 5 times the price of a tub of Astral and 8 times the price of Boots Cold Cream. After 5 days use I did feel that it performed slightly better than a cold cream, but 8 times better? Or even 5 times better? I'm still not sure if it's the muslin cloth that made the difference to how well it removed make up or the product itself. I shall have to try the muslin cloth with my regular cold cream to be sure.
The Verdict
Will I buy it again? Probably. But I'll wait for 3 for 2 offers and get a tube when I get my moisturiser. In between times I'll probably go back to cold cream or Astral.
In the summer I often switch to a cleansing milk as it's lighter on my skin, but I've yet to find one I'm a huge fan of. This felt much lighter than cold cream, so it'll probably be something I'll give a go over the Summer months as well. At the moment I'm keeping this for travel as the tube is so much more portable than cold cream, and using cold cream at home.
In summary, it's a great product, that I really loved, but not enough to justify the huge price difference between that and my regular cold cream cleanser.
What's your favourite cleanser?
Have you tried Fab Pore Hot Cloth Cleanser?
Soap and Glory Fab Pore Hot Cloth Cleanser is available at Boots for £10 for 100ml