Well, I made it back alive.
I'll be honest, it felt like touch and go at times!
When I signed up for the Trowse 10k I had visions of a beautiful spring morning countryside jaunt. In reality of course it's bitterly cold, in fact there were snow flurries part way round, and the clocks went forward last night so it was a little earlier in the morning than I would have liked, which is great considering the normal time was already a little earlier than I would have liked.
The other thing I planned to do when I signed up of course was lots of serious planned training and this time I was DEFINITELY going to do under an hour. But, as I mentioned in my last post, life gets in the way, and it's cold and dark and horrible and I had a stomach bug, and 2 major events to organise, and I didn't even run at all for the last 10 days, but still, off I went in my warmest running clothes, and newly peach hair.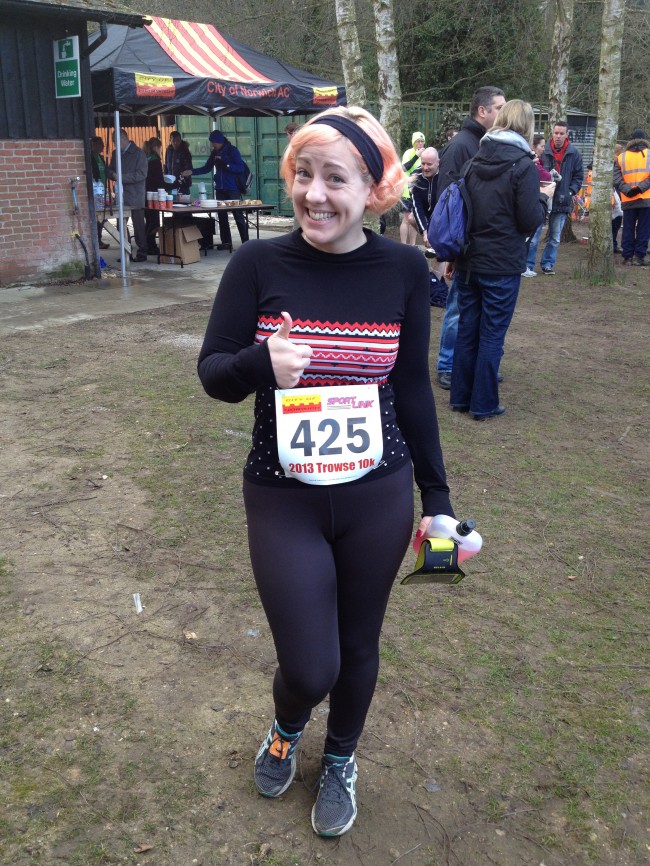 Still not brave enough to do 10k in red lipstick you'll notice. Especially today.
I always feel so lonely at the start line, all alone while everyone around me seems to have friends, but once I get moving it's all good. Well, for a bit, then it's a bit bad. The route today consisted of 2 laps of the village of Trowse. Next time someone tells me Norfolk is flat I'm going to take them to Trowse and force them to run up that hill. TWICE. The first time I thought I might die. The second time I KNEW I would die and took a couple of short walk breaks, and I certainly wasn't the only one, even Mr Chick, who was running with the sort of people who finish in under 50 minutes saw plenty of walkers on the stupid hill.
Still, if hills have advantages it's that what goes up must come down, and there's a lovely steep downhill the other side to make up for it.
I ran approximately 6 of the 10k with a woman just behind me with a watch that made bingely beep noises roughly every 10 seconds. I don't know if it was playing up, or if it was notifying her of important milestones, like running for 10 seconds, but it was certainly annoying, but listening to the 2 women in front of me planning to wrestle her to the ground and take it off her certainly took my mind off of the 5th kilometre.
Suddenly, at, according to my Nike+, 6.1 miles, my legs turned to jelly and I actually thought, for a few seconds I was done for, but I gave myself a stern talking too, reminded myself I'd run 10k before without stopping, slowed and took a swig of my drink and made it the end without dying, as you surely knew I would and I was just being melodramatic. It's only 6 miles after all, I can hear the marathon runners snorting.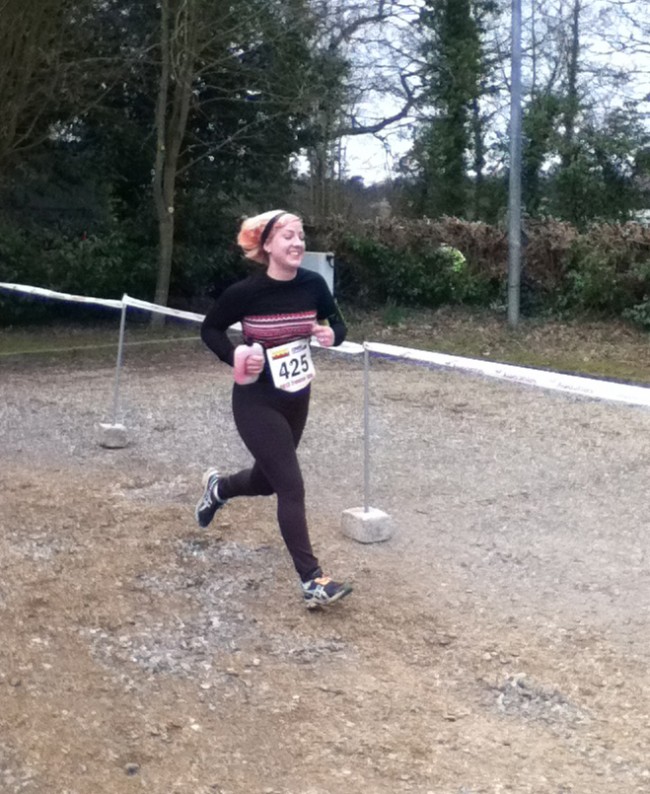 Chip removed. Medal got. Nike + stopped. Banana eaten and goodie bag collected.
I got a plastic carrier bag containing a selection of sweeties. Mr Chick got a fabric bag with last years Half Marathon printed on it. So presumably I'm too slow for a bag for life! Still I shall have a pleasant afternoon making my way through the sugary contents and working myself up into a sugar frenzy.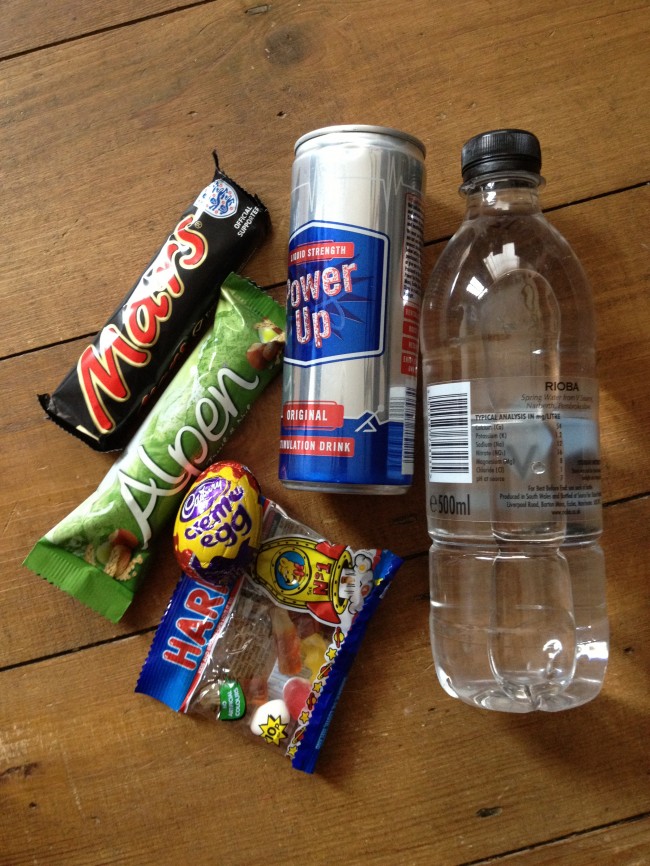 I also got a very snazzy red and yellow medal.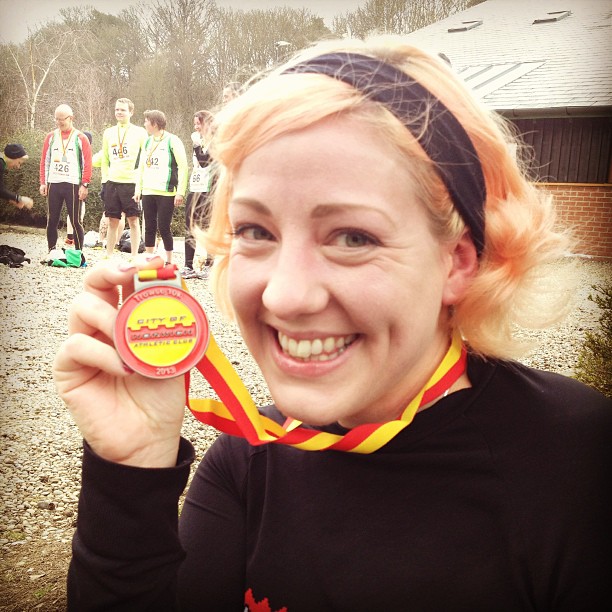 As I crossed the line I noticed the clock said something like 1 hour 1 minute 30 something seconds. I'll have to wait for my official chip time, but that would give me a new PB, even if I didn't make it under that magic hour. The distance on my Nike+ seems slightly off as it insists I ran 6.38 miles and that my 10k time was 1 hour 2 seconds. If I thought that was true I'd be irritated!
Lets play "spot the hill" on my graph.

Anyway, I'm pleasantly surprised by today, even if it did hurt like hell, and I have now earnt a warm bath, lots of chocolate and some beer while I watch the Boat Race later.
HAPPY EASTER!
Update: Official chip time came in at 1 hour 1 minute 14 seconds, so a new PB for me, woo!
Related