I do like a good pair of wedges for Summer.
I have the most amazing pair of wedges at home that I'm still waiting for a chance to wear out and photograph as Summer is still insisting on hiding behind a large rain cloud. Ever the optimist I have decided to shop for yet more wedges, albeit virtually, and share my top picks.
Wedge heels are more comfortable to walk in than regular heels because they support all the way along your foot, and with a platform you can make yourself into a towering glamazon and still have comfy feet, as long as you have good balance. Modern platforms don't tend to be that heavy either as they're made from hi tech hard wearing but light materials. It's like magic.
Vintage Inspired
Wedges were a popular shoe in the 40s, 50s and 70s in particular. I've focused on a bit of a 40s or 50s look for these picks, as that's more my style. There were some crazy wedges around, think Carmen Miranda, but these are generally a more practical wedge, maybe with an ankle strap
Left to Right
Miss L Fire Tijuana Wedges £114.99
Not cheap, but amazing embossed leather wedges with a bit of a 40s Mexican feel. They also come in green, brown and black.
Rocket Originals Esther £69
Rocket Originals are one of the most popular vintage repro shoe brands, and these wedges have been on my wish list for years.
Dune Greed Wedges £55 £39
On the High Street these Dune wedges are a good looky likey, and they're in the sale.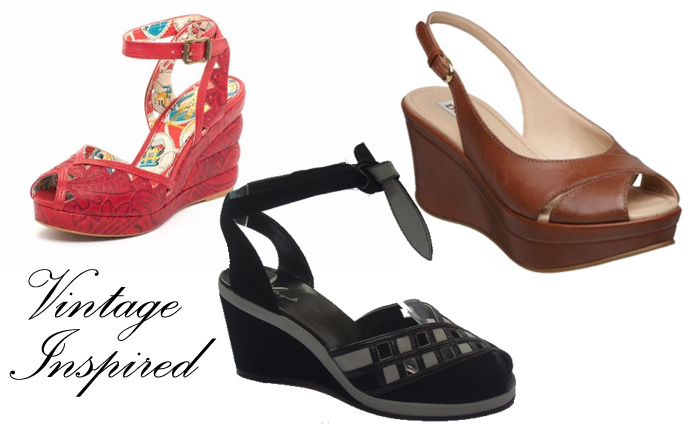 Pin Up Perfection
If you like your vintage with a more rockabilly, pin up style, then wedges get a bit more fun.
Left to Right
Ruby Shoo Red & Cream Clover Wedges £49.99
Frills, studs, and a shape that looks easy to walk in.
Iron Fist Filthy Landlubber Wedge £79.99 £56
I bid on a pair of these on eBay and got sniped. Boo. Tattoesque prints and stripes are perfect for your inner pin up.
Mel by Melissa Apple Ribbon Bow III £39.99
Pink plastic wedges with a bow on the toe, pin up perfection.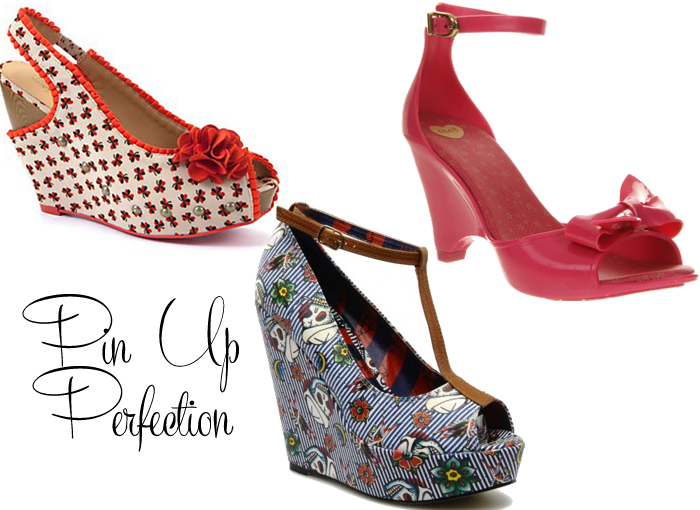 Crazy Feet
My favourites. Wedges come in such insane colour combinations and with such crazy platform heights because they can still be walkable in. Lately I've been getting increasingly fond of mixing crazy shoes with a vintage frock and playing around a little more with my wardrobe.
Clockwise from Top Left
Clarks Scent Eley £79.99
They're Clarks, so y'know, sensible, but with an amazing Eley Kishimoto print fabric.
Dolcis Bow Trim Candy Stripe Wedges £40
So wrong, but there's something about them I love. Crazy shoes that go with nothing.
Irregular Choice Alaska Wedge £99
They look like a little Austrian painted cottage, to wear on your feet! I shan't try and convince anyone these are sensible shoes to spend money on. But LOOK AT THEM! Also, they're actually nearly flat, so if you've got good balance, and they're not too heavy, they're probably actually quite comfortable, maybe?
Office On Your Marks Striped Wedge £65
Ok, so I picked 4 pairs for this category because I got carried away looking at crazy shoes. Black and white is wearable and practical, right?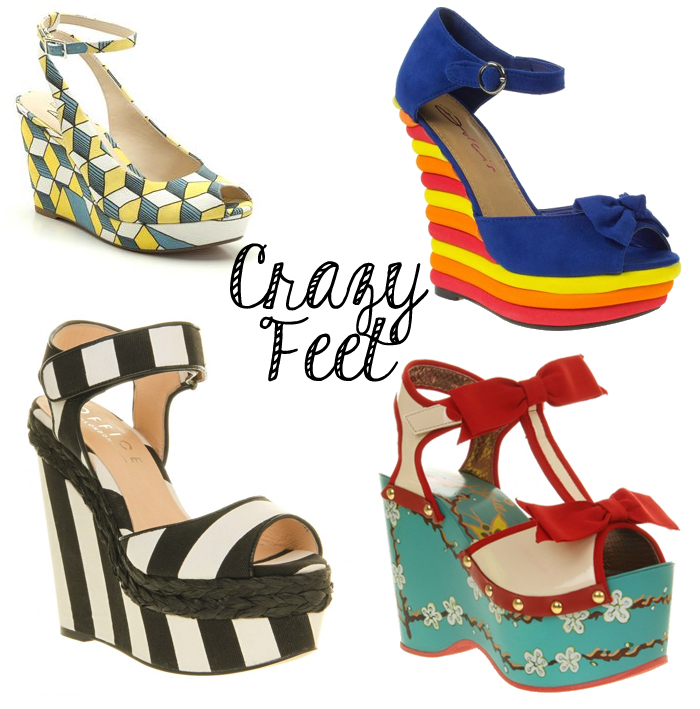 Which are your favourites?
Related