This weekend I was at Wyndstock, a "not a festival" Midsummer Ball at a stately home in Norfolk.
After several days stressing about what to wear as I was sleeping in a tent and unable to predict the British "Summer" weather I finally flung everything I owned into the car on Friday night and drove off to Houghton Hall in North Norfolk on a perfect Summers evening.
We put up our tent in glorious hazy sunshine, and sat down with a Pimms under the gazebo to enjoy it, just as the heavens opened with a downpour of rain. Still better that way than the other I suppose! It didn't last long though, and the rest of the night was pretty idyllic.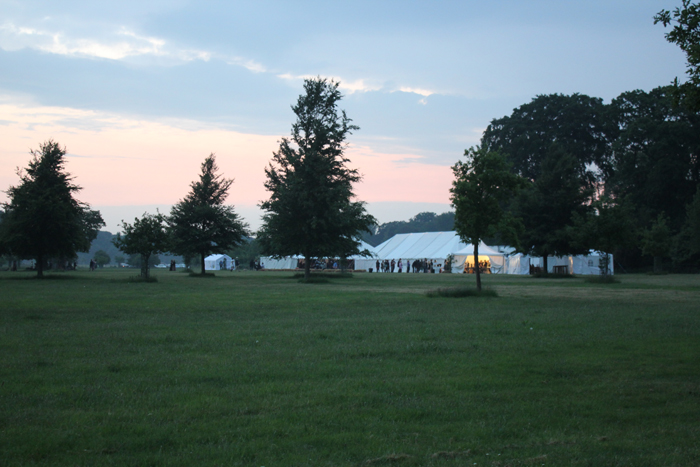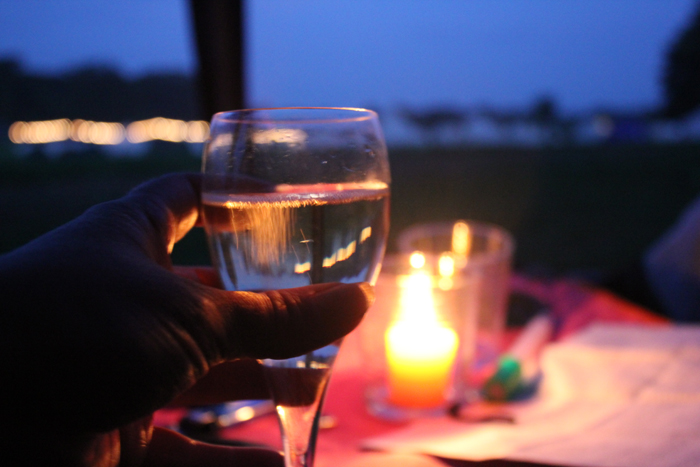 After tea we turned in for a good nights sleep in our cosy tent, that was somewhat marred by the arrival around midnight of a camper van with a sound system to rival any night club, and the fact I appeared to have positioned my sleeping bag over a molehill and spent most of the night trying to balance on top of it, or find a comfortable position either side of it.
Saturday morning dawned, I poked my head out of the tent and immediately poked it straight back inside as gale force winds (which broke our gazebo), grey skies, drizzly blowing rain and plummeting temperatures seemed to be order of the day. Fortified by coffee I finally persuaded myself to get dressed, and an emergency change of plans to the "stuff it all inside a beret" school of hairdressing, though I am quite proud of my faux bangs. I did those in a tent in a hand mirror. Yay me.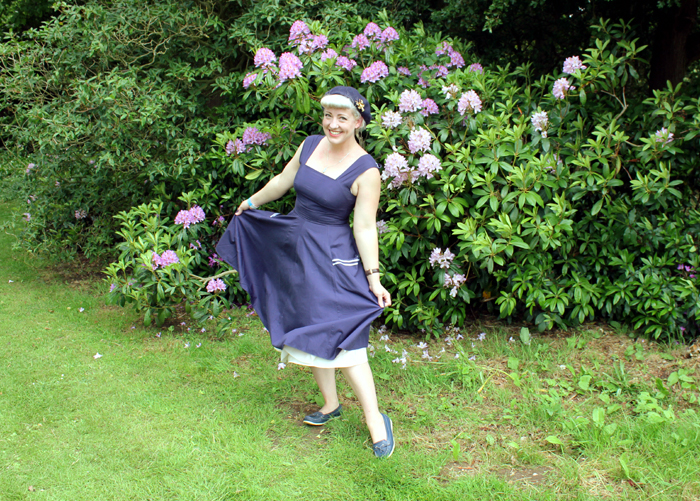 ❤ Dress – Lady K Loves ❤ Petticoat – Vintage ❤ Deck Shoes – Chatham Marine* ❤
❤ Beret – eBay ❤ Brooch – Vintage ❤
I had planned to take part in a yoga session on the lawn, but the nasty weather meant I felt more inclined towards indoor activities, such as making a guy for the bonfire. Do you like mine? That's Betsy Hatter dancing with her in her own Elspeth hat, and a floral fascinator she also made. Clever gal.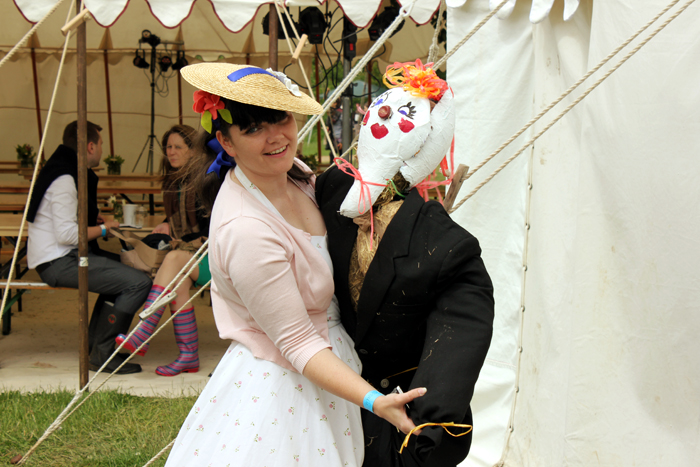 Houghton Hall was built for Britains first Prime Minister, Robert Walpole, in the 1700s. It's an amazing house, think Downton Abbey, and we had free reign to wander where we pleased over its gardens. It has a deer park with herds of white deer, a rather elaborate water tower, where fencing lessons were taking place and amazing lawns, where we partook of some lawn games, such as quoits and, er, ye olde swingball. we also met some cows.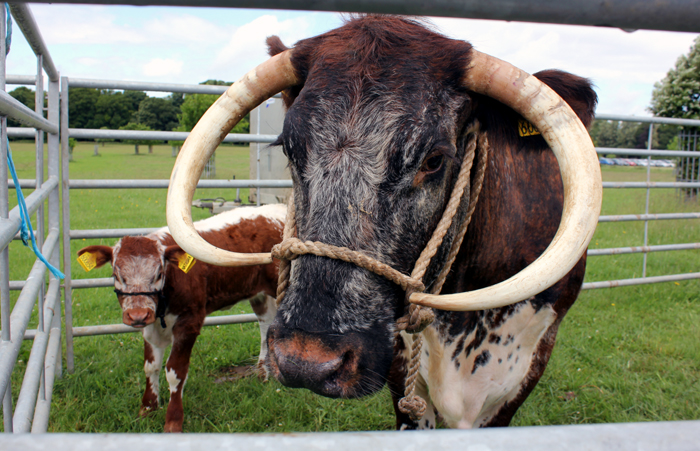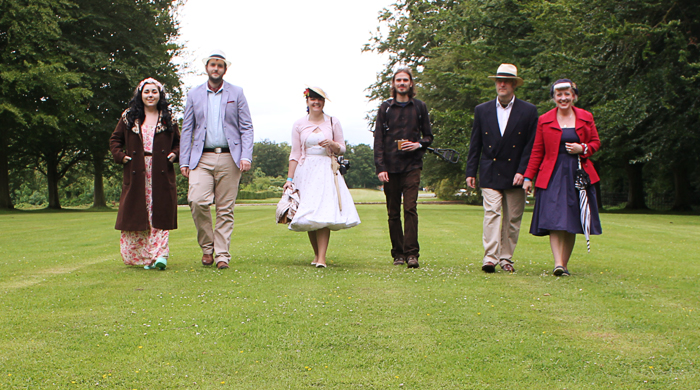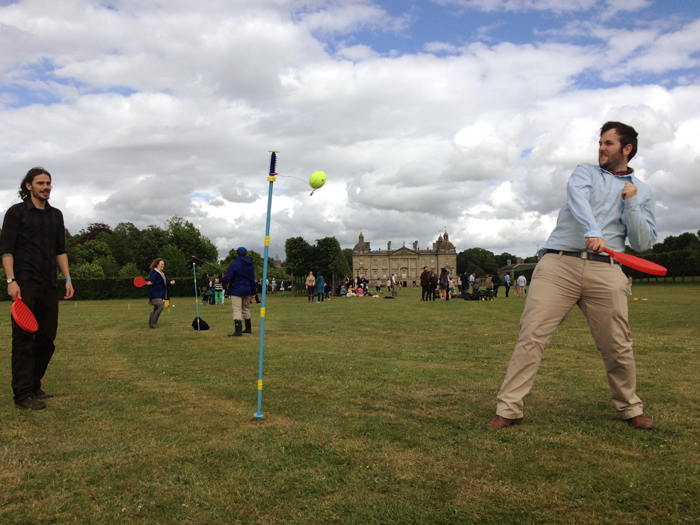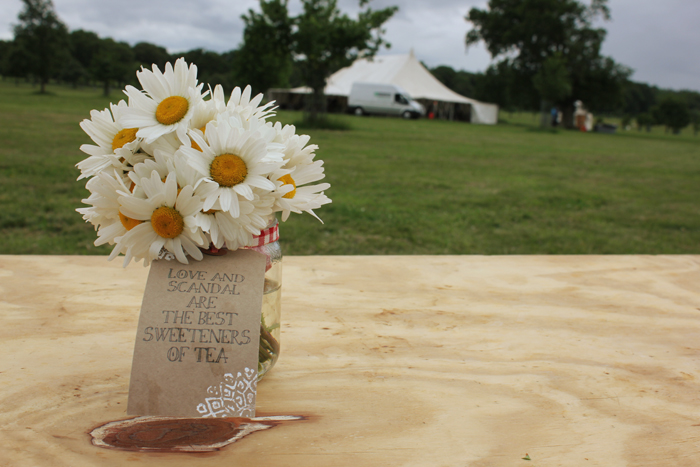 The house also has a Ha Ha, which is a sunken wall designed to keep animals both in and out (we thought it could possibly be useful as a zombie defense system also). It is also ideal for taking these kind of photos.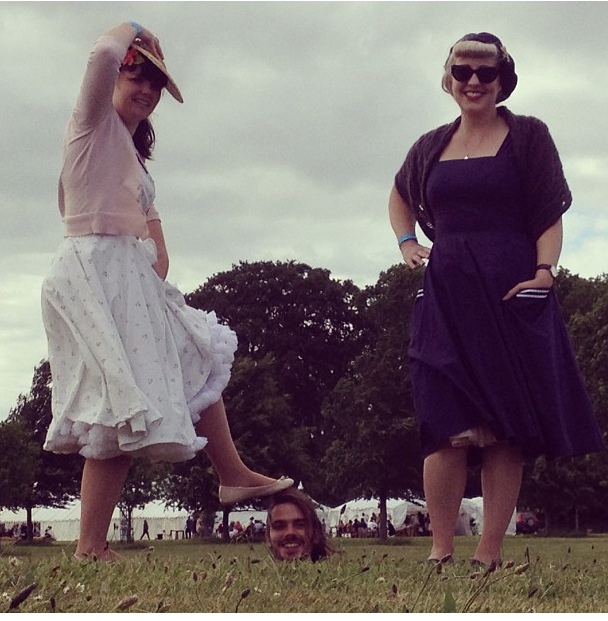 The best thing about the day was you could make it what you wanted. If you wanted to drink the seriously yummy cocktails, dance and play silly games you could. If you wanted to listen to lectures on literature and history, look around the house and museums and take a tour of the deer park, you could do that too. Or you could do a combination of the 2, which is what we did.
We also stumbled upon a toy soldier museum. There was no photography allowed inside, so unfortunately this photo doesn't exist.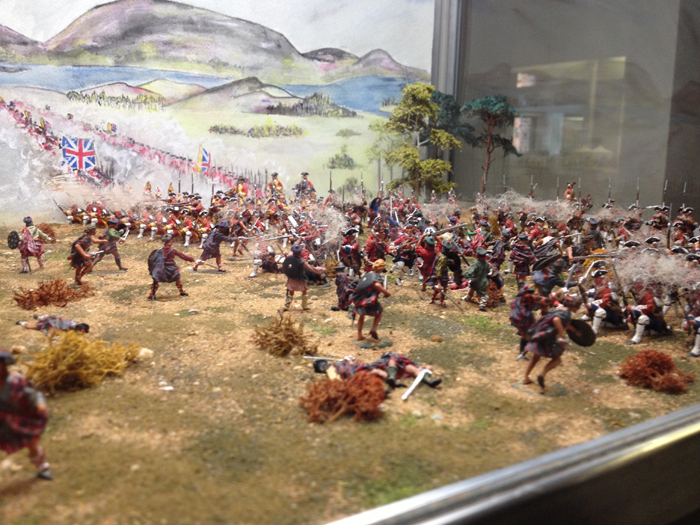 We chose the first dinner sitting at 7pm, and I was seriously impressed at how they managed to serve a proper sit down meal of crayfish salad and venison stew to 700 people in an hour and a half. The food was nice, not exactly gourmet restaurant quality, but very fancy for (not a) festival fare, with proper china and silverware and it was filling and hot!
The tables were also decorated with vegetable animals, made earlier in the day. Check our cute bunny.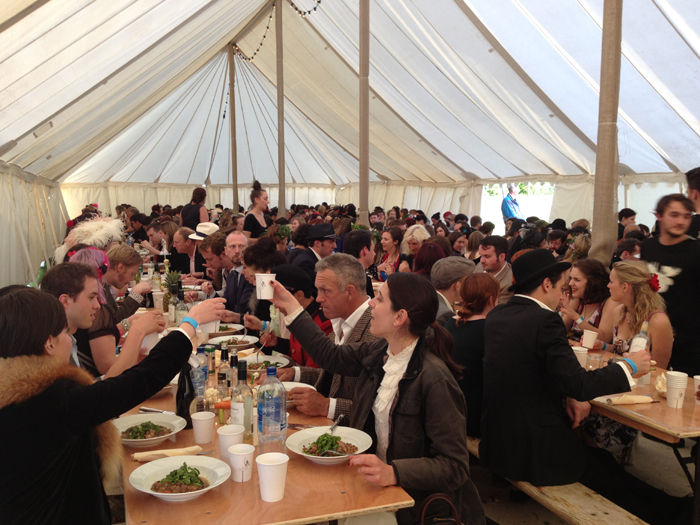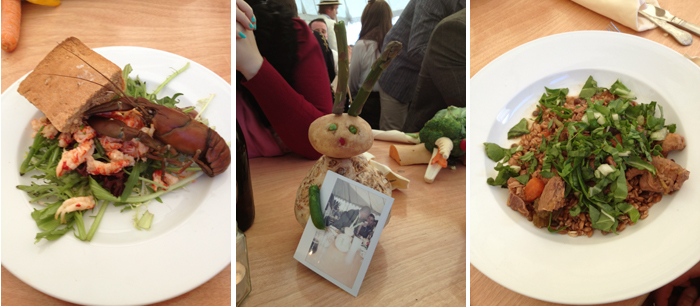 After dinner we retired to our tent, where I got changed for the evening as I was starting to feel a little dishevelled, and also I wanted to wear this amazing mask that I have had for years and never worn! I found it in a hotel reception, I wish I found things like that in hotel receptions more often instead of just over priced sandwiches and people having meetings.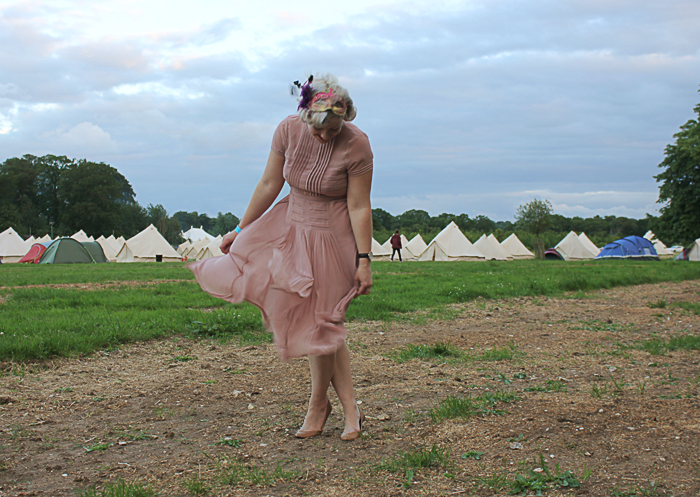 ❤ Dress – Warehouse @ Zalando* ❤ Shoes – Primark ❤ Mask – Found in a hotel! ❤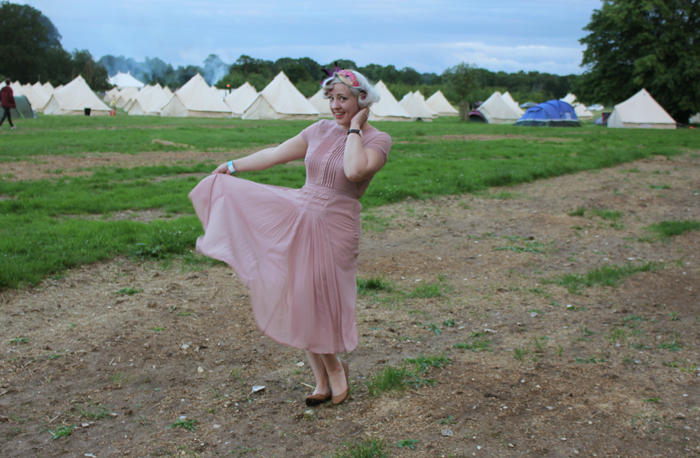 In the evening there was  Ceilidh and music, as well as a bonfire and fireworks. We spent a relaxing couple of hours sat by the fire, watched the fireworks and then decided we were too tired and windswept for this dancing till dawn lark and returned to our tents. People who had obviously opted for the excessive drinking sort of weekend stayed up till at least 5am as I could still hear the music (the loud, thumping, music, maybe I am Too Old?). Actually the music wasn't too bad, except they appeared to be playing music in 2 different places, and we could hear them both simultaneously in our tent, which was, er, interesting.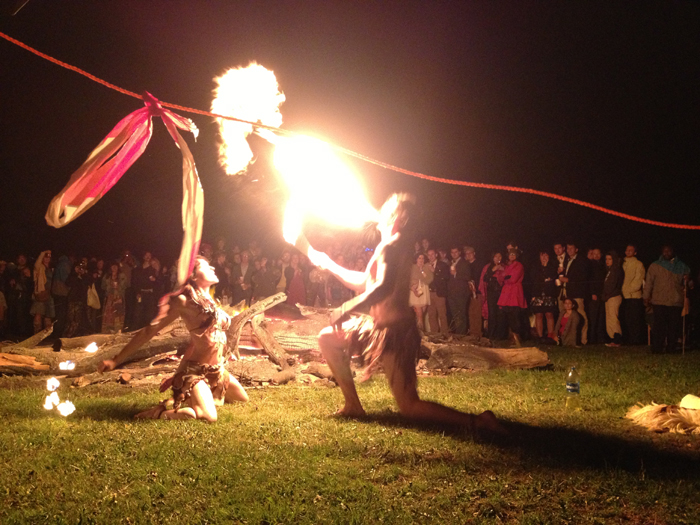 Still, I slept ok and I certainly felt fresher at 8:30am when breakfast was served than a lot of people seemed to. Breakfast was included in the ticket price, though if you wanted coffee you had to pay an extra £2 for a cup of nescafe instant, which felt a little much. Surely coffee comes with breakfast, no?
Anyway, my £2 coffee woke me up enough to go and look at the Falconry display. Little known fact, I used to be a member of the Young Ornithologists Club when I was about 8. I went on bird watching walks and everything, I had a little book I wrote down birds I saw in. Although I have since forgotten most of it, I do love birds and seeing these up close was amazing. You could pay £1.50 to handle them, but my hayfever was so bad that I kept bursting into fits of sneezing, and I was a little worried that I would burst into fits of sneezing and have my eyes ripped out by a terrified kestrel, so I decided to give it a miss. Boo.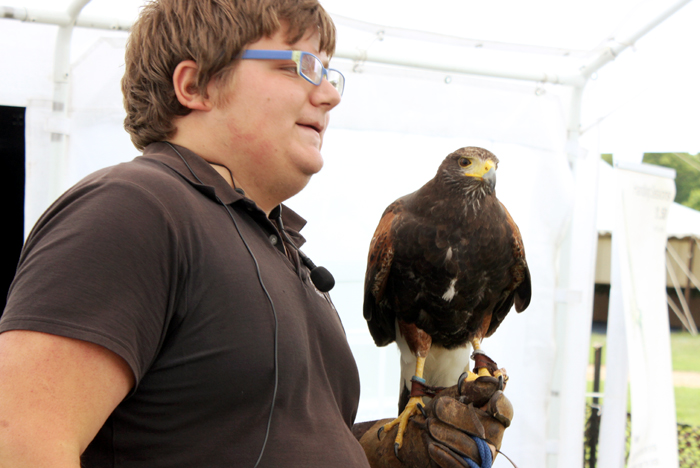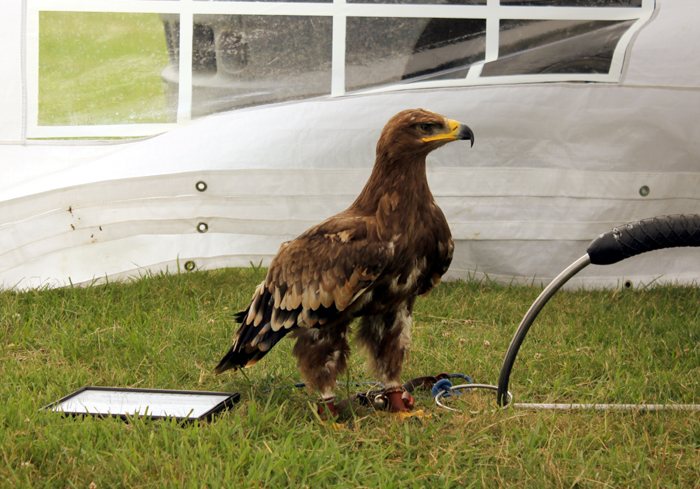 And there endeth the weekend. With me, on a swing in a tree.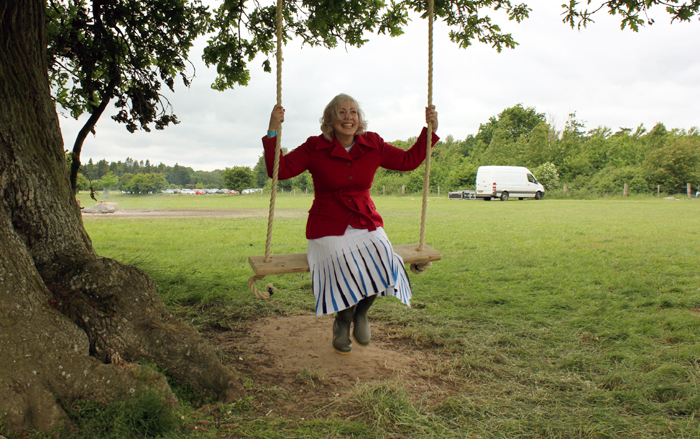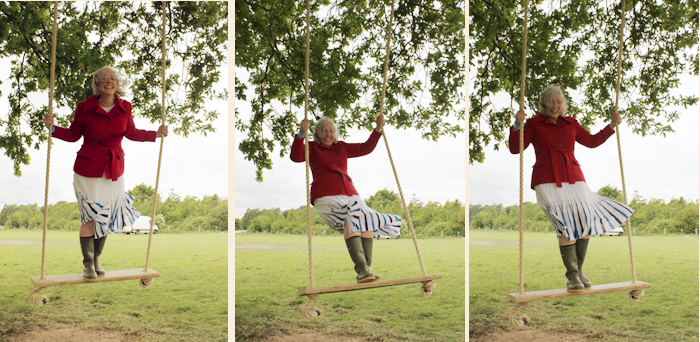 ❤ Dress & Jacket – Vintage ❤ Wellies – Dunlop ❤
We packed up our cars, said goodbye to portable toilets and returned home to comfy beds and running water.
This morning I am still very tired, but lists of all the things we didn't see are being written up in our heads as little reminders. We missed out on the walled garden, and I didn't go on an organised deer walk. Ivy crown making was at the same time as a talk on Houghton Hall I wanted to listen to, and the clouds meant that astronomy was a non starter. A shame, but there's always next year…..
Related