Do you remember about a month ago I told you I was off to the Opera for the first time?
Well now I'm back from Glyndebourne Opera Festival, and no longer an opera first timer! I'll confess I was soo nervous about it at first! I didn't know how to get there or what happened once you were there, but I made it through unscathed and had a properly magical time!
Be warned people, this is a picture heavy post, but I promise they are pretty pictures worth waiting for!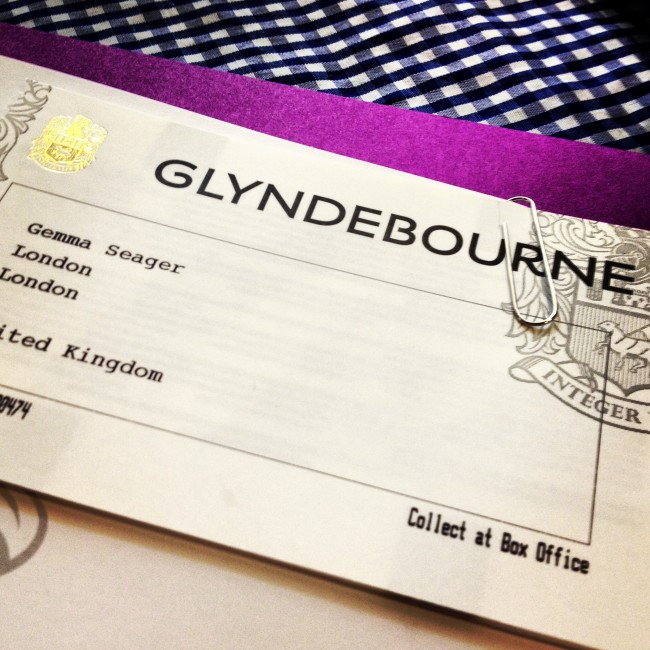 We caught the free coach from the train station to the opera house and on arrival I had to go up to the press office and pick up my tickets. They took us on a little tour of the house and grounds. Apparently the opera started originally when the houses owner John Christie, would hold little impromptu Operas in the organ room of the house (I do this sort of thing in my living room all the time, obviously).
During one of those performances the confirmed bachelor fell madly in love with opera singer Audrey Mildmay, and 6 months later they were married. As a sort of wedding present he built her an opera house in the grounds and the annual festival was born. I think the most anyone has ever built me out of love is a shoe rack.
Here they are, on the side in the Organ Room.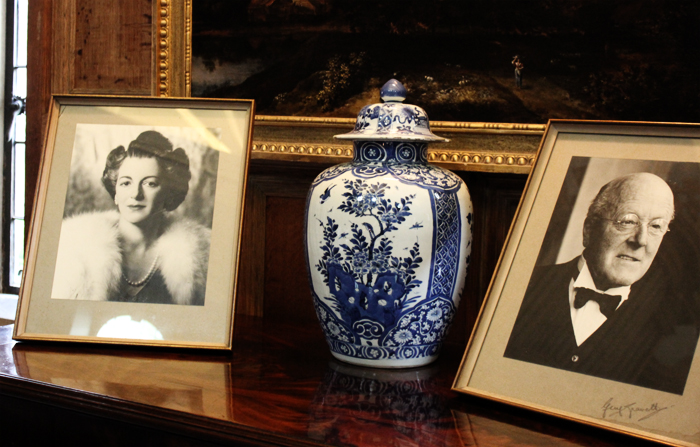 Everyone gets to see this bit, but as part of our little tour we got to see BACK STAGE. I love seeing backstage at the theatre. The contrast between the glitter and lights on stage and the set up behind always totally entrances me. It's like knowing diamonds and coal are the same substance. Amazing.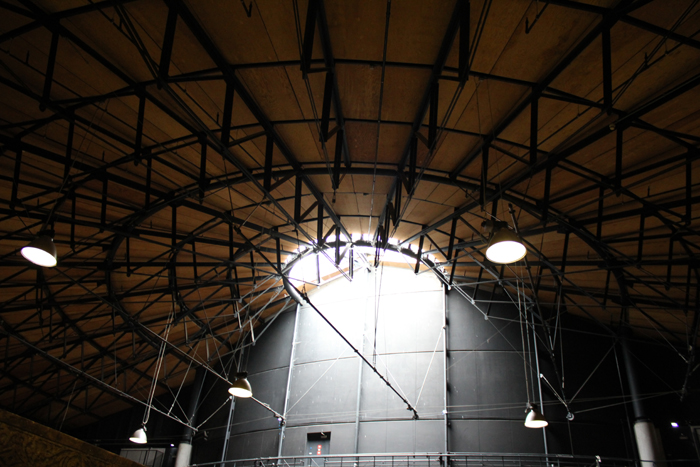 Post tour I took a little stroll and snapped some photos of glamorous audience members, which I won't show you here as they will hopefully soon be appearing elsewhere. The grounds were glorious though. Beautiful gardens with a lake, and a Ha Ha, which wasn't as high as the one at Houghton Hall the other week, but considering it is a fairly rare architectural feature it was a coincidence to see two in as many weeks!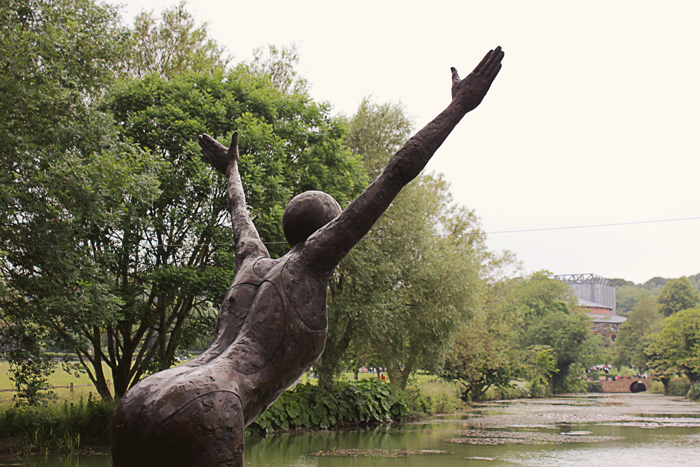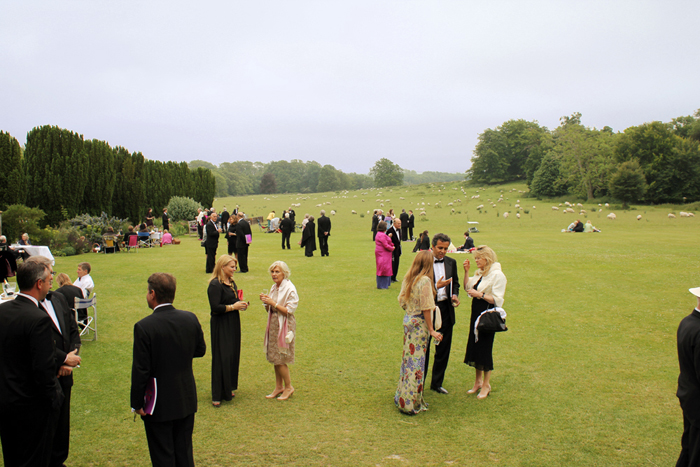 We were there to see Falstaff, a comedic opera, which this year has been set in the 1940s (hence inviting me to go!) and has excellent reviews, so I was genuinely excited!
The first half of the performance was about an hour and 45 minutes long. Obviously the Opera is in Italian, of which I know none, but the performance has subtitles on a screen above the stage so you could follow the story. The story of each act is also written up in the program (or on Wikipedia) so if you do a bit of swotting up in advance you can follow what's going on anyway, though some of the lyrics are hilarious so it's worth glancing up occasionally!
Then, of course, it was time for the important business of picnicking. I'd been going on about picnics for ages, and in the end time constraints (and a lack of kitchen as I was staying away from home) meant elaborate baking was out, so we packed a picnic basket with champagne flutes and paper plates and a cool box with goodies from Marks & Spencer. Namely a goats cheese tart, olives, cold meats and strawberries. Plus cheese and bread from the market and a bottle of Cava disguised in the Lanson champagne cool sleeve I  was tricked into buying in Sainsburys.
I tell you. We were seriously out-picnicked. If I ever do this again I am pulling out all the stops. People had folding tables and chairs, candelabras, flower arrangements, filter coffee and I've never heard so many Champagne corks popping (and I'm pretty sure no one else hid Cava in a Champagne sleeve)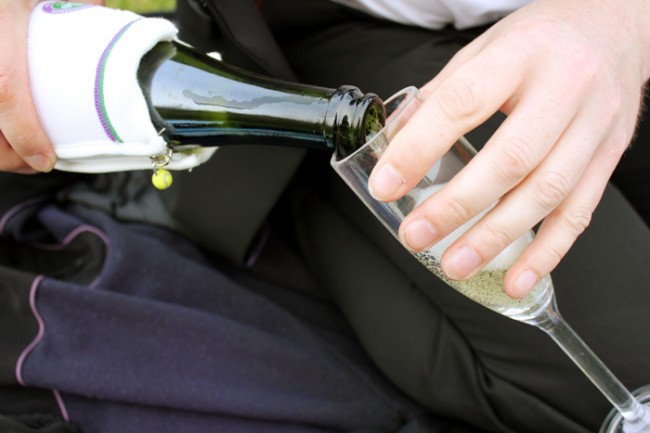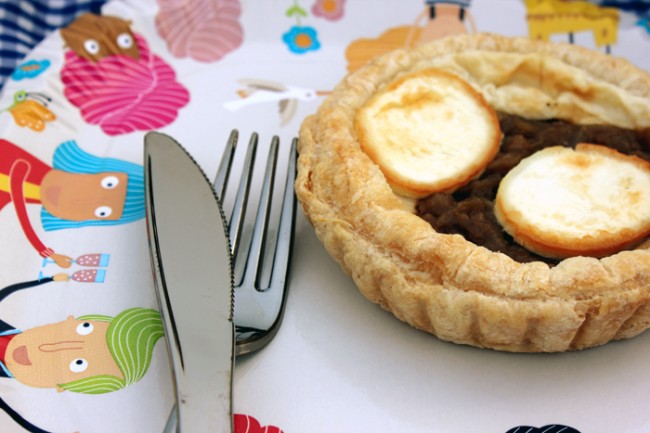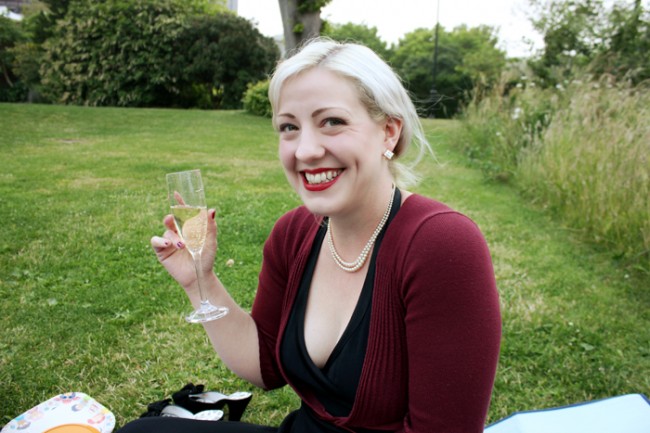 My picnic blanket just was not cutting it. Not when this is available in the gift shop for a mere £450. Yes, that is a golf cart picnic hamper. (please note fancy earrings in the above picture, they are another lot of vintage clips ons I got last weekend in an antique shop in Norwich)
People take their picnics, find their spot, set up and then just leave it. You don't need to pack it all up and take it back into the auditorium, this is not a place where opportunistic thieves are going to run off with your dinner, which is also wonderful.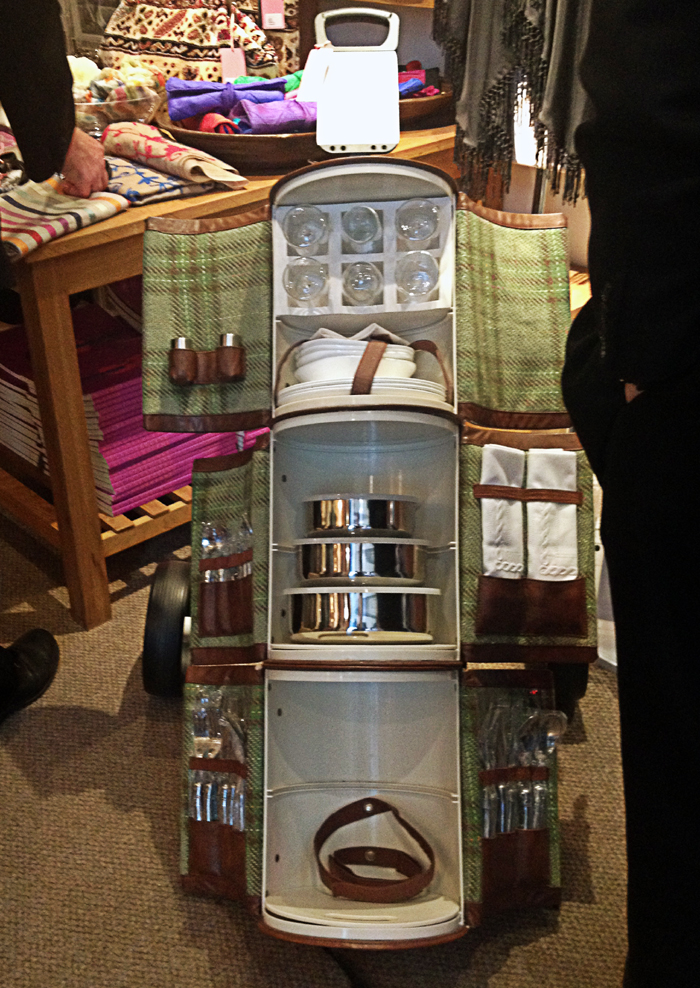 So, picnic over, we went off to fleece the gift shop of wooden picnic forks with a G for Glyndebourne (or Gemma) and boxes of matches (the cheapest thing in there at 30p) so we could get a Glyndebourne carrier bag to impress people with when we reuse it for carrying parcels to the post office.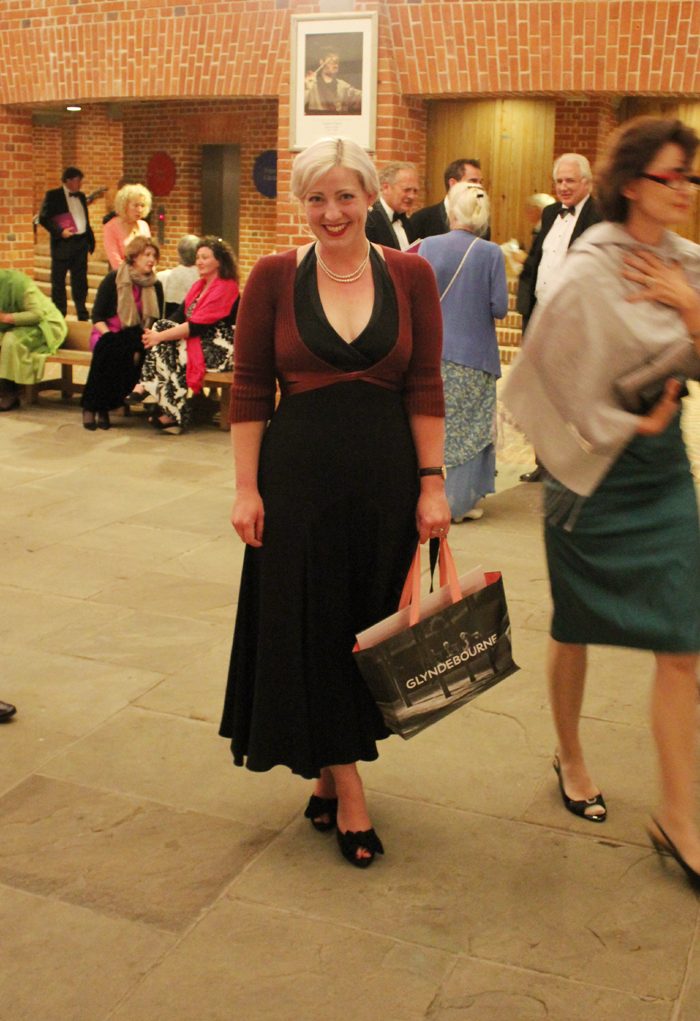 we returned for part 2 of Falstaff. Photography is unfortunately forbidden inside the auditorium, so once again I must leave you with a large blank space here.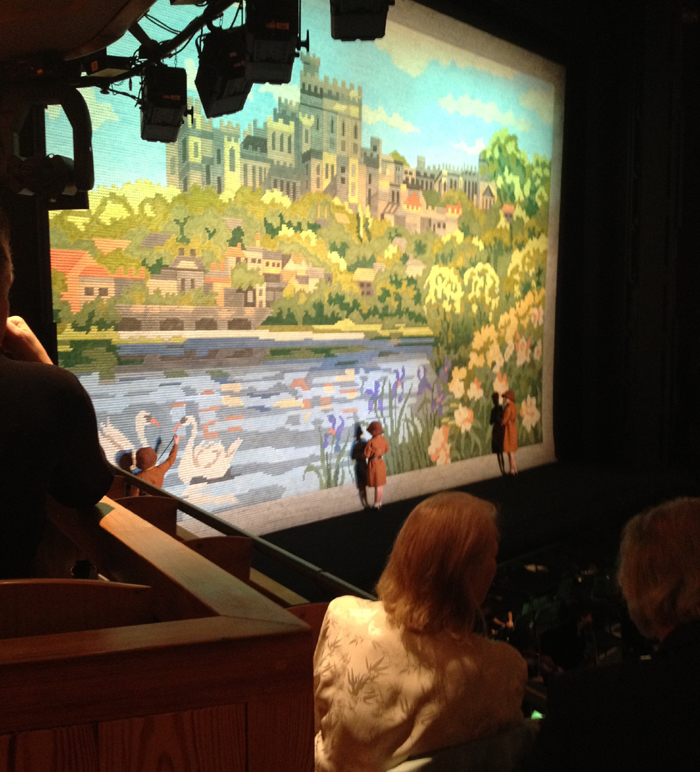 Glyndebourne isn't as prohibitively expensive a thing to do as I thought it was. I looked at the prices for the seats I was in, and they cost between £75-£150, not cheap, but then neither are theatre tickets generally, and this is GLYNDEBOURNE. You can also get standing places for about £30. You can take your own food and drink, so costs can be reduced there, and it's really such great fun and an amazing experience to get dressed up and picnic in such a beautiful place and take in the atmosphere of an event with such heritage and traditions, even if you're not a huge opera fan!
So, I shall leave you with the most important part of my Glyndebourne experience. What did I WEAR?!
Well, I felt very fancy, I was quite chuffed when I realised that new this outfit would probably have cost going on for £400, but I paid less than £30 for the lot, super smug Charity Shop Queen that I am, which meant I had money left to buy gift shop tat, yay!
You'll notice in pictures above my hair is pinned back, where as here it is down, truth is my curls weren't up to the wind and the Sussex Mist (which is definitely "a thing" as I heard a man talking about it and a woman asking "is that common in this area" which made me giggle, very quietly, behind my hand)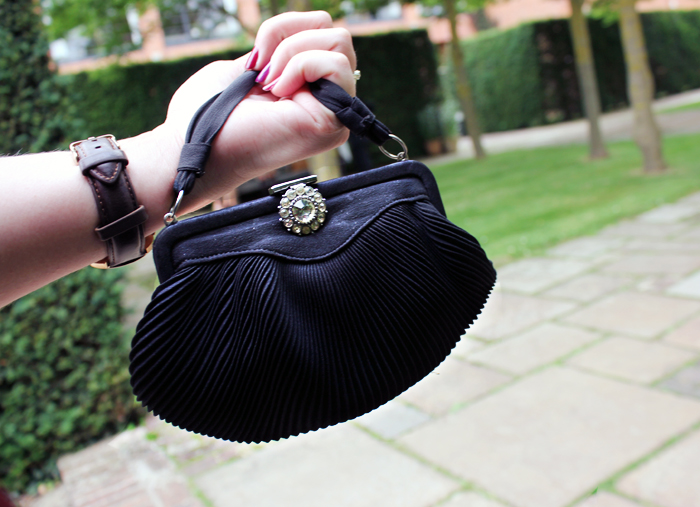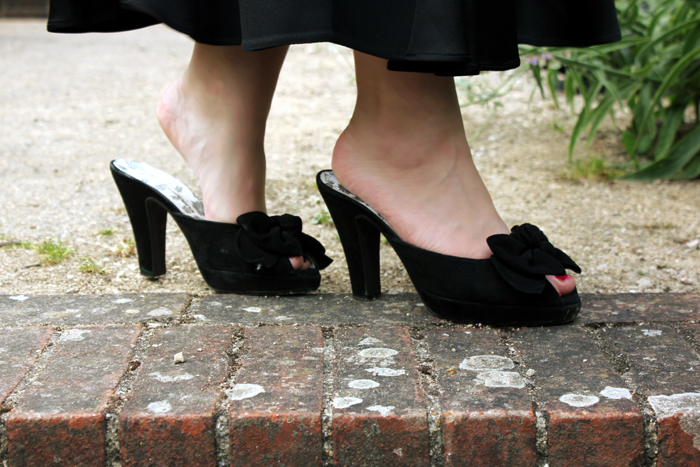 ❤ Dress – Jaegar ❤ Shoes- Salvador Sapena ❤ Bag – Vintage ❤
❤ Pearl Necklace – My Nana's ❤Earrings – Vintage ❤ Hair Flower – Betsy Hatter ❤
The dress is Jaegar and came from a Charity Shop last November for about £15 and I have been waiting AGES for an event to wear it. It has gorgeous satin and crepe panelled skirt and is very 1930s, falling to just above the ankle, which is the perfect length to show off my 1940s style Salvador Sapena mules that I bought for 99p on eBay. I also took my glamorous vintage diamante plisse handbag that Mr Chicks Mum gave me, and I wore my Nana's pearls, as I thought she would have liked them to go to the Opera. As the weather was bad I teamed it with a Kookai shrug that I bought in the sale about 7 years ago, which I'm never sure I love that much, and then I do, but it kept me warm!
If you made it through all that, hurrah!
Have you been to the opera before? Would you like to go?
Fe7T2Z9VTVEzrjVHSVip