Today I'd like to introduce you to Gem Warfare.
I have mentioned it on Facebook and Twitter, and definitely on Instagram, but if you don't follow me in any of those places (and why not? Anyone would think you didn't want me pestering you?) then  you might not be aware of my new Roller Derby alter ego.
Back in May, on my birthday, I went along to a Roller Derby bout for our local team the Norfolk Brawds. I'd met the Brawds out at various events, but never seen a Roller Derby bout before, and I loved it! Roller Derby is an all female, full contact sport, where 2 teams of 5 are on the track. One member of each team, the "jammer" has to skate around the track and scores points for each member of the opposing team she passes. The opposing team, naturally, don't want that to happen, so their job is to block them from getting past. It originally dates back to around the 1930s, but was shut down in the 70s, before being revived in the early 00's in Texas.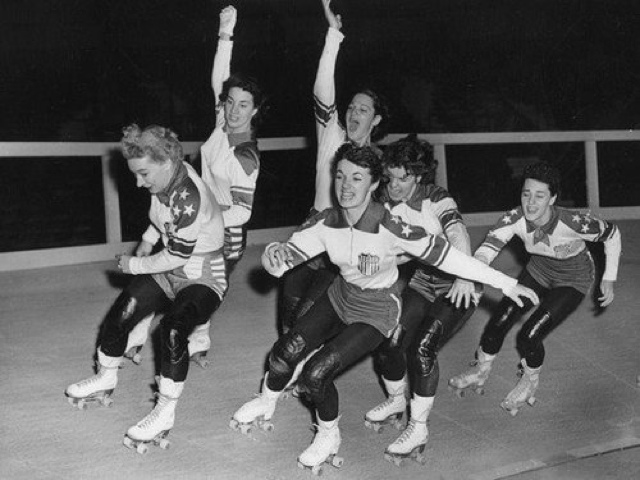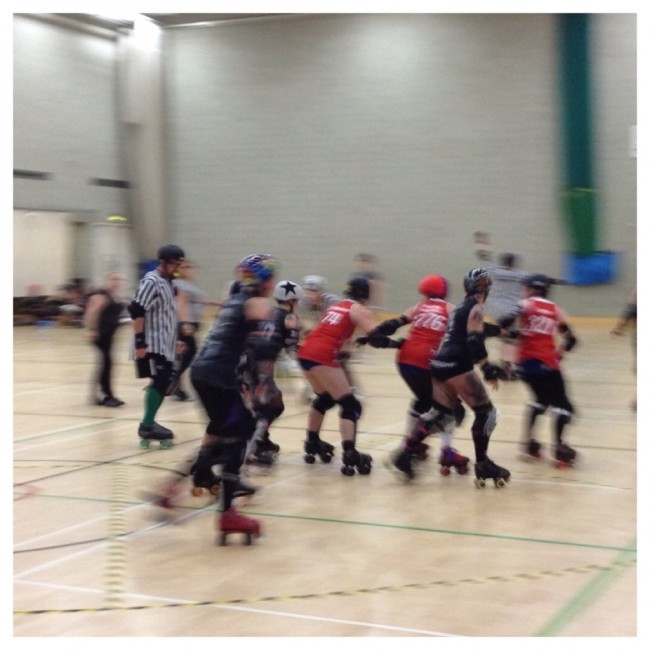 After the bout a friend persuaded a few of us to go along to "Fresh Meat night" on a Monday to learn how to skate. Having not been on a set of wheels since I was about 8 years old I was very nervous, plus, what the hell do you wear to Roller Derby practice? I spent hours trying to find something comfortable I could move in, that looked a bit cool, but not too try hard.
Turns out I don't have anything like that, so I wore Nike running capris and a striped t shirt. After 10 minutes on a pair of heavy hire skates I found I could actually stay upright, and by the time I had to shoot off at 9pm I was filled with excited confidence.
The friend that persuaded me to go along is the wonderful Cupcakes by Jess, also known as Wild Honey, she had far less experience and confidence than any of us and she's been a proper inspiration to me. Every time I want to just give up because I'm rubbish at T Stops and I'll never get it I marvel at how far she's come through sheer perseverance since our first week when she couldn't let go of the barrier. Unbeknownst to me she's been writing a blog about her journey through the Fresh Meat minimum skills. It's called the Diary of a Roller Derby Rookie, so if you're curious about Derby, but concerned about having no skills you should give it a read!
Anyway, this weekend was the Norfolk Brawds second public bout of the year, and for the first time I was involved as part of the team. Printed team t shirts had arrived, and Jess had arranged name necklaces from Sugar & Vice.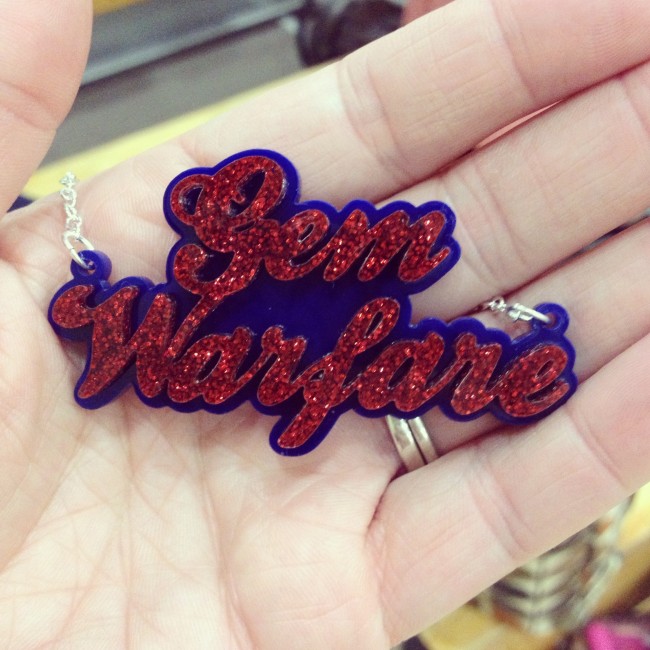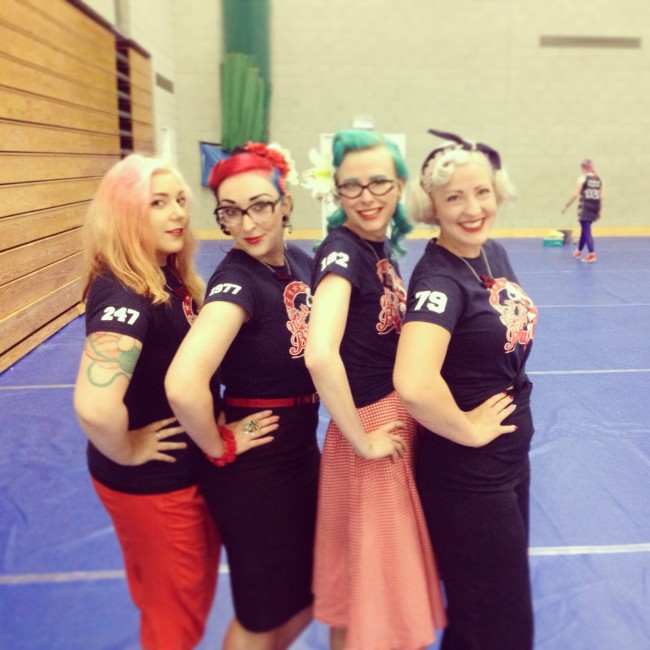 Rayner Terror, Chip Vicious, Wild Honey and Gem Warfare
As Fresh Meat we were kept safely away from skates, but we sold raffle tickets, worked the door, set up the after party, laid the track and generally helped out. It was a long, tiring day, but we all said we finally felt like we were part of the team.
I was also tweeting as the official tournament organisers Heartlands, so I felt the pressure a little trying to follow such a fast paced bout!
The Norfolk Brawds were playing Rebellion Roller Derby from Bedfordshire, and after a nail biting first half that finished with the Brawds losing 44-87, they raced ahead in the second half to win 166-122. Watching the A Team in action, after trying some of those skills myself, was both awesome and terrifying. When your skates sometimes seem to have a mind of their own and scoot off in random directions you realise how much skill it takes to jump, spin and twist like that at high speed.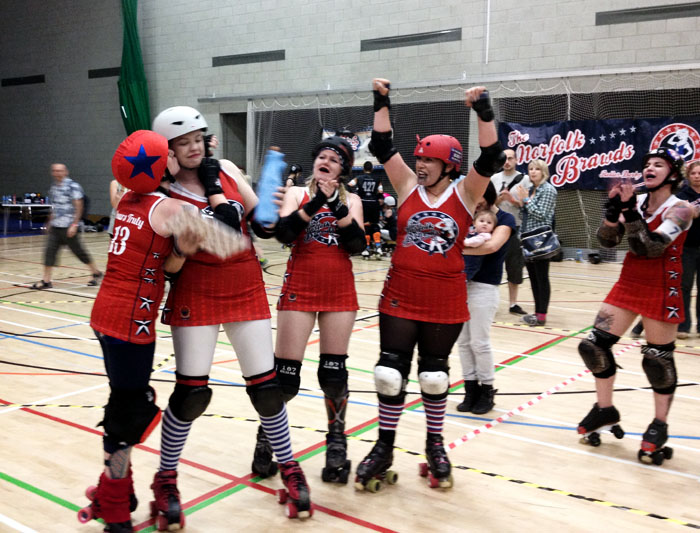 We all really finished the day on a high, and it felt amazing to feel part of such an inspiring and motivating group of women.
The After Party was at local pub The Murderers, where much Bonnys Gold, the Norfolk Brawds official ale (I really picked the right team), was consumed.
Of course, much outfit effort was expended, and in the end I decided on nautical Heyday trousers to fit the Brawds sailor theme, with a red, white and blue headscarf and slightly messy nautical nails. You know me, I never turn down the chance to theme an outfit! My pin curls also turned out a bit of a frizz ball, sadly, so forgive the weird fluff!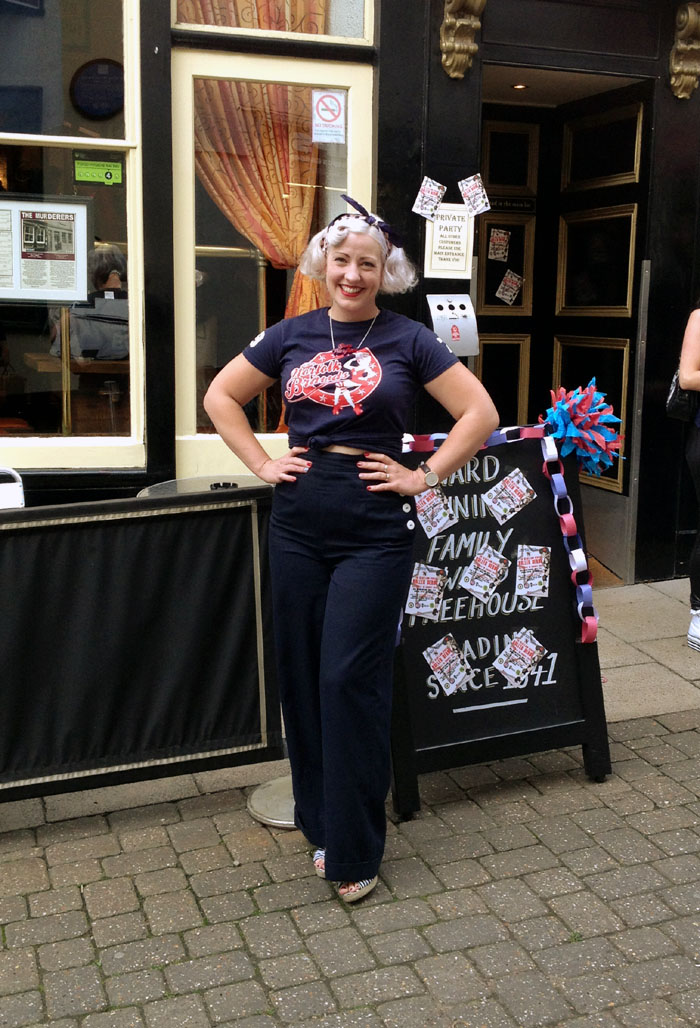 ❤ T Shirt – Norfolk Brawds ❤ Necklace – Sugar & Vice ❤ Trousers – Heyday! VS ❤
❤ Wedges – New Look ❤ Headscarf – Vintage ❤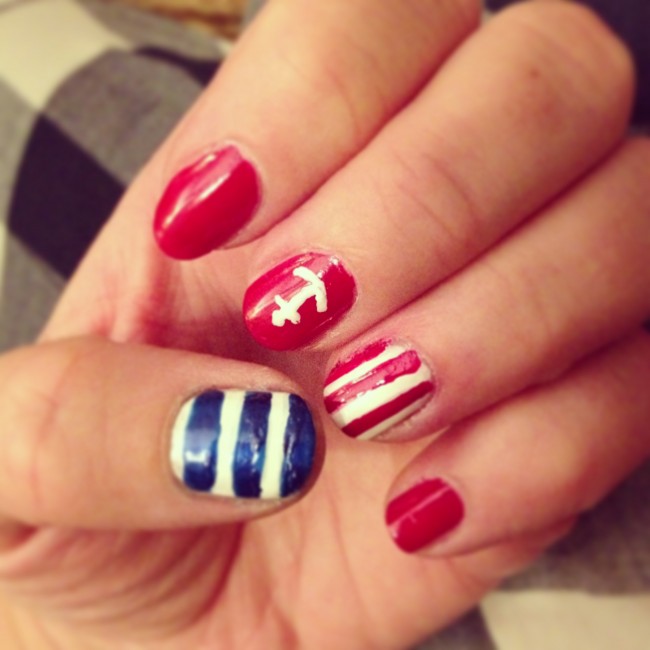 So, 3 months since I first saw a Roller Derby bout and I am now the proud owner of a skate name, an amazing group of supportive friends, and an empty bank account due to spending a stupid amount of money on kit, including an pair of skates that my Dad bought me the BEST pair of toe snouts to protect. I have matching shorts too, I must try and get photo at practice tonight. (keep an eye on my instagram!)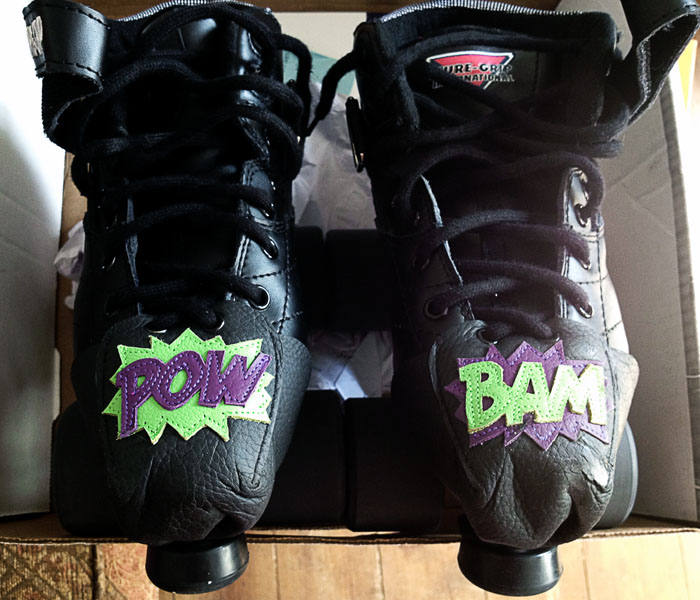 Have you ever seen Roller Derby before? Have you ever played? I've been surprised at the number of people who have said they have since I've taken it up.
Some handy links for more information!
❤ The Norfolk Brawds official site ❤ The Norfolk Brawds on Facebook ❤ The Diary of a Roller Derby Rookie ❤