At the weekend I got to get all gussied up for my Cousins wedding.
There's nothing like a wedding for a good excuse to get dressed up properly, but I hadn't really thought much about what I was going to wear. I've been pinning pictures of black and white stripes on my Pinterest Outfit Ideas board for some time
Then a couple of weeks ago Florence + Fred asked me if I wanted to review something and I spotted this dress online, it's limited sizes now, but if they happen to have yours it's also reduced to £10! It's shorter than I normally wear, but I think I can just about pull it off with heels!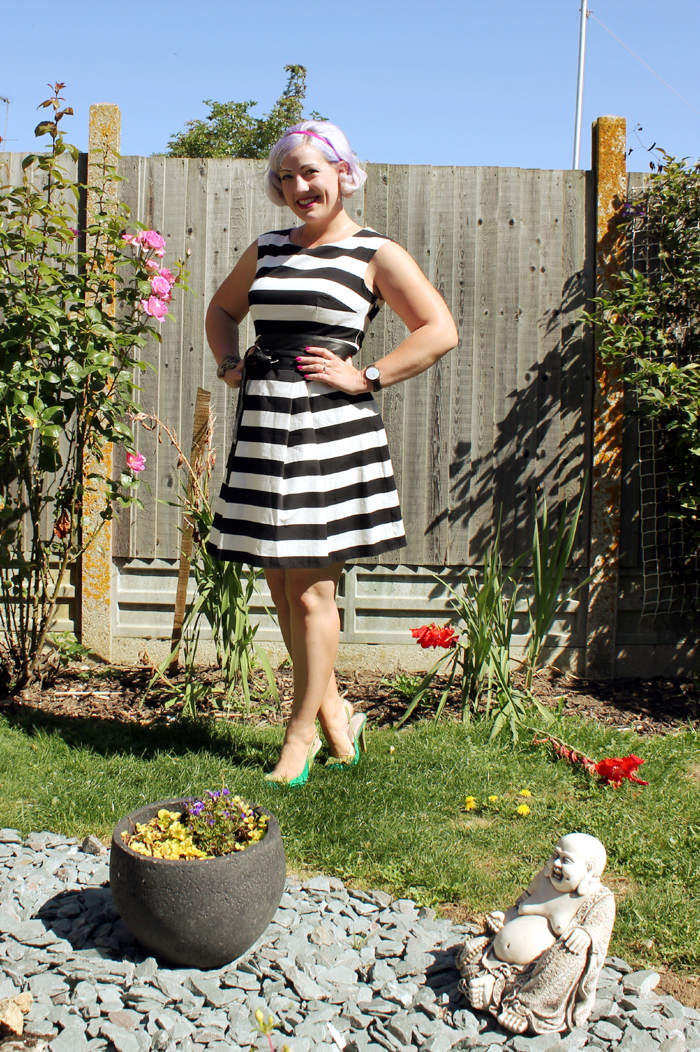 ❤ Dress – c/o Florence + Fred ❤ Shoes – Dessine Moi Un Soulier * ❤
❤ Belt – ASOS ❤ Bracelet – Rosie Fox ❤ Watch – Daniel Wellington *❤
I really love the black and white stripes with bright coloured accessories, so I went with bright pink and green. I wore the shoes I designed for Dessine Moi Un Soulier, with a random bit of pink ribbon in my hair (which you may notice is lilac again!) and pink lips and nails. The dress also comes with a ribbon tie belt, but I swapped it for a leather obi belt I bought from ASOS some time last year.
I felt a bit like a comic book superhero with a lilac bouffant and pink lips. I liked it!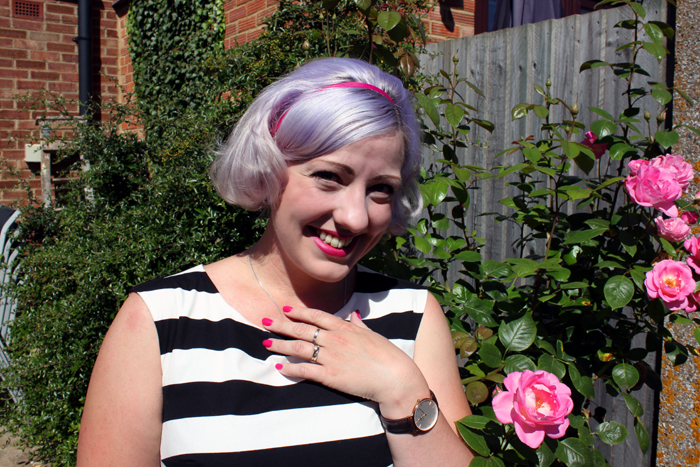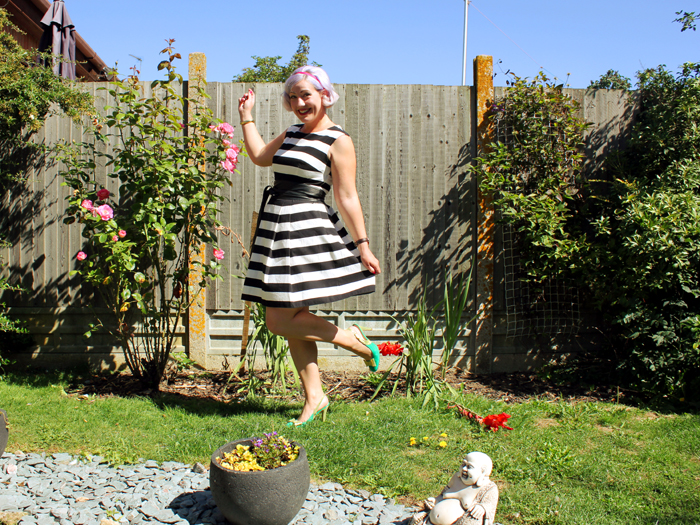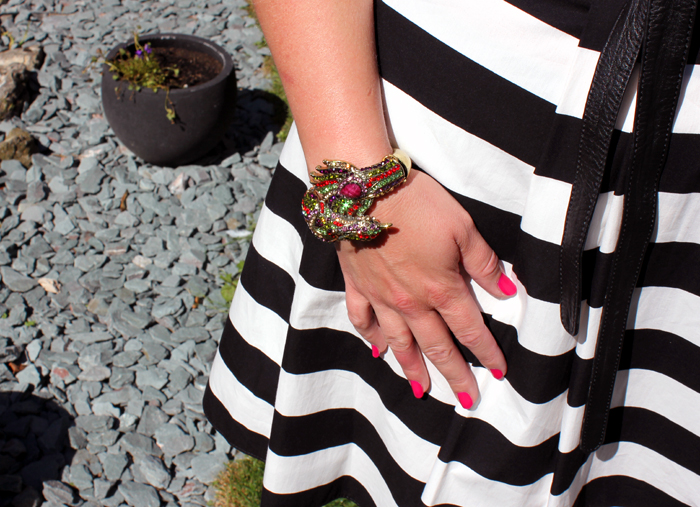 As these photos were taken in my parents garden before we headed off to the wedding, the doggles decided they wanted in on the Fashion Blogger action. So here they are modelling the latest in small furry dog style.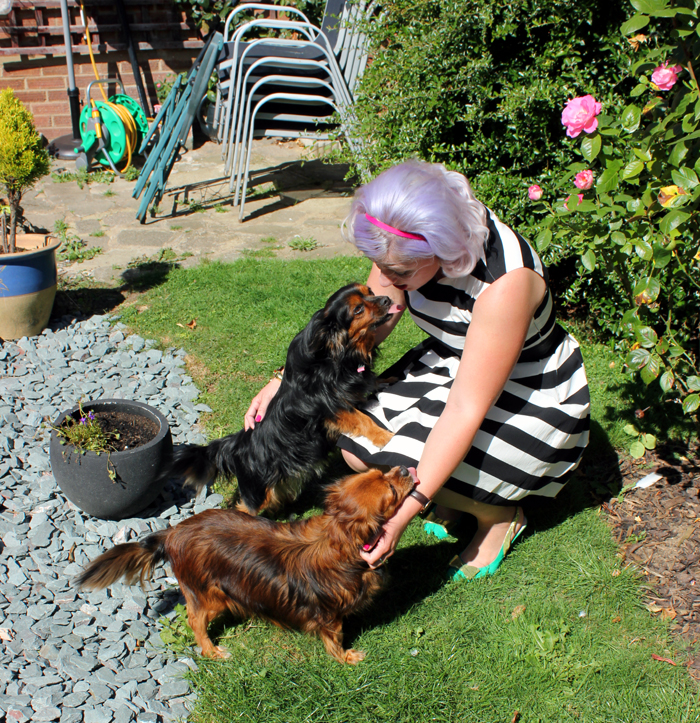 Other people who want in on the Fashion Blogger action in todays post include my Mum & Sister. So as a final treat, 3 outfits for the price of 1!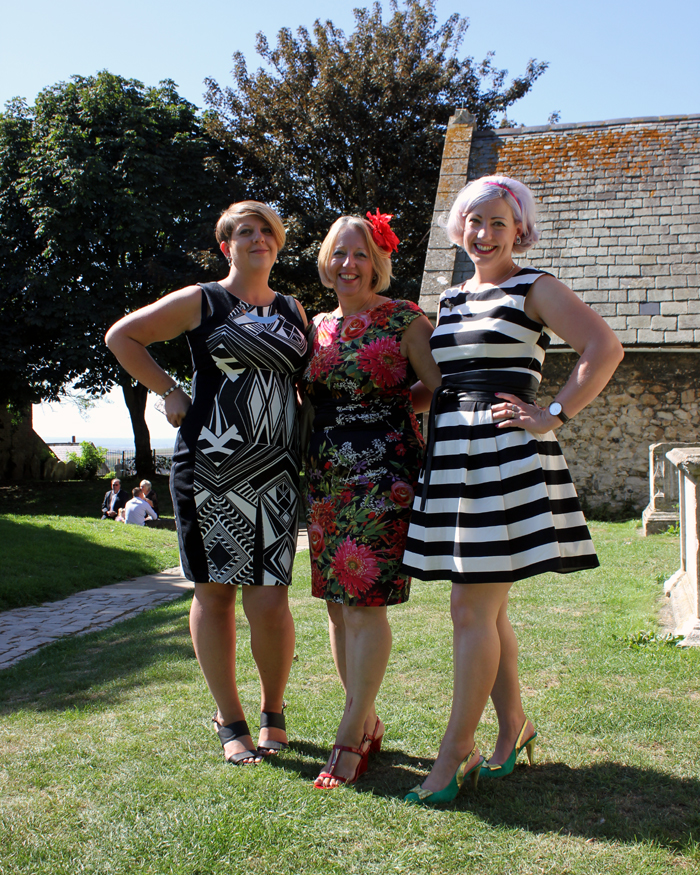 My sister is wearing a print panel midi dress from Simply Be and my Mum is in a printed shift from Wallis, that print isn't on the site anymore, but this one, and this one are similar!
And finally, the Bride and Groom.
How was your weekend?