I appear to have been on a bit of a frock buying spree.
It wasn't deliberate, but I do seem to have had quite a few new wardrobe additions recently. It's probably time for a bit of a clear out to be honest.
In this case, I do apologise to you all, but I appear to have heralded the end of Summer by foolishly purchasing a floral Olivia dress from Swagger Joint at Pin Up Parade. I already have the oriental satin version, and I foolishly thought "Oooh, September often stays nice for ages" and the dress dropped through my door on Saturday under blue skies and fluffy clouds.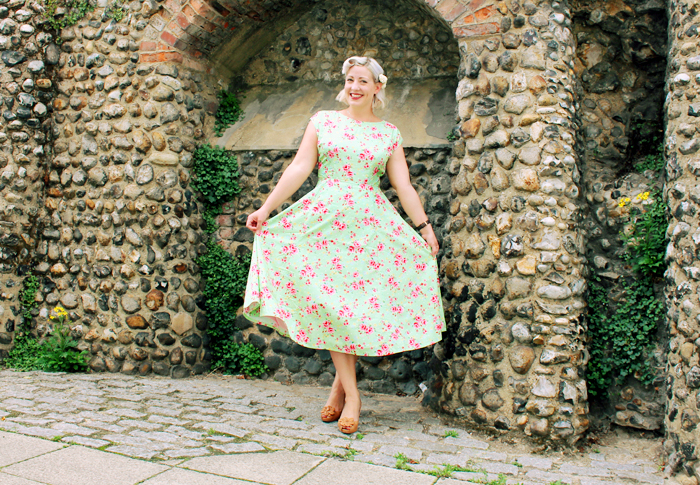 ❤Dress – Swagger Joint at Pin Up Parade ❤ Shoes – Unisa❤
❤ Hair Flowers – Abilu Creations*❤
On Sunday morning I ran the Braydeston 5k, also under blue skies and fluffy clouds.
Then I went home, put on my new floral frock and headed into town for Cocktails. By the time I took these photos the world was a little more overcast. By the time we left the cocktail bar (which was about 3 cocktails after we should have left) the streets had been washed with rain, and it's been like that ever since.
One of the great things about the Olivia dress is POCKETS! They're not in the side seam, they're in the front, so they don't ruin the line of the dress, which I like, but they're perfect for stashing your phone, or loose change on the way back from the bar, or a lipstick and a compact.
So, this dress looks like it's very possibly Summers last Hurrah and we can now settle down to autumn tones, stockings, cosy cardigans, novelty tights and berets. I think I can probably get a few more wears out of it this year with a cardigan and stockings.
Thanks Summer it was great while it lasted.