A few weeks ago I was invited to become a "Lenovo Insider"
At first I thought. Hmmm, vintage lifestyle blogger, laptop company, not getting the connection. But the collaboration proposal was really very good, and well thought out. Basically the suggestion was that I would keep doing exactly what I was doing, but that Lenovo would be the technology side of my job, they would help with events, and create opportunities for me to do exactly what I was already doing, just documenting it using their tech, they didn't want me to suddenly start reviewing laptops, because that's not what I do (though you may find some laptop chat further down, but that's my choice!).
Anyone who thinks that because I use setting lotion and collect Babycham glasses means I eschew modern technology and am currently writing this on a vintage typewriter is a little deluded. I write on a laptop, I use a DSLR to take photos and I am permanently attached to my phone for photography, social media, and keeping up with work on the go. And anyway, the invite to the launch event came in a fancy box and mentioned the word "cocktails" and "food".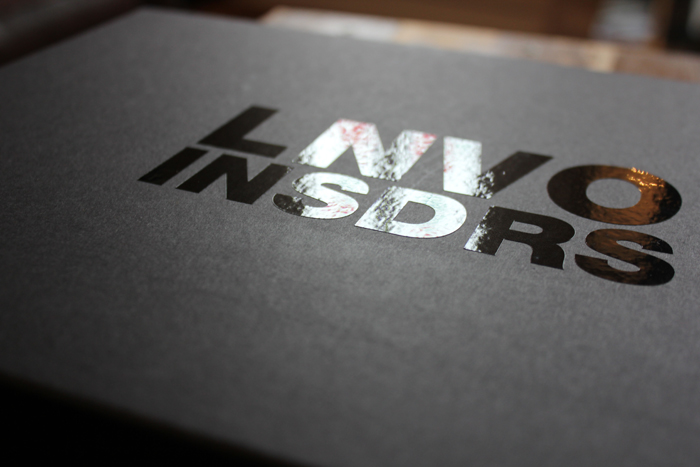 So I got my frock on, on a rainy Tuesday, and off I went. I didn't get a photo of my full outfit, as I was in a hurry, but I did snap the back of these rather fabulous Red or Dead tights that TightsPlease sent me back at the beginning of Summer.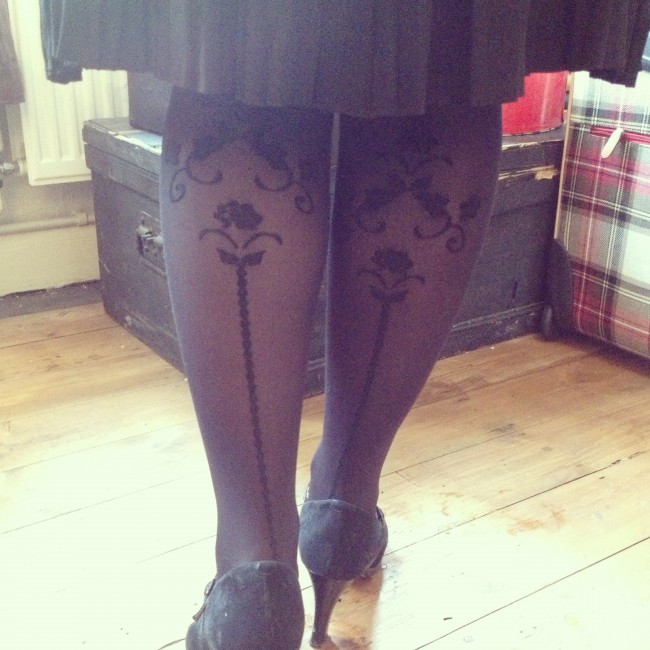 I was quite surprised during the evening at how much technology really has moved on. My job pre self employment was in an IT department, and a good laptop was the height of technological development. Now, of course, you have laptops that magically turn into Tablets, or air hockey tables, or televisions, it's all a bit overwhelming really.
The venue for the party was Century in Soho, which was a nightmare to find with its "I'm so exclusive" little silver plaque, but once inside it was all squishy leather sofas and cocktails, so I felt right at home really.
So I ate some canapes (mini burgers, steak tartare, chicken satay and sausage rolls) drank some cocktails (Moscow Mules) looked at some laptops and chatted about weddings with the lovely ladies from PR company 3 Monkeys and Rhiannon from Fashion Rocks My Socks.
And then I got given my goodie bag. Now, I don't go to events containing goodie bags half as often as I'd like, but when I do they normally contain some jewellery, maybe some chocolate, a few beauty products, full size and samples, if I'm lucky some booze. Lenovo gave me a goodie bag that contained a notebook, USB stick, laptop cover and a personalised Tatty Devine necklace, which was a nice touch.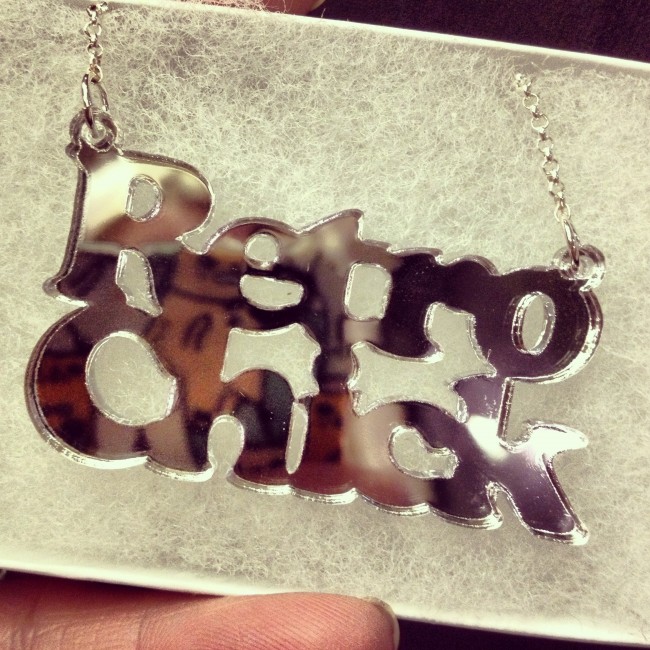 The goodie bag also contained, and I can't quite believe these words are coming out of my mouth (fingers?) a new laptop.
Yes. A. New. Laptop.
It's their Ideapad Yoga, that sort of magically transforms into a tablet and is super lightweight and portable, meaning I can stick it in a good sized handbag and actually take it out with me to things so I can blog on the go rather than waiting till I get home. It has a far smaller hard drive than my current clunky laptop, so I'll have to get used to using external storage and might have to trim my 100gb iTunes library somewhat. But I've never been QUITE so excited by a goodie bag!
So, what's the first thing I did on it? I downloaded iPlayer and the episode of The Great British Bake Off that I'd missed on Tuesday night and used it in it's exciting "stand mode" to watch it in bed. It's ace.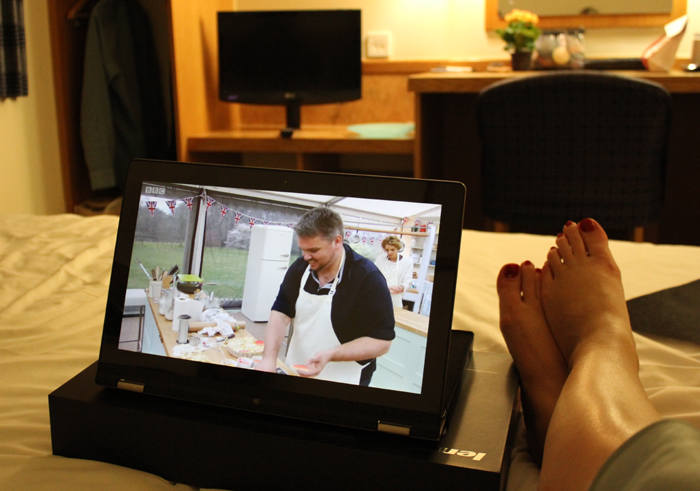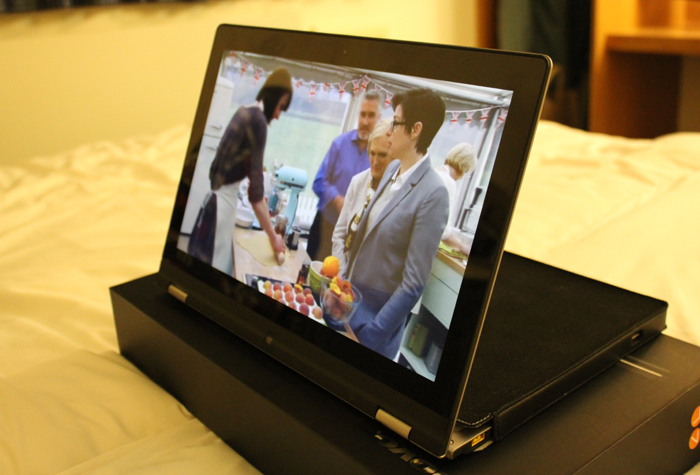 Then I turned it into a tablet and played a silly game that came built into it.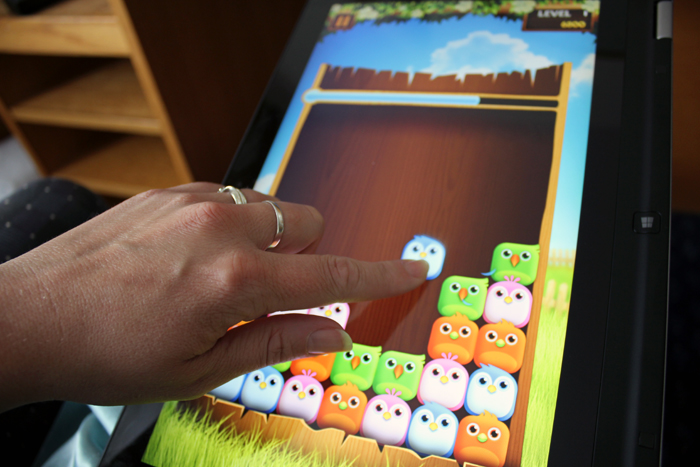 So, as you can see I have given it a thorough testing.
I'm not going to pretend this is a technology review. I don't really have the knowledge for that. But it's reasonably lightweight, works like a regular laptop or a tablet and I really love the bendy back that means you can stand it up on a table or bed without the keyboard in front of it. and use it to watch TV. It doesn't have an ethernet port, which is a bit of an issue as one place I stay only has cable wi fi, it also doesn't have a built in DVD drive, but you can buy plug ins for those as well, and how often do you really use it?
When I first started blogging I only had a clunky old laptop and a camera phone. The laptop could only use wifi with the help of a USB adaptor and the phone didn't have apps, or connect to the internet, I could just take photos and put them on my laptop, like a normal camera, which I couldn't afford. Each piece of new technology I've invested in, or that has become the norm, has changed my experience of blogging, and what I'm capable of in my job. I can now keep up with events on social media through my phone and upload photos directly to my media accounts, my DSLR means better quality blog photos, but up till now I've never really had the means to properly blog on the go.
So lets see how this impacts on my blogging life!
Related