On Friday night I signed up to Run the Norwich Race for Life Twilight.
I was running as part of a team called Chamber of Fishwives, with some friends of mine. One of the girls, Cyan, had lost several members of her family to cancer and was the instigator of the team, but there's very few people who haven't been touched by cancer in come way. I lost my own Grandad to Cancer last December, so I was more than happy to help raise more money for Cancer Research. If you want to donate to Cancer Research you can still do so through the Chamber of Fishwives Just Giving page.
I haven't run a Race for Life since my early attempts at running in 2008, and I found it an odd experience! Since I started running and stuck with it in May 2012 I've taken part in 1 "fun run" and 3 different races. All of these were mixed events, with differing levels of entertainments provided at the beginning/end point, including live music, DJs, food and drink and raffles, only one had no real entertainment. At these races I've arrived, registered, lurked around, done my own warm up and then set off to run, collecting a goodie bag and a medal at the end.
Race for Life is a whoooole different collective experience! All Race for Lifes are women only events, something I struggle with as a concept. I think it's a shame that Women feel they are only comfortable exercising in a women only environment, and the reason I haven't taken part in any is that I think it's a shame not to be able to run with my Husband who took up running at the same time as I did. On the other hand, I think that if a women only race is something that can encourage more women into running as a sport then, it's great. So my confusion about the whole concept aside, this twilight edition of Race for Life was notable not only for it's excessive pinkness, but also an astonishing array of glow in the dark accessories, including flashing rings and glow sticks being handed out by volunteers staffing the event.
Before the race there was live music, and over 1000 women dressed in onesies, pink shorts and glow in the dark ears being encouraged to take part in a record breaking attempt to make hearts with their hands. Then there was a Zumba warm up. To be honest I felt like a total fish out of water. I don't make that "whoop whoop" noise unless I am very drunk or I have invented a time machine and am standing in a field at an early 90s rave, but I appeared to be in a field in 2013 with a 1000 people who do, completely unselfconciously. I also had NO CLUE what was going on with the Zumba thing, I am not uncoordinated, but I was totally lost, standing at the front of the stage, I turned around and saw 1000 other women who apparently knew every single move off by heart and were all moving in unison. I should have felt hyped up by the music and the sense of female solidarity, but I didn't, I felt even more lost and alone than I normally do standing alone at the start line of a race. I just wanted to slink off and do some stretches quietly in a corner.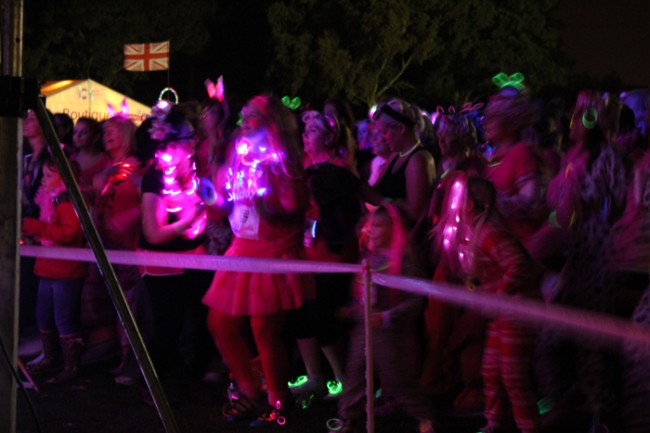 Everyone looked amazing, excited and with some really cracking glow in the dark accessories, but I felt a bit like I'd gate crashed a hen party for someone I'd never met. Next time I do Race for Life Twilight I'll take a hipflask of whisky along with me! I'm way more fun with whisky!
One thing I did like, was that they separated out those who wanted to run the course from those that wanted to walk it. I ran, the other 3 ladies from my team opted for walking. It was quite exciting being at the very front of the pack. I normally have to lurk at the back with the slowbies so as not to annoy the people after a medal. I felt like an elite runner, being at the front. Hey look at me, I'm Paula Radcliffe in pink footless tights and day glo war paint!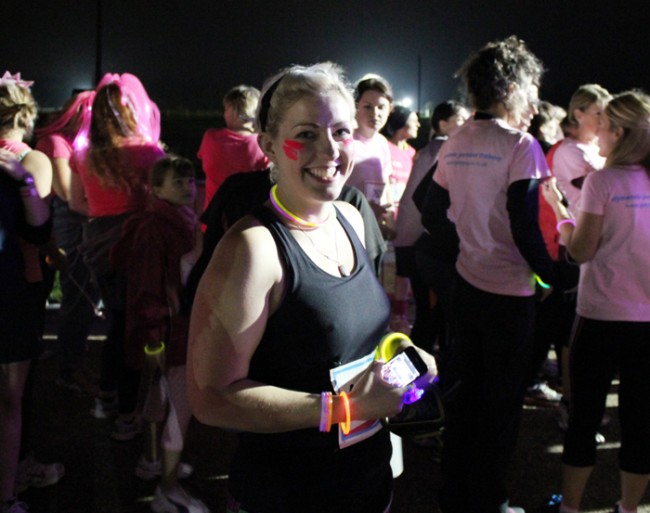 The run itself was brilliant, nice cool evening weather, a nice flat course, amazing supportive volunteers cheering us on, and the added fun of watching people shed Glow in the Dark accessories as they ran. The course went out 2.5k, before turning back on itself, which was quite nice as you got to run past all the other women walking the course on the way back, who cheered us on and we got to cheer them back.
There's no official times for this run, but I came in under the clock at around 29 minutes, rather good for me! I enjoyed hearing the announcer shouting out finishers times as I ran down the home straight towards the finish line, and high fiving some large foam hands from the local radio!
We got medals and water, but no goodie bags these days. While I was running my Husband had also popped over to the "Boutique" and bought me a t shirt printed with the names of all the registered runners, which was a nice touch as well. Here I am just after I finished, and with the rest of my team (don't worry, my neon pink footless tights will never see the light of day again)
Would I do another Race for Life? Maybe, with the separation of runners and walkers, it is possible to hit a decent time and there was a great atmosphere round the course. Next time I might turn up late and skip the pre race warm up which was a bit too much for me. This was by far the largest event I've taken part in, with over 1000 participants, I wonder if a larger, more "serious", running event has any more of the party type elements? Something like Run to the Beat for instance, that sells itself on musical accompaniment?