Now Autumn is here I thought I'd take a return to a week in my wardrobe.
Back in July, in the middle of that heatwave we all whinged about and now miss, I photographed everything I wore for a week. I did it following a Twitter conversation about how bloggers only show off their fancy outfits and you don't get to see what they look like every day. I said I might do it again in cooler weather. Well that's certainly arrived, so last week I documented what was (apart from the cat ears) a pretty normal week of outfits for Autumn.
This will pretty much be my wardrobe, but with added coats, hats and scarves, from now until spring! One thing you will notice this week, I have straight hair all week. At the moment it is totally fried from being frizzed up for a Halloween costume and is in dire need of a rest from setting lotion, so I kept it straight this week. Hopefully I'll be able to get a trim to fix the frizzy ends soon and go back to my lovely waves.
Most of the stuff I wore this week is old, but I have linked to anything you can still actually buy, just in case you fall in love with the boring stuff from my wardrobe and MUST have it! Well, you never know, I try to be helpful.
How does it compare to your weekly wardrobe?
Monday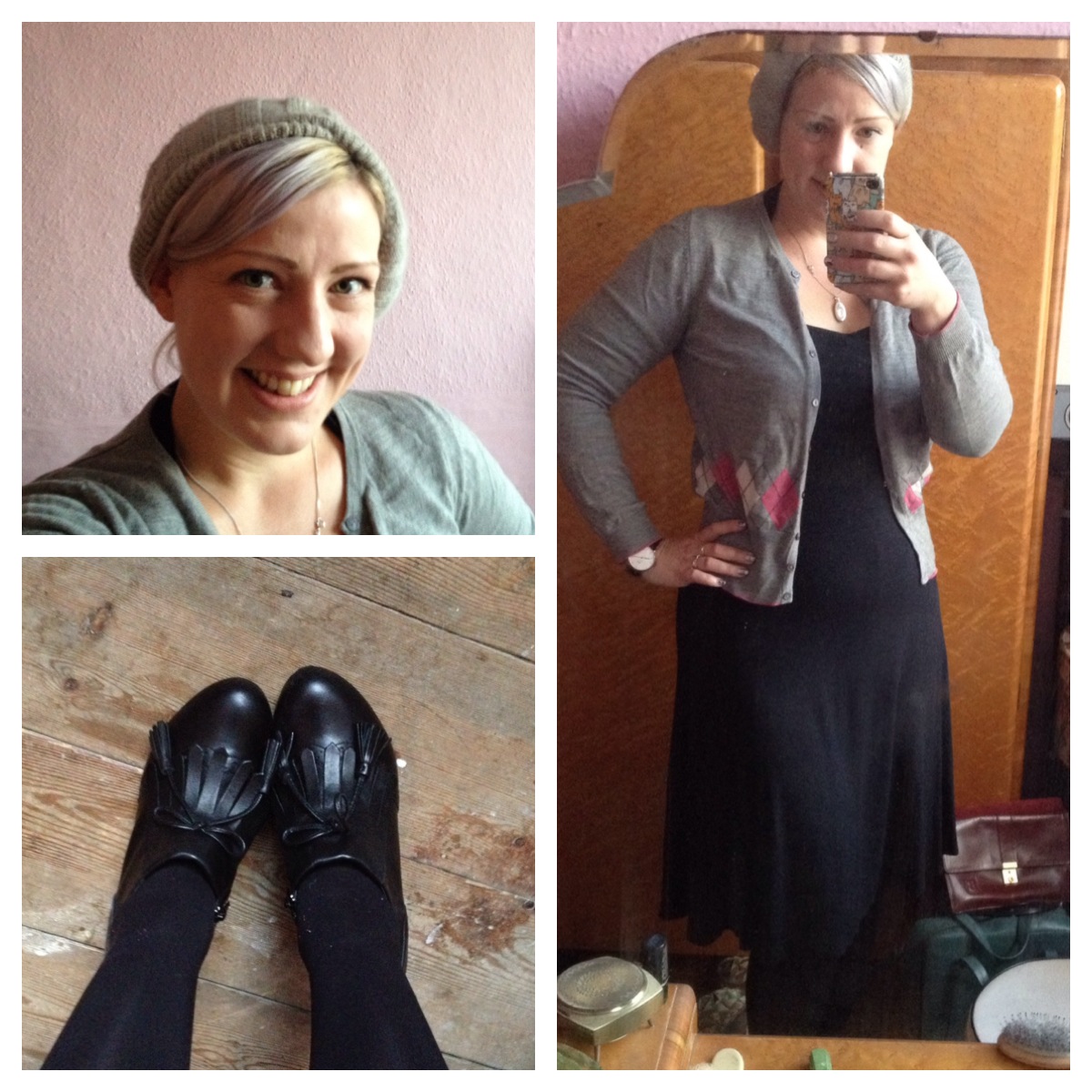 Monday was a day of travelling. 4 hours in a car means comfy clothes. The cardigan and dress are both M&S, but bought in Charity Shops. I also have NO LIPSTICK in these photos. I did actually put some neutral pink on, but red seemed wasted on a car journey.
♥ Dress & Cardigan – M&S via a Charity Shop ♥ Tights – M&S ♥ Shoes – Barrats* ♥ Beret – A gift ♥
Tuesday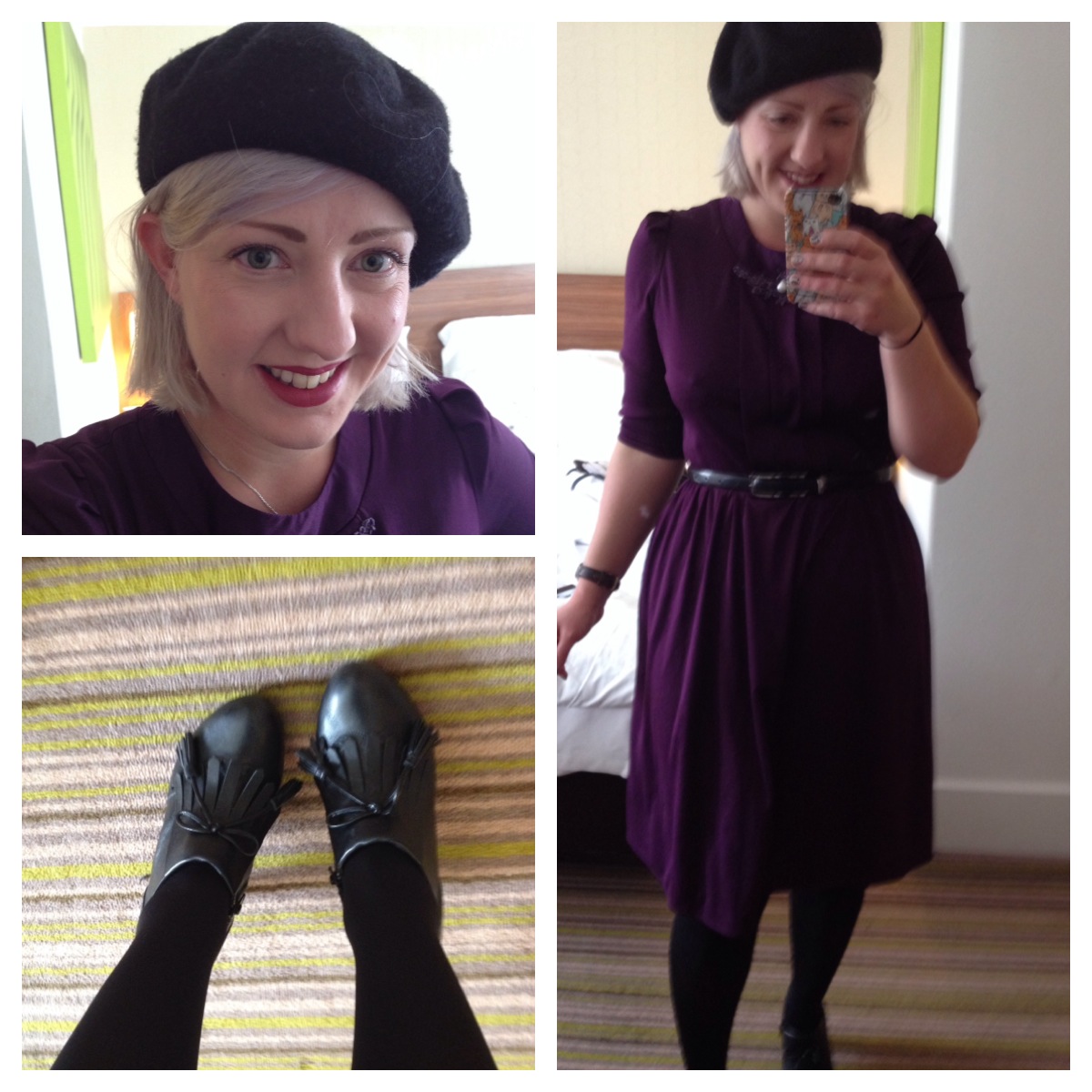 I mentioned I was travelling, so today I'm in a hotel bedroom, which means I wore the same shoes most of this week, gasp! The dress is a 1970s 99p eBay vintage special, and an old favourite (Which I bought in 2010!), I'm wearing Besame Dusty Rose lipstick today.
♥ Dress – vintage ♥ Tights – M&S ♥ Shoes – Barratts* ♥ Beret – eBay ♥ Belt – Vintage ♥
Wednesday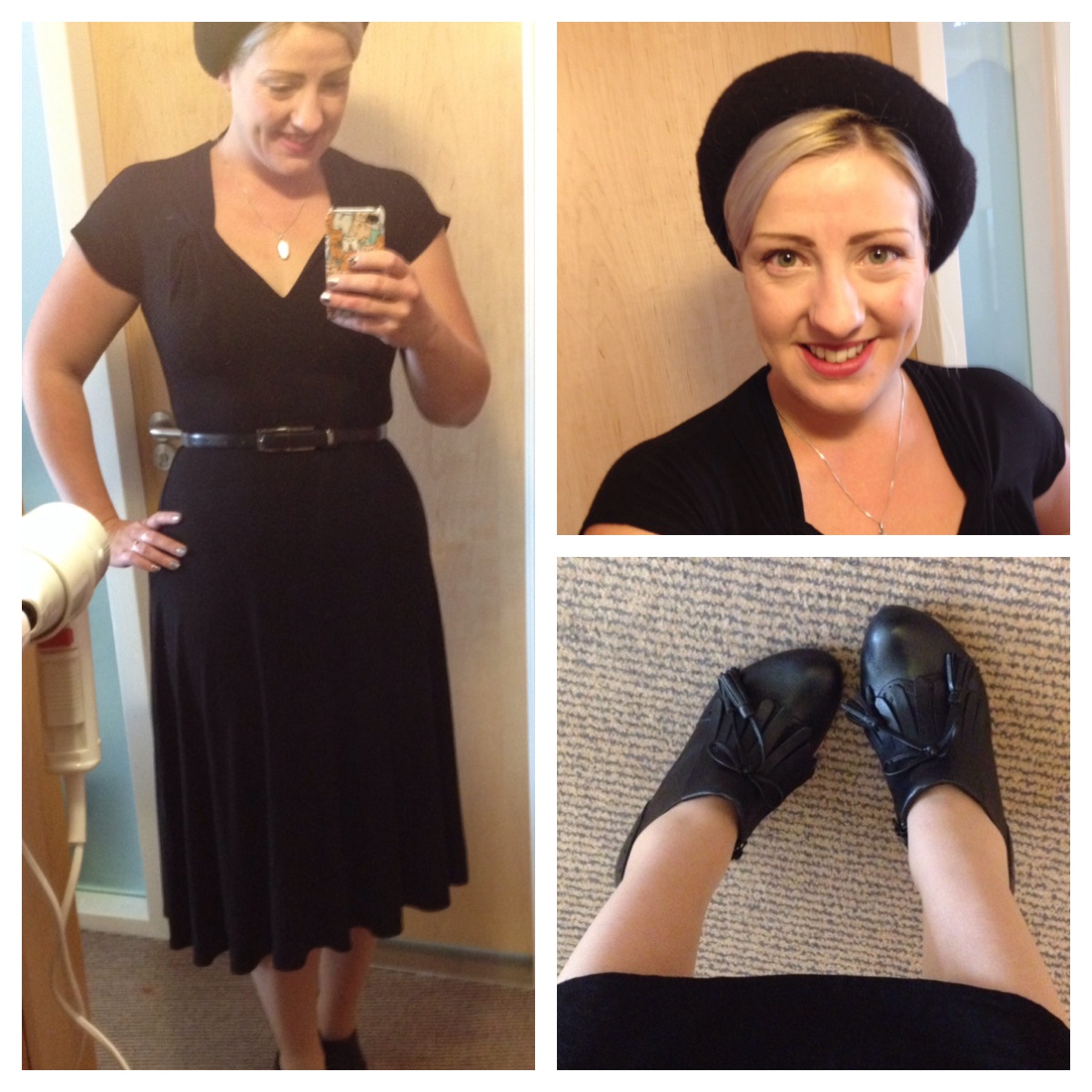 Another day with lots of time in a car to travel home, but before that I actually had to see people, so a little more presentable than Monday in my Heyday! Twizzle dress. I'm wearing WKD seamed tights, rather than stockings as they're better for travel. I don't actually like these shoes with this outfit, I prefer them with black tights as they cut me off at the ankle, but it's all I had with me, so tough!
The beret I am wearing padded at the front, 1940s style (See different ways to wear a beret!) and I'm actually wearing red lipstick, though for some reason it looks pink in the awful yellow hotel light.
♥ Dress – Heyday! ♥ Belt – Vintage ♥ Tights – What Katie Did ♥
♥ Shoes – Barratts* ♥ Beret – eBay ♥
Thursday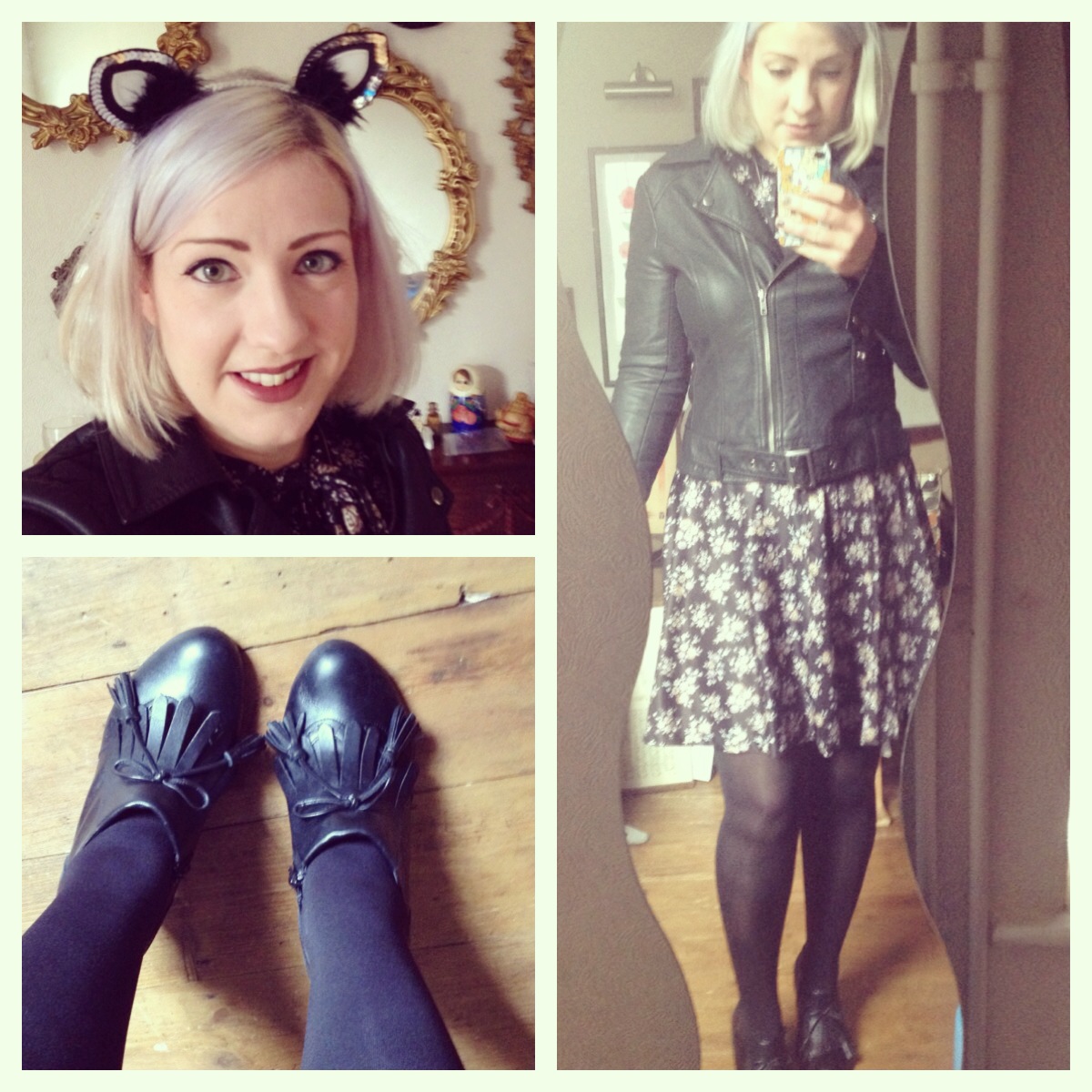 You've seen this one, it was Friday's outfit post from the Beer festival, only this time snapped blurrily on my iPhone, instead of using my proper camera while being mocked by delivery drivers for posing on the street.
That's  light touch of Chanel Rouge Noir lipstick, seeing as it's Halloween.
♥ Dress – Vintage ♥ Jacket – French Connection* ♥ Tights – M&S ♥ Shoes – Barratts* ♥
Friday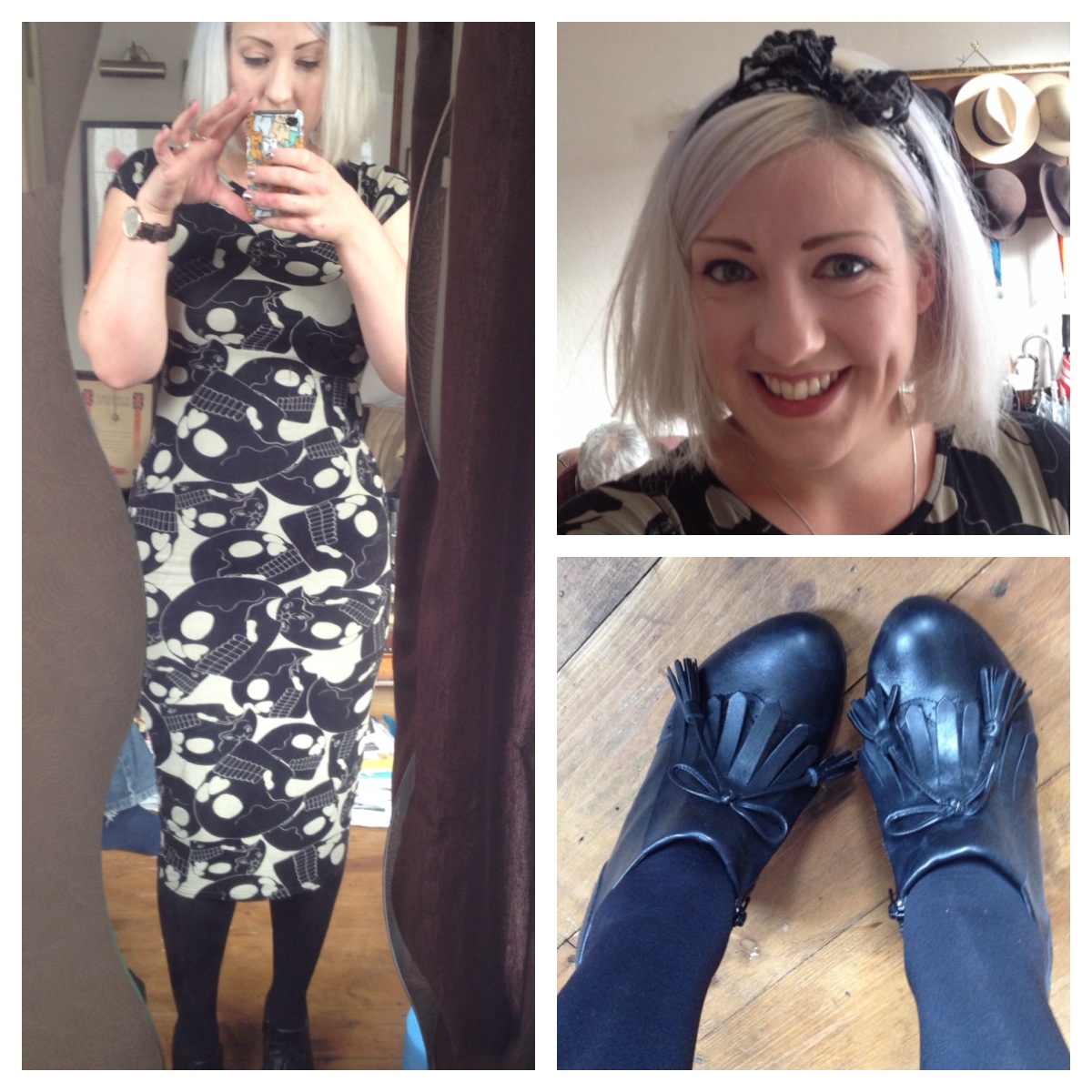 On Friday I went out to lunch with the Super glamorous Natalya Umanska. I wanted to wear my Skull print dress again before the Halloween "season" was over (skulls not very Christmassy!) There's also skulls on my headscarf, though you can't see them, and oh look, it's those shoes again (they're comfy to walk in, sorry!).
In the evening I changed into a Pumpkin, it's like Cinderella in reverse.
♥ Dress – Chiara Fashions * ♥ Scarf – Can't remember ♥ Tights – M&S ♥ Shoes – Barratts* ♥
Saturday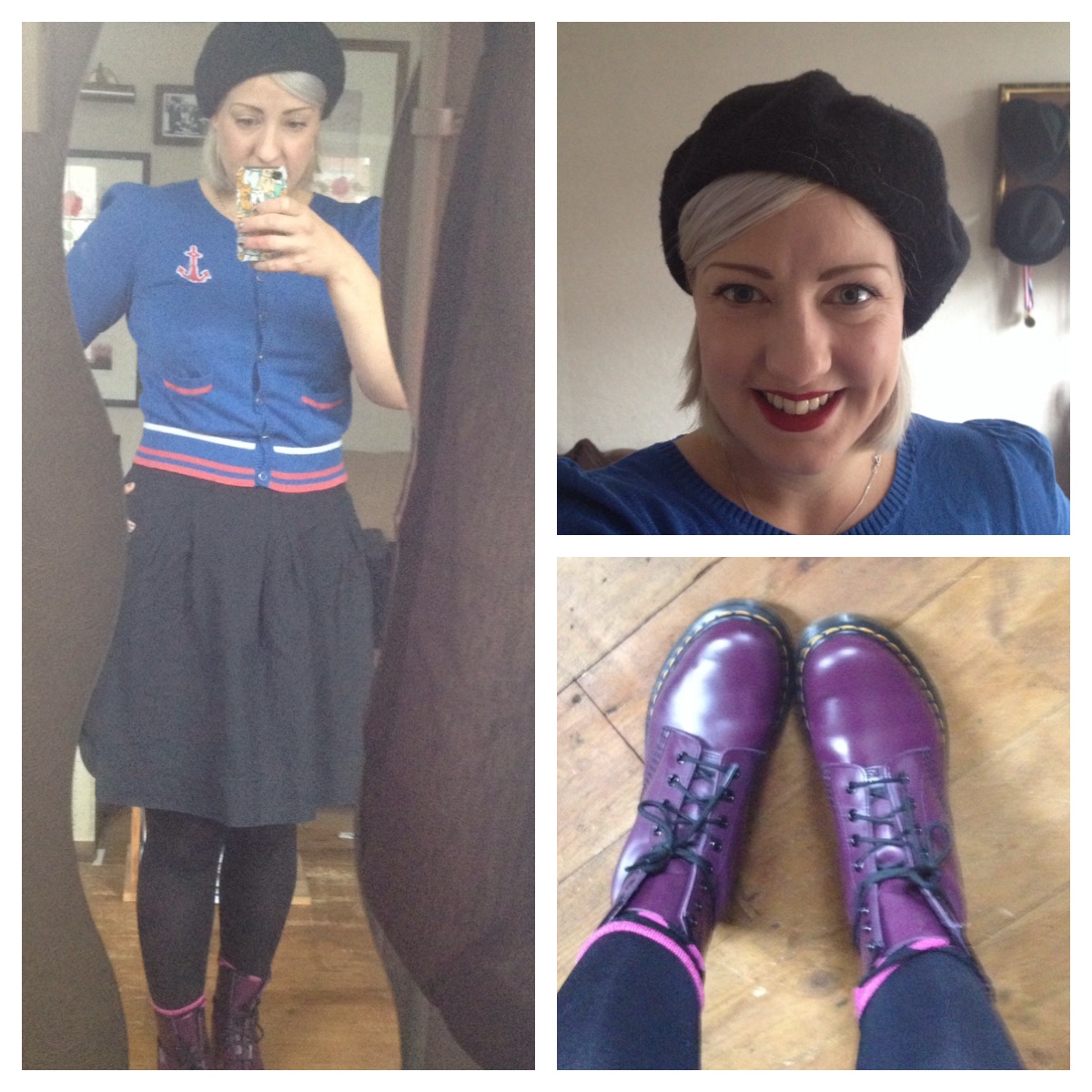 Today I had a LOT of walking to do. I had to go into town and back in the morning for an opticians appointment, then walk up to Roller Derby and back in the afternoon. Having been in heels for the previous week, and spent Friday night in ridiculously high platform boots I decided to give my feet a rest and wear my DM boots. Todays lipstick is my favourite Besame Red Velvet. Everything else in this outfit is very old, 3 or 4 years at least.
This evening I was at the theatre. I forgot to photograph my outfit, but it was my 1950s Kitty Copeland wiggle dress that I wear a lot, with the same black beret and red lipstick.
♥ Cardigan – Very* ♥ Skirt – Charity Shop ♥ Beret – eBay ♥ Tights – M&S ♥ Boots – Dr Marten's ♥
Sunday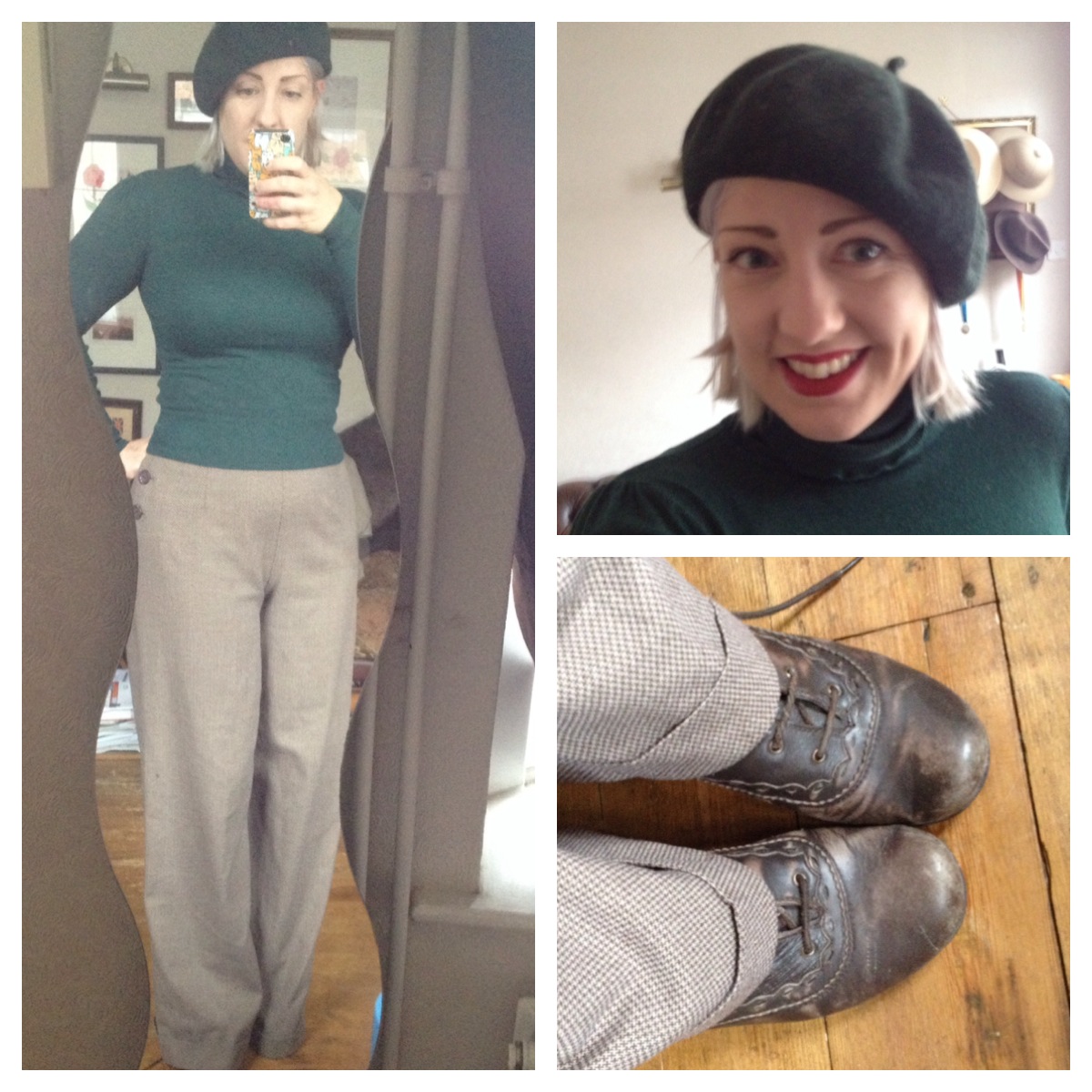 On Sunday morning I ran TEN MILES in training for my half marathon *cough* sponsor me *cough*. In the afternoon I thought that deserved a trip to the pub, and this is what I wore. 1940s style high waisted trousers, a polo neck, a matching green beret, red velvet Besame lipstick and boots that really are dead and need replacing, preferably with ones identical as I love them and they are so comfortable.
♥ Brown Dogstooth Trousers – Heyday! ♥ Polo neck – Primark ♥ Beret – eBay ♥ Boots – Hush Puppies ♥
This really was a very normal week indeed. None of these outfits were planned any further in advance than the night before, or used a lot of thought, maybe I should have picked a better week!
At the moment I am trialling a new social meeja diary type app called Dayre, and from today on I plan to use it to, amongst other things, blog a daily outfit post. I'll be posting about it in more detail on Friday, but in the meantime, if you fancy downloading it and following me, you can do so here and I'll follow you back and we can stalk each others wardrobes!