December's here, it's party time!
A whole month of inventing festive party outfits before I have to out all my Christmas themed goodies back in the wardrobe for another year! Todays outfit was actually a dry run for a party I am going to this evening, as this evening I am bound to run out of time/not be able to find anywhere to take photos/forget my camera etc etc. Also, today seemed like a convenient day to show you my NEW SHOES, seeing as they are FABULOUS and came from the sponsor of todays Advent Calendar giveaway, the utterly amazing Bettylicious.
Yes, that's right, if you fancy my shoes then just visit door 6 of the advent calendar and they could be £100 cheaper for you.
As you can see this is a particularly festive outfit. Please do excuse the state of my floor, that fireplace behind me is brand new, as in the man who put it in has just walked out of the door. Isn't it beautiful? I can toast marshmallows over it now and everything.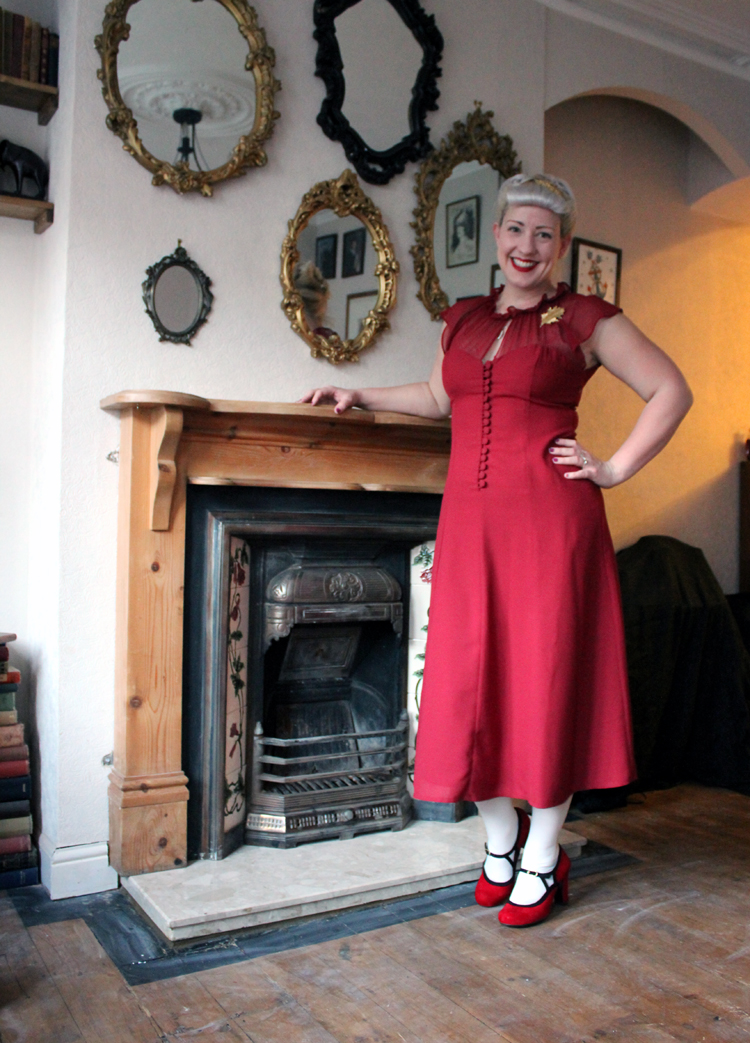 ♥ Dress – ASOS ♥ Tights – Primark ♥ Shoes – Chie Mihara c/o Bettylicious ♥
♥ Brooch and Hair Comb – Abilu Creations ♥
A few years ago I promised myself that I would stop torturing my feet with cheap shoes. I don't need a gazillion pairs of plastic shoes that kill my feet, I'd rather have one pair of stupidly expensive ones than 4 pairs of cheap ones.
I've actually had my eye on a pair of Chie Mihara shoes for a while as they make some beautiful vintage inspired styles. They are definitely not cheap, and I am a poor self employed person, so on the wishlist they stayed, till Bettylicious offered to send me a pair. OH MY GOD they are amazing. Yes, amazing enough for caps AND bold typeface. They're leather, so will gradually adapt to my feet, unlike plastic, and they are comfortable, gorgeous, and come in a lovely box with a shoe bag and everything. Seriously worth the investment, if you have the money to invest.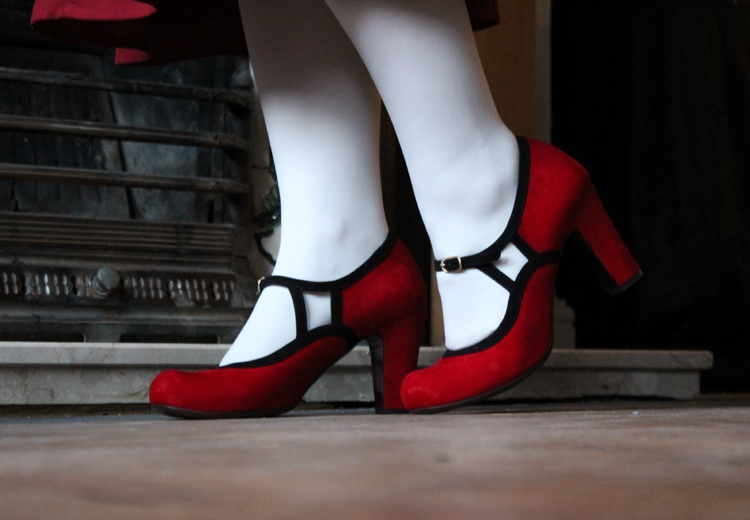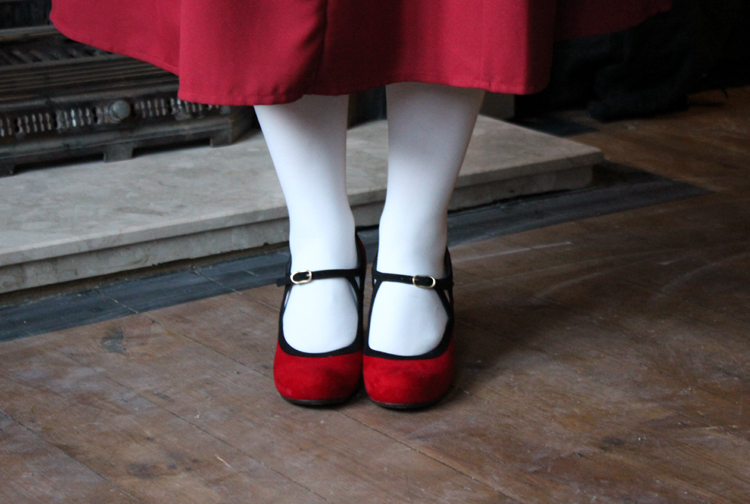 I love the art deco detailing on the side, and I love that the buckle sits towards the centre of the foot too. Anyway, they're lovely, lets not go on about it!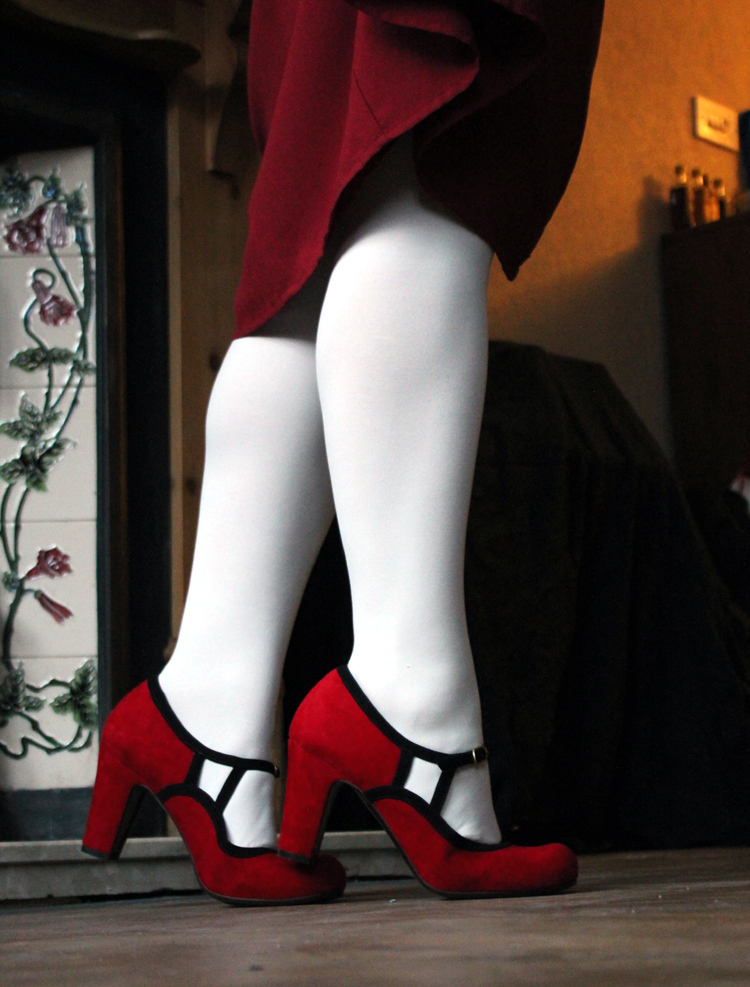 The red dress came from ASOS last year, and the holly hair comb and brooch came from Abilu Creations (whos  behind door 2!).
Tonights party is a Christmas Party for the Rock Choir my Parents are part of, so I'm hoping to hear them sing for the first time. It's not often you get to go to your own Parents Carol Concert.
The hair do I am going to have to attempt to recreate later, maybe a little neater, as it was a sort of happy accident. It's basically the same hair as the tutorial I posted the other day, but with bumper bangs which meant my rolls were more symmetrical.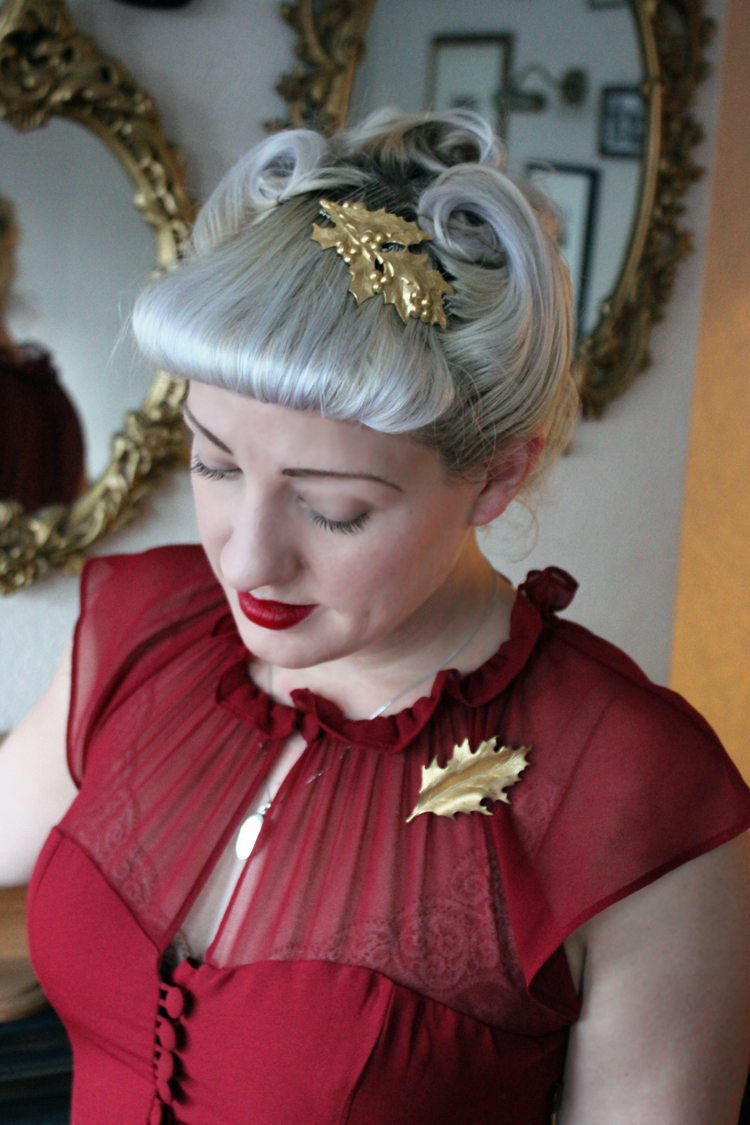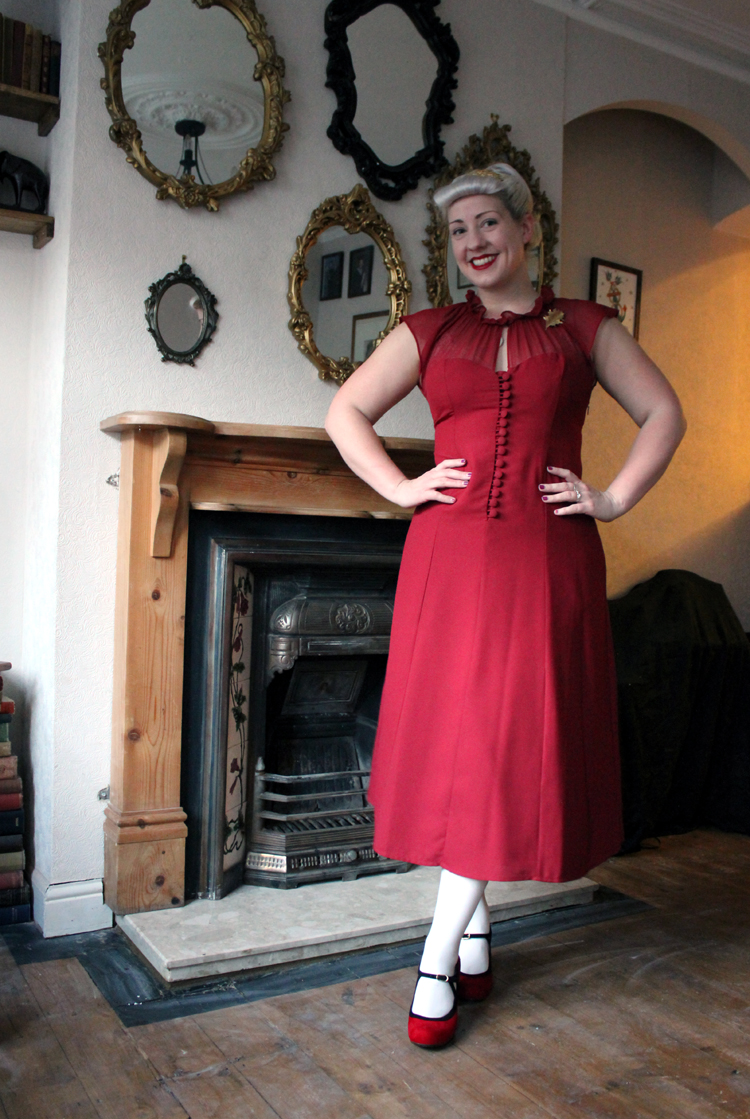 I have several more festive hair accessories, a pair of snowflake earrings, 2 Christmas dresses and 2 Christmas T Shirts to wear, so thankfully this isn't my last Christmas party of the year. In case you hadn't guessed, I do love Christmas. I'm just a big kid at heart!
Do you have Christmas parties coming up?