Happy New Year folks!
I hope you had a fun holiday and you treated yourself to some tasty goodies? Even if you didn't go crazy at Christmas I think it's a time of year when we do over indulge a little, and that's a good thing, being in control all the time is pretty dull! I don't do New Years Resolutions, I think they're a recipe for failure, but there's nothing wrong with setting some goals and getting yourself back on track after the party of Christmas is over.
To help you on your way I've put together a nice hamper of healthy goodies for one lucky reader to win thanks to some lovely brands who've been in touch over the last few months.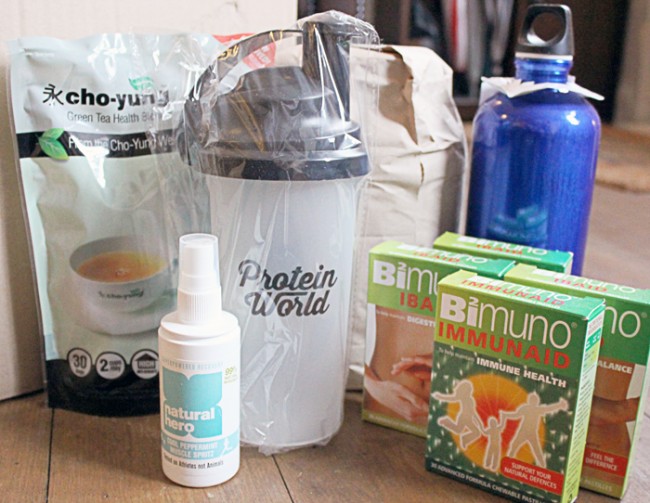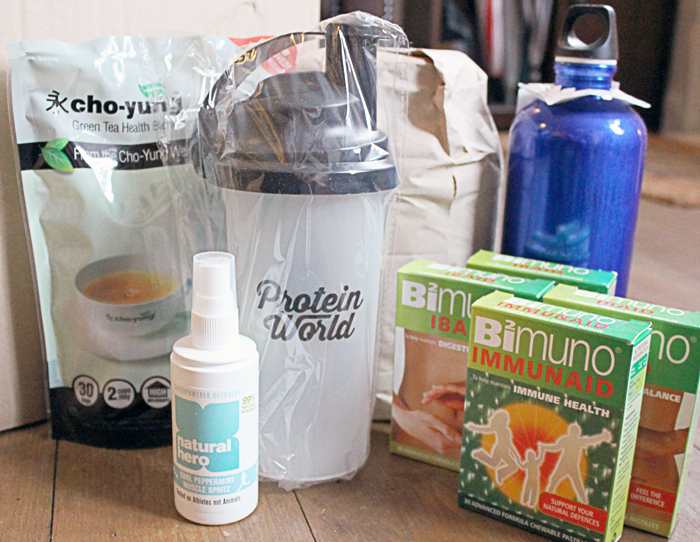 Not all of the prizes are here yet, darn Christmas post, and a couple will be going to you direct, but the prize hamper contains:
Protein World Chocolate flavour Slender Blend Powder and Shaker
This chocolate flavour protein powder shake has less calories than a lot of shakes, so is ideal if you're also watching calories. It contains raspberry ketones, CLA and green tea extract which are supposed to aid weight management. I use it post exercise as it's high in protein and easy to mix up in the shaker with water.
BiMuno IBAID and IMMUNAID pastilles
Ideal for helping get your digestive system back on track after Christmas! These prebiotic capsules contain insoluble fibre that encourages the growth of friendly bacteria in the gut. The IMMUNAID pastilles also contain added vitamin C. There's 6 packets in total in the box.
Natural Hero Cool Peppermint Muscle Spritz
For your muscles because if you've been lazy over the holidays, it's going to HURT when you start back! This spray is 99% natural and contains peppermint, white willow, arnica, witch hazel and blue chamomile as well as black oat seed extract to condition the skin.
Sigg Traveller 1 Litre Water Bottle
A lightweight BPA free water bottle, because you need to stay hydrated, even when it's cold out.
Cho-Yung Green Tea
A Green Tea blend with lotus leaf, cassia seeds and Gynostemma Pentaphyllum. Green Tea is high in anti oxidants, and this one can alledgedly double your weight loss used in conjunction with a healthy diet. I haven't tried it, as I'm giving the pack I was sent to you (so generous!) but drinking Green Tea certainly won't do you any harm!
Nike Dri Fit Thermal Hat & Gloves Set Because it's cold, and if you're going to get out there and do some exercise these will come in handy!
My Protein Natural Peanut Butter
Peanut butter is an excellent and tasty way to get more protein in your diet, and this one is free from sugar and salt, so you won't be adding extra nasties!
My Vitamins Beat the Blues Bundle
January is depressing, this bundle has 4 products from My Vitamins to help boost your mood and energy. Total Ginseng, Total Co-Q10, Omega 3 Balance  and the Complete Energy blend are contained in the bundle.
Amazing Grass Superfood Tub in your choice of flavour
This one will help you get some extra nutrients into your diet, it comes in chocolate flavour as well, and you can choose which you'd prefer. It contains green superfoods and and antioxidant rich fruits.
GlucoTabs & GlucoJuice
For extra energy when you need it. They're free from gluten, sodium and caffeine and suitable for vegans and vegetarians.
That's over £200 worth of goodies!
So how do you win?
Well you have several entry options, and each will gain you one entry into the draw, the more you do, the more chance you have to win! Just log into the rafflecopter widget and make sure your entry counts!
Tweet about the competition.
Terms & Conditions
The competition is open for 14 days and will close at midnight on 17th January 2014. Entry is open to the UK only. No cash alternative is available. The editors decision is final. Winners will be chosen at random and notified by email within 1 week of the end of the competition. If no reply is received within 48 hours then another winner will be drawn. Substitutions may be made to the prizes if the original option is not available.