If your muscles hurt after exercising it's a good thing, it means you're pushing yourself and improving. It's called Delayed Onset Muscle Soreness (DOMS) and it seems that no one really knows why it occurs, but the theory is that unaccustomed exercise causes tiny amounts of damage to the muscles, which then repair themselves in such a way as to reduce that damage when the exercise is repeated, which is why the muscle soreness gets less over time.
Treatment for DOMS is also much debated, but one of the things that's supposed to help is increasing blood flow to the muscles, one way of doing this is to apply warmth, and anecdotally this is something I do regularly. I use a warming muscle rub on my legs in the days following Roller Derby training (dear DOMS, I thought the deal was if I did this repeatedly you'd stop hurting) and I find the massage helps too.
Today I have 2 different warming rubs that I've been sent to review that I'm going to compare and contrast for you.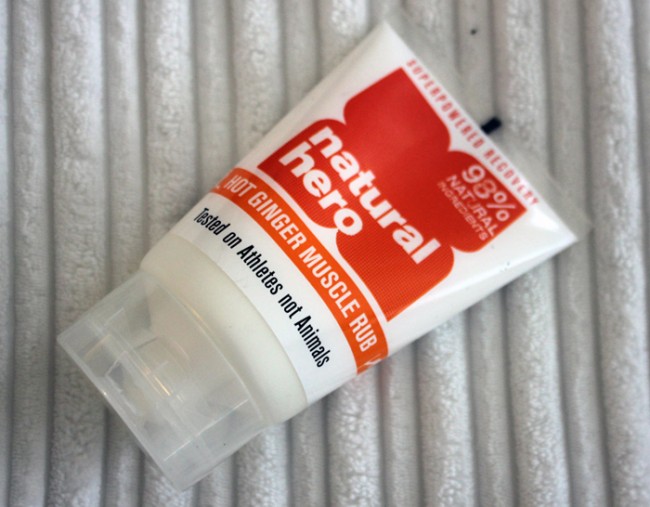 What They Say
"Our Hot Ginger natural Muscle Rub "sports massage in at tube" helps ease fatigued muscles with its blend of premium grade ginger root, rosemary, starflower and sweet fennel essential oils. Our 98% natural warming and soothing cream not only helps combat muscle fatigue but the easily absorbed pH balanced formula also conditions your skin and smells incredible."
What I Say
This absolutely smells divine and gingery, I found the smell quite uplifting. The cream isn't greasy, but isn't so easily absorbed that it's gone too quickly to get a good massage with it. A small amount goes a long way, which is good as it's not cheap. I also found that it left my skin nice and soft and moisturised as well, when my legs are sore I use this in place of a moisturiser!
I didn't find the warming action of this cream very intense or long lived. It had a very gentle warming effect that was very pleasant,but it disappeared within 5-10 minutes. The website says the warming effect reactivates during exercise if you use it before, but I haven't tried it this way.
It contains no parabens, which is good if you're allergic to them, as some people are, and is not tested on animals. I also like the design of the tube, it's attractive enough to leave on your bathroom shelf without screaming "EXERCISE STUFF".
The Verdict
I think this is a moisturiser, with a warming action, that's great to use before and after exercise. It smells nice, so if you've only got mild muscle pain it's ideal for using as a massage agent to help increase the blood flow to your muscles. Also, you won't smell of Deep Heat, so if you're off out somewhere that Deep Heat isn't going to cut it as a perfume, try this instead.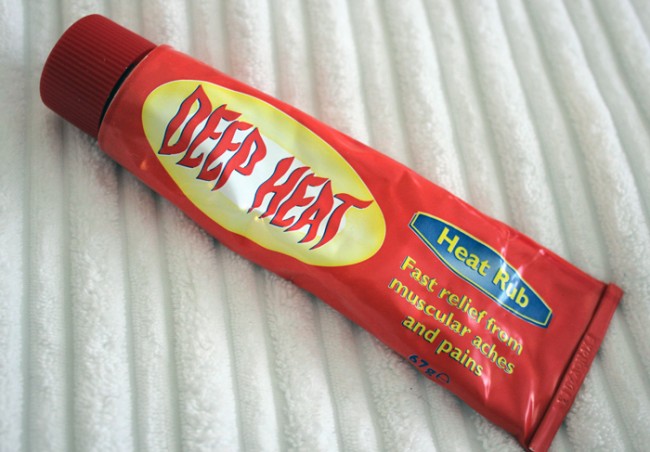 What They Say
"Deep Heat Heat Rub provides fast relief from muscular aches and pains; you can use Deep Heat before exercising as part of your warm up regime to help prevent muscle injury, or 72 hours after an injury occurs to ease muscular aches and pains. The rub uses heat therapy in a portable and easy to use format, and also contains eucalyptus oil and turpentine oil which help dilate local blood vessels, taking more heat, oxygen and nutrients to the muscles.

What I Say
Deep Heat stinks of Deep Heat, there's no way round it. It's the smell of locker rooms and sports halls, it makes your eyes water. It does, however, do exactly what it says on the tin. It's got quite an intense warming action that lasts for some time, a good half an hour, and really works to relieve muscle pain and warm up muscles.
Although it says it's non greasy, I found the Deep Heat cream left a greasy residue on my skin, and it doesn't absorb so easily, if you use too much you'll be left with a white greasy layer on your.
The tube and packaging are very sports orientated, so it's one for the sports bag rather than looking pretty on the bathroom shelf! It's also cheap, less than half the price of the Hot Ginger rub, but won't impress those of you that prefer natural products.
The Verdict
Deep Heat feels more "medical" in its application. If I had an injury, as opposed to just DOMS, I would reach for the Deep Heat first. Everyday, for mild soreness, I use the Hot Ginger Rub as I won't smell of Deep Heat everywhere I go!
Overall I think these are actually two products with very different applications in recovering from muscle soreness and injury, both with things to recommend them. There's definitely space for both products in my bathroom cabinet.