Spring is on its way!
The sky might still be a little grey right now, and I'm still in my big winter coat, but there have been glimpses of blue skies and daffodils and I am totally ready to start planning for spring and even *whispers* Summer.
I've been pinning a few things to my outfit inspiration Pinterest board, determined not to get into the same sorry state with my spring wardrobe as I have over winter. One of the things I like about using Pinterest boards for this sort of thing is that you can start to spot little themes in the things you pin. I seem to pin a lot of spots, checks and stripes, often mixed with blocked colours. I pin a lot of full skirts, both longer and shorter, and recently I noticed I was pinning a few of 60s style beehive hair dos, in the poofy messy sort of style.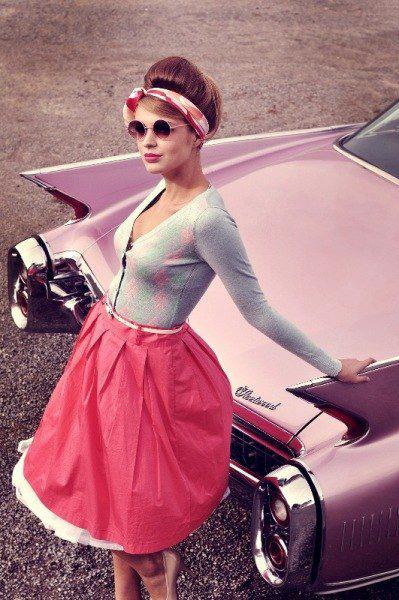 The other thing I found in my hunt for inspiration, is the Lena Hoschek Spring Summer 2014 lookbook. Lena Hoschek is one of my absolute favourite designers, she does mid century with a modern twist so well, and going to her collections is often a source of inspiration. For Spring and Summer 2014 she has created some beautiful candy coloured images with a late 50s early 60s feel. Pretty sun dresses and beehive hair with sunglasses and attitude. I already play around with a beehive occasionally, but I definitely feel some more experimentation in my near spring time future.
Today I thought I'd share some of the photos from the Lena Hoschek spring summer 2014 lookbook, and we can all dream of  warmer days and having an amazing summer wardrobe. Caution, there are a lot, I have no ability to edit when it comes to Lena Hoschek……