Is it hot enough for you?
I don't know what it's like where you are, but here it's meltingly hot. It didn't look that warm, then I went outside for a minute and a half and immediately came back in where it's cool and I can see things. As it cools down later I plan to go to the pub and eat pies, which is a weird thing to do on sunny days, but it's an Aussie Pie Shop and everyone knows it's hot in Australia, I watched Neighbours, it was always Summer.
Over the last week in the warm weather I have noticed my wardrobe seems to have an easily wearable Summer dress gap that needs plugging. I have a couple, but I can't wear them every day or people will start to think I never wash them. It's at these points I always start to think "what the hell did I wear last Summer?"
Anyway, it's a gap that needs plugging, and today I am wearing one of the new plugs. Apologies for the fact that my foot is still strapped up to look like a cow. I'm in pain, but wearing stupid shoes doesn't make it any worse, thankfully!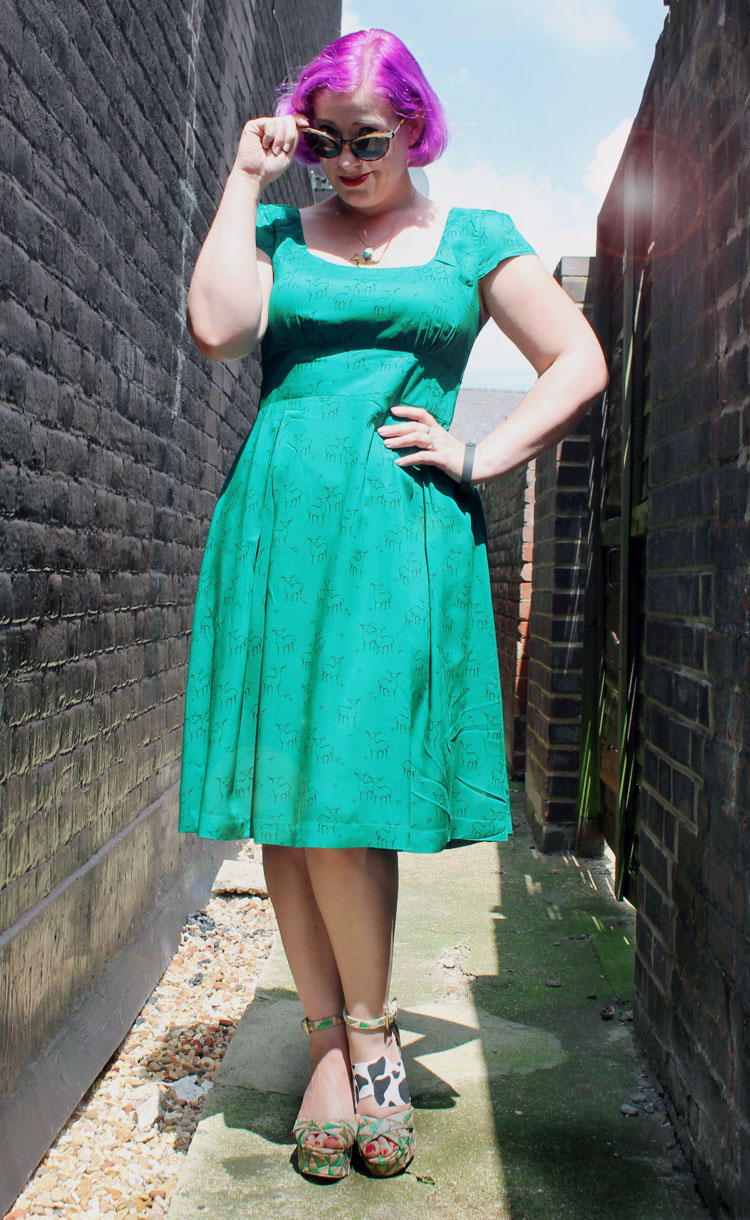 ♥ Deer Print Dress c/o Great Plains ♥ Shoes – Carvela @ TK Maxx* ♥ Necklace – Boho Boutique ♥
♥ Sunglasses c/o Glasses Direct ♥
Hugely bright days do not make for easy photography, but we did our best!
The dress is from Great Plains, a brand I actually hadn't heard of before they sent me an email, and this dress has a cute print of deer all over it. I expected it to be a more eveningy dress, but when it arrived it was actually made of a really lightweight floaty cotton, and although it had sleeves they were, wonder of wonders, loose on my arms and really comfortable to wear on hot days.
I ummed and ahhed over sizes, because I fall directly between a M and a L, and in the end I went for the L, which fits nicely for warm weather, not too restrictive with plenty of room for pie!
Another thing I have recently acquired thanks to Glasses Direct is a pair of prescription sunglasses. Oh it's bliss. I wear contacts, but particularly during hayfever season it's nice not to have to wear them all the time and to give my eyes a break. This means I spend a lot of time being unable to see, tripping off kerbs and bumping into things as I can't see without my glasses and it's too bright not to wear sunglasses. Now, all my problems are solved! These frames are London Retro.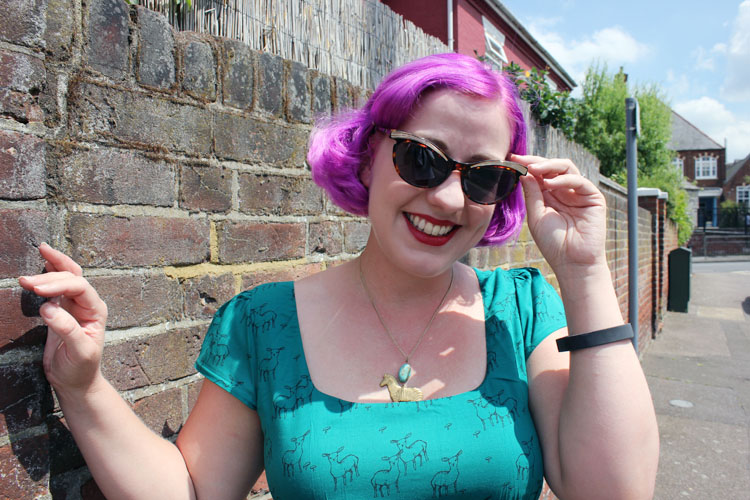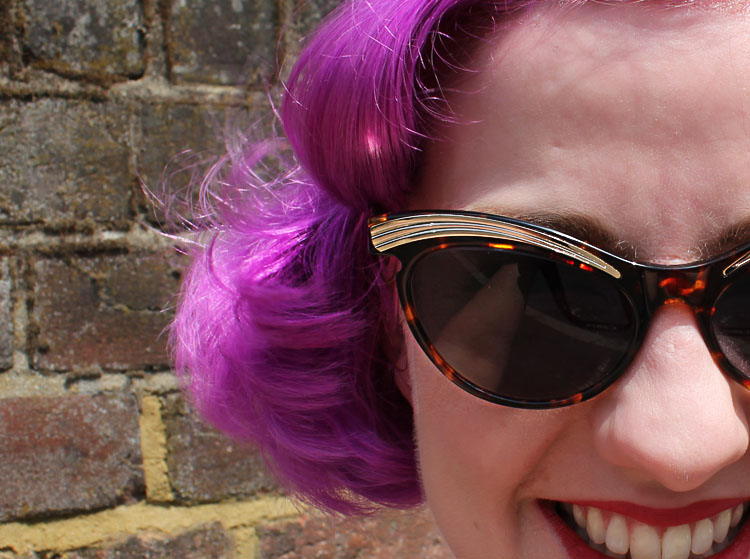 Anyway, I'm sorry todays post doesn't contain interesting and exciting things, but it's far too hot for that malarkey. I suggest staying in the shade till it goes away, because I am English and I spend all winter desperate for the sun to return, and the moan constantly about how hot it is till it rains, then I can moan about that.
Hey, keep an eye on my Instagram and maybe later on I'll take photos of my Aussie Pie. V&Oak Magazine, recently included my instagram account in a list of vintage instagrammers that you must follow right now. Apparently it shows a "life lived very much to the full" which I think means I eat and drink too much, so I wouldn't want to let anyone down by NOT instagramming my pie. If you're lucky I might instagram my beer too. That'll be nice won't it.
I have a full weekend planned too, including watching football at a burlesque event while wearing a corset, Roller Derby and, no doubt, many more food and drink photos, so I'll see you all on Monday, and I hope you have equally full weekends planned! Tell me all about them in the comments, I love reading about other peoples weekends!