Well, todays post was *supposed* to be about an amazing trip to Secret Cinema.
However, in case you missed the memo, the first weeks screenings of Back to the Future were all cancelled, at very short notice. Leaving lots of disappointed, angry and out-of-pocket people.
My trip was mostly being covered by the truly wonderful people at Lenovo. As I'm one of their Insiders, they wanted to send me on an "experience" and Secret Cinema seemed perfect. Its last-minute cancellation, however, left me with a non refundable hotel and train tickets, so I headed off to London anyway.
Today's post obviously ISN'T about my experience at Secret Cinema, it's some photos of what I did on Saturday instead.
Saturday was super hot, so it was time for my playsuit with holes to get an airing, along with a scarf to keep my hair off my neck, and still stuck in flat shoes by my sprained ankle.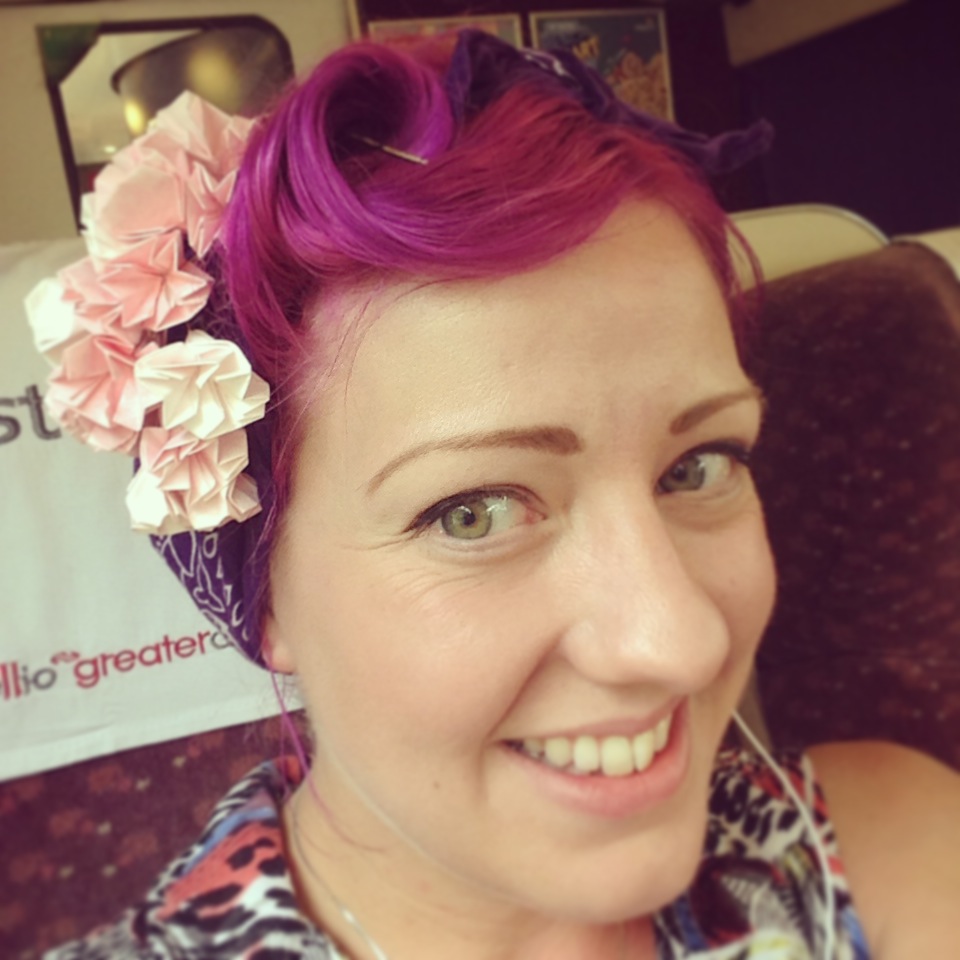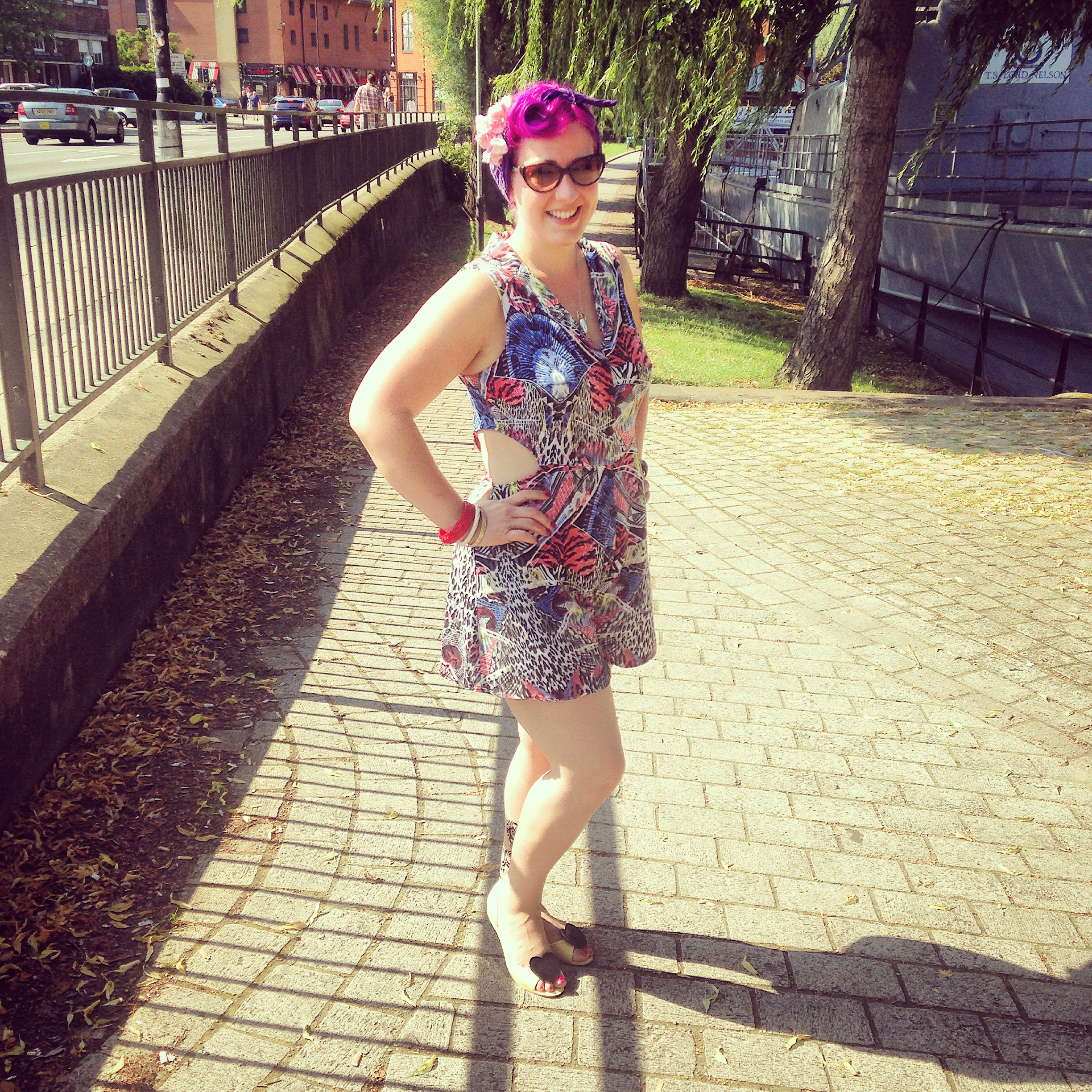 Also, I actually did get to watch Back to the Future anyway. Thanks to Lenovo I have  a super light, easy to carry around laptop with exciting "yoga" function, which makes it perfect for watching films on as the keyboard folds back out of the way and I can use the touch screen. So we watched the film on the train instead!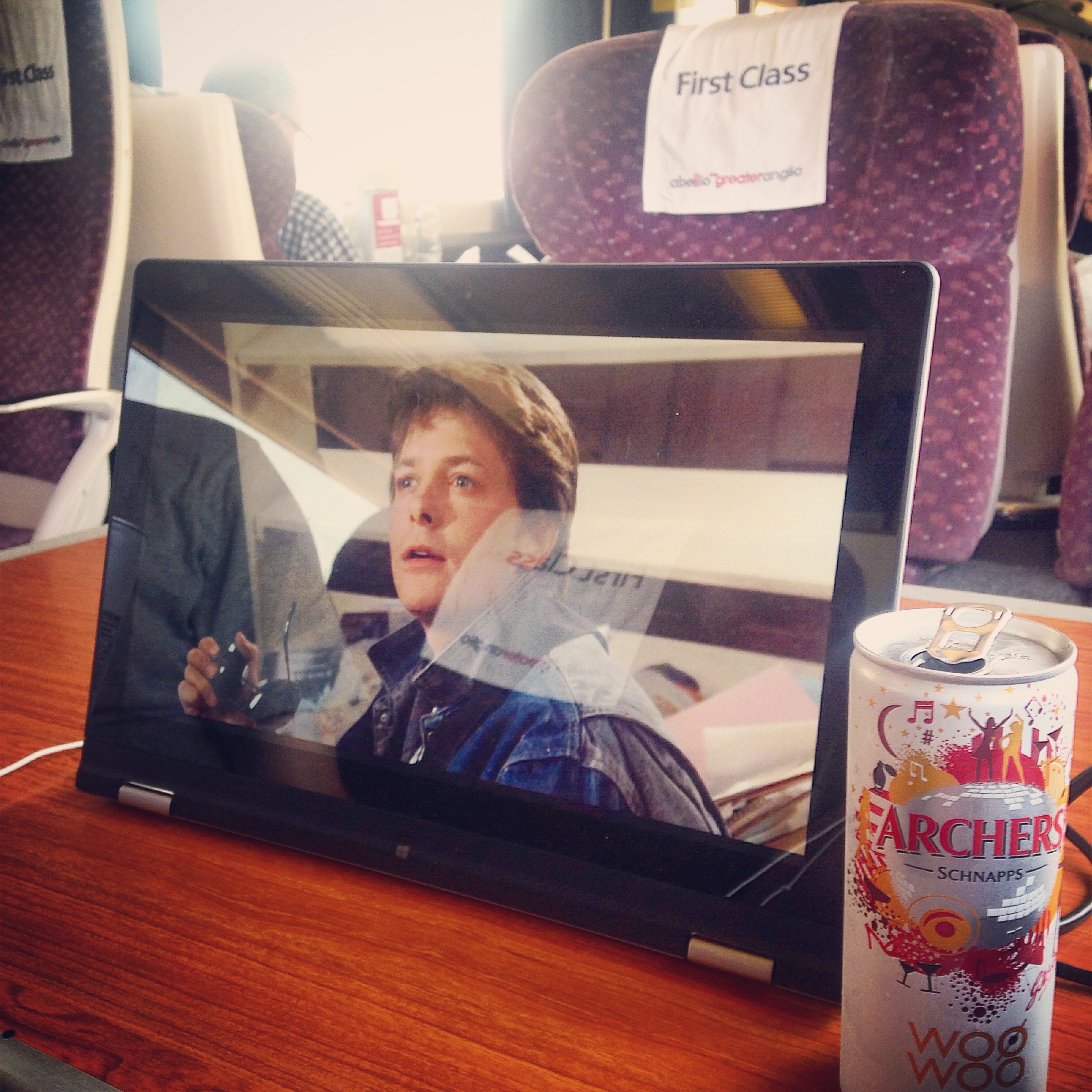 The Yoga laptops are here, and I highly recommend them if you do any travelling, they fold right in half so you can use them like a tablet and are far lighter to carry around than a regular laptop. The weight is low because it doesn't have extras like a DVD drive, but unlike a tablet you can buy extras and plug them in to a USB port so I often use it like a stand to watch films on.
I basically spent the rest of the afternoon being a total tourist in central London.
Outfit Mk 2 for the evening was a dress from The Pretty Dress Co, which is thick fabric, but still really cool to wear, flats again, these ones are Mel flats courtesy of Debenhams, and a strawberry print scarf I got in a goodie bag at The Blogger Programme party, tied up and worn as a kimono style jacket. Do you know how to do that? I might make a video to show you if not!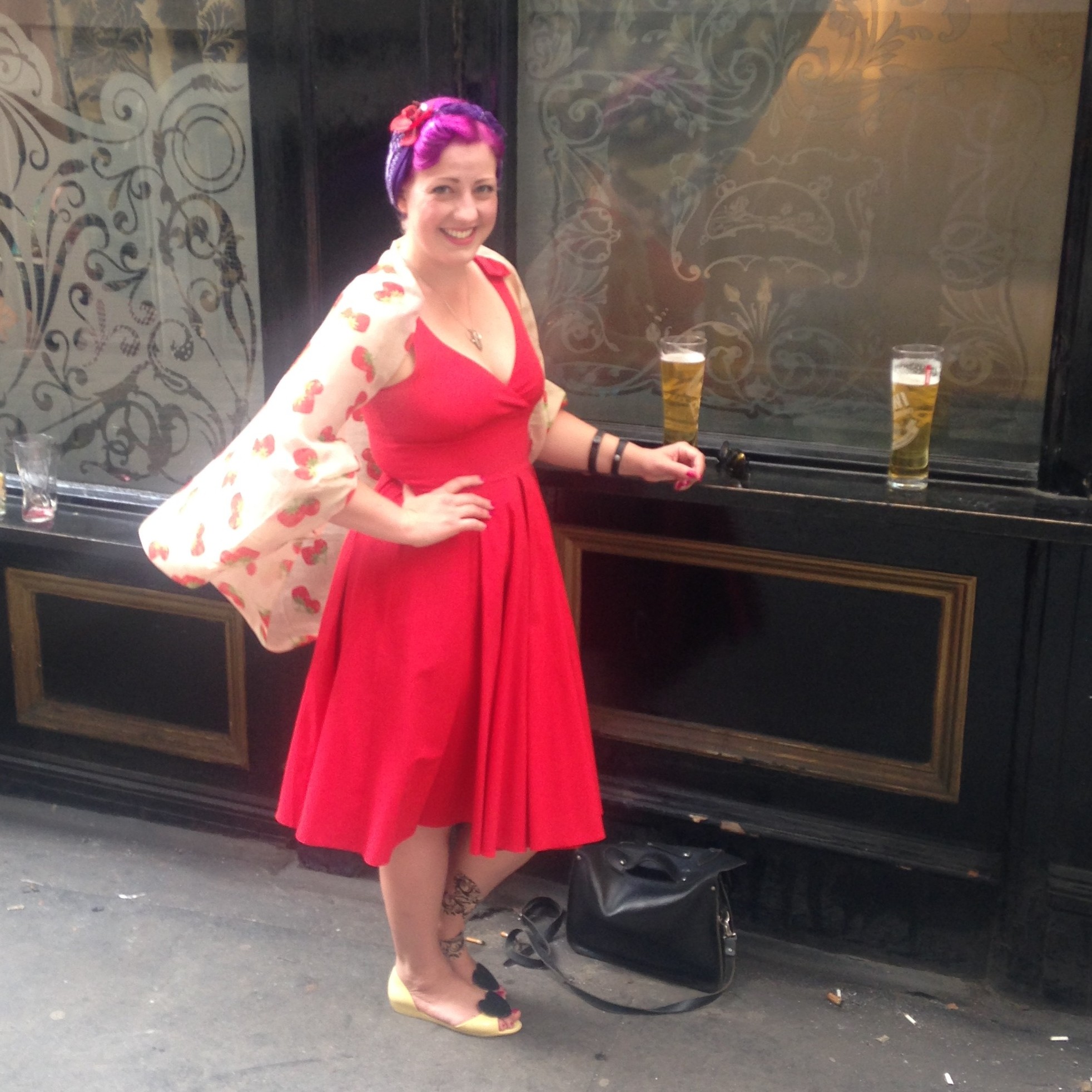 We watched the street performers in Trafalgar Square. Although I started to get a bit worried about them over heating and wondered if they were taking regular breaks and getting someone to bring them water, and then we giggled stupidly at the *cough* big blue cock *cough* on the fourth plinth.
We also popped into a place I'd been dying to visit for a while now. Brasserie Zedel near Piccadilly. It's a gorgeous Parisian Art Deco inspired extravaganza of a place. You walk through a street level café and follow a winding corridor and stairs down into the basement where there is a complex featuring a brasserie, cocktail bar and cabaret club all off a central lobby. It feels a little like a grand hotel, which is no surprise as the building was part of The Regent Palace Hotel back at the beginning of the last century and was owned by the same company behind Lyons Corner Houses.
We only stayed for a cocktail and a few bar snacks this time, but we'll definitely be going back for dinner in future, so don't consider this a review as such, because next time I'll take my proper camera!
Cocktails were about £10 each, which I had to remind myself was about normal for London prices, I ordered a Manhattan, which wasn't the best Manhattan I'd ever had, but certainly not the worst and was attractively presented! Wine was fairly reasonable with bottles available for £20. The decor in Bar Americain was the real reason to go. Beautiful Art Deco wood paneling and columns by the bar made me feel like I was in an episode of Poirot, and terribly under-dressed in my hot weather outfit. I pretty much wanted to immediately move in.
If you're a fan of Art Deco style and cocktails, then you should definitely pay it a visit.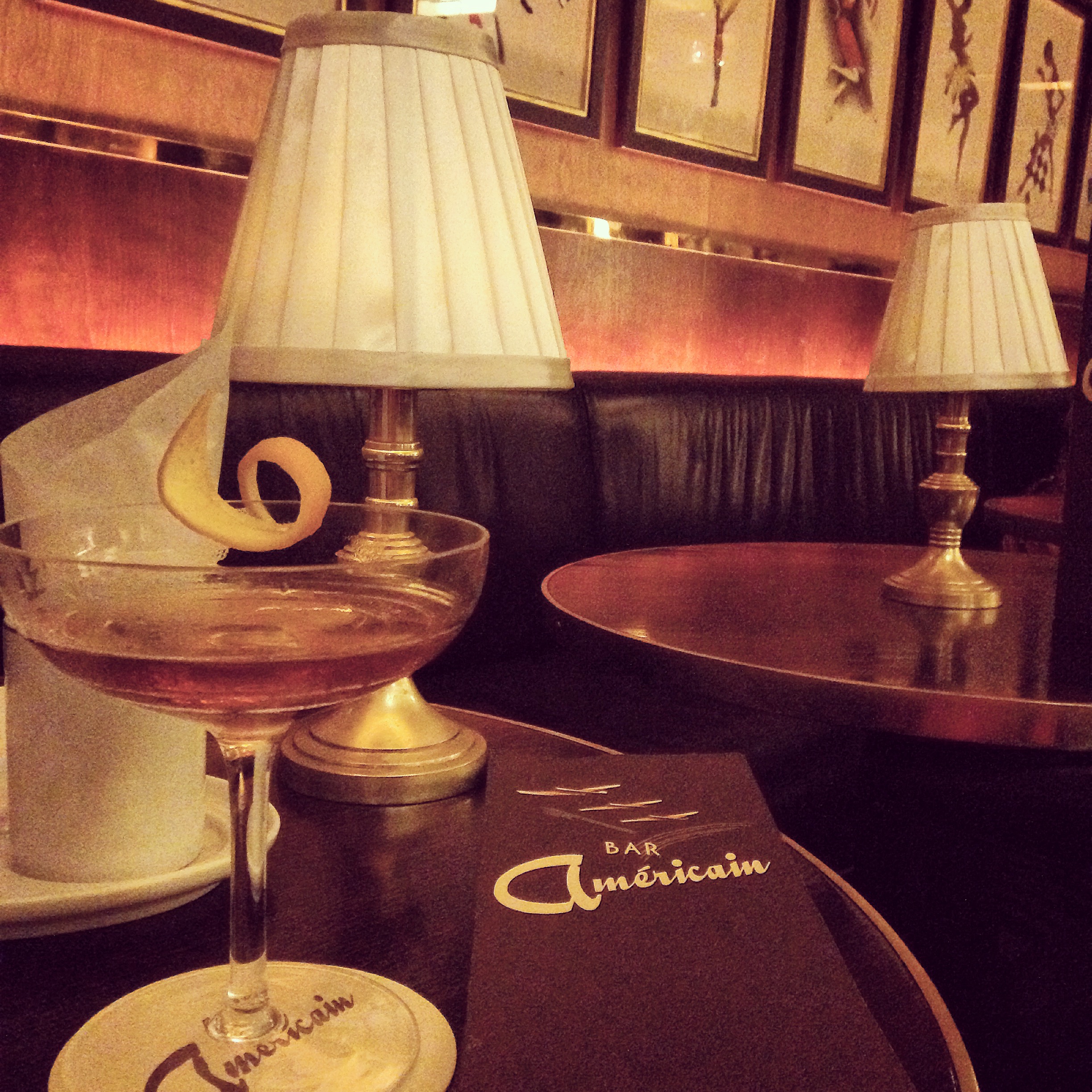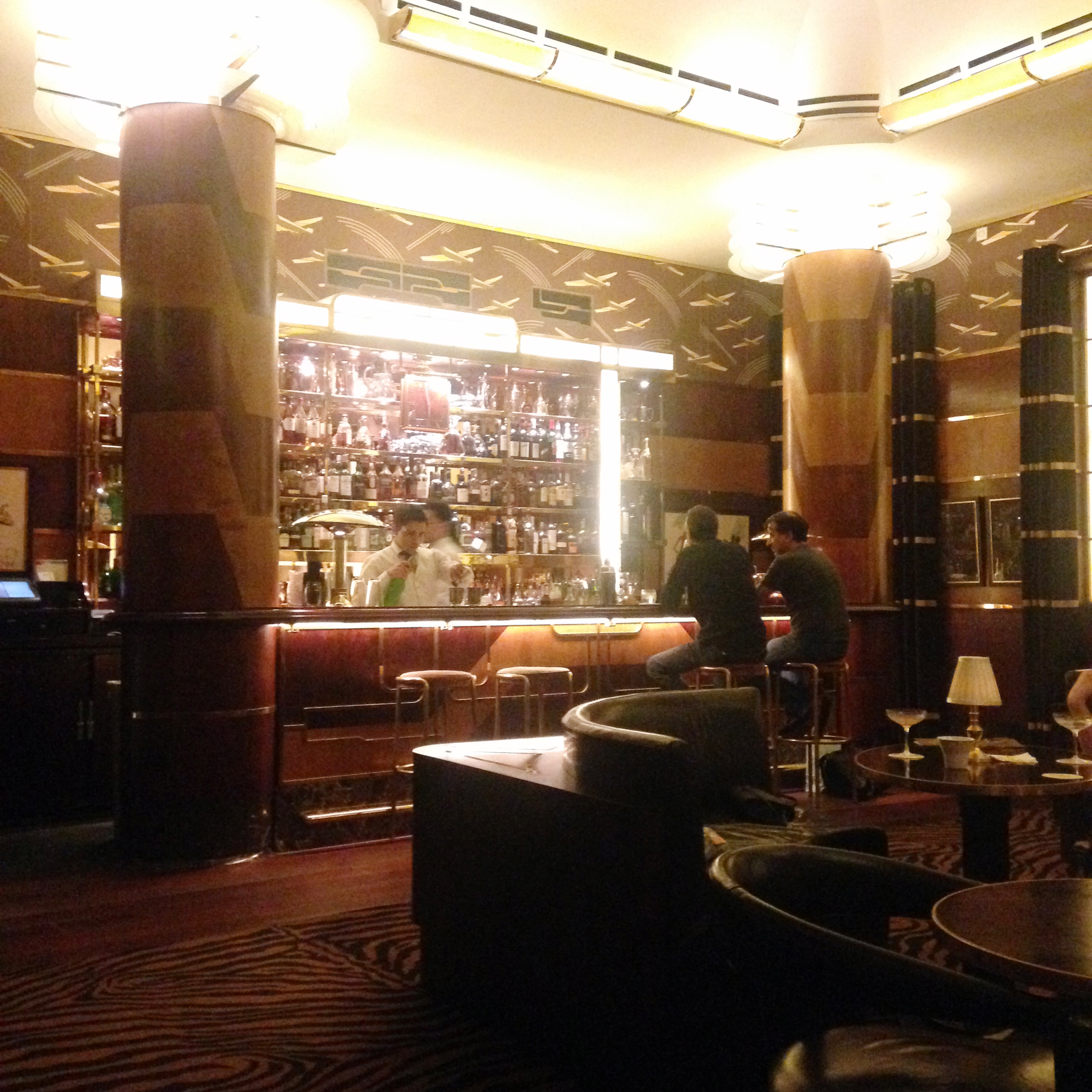 And there, photographically at least, ends my Saturday night (not) at the Movies. I actually hopped on a train out to Hackney for a few drinks with Lisa and Fleur, but by then my phone was down to just 10%, which I was jealously guarding for fear of getting lost on my journey back from Liverpool Street to the Whitechapel Hotel and needing Google Maps, so no photos exist of my sweaty, slightly drunk face, for which we can all be hugely grateful.
All being well I will be re-booking my trip to Hill Valley for later in August, so I haven't given up on them just yet……