In my quest to fit more fruit and vegetables into my diet, fruit and vegetable juices are a good standby to add as one of your five a day. I normally rely on boxed juices, and occasionally make a smoothie, but I haven't owned a proper juicer for years. Till now!
Debenhams asked me if I wanted to review one of their juicers, so I said yes, and a couple of weeks ago a huge box arrived at my door containing the Tefal Infiny Press Revolution Juicer.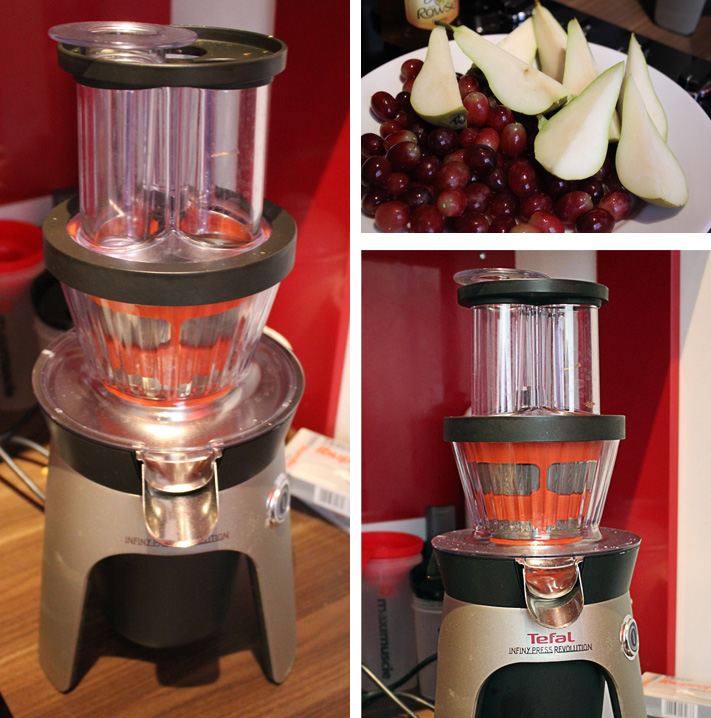 The Infiny Press juicer uses a rotating screw to "press" the fruit against an internal filter rather than spinning it at high speeds. This apparently maintains more of the vitamins and nutrients of the fruit and veg than a traditional juicer and releases more juice. It comes with 2 different filters, one to make juices, and another for thicker purees and coulis.
I have really enjoyed making my own juices. The machine comes with a recipe book, but my favourite thing to do is just fling things in. Orange and carrot with added spinach, surprisingly tasty! All the reduced fruit and veg at the supermarket is suddenly perfect to grab, take home and fling in the juicer for a juice fix, even if I can't use it all straight away. The infiny press can even juice herbs, so you can throw mint, coriander, or anything else you fancy into your juice and the 3 chutes for adding fruit at the top the juicer meant it was super easy to just drop handfuls of small fruit like grapes or blueberries in from the top without getting them all over the floor as well!
All the pulp comes out of the back of the machine into a separate container so you can add it to your compost.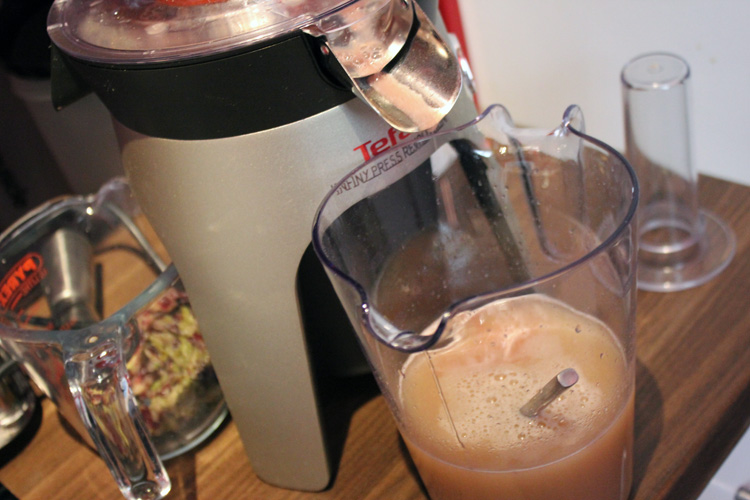 I have to say, my first impression of the juicer is that it's huge. This is not a juicer for the occasional juice fan, and at £200 I guess you wouldn't expect it to be. This is a juicer for the kind of person who can keep it permanently set up in their kitchen and throw a few bits of fruit in it every morning to make their morning glass of juice.
I would love to be that person, but unfortunately I live in a tiny Norwich terrace and have a kitchen the size of a small postage stamp, so I do have to find somewhere to keep it and it's a little heavy to keep getting in and out of cupboards.If you do have a decent amount of kitchen counter surface then this looks amazing, it's like a spaceship, sleek and hi tech.
I also would suggest it's a juicer for a person with a dishwasher as there's lots of different parts to wash up after use. You'll need to remove leftover pulp from the filter but otherwise all the parts can be dishwashed.
All in all, I think this is a great juicer, it's much quieter than the cheap one I had back in the mists of time and was able to handle any reduced price fruit I threw at it and the pulp that comes out the back is nearly dry, a good sign that it's making the most of the available juice!
Today I made the Vineyard Cocktail from the recipe book using 2 pears and a bunch of red grapes I got about a pint of juice out, which mixed with a spoonful of honey will live in my fridge for a couple of days, if it lasts that long!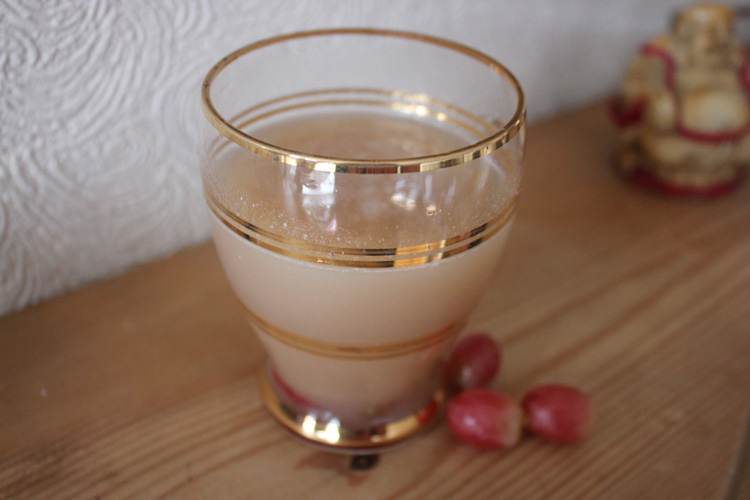 Related