There's less than 2 weeks now to go until Norwich Cocktail Week.
It'll be the culmination of a whole years work and planning, and I know it's going to be an amazing week, and also that I might need a liver transplant at the end of it! With 22 bars to make sure I visit that week, that's an awful lot of cocktails!
Considering my love for theming an outfit, it only actually occurred to me this very morning that I could get CLOTHES WITH COCKTAILS ON THEM. So I spent the whole morning putting together fantasy outfits featuring CLOTHES WITH COCKTAILS ON THEM, and now I'm writing a blog about them, because that way I can call it "work" rather than "looking at CLOTHES WITH COCKTAILS ON THEM".
So, for a super smart and fancy cocktail evening I think I'd wear this outfit, the sort of evening that starts with Martinis and maybe ends with a bit of dancing of the sophisticated and elegant sort (ha, obviously not by me, I don't do that sort of dancing). Green is pretty much my favourite colour, and it looks so lovely with gold. I have a green silk scarf I would probably use to line the lucite clutch, as that's much prettier to look at than the contents of my handbag, which invariably contains receipts and bottle tops within 5 minutes. I have no idea how they get there.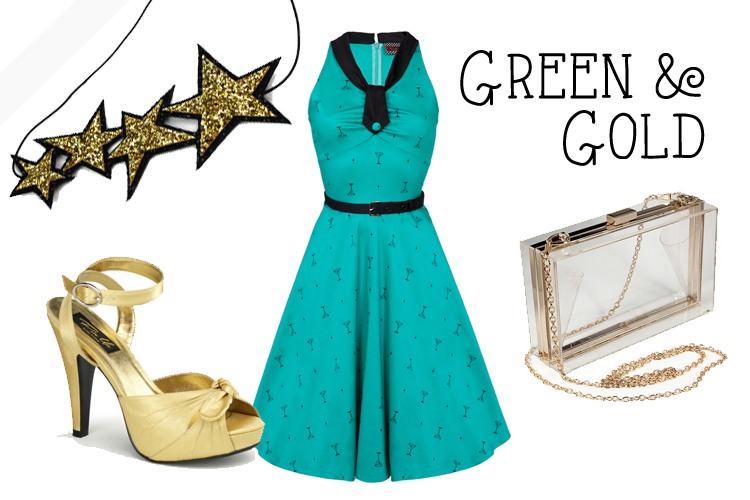 ♦ Martini Print Dress – Voodoo Vixen ♦ Pin Up Couture Shoes – Lady Lucks Boutique ♦
♦ Clear Clutch Bag – Miss L Fire ♦ Gold Stars Hair Band – Janine Basil ♦
This next outfit I'm thinking for a more low key cocktail evening. Maybe a romantic dinner and cocktails, followed by a few drinks in a bar. Don't think I'm not chuffed with myself for pairing a skirt with a sheer panel at the hem with shoes with a sheer panel, that's co-ordination that is.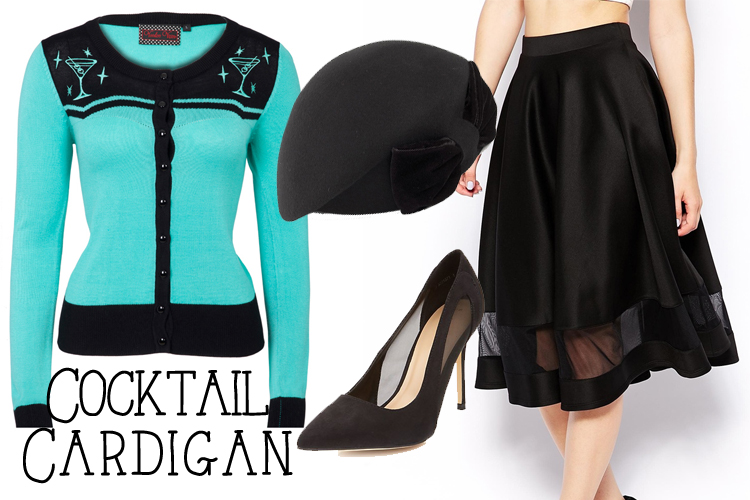 ♣ Martini Cardigan – Voodoo Vixen ♣ Scuba Midi Skirt – ASOS ♣
♣ Mesh Panel Heels – New Look ♣ Black Beret – Village Hats ♣
And then I need an outfit for those low key cocktails with a group of friends. There's a couple of bars during cocktail week serving beer cocktails, this is the outfit for beer cocktails. A casual cardigan, trousers, and OMG THE COCKTAIL OLIVE JEWELLERY.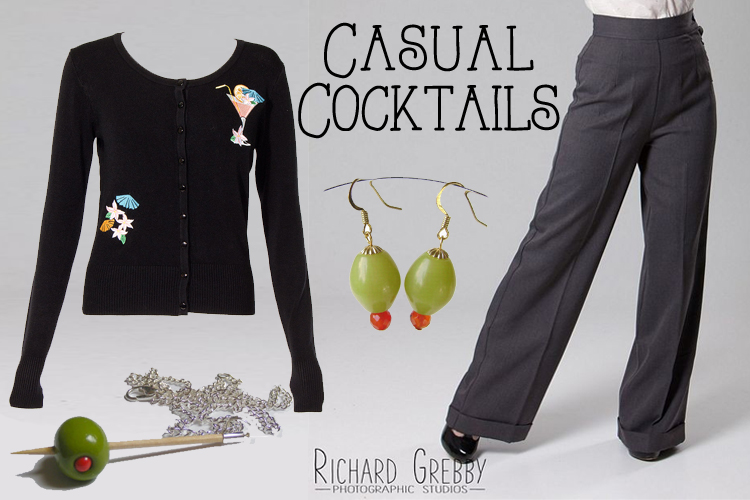 ♠Banned Cocktail Cardigan – Blue Banana ♠ Swing Trousers – Heyday! Vintage Style♠
♠Martini Earrings – Maries Gems on Etsy ♠ Martini Olive Necklace – Neat Eats on Etsy♠
I have been hunting for ages, but couldn't find many more cocktails prints, which surprised me! I know Bettylicious had an amazing Heart of Haute cocktail print dress, but she is now swimwear only, and I couldn't find another stockist.
Have you seen any cocktail prints around?