Ok, so I didn't drink ALL of 30 Cocktails, but I did try 30.
And I did it all while wearing a cocktail cardigan. Yes, I gave in and bought the Voodoo Vixen Cocktail cardigan from this post, funds wouldn't quite allow for the cocktail dress as well, but I had to have one of them for Cocktail Week!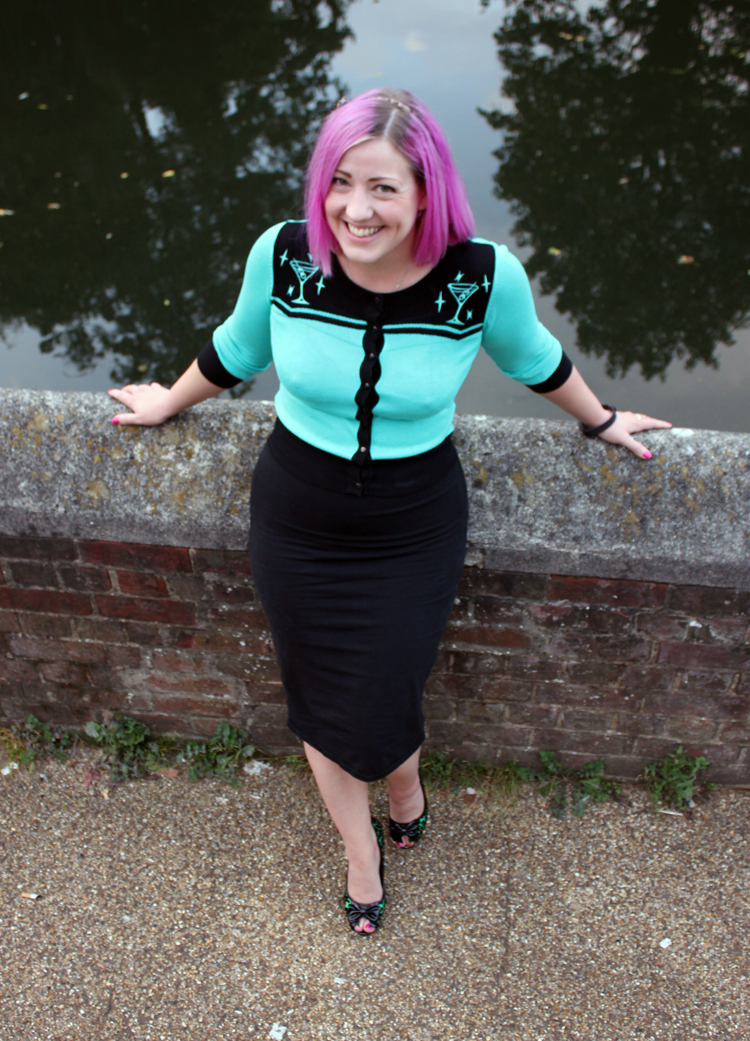 ♥ Cardigan – Voodoo Vixen ♥ Skirt – Primark ♥ Shoes – Pin Up Couture ♥
I wore it with a stretchy wiggle skirt and green glitter cheetah shoes from Pin Up Couture. You also must forgive my roots, I'm not sure what to do with my hair right now! I thought I would wash out the purple and go back to blonde for a bit. The pink washed out fine, a little longer than the claimed 6 washes, but it did go. The purple, however, just won't budge and if I bleach my roots again I'll have REALLY stripy hair, like way stripier than it looks now.
The only thing I can think is to try Colour B4, but it's quite harsh on my poor bleached hair. Sigh. Maybe I'll have to be purple forever?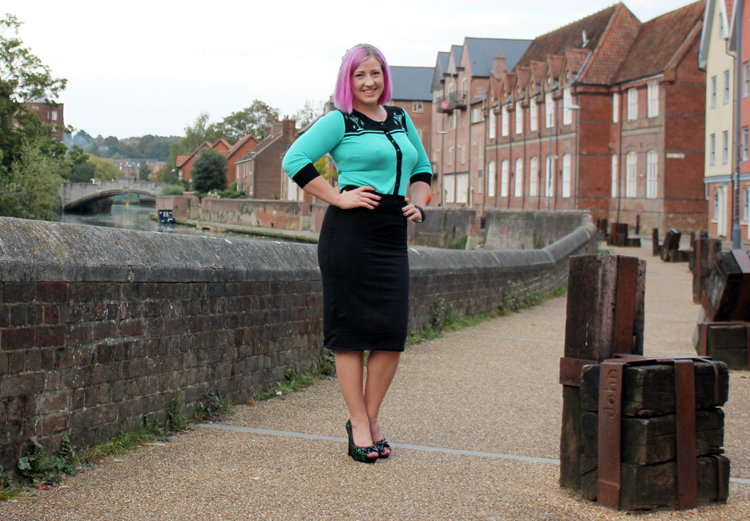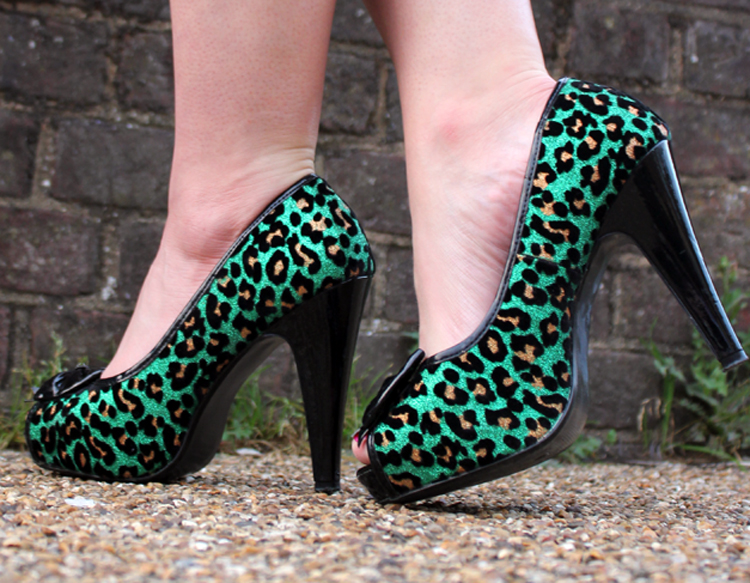 Although Cocktail Week proper doesn't start till Saturday, last night was a bit of a pre launch with 10 bartenders across Norwich sending folk off to Gonzo's Tea Room to participate in a Havana Club Rum sponsored Cocktail Competition.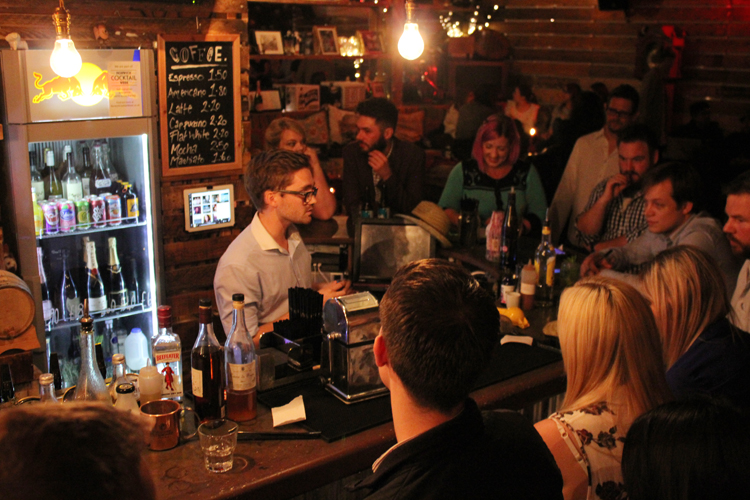 They each had to make 3 Cocktails, so, yeah, I tasted, and scored 30 cocktails over the evening. But I only had a sip of each. Except the Buttered Rum, I drank all the Buttered Rum. God the Buttered Rum was good. Unfortunately I don't have any photos of the Buttered Rum, as my camera battery died, but this was another favourite from the evening. It contained egg white and had a really delicate floral flavour, there was something very 1930s and elegant about it.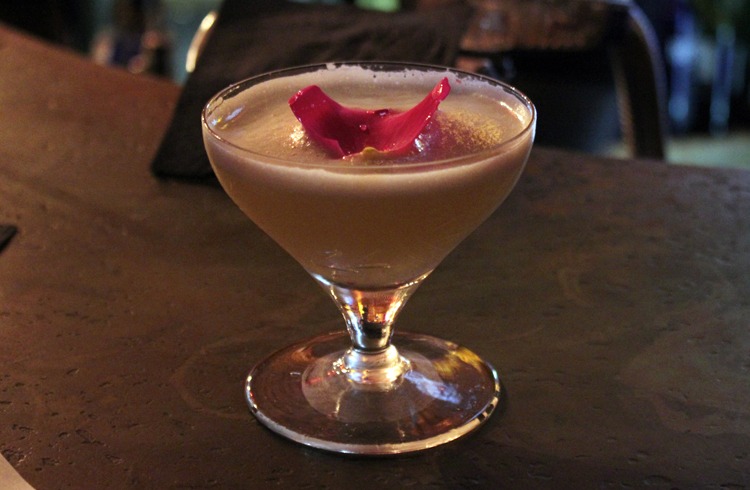 It was a fun night, and the final top 3 were, in third place, Matthew from 42 King Street, who made a twist on a mojito with raspberrys and sage. Second place was , Florence from Revolucion de Cuba who made a delicious hot cocktail using a blow torch, which was fun, and was really efficient and fast behind the bar while still being able to explain what was going on and the final winner was Michelle, from my local Real Ale pub The Plasterers! She made the Buttered Rum, but she also made a condensed Gin and Tonic, which although I don't like G&T, I could tell was pretty awesome!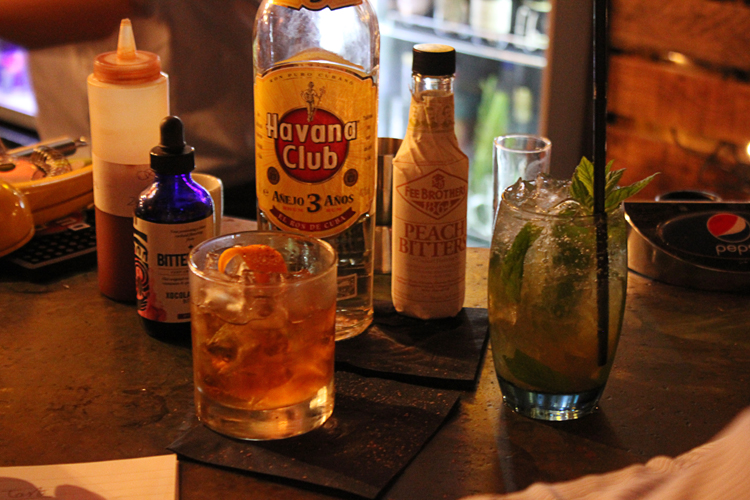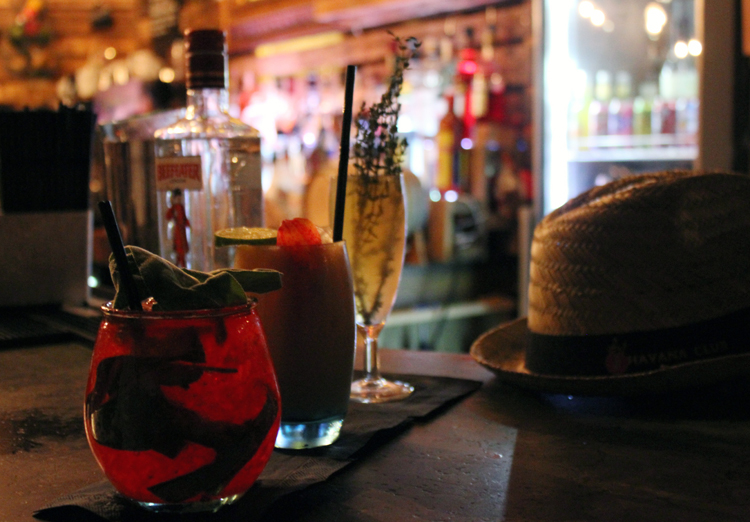 So tonight I have the Norwich Cocktail Week launch party to prepare for, then tomorrow is the proper start of Norwich Cocktail Week!
If you're in or around Norwich then find out how to get your wristbands here!