Today I'm addressing one of my winter wardrobe holes.
Well, technically I'm not addressing it because right now I can't afford to actually BUY any of these boots. But there's nothing like writing a fantasy shopping list and weighing up all the pros and cons to make you feel totally prepared to fill that hole the minute you can afford it.
I love ankle boots for winter. I want something with enough of a heel to make me feel smart and elegant, and neat enough to wear with a skirt on cold days. Real leather ideally, but definitely something I can wear to tramp through snow and rain with warm, comfy, elegant feet.
Not much, I know. My last pair of boots was bought about 3 or 4 years ago now and were Hush Puppies. They are perfect, but they are also badly falling apart as I wore them to death. I went for dark brown, which looks ok with black tights or coloured tights, but I'm tempted to go for black this time perhaps?
These are my top picks from my hunt for boots!
Black Boots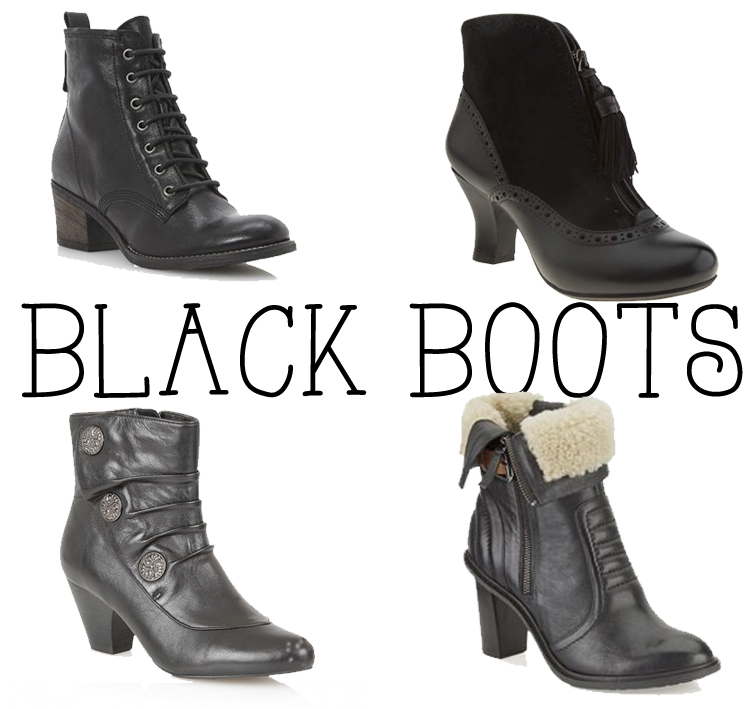 Clockwise from Top Left
Dune Lace Up Ankle Boot – A little grungy in style, but something in it appeals to me, like I'd look like a cute street urchin from the 1930s in a nice dress and sturdy boots. In reality I would probably just look silly. They are sensible though, and leather
Hush Puppie Zip Up Lolita Boot – My last boots were Hush Puppies and were comfortable and lasted ages. I love the vintagey zip up detail and the punching. These are the ones I have my eye on at the moment!
Clarks Lisette Blue Boots – I like the slightly biker feel to these and the fur trim. I think I'd feel quite rock n roll, and being Clarks they have good padding to the soles to make them comfortable to wear, even if the heels are a little high.
Lotus Forest Black Ankle Boot – I have another pair of Lotus shoes that are really comfortable, despite being high, so I'm assuming these would be the same. I like the slight victoriana inspired styling with the side buttons, but I'm not so keen on the heel shape. #fussy
Brown Boots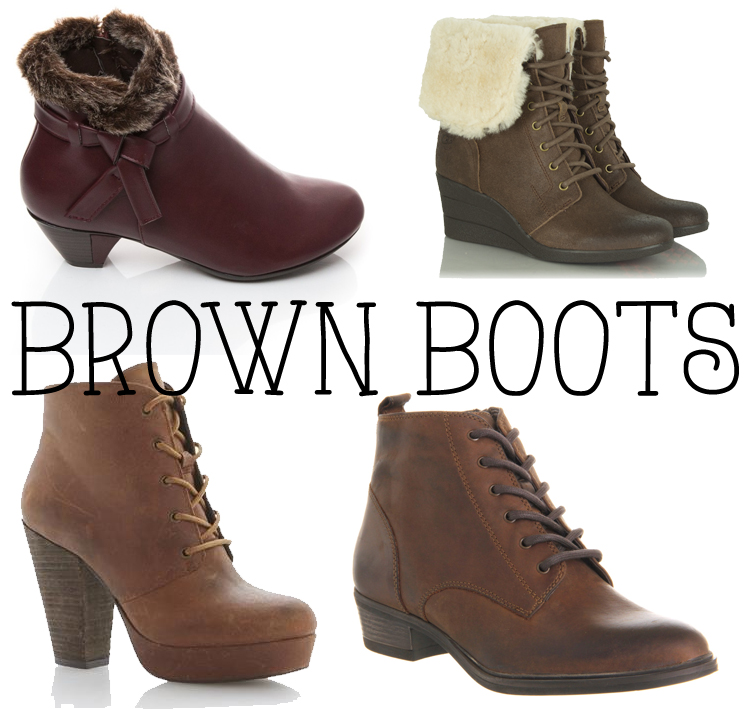 Clockwise from Top Left
Barratts Wine Fur Trim Ankle Boot – Top bonus of this boot is that it is cheap. However, having bought cheap boots like this before and had them not last 5 minutes it barely seems worth it. I do like the fur trim and the colour, but these would purely be a "fashion" boot, not one to rely on to keep your feet dry all winter!
Ugg Chocolate Zea Wedge Ankle Boot – I know, UGG, you never thought you'd see THEM on this blog, right? And neither did I, and you'll never see that "classic" UGG style as I hate them, but I like the comfy wedge heel and shearling trim on this boot, and they're made from waterproof suede.
Office Comet Lace Boot – The tan version of my "1930s street urchin" boots above. I'd like a slightly higher heel, but I'd feel very sensible buying these.
Steve Madden Raspy Tan Ankle Boot – Ridiculous, far too high and platformy for every day. But I really like the shape. I want to wear them with crazy big flares and and a brown 70s stripy jumper.
2 Bonus pairs of impractical boots that I want in my wardrobe anyway.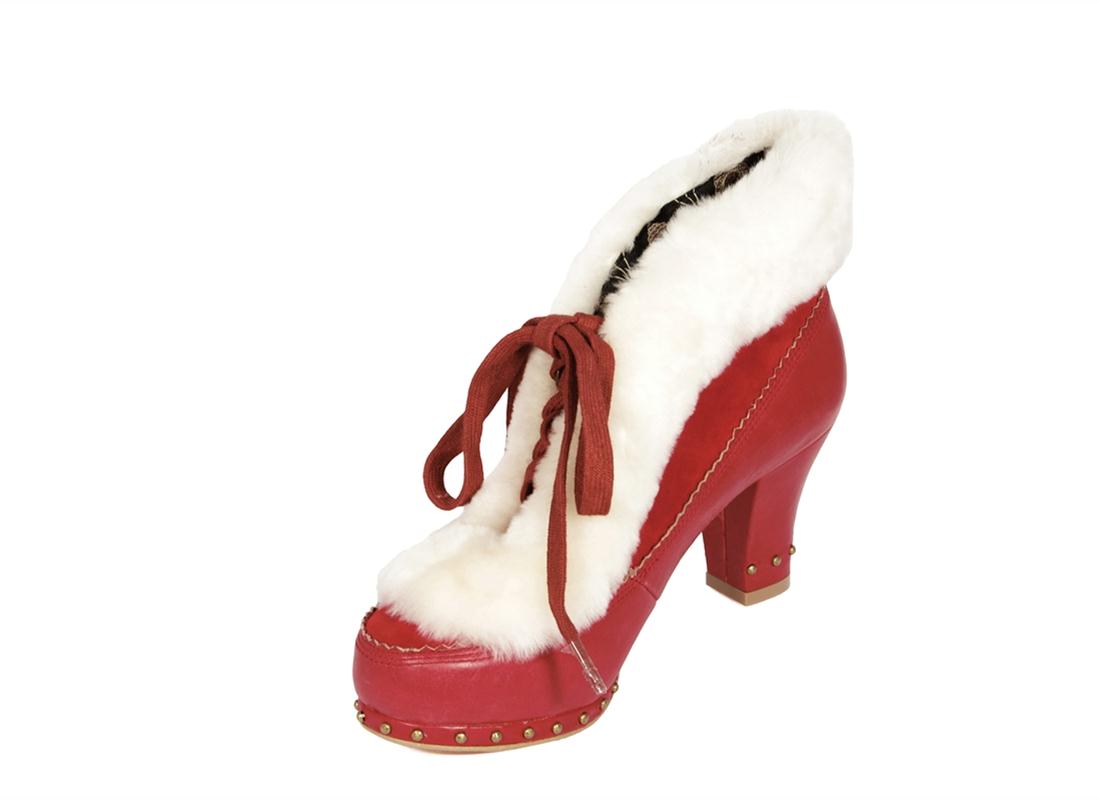 Suede, fur trim, studs and a colour scheme that would make me look like Mrs Christmas. A ridiculous amount of money to spend on boots that I could probably only wear for 3 weeks of the year, but still I covet them. I also covet the green. Perhaps it is fortunate that both colours are sold out in my size.
Irregular Choice Balletomane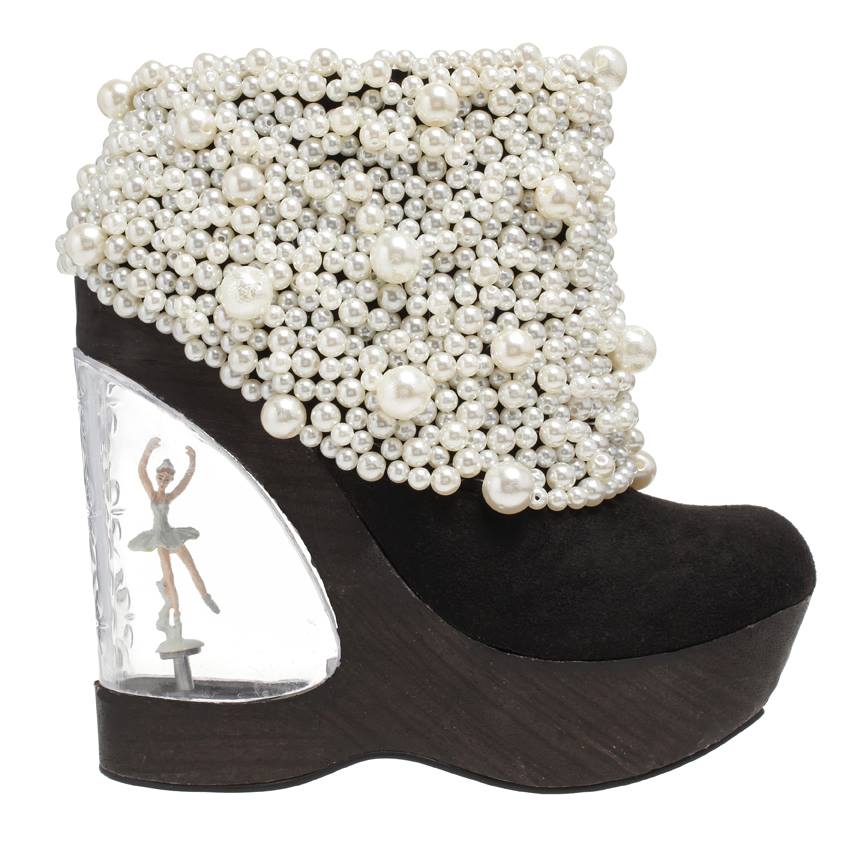 Lets face it, Irregular Choice isn't normally your first stop for "sensible winter boots" but pearl encrusted boots with a wind up musical ballerina in the heel is definitely outside of the realms of "wardrobe essential"
These are all sold out online, but there might be limited sizes left in stores. It makes my heart hurt that I will never own them. I would just wear them in my house and watch the ballerina twirl. These beat those Clarks Princess shoes with the key in the heel hands down!
NOTE: I just found a pair without the pearls on eBay! In my size! Still can't afford them.