I don't know about you, but part of the reason I read blogs is because I am nosy.
I like to see what other people are wearing, watching, buying, what they are eating and drinking and anything else, because I'm nosy and it's fun! Some bloggers blog their daily outfits, but the majority of them only post lovely photoshoots of outfits they think are worthy of it. They are for special occasions, or feature a new stand out item they've just bought. You don't always see what people actually wear every day, when they're just going to the shops, or the Doctors, or not going anywhere at all.
Back in 2013 I did a couple of week in my wardrobe posts. One in July in the middle of a heatwave, and one in October as the weather started to cool. Today I thought it was time for another peek into my weekly wardrobe. It was a week where I did nothing much special, so a pretty representative week, with no fancy dressing up opportunities!
Sunday
The only reason I left the house on Sunday was to go for a run. It looked like a beautiful sunny day and I had a vague idea I was going to run in a vest. As it turns out the sun lied and it was freezing so I popped on a windproof jacket!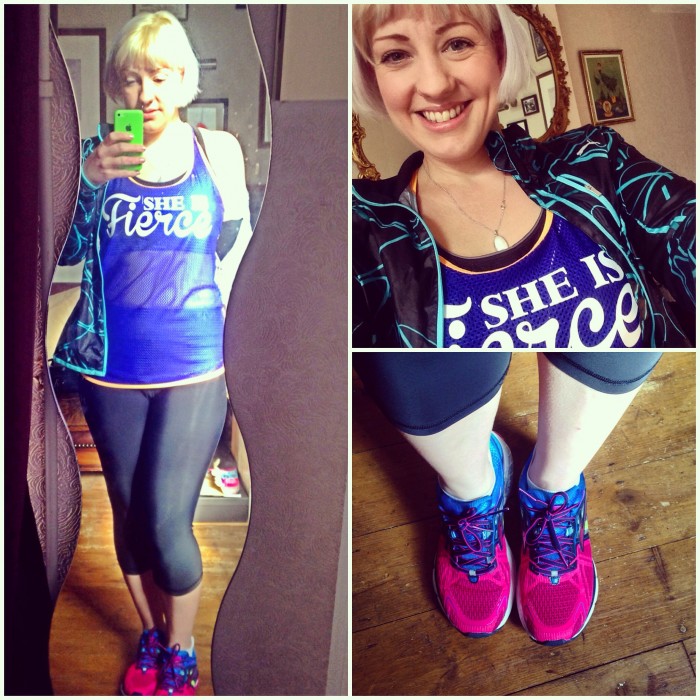 ♥ Vest – Lorna Jane @ House of Fraser* ♥ Jacket – Puma ♥
♥ Capris – Under Armour ♥ Running Shoes – Brooks Ravenna 6* ♥
Monday
Monday I went to the Doctors at 9am, then came back and worked from home all day. That was it. Not very exciting. This is the sort of outfit I will wear if I have to leave the house before, say, lunch time. Lots of black, can't go wrong with black it always matches, even if the tights are a bit bobbly.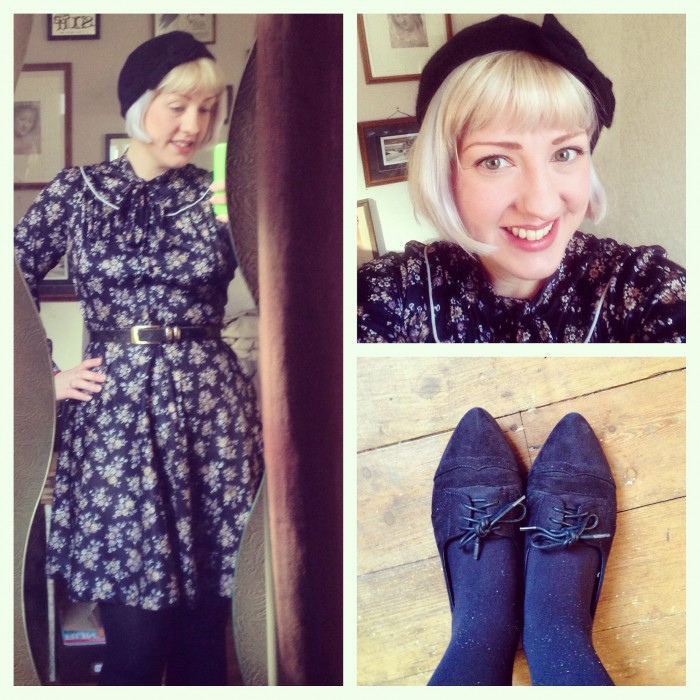 ♥ Dress & Belt – Vintage ♥ Shoes – ASOS Sale ♥ Beret – Topshop Sale♥
Tuesday
I'll be entirely honest with you here, you are very lucky these are clothes as I didn't need to go anywhere till the evening, when I was coaching at Roller Derby, and on those days it's not uncommon to find me working in pyjamas, why make more washing?
Today, however, someone was coming round to collect a parcel, so I popped on the closest thing to pyjamas I have that are actually clothes. I wear these trousers around the house a lot, they're a few years old now and falling apart a bit but make me feel swishy and glam!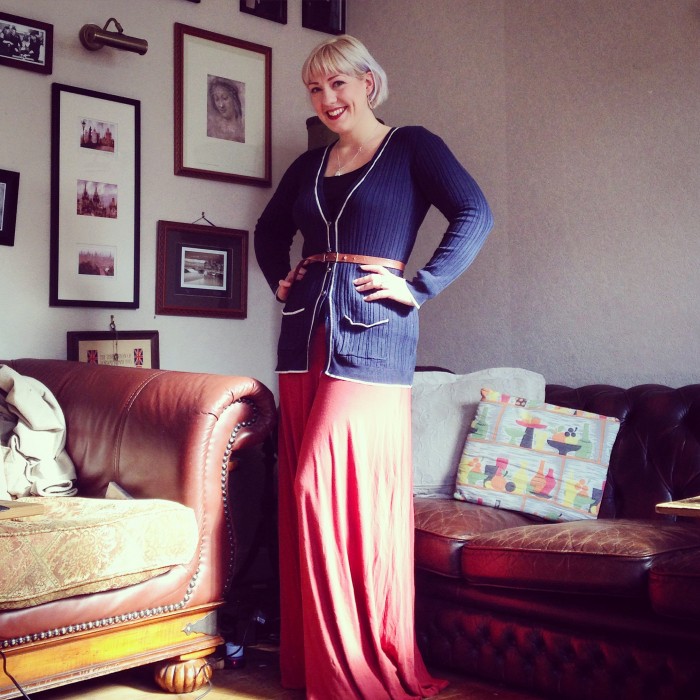 ♥ Cardigan – Primark ♥ Trousers – New Look ♥ Belt – H&M ♥
Wednesday
Wednesday was actually kind of complex outfit wise. I had to stuff this outfit into a rucksack and run to the gym with it on my back. Then I did circuits, got changed, and went round to our coaches house to watch some Roller Derby footage. I probably looked less like this after the gym as I forgot to take a hair brush or any make up or deodorant with me. Total fail.
On the plus side, everything I am wearing in this picture can currently be bought in the sale, if, of course they still have your size!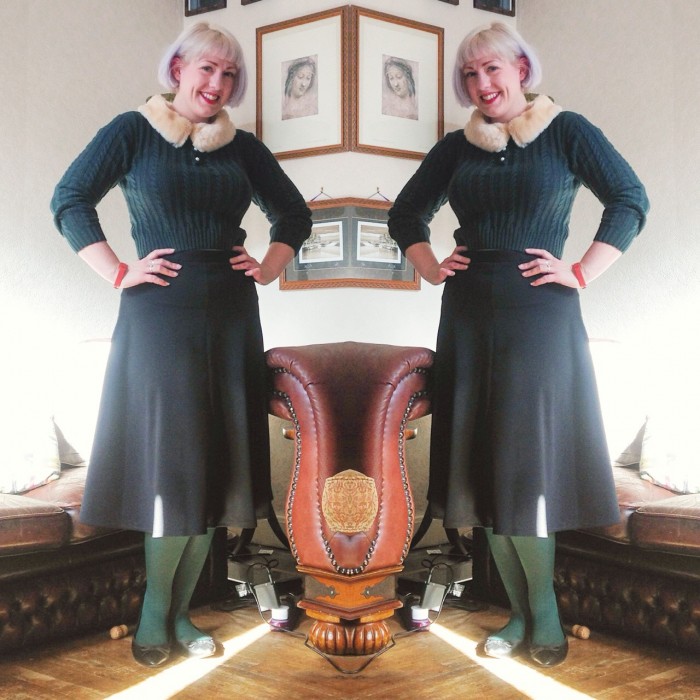 ♥ Jumper – Collectif* ♥ Skirt – ASOS Sale ♥
♥ Tights- Can't Remember! ♥ Shoes – Dorothy Perkins Sale ♥
Thursday
This was another easy, throw it on, sort of an outfit, purely worn to pop out for lunch with Mr Chick. I had Roller Derby training in the evening, but we needed to get out of the house and get a bit of air, despite the grey and miserable weather, so we went round the corner to the pub for 45 minutes.
The dress is a super easy wearing polka dot dress from F+F at Tesco, and I love this Boden cardigan when it's dull and grey, it always perks everything up and it goes so well with my Nanas brooch!
♥ Dress c/o F+F at Tesco ♥  Cardigan – Boden* ♥
♥ Shoes – Dorothy Perkins sale ♥  Brooch – Vintage ♥
Friday
Friday was the micro break we took that I wrote about on Monday! Nothing too fancy to wear out to the pub, and I'm sorry the light was so awful in the picture!
♥ Dress – The Pretty Dress Co* ♥ Cardigan – Collectif*♥
♥Tights – Tights Please* ♥ Shoes – Office Sale ♥
Saturday
And lastly, Saturday was time for a little wander round the Garden Centre and some breakfast which meant comfy and cute. Seriously I have barely gone a 3 days without either the red or black version of this skirt showing up in an outfit since I bought them. I don't know what I'd do without them!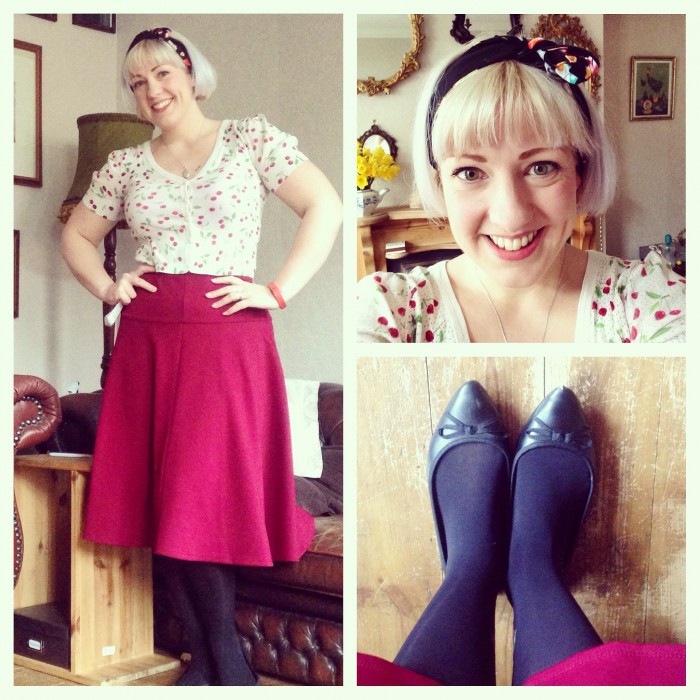 ♥ Cardigan – From a clothes swap ♥ Skirt – ASOS Sale ♥
♥Shoes – Dorothy Perkins sale ♥ Head scarf – Bad Kitty ♥
How does a week in your wardrobe normally look?