I spent Friday night exploring glamorous Ealing.
On Saturday we were heading to Wembley to watch the Rugby (and more importantly, my Mum and Dad singing with Rock Choir on the pitch) so we treated ourselves to a hotel the night before instead of trekking down from Norwich on the day.
Don't worry, today isn't a travel piece on Ealing. There were 2 pubs and lots of big roads with cars, it wasn't the height of glamour. Though if you like Art Deco architecture (and I LOVE Art Deco architecture) then it's quite nice to have a wander round. It's also really good fun for anyone not from London to take wild guesses at how much the houses cost, look them up on Right Move and then spend a few minutes saying "HOW MUCH!?" and calculating how many similar size houses in Norwich you could own if you sold up and moved (About 3, in case you were wondering).
No, todays post is actually about the outfit I wore to visit the pubs of Ealing on Friday night.
♥ Dress – Vintage ♥ Shoes – Chie Mihara* ♥ Purse c/o Play Purse ♥
It's a pretty boring outfit really. If you're a regular reader then you've seen the dress and shoes before MANY times. But I wanted to document it for posterity because it was the first time I've been able to use this AWESOME purse!
Remember those little beaded zip up purses you used to have when you were a kid? The ones that were so much fun to bite the beads off?
Well this is the grown up version of one of those with enough room to hold your phone, lipstick, purse and keys.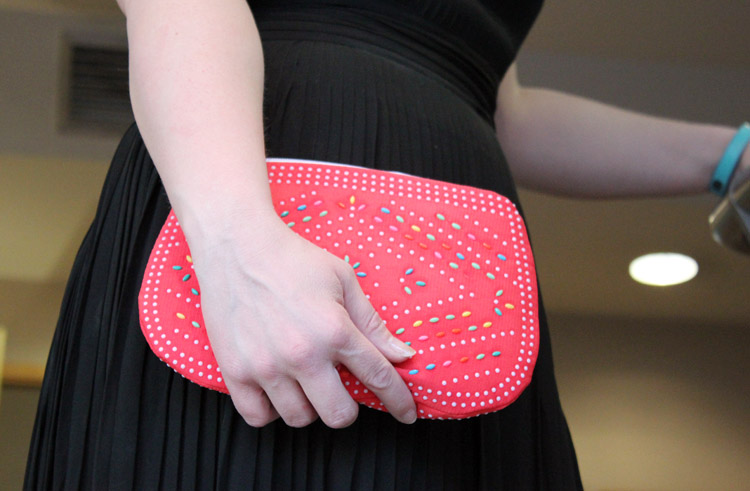 It was sent to me by Play Purse and when I got an email offering to send me one I made a little squeaky noise and immediately showed my phone to Mr Chick. He gave it a cursory glance and announced it "horrible".
Well, Mr Chick is wrong and I am right. It is a fabulous clutch bag and everything I dreamed of when I opened the email!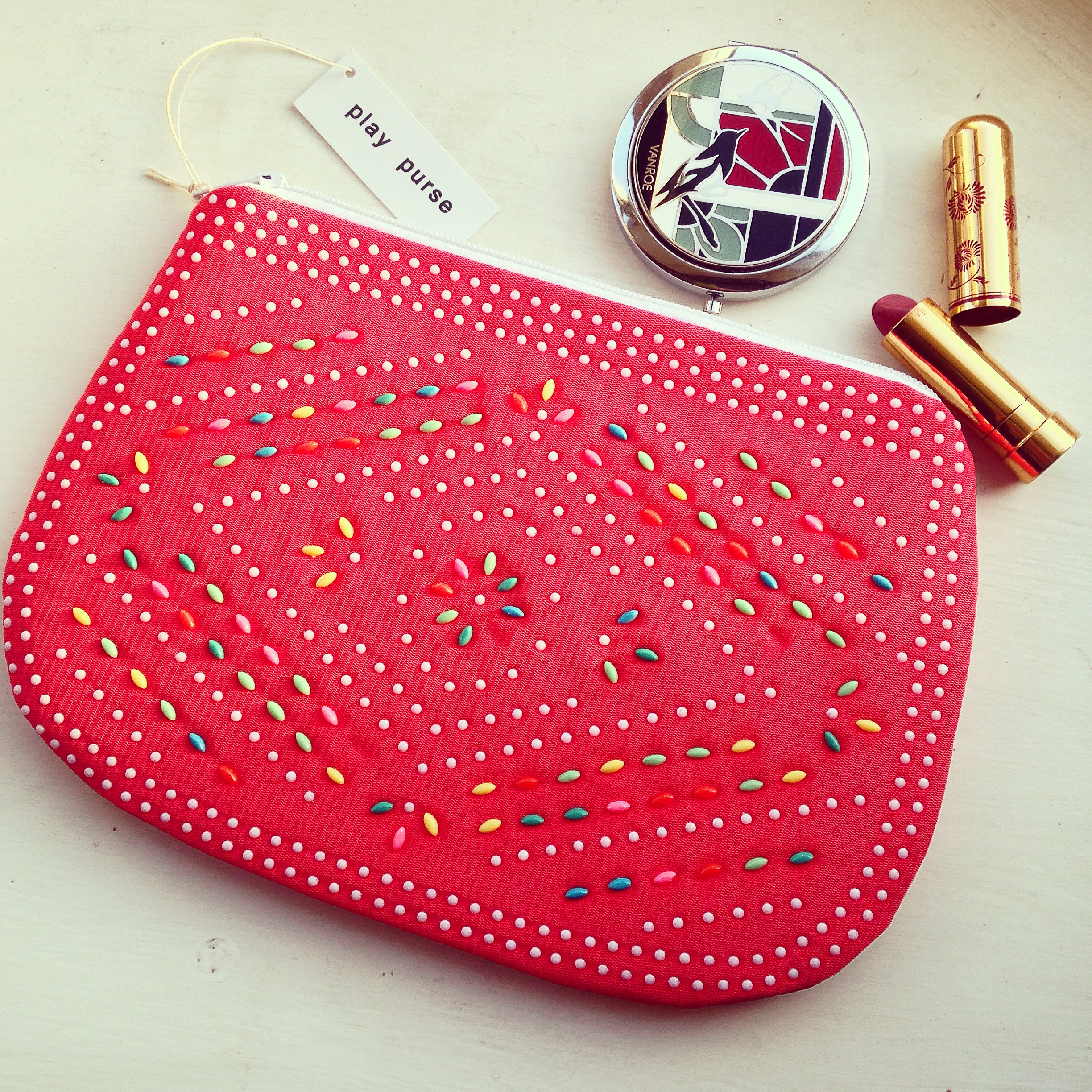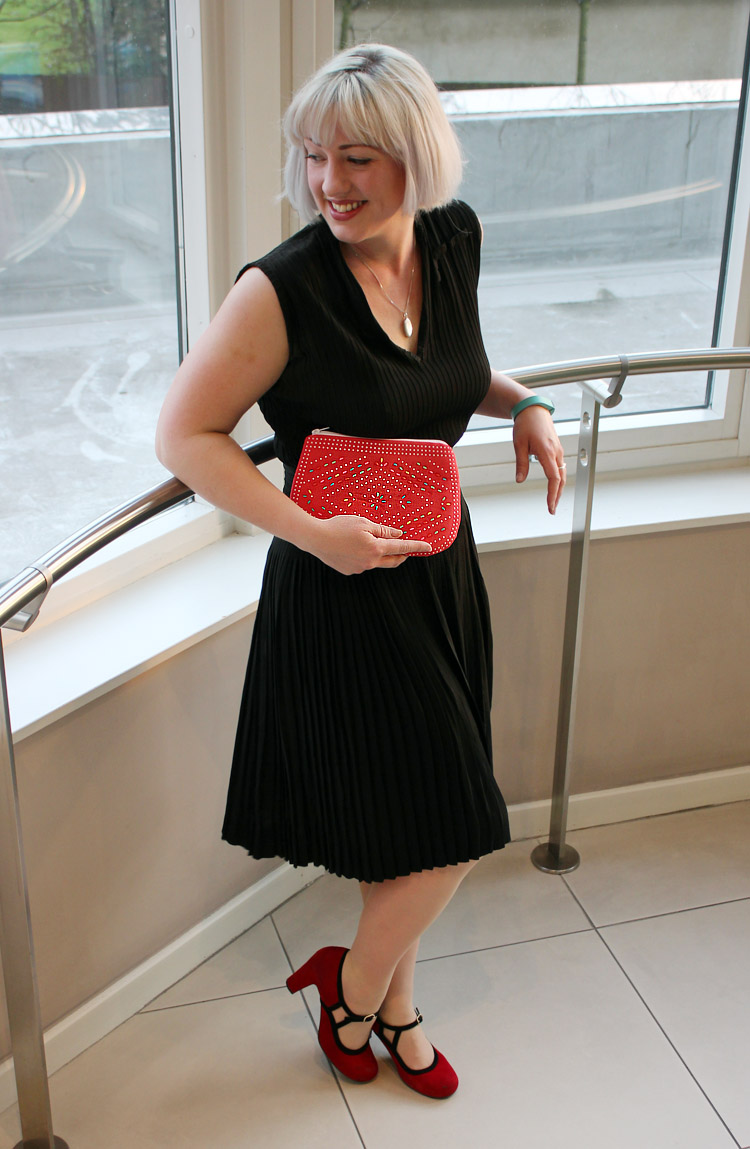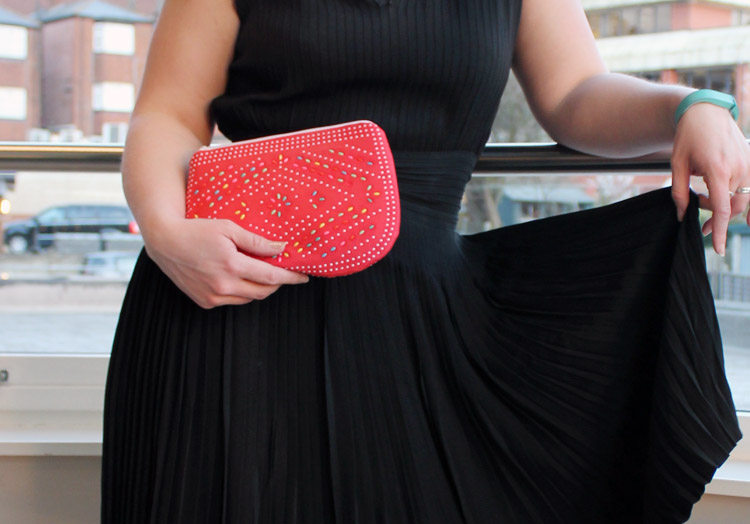 The surrounds of the Holiday Inn Ealing are not, perhaps, the most glamorous of photo locations, but there might have been a few more photos had Mr Chick not failed to tell me that when I attempted to fluff up my (still slightly damp due to hotel hair dryers being rubbish) hair I actually turned it into a birds nest of epic proportions. In all subsequent photos it covered up half of one side of my face, sticking out at interesting angles and made me look a little like I should be pushing a shopping trolley full of carrier bags around the street and rooting through dustbins, possibly with a tooth missing.
I would show you a photo, just for the hilarity, but I deleted them all in a huff while sitting in the Club Lounge of the hotel, eating free canapes and sulking about the fact that it was now too dark to take photos anywhere else. Still, now the clocks have changed I'll have a extra hour to badger my poor husband/photographer into taking photos of me that he can't really be bothered to take, hurrah!
Anyway, here's a photo of my Canapes accompanied by the corner of my AMAZING HANDBAG to make up for it.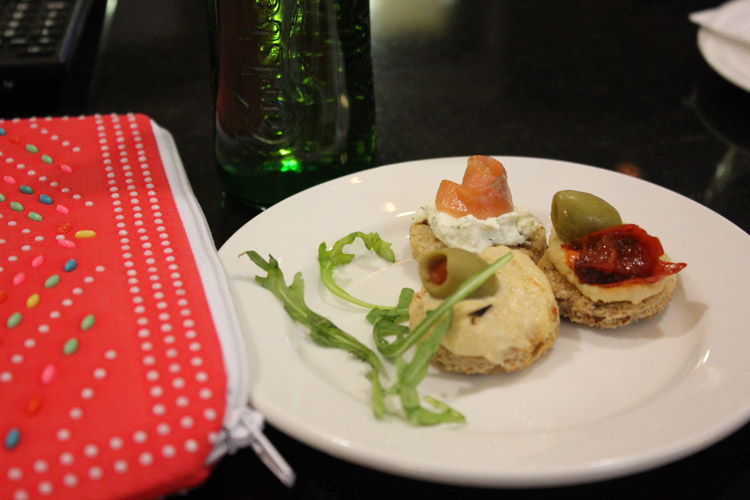 If you fancy a Play Purse of your very own, and you should because they're amazing kitcsh and cool, no matter what Mr Chick says, then they cost £25 and come in 6 different colours. You can buy them at PlayPurse.com