Today is my birthday, just so you know.
In case you forgot you can run to the shops for gifts and cards and post them to me and when they turn up just claim that the post must have been slow. I won't mind, honest, even though I secretly won't believe it was the post at least I'll know you cared enough to panic when you remembered. And that's what counts.
I'll even wait while you go to the shop (I like Champagne, dark chocolate and tulips), nothing's happening here, I won't start till you get back.
Are you back? Ok, well today I'm going to tell you about a campaign BHS are running to make sure Women are wearing the right size bra. If you are wearing the right size bra you will not only feel more comfortable during the day, but your clothes will look better and your boobs will be nicely supported, taking pressure off your back if you're big busted and meaning that by the time you're 60 your boobs might still be fairly perky, rather than dangling down by your knees.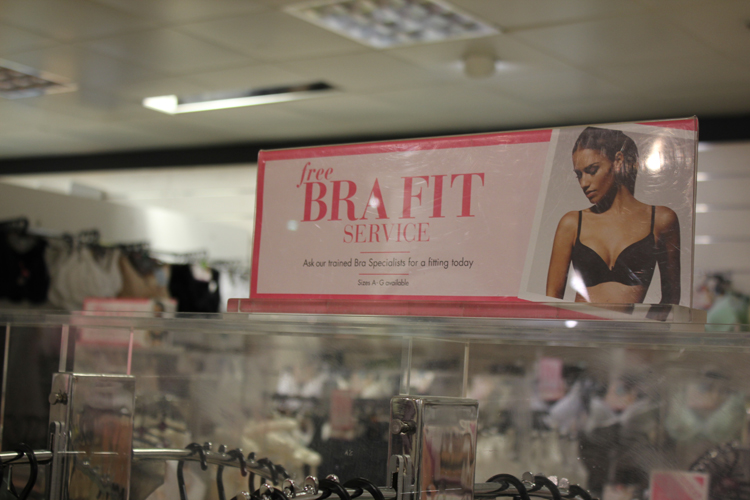 Now, I tell you this, as I was actually fairly convinced I *was* wearing the right size bra. It took a bit of trial and error for me to get right. I was fitted in Bravissimo a few years back as a 30F, but then bought some new Triumph bras, in which were sized slightly differently and then had so long that the labels rubbed off, then I bought a bra at M&S in a 34DD, after trying it on and basically making it up myself, that I was wearing when I arrived at BHS.
This Bra, doesn't fit.
Honestly, I thought that was about the right size, completely forgetting that in the last year I have gained, and then lost, quite a bit of weight, I just hadn't considered that my bra size may have changed!
It took a while to find someone available to do a fitting as they were short-staffed. I had to seek it out, it wasn't offered, but the lady who did my fitting was really helpful. She took one look at my bra, whipped out a tape measure to check my back size, and then told me I should be wearing at least a 32, possibly a 30, but that she could see that my cup size was too big and I should probably be wearing a 32DD, possibly a 30E depending on style.
She also spent some time talking about styles of bras that might work, balconettes are difficult apparently, and how if a bra had a lot of padding I might find I wanted a bigger cup size!
My nice lady went away and came back with a 32DD, which was very pretty, but unfortunately it was a soft fabric and very loose on the back offering no support. They had no more 32DDs in stock, and no 30E at all. So on the day I went away empty-handed, but to her credit, the my fitter wasn't going to let me go away with an ill-fitting bra, even though it was a very pretty mint green with floral sprigs on it!
The benefit, however, of a chain store, is that I popped into a different branch the next day, armed with my sizing details, and located a very comfortable, "every day" sort of a bra. I'm quite impressed with it actually and may pop back for more if I can find some different colours in my size!
I also found some awesome prints in their 3 for £10 knickers section, FLAMINGOS AND PALM TREES!
At the moment their lingerie range is lots of beautiful spring like pastel colours, so worth a visit to check it out!
I will say if you are measured on the lower back size/upper cup size end of the scale then the BHS branches I visited didn't have a huge amount of choice. But if you are more like a 34-38 back and between a B-D cup you shouldn't have any problems picking out one of their pretty matching sets!
Visit the BHS website to take a peek at their selection of bras and find out more about their Bra Fitting Service.
Disclaimer: I was provided with a gift card for BHS to purchase my lingerie set and as compensation for my time. All opinions, bra sizes and love of flamingo pants are my own.
Related