I promised you badly lit photos of my Halloween costume, and I wouldn't want to let you down!
Personally I love Autumn and Winter, at least the bit coming up to Christmas, it's all cosy and exciting. Professionally, it sucks, because the nice cosy lighting in my house takes RUBBISH outfit photos with a weird orange hue and grainy quality that I can't photoshop away. When it gets dark at 4pm I don't want to be getting ready to go out before it gets dark just so I can take a photo, which is bad news for impulsive "lets snap a photo before I go out" photos like the ones I grab on the street outside my house in the Summer.
Please take that rambling as an apology for the photo quality here.
This year I decided to put a little more effort into a Halloween costume I first experimented with for a post back in 2010 (blimey!) and transform myself into a kind of Pin Up version of the Absinthe Fairy. The dress now fits, but I still didn't have time to refine it as much as I'd hoped. 5 years obviously just isn't long enough to come up with a decent Halloween costume.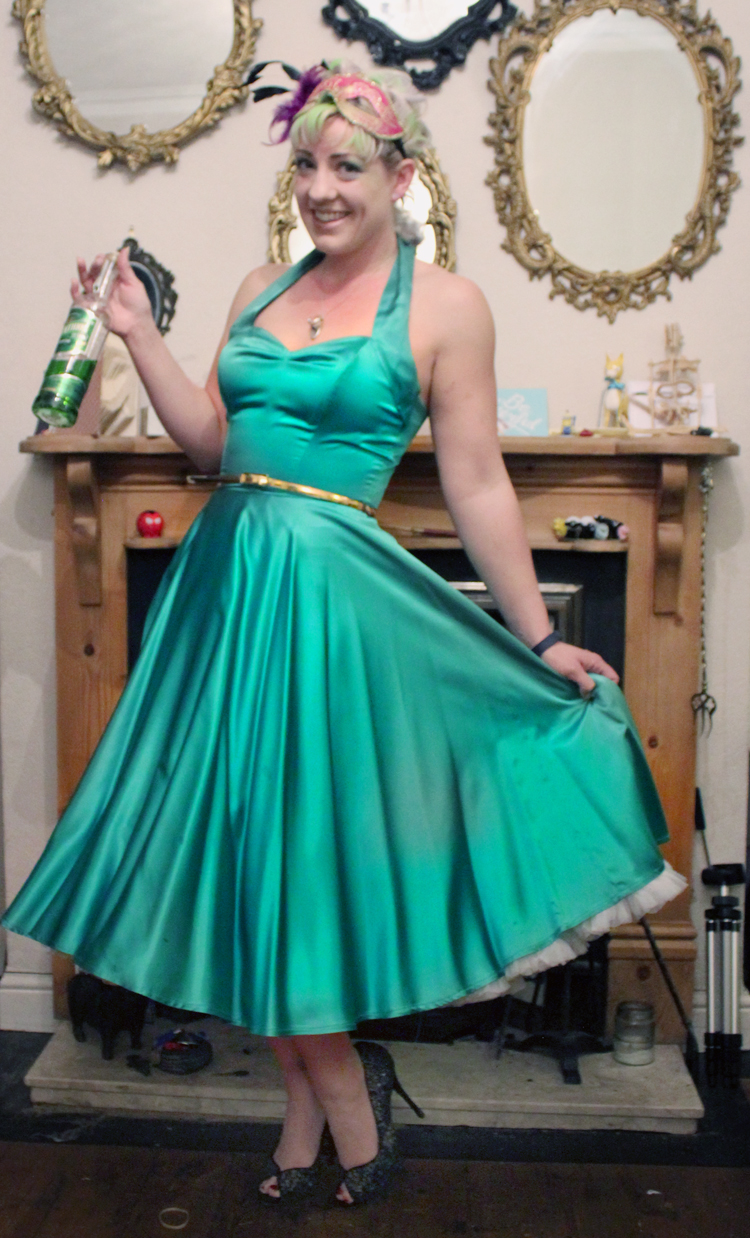 As ever I was in such a rush. I raced home from Roller Derby practice about 3pm and had 2 hours to have a bath, cook a chilli and transform myself into The Green Fairy. The poodle up do was a bit of a rush job, highlighted with green hair chalk, and I added pale green eyes, gold lips, and gold glittery shoes, that you can't quite get the effect of in the photos.
I also had little green fairy wings, but I didn't pick them up till I arrived at a friends house later on.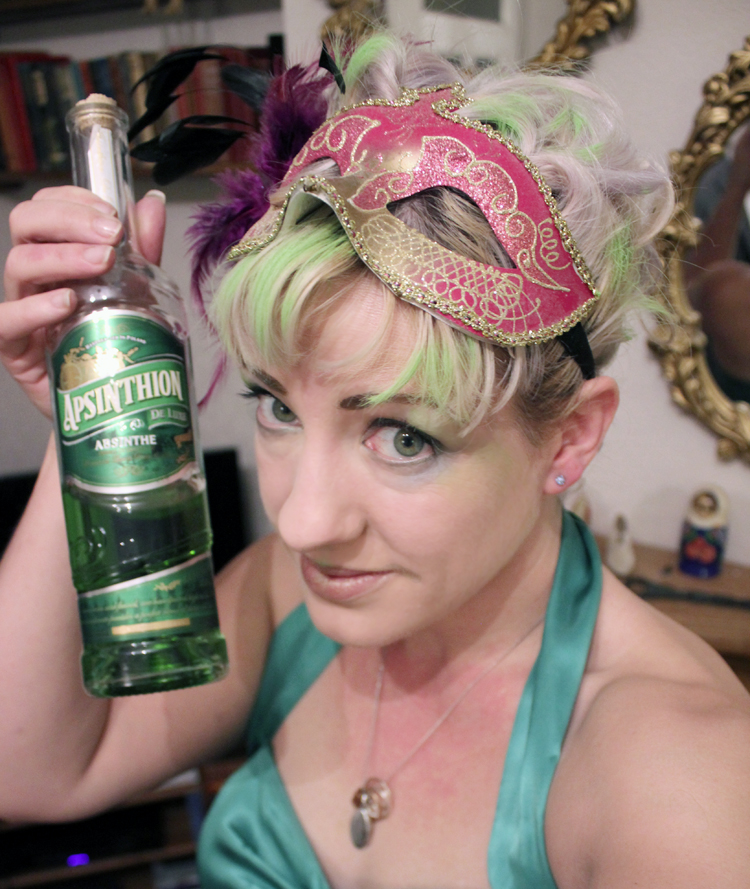 Mr Chicks costume was less successful. When I arrived home at 3pm I found him with my hair dryer, drying copydex on a piece of clingfilm. When I came back down to the front room at 4:45pm, expecting to order a cab as we were meeting people at 5:30, I found him in a filthy mood, surrounded by LED lights, pieces of tissue paper and rolled up balls of Copydex. It seems his imagination a little outstripped what he was capable of in the time constraints available and there were to be no deep dark empty pits instead of eyes with a little glowing LED in them, instead there was a grumpy husband, a room that looked like an explosion in a stationary factory, a spare pair of glasses that will never be the same again and 10 minutes for me to do an emergency "white face/black eye sockets" spooky make up job.
Still, we finally made it out of the house, except Mr Chick had to drive because we were too late for cabs, and then we got a parking ticket because the space we parked in was supposed to be from 6:30pm, not 6pm. So all in all the evening didn't start in a particularly auspicious manner.
I am happy to say that Cocktails, pizza and Burlesque soon fixed that as we headed out to celebrate both Halloween and Betsy Hatters' birthday.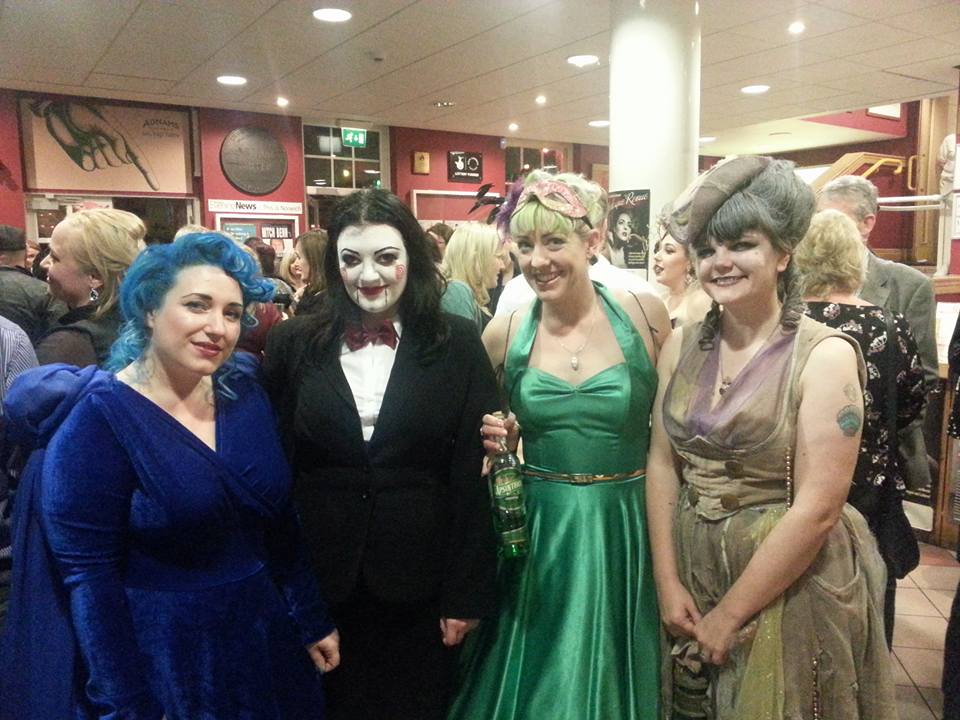 The Missy Malone & Friends Burlesque revue was our destination for the evening, with fabulous compere Des O'Connor, Missy Malone, Scarlet Dagger, Velma Von Bon Bon and Daisy Black, amongst others. They kept us entertained with some spooky Halloween fun.
It was the second time I've seen the Missy Malone show, and it's definitely worth it, if it's travelling near you then pop in!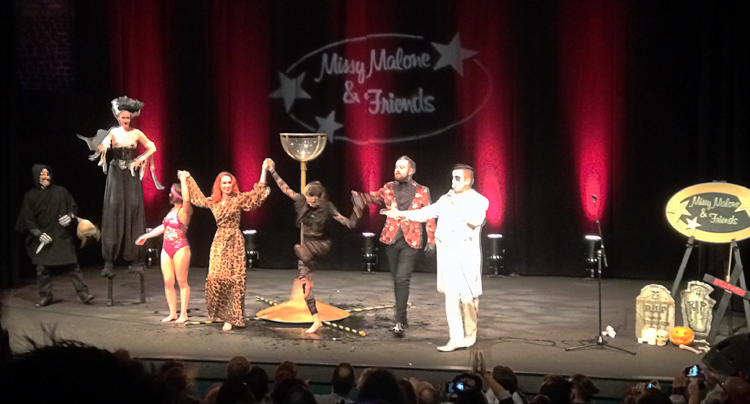 And now normal service is resumed. For now at least, as soon Christmas craziness will be upon us!
How was your Halloween?