Last week when I wrote about my attempts to sort out my weekend diet with Gousto I promised to publish a 2015 food diary, like I did in 2013 and 2014.
In 2014 I gained quite a bit of weight. I'd been hovering around 160lb for quite a while, and trying to lose weight and failing, then I got injured and by the beginning of 2015 I weighed about 173lb, that's over 12 stone, and it was making my activities a struggle. So I started paying more attention to my nutrition, and by August I reached my arbitrary goal of 147lb.
It's worth noting that 147lb still makes me overweight for my height, according to BMI. However, I will assume we all know that BMI is completely useless for measuring an individuals health and just say that this year I have had more energy, got stronger, felt fitter, and actually been pretty happy with my diet at least 80% of the time.
Last week was pretty typical of how I've been eating for at least the last 6 months. The only abnormal things were the fact I started the week with chocolate in the house, and that my husband was away at the weekend, so I didn't order a Gousto box, and ate slightly differently than I might otherwise have.
So, for the nosey amongst you, this is how I'm maintaining that 25lb weight loss. When I was losing weight I was aiming for around 1800 calories a day (but I'll go into that in another post!)
Monday
Well hello Monday! I have found I eat more at weekends, there's dinners out and drinking to be done, so I try and lower my calories for the first few days of the week to make up for it.
Today was going really well till it was slightly derailed by some left over Halloween chocolate, but no biggie!
I'd just joined the Gym, but having given my knee a bash on Saturday I decided to take today off and let it heal a bit, so no exercise was done this day.
Breakfast
Smoothie made with Banana, My Protein Salted Caramel Whey Protein and Apple Juice
Lunch
Chicken Wrap – I make a batch of chicken up which lasts 4 days and then have it in a tortilla wrap with a salad.
500g Grilled Chicken
Half tub low fat cream cheese
Spoonful 0% fat greek yoghurt
Spoonful Salsa
teaspoon hot sauce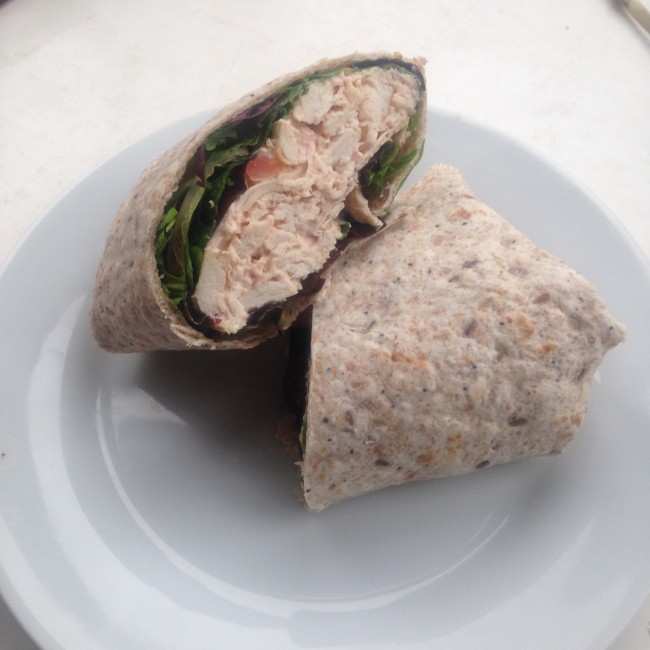 Dinner
Homemade Chilli with Basmati Rice and grated cheese.
Snacks
Reeses Peanut Butter Pumpkin, some Hotel Chocolate Halloween Chocolates
Peanut Hottie Drink before bed
Calories 1905 / Protein 112 / Carbs 174 / Fat 71
Tuesday
Another day with no exercise, but pretty good food wise. I walked to the local shop to pick up some bits for the week and the steak was just there looking all tasty so it might seem a little bit of a luxury, but hey, everyone needs a treat!
You'll notice my lunches are the same most of this week. I tend to bulk cook Chicken at the start of the week and then either have chicken wraps, or chicken with quinoa, hummus and blueberries for lunch. This was a wrap week, obviously.
Breakfast
Smoothie made with Banana, Chocolate Protein powder, almond milk and frozen spinach
Lunch
Chicken wrap
Dinner
Sirloin Steak with a mushroom sauce made with greek yoghurt
Baby potatoes roasted in coconut oil
Broad beans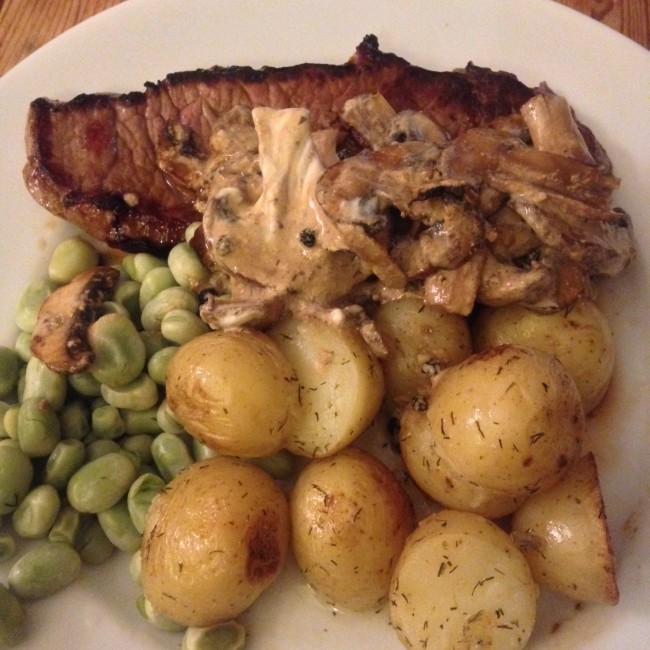 Peanut Hottie drink at bedtime
Calories 1623 / Protein 125 / Carbs 148 / Fat 56
Wednesday
Another pretty normal day in my weekly diet these days!
Today was my first session at the Gym, starting the Stronglifts 5×5 program.
Dinner was a ready meal, because I lacked the imagination to think of anything else to cook for 1 today.
Breakfast
Overnight porridge topped with Blackberries and Peanut Butter
40g Oats/20g Chia Seeds/25g Chocolate Protein Powder/200ml Skimmed Milk left overnight in the fridge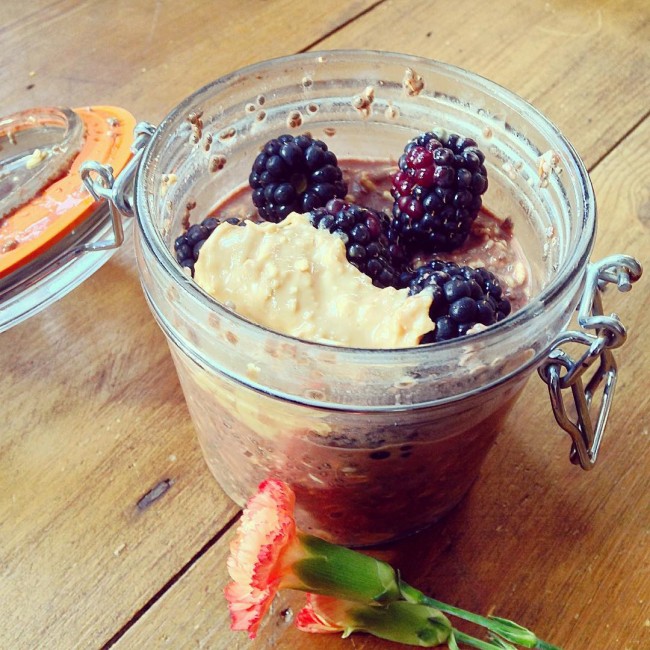 Lunch
Chicken Wrap
Dinner
Weight Watchers Chicken & Lemon Risotto Ready Meal
Egg fried in a teaspoon coconut oil
Broad Beans
Dessert
Alpro Dark Chocolate soya dessert with 2 teaspoons Chia seeds mixed in.
Peanut Hottie drink at bedtime
Calories 1657 / Protein 119 / Carbs 172 / Fat 50
Thursday
Thursday is Roller Derby training day. I train from 6:30-10pm, so it's quite a long session and I normally have the pre workout bar in the first break as it has caffeine in it and perks me up. In the second break I need a bit of a pick me up and have a gel as I can't face food by then. This week I also had some sports drink I'd been sent to try.
After practice I went to the pub with my husband. He'd been away all week so it was nice to have a catch up over a bottle of wine!
Breakfast
Ham & Eggs with guacamole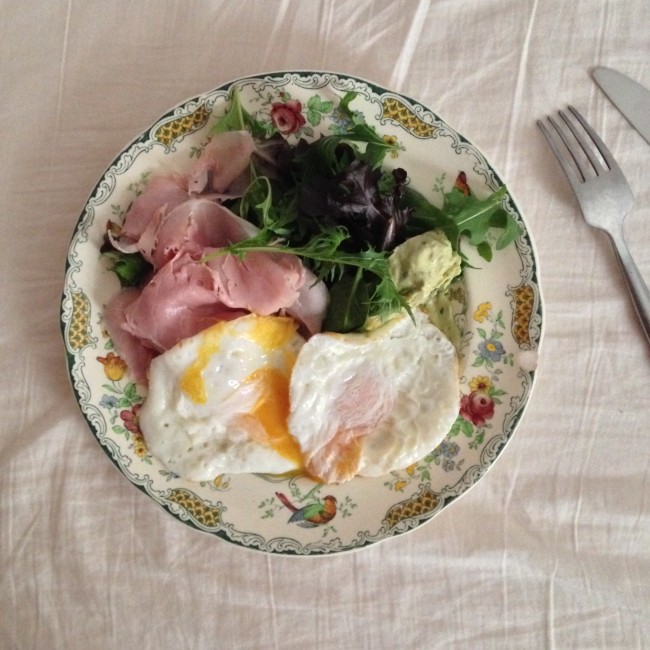 Lunch
Chicken Wrap
Protein Powder coke float (mix a spoonful of vanilla protein with diet coke, it's a lush treat, honestly!)
Dinner
Store cupboard Chow Mein
Stir fry frozen king prawns, frozen oriental stir fry mix and fresh chestnut mushrooms with coconut oil and some soy sauce. Add straight to wok noodles and half a sachet of chow mein sauce. Sprinkle with sesame seeds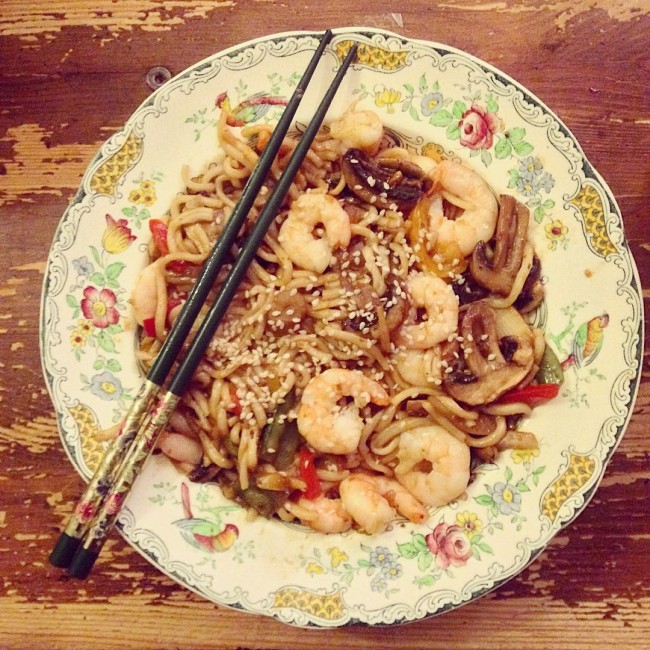 During Roller Derby Practice
CR7 Drive Sports Drink
My Protein Pulse bar
Gu Energy Gel
Post Derby
Bottle Wine
Peanut Hottie drink before bed
Calories 2268 / Protein 117 / Carbs 209 / Fat 47
Friday
Back to the gym today and felt a bit peckish, so grabbed one of the pre workout bars to eat on the way down.
I had planned to cook Gammon steaks today, but it was Friday and I was tired and ended up ordering a pizza from local delivery company and makers of the best Pizzas ever, Voodoo Daddys.
Breakfast
Smoothie made with an apple, blackberries, almond milk and protein powder
Lunch
Cheese and Coleslaw Roll
Dinner
Ordered a pizza (oops)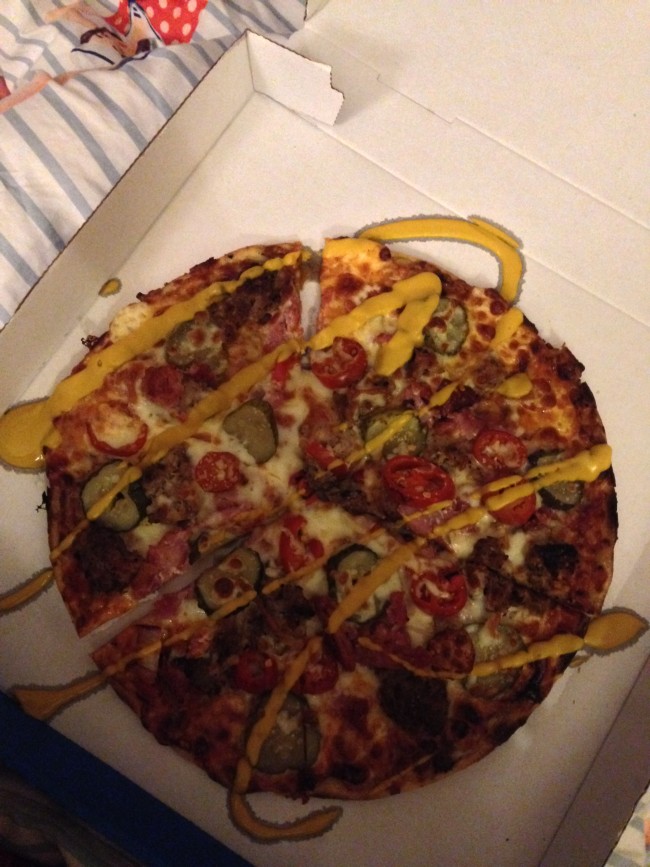 Snacks
My Protein Pulse Bar (pre workout)
Peanut Hottie before bed
Calories 1946 / Protein 94 / Carbs 226 / Fat 74
Saturday
Today is a perfect example of why I started ordering the Gousto boxes! I had practice in the afternoon, then came home and didn't have anything in the house I fancied eating or that didn't need defrosting. I had to go into town to run an errand and thought I would pick something up. I then ended up going straight to the pub for a friends birthday, so grabbed a couple of Sushi snack packs to keep me going, then came home at 10pm and ate a ready meal. Organising a sensible dinner before I went out would have been much better!
Breakfast
Overnight oats and chia seeds topped with banana and peanut butter
Lunch
Chicken Wrap
My Protein Pulse Bar
Dinner
Tesco Finest Bourbon Pulled Beef ready meal
Light Halloumi
Spoon coleslaw
Snacks
2 sushi snack packs
Drinks
3 pints Bitburger
Calories 2985 / Protein 142 / Carbs 263 / Fat 88
Sunday
Today I cooked that meal that I meant to cook on Friday night, and very tasty it was too! Today should have been long run day, but considering Mr Chick was just back from a long drive and didn't want to, and I'm not the one with an impending Half Marathon, we gave it a miss.
Breakfast
Smoothie made with banana, chocolate protein powder, cocoa nibs, almond milk and 0% fat Greek yoghurt
Lunch
2 hot bacon rolls with coleslaw
Dinner
Gammon steak with fried egg, roasted baby potatoes in Coconut oil and broad beans
Drinks
Bottle Wine
Calories 2092/ Protein 87 / Carbs 145 / Fat 66
According to My Fitness Pal I averaged about 2068 calories a day this week, which is actually about 100 calories lower than my maintenance goal. I averaged 42% Carbs, 32% Fat and 25% Protein. Protein was slightly lower than goal, but not too bad. I've actually just upped my protein goals a little now I've started Stronglifts.
Last time I did a food diary I was aiming to have at least 3 alcohol free days a week. This week I had 4, and most weeks I have at least 3, so I drink far less than I used to! I could probably do with throwing a few more veggies in there, and planning my weekends better, but I think I'm definitely getting there!
I actually weigh in on Fridays and this week I lost 1lb, so my maintenance macros are still being perfected, and I might be able to eat a little more on those first few days of the week! I generally don't feel hungry or deprived, and quite a few of my extra calories are still coming from alcohol (1750 last week, or around 250 a day) but just think how much amazing energy I'd have if I was eating those instead!
Related