Todays outfit is the product of another rummage in the bottom of my wardrobe.
Having lost a bit of weight this year has made me sad that some of my favourite clothes don't fit me any more (I'm selling some stuff on DePop Market), the positive upside of that is that some clothes that I had been trying to sell because they were just too tight to be comfortable now fit me like a dream. Over the Summer I had a rummage through the bottom of my wardrobe and rescued a few Summery things. Today it was time to rescue a few items of colder weather clothing.
This skirt is one of them. It's a 1970s pleated skirt that I bought on a trip to Leamington Spa a couple of years ago. At first it was just a fraction tight, then it blatantly didn't fit at all, so I put it up for sale. No one bought it, and now it fits so it's mine again.
It's perfect for a 70s vibe for Autumn with a polo neck and beret. It feels just a little bit Faye Dunaway in Bonnie & Clyde.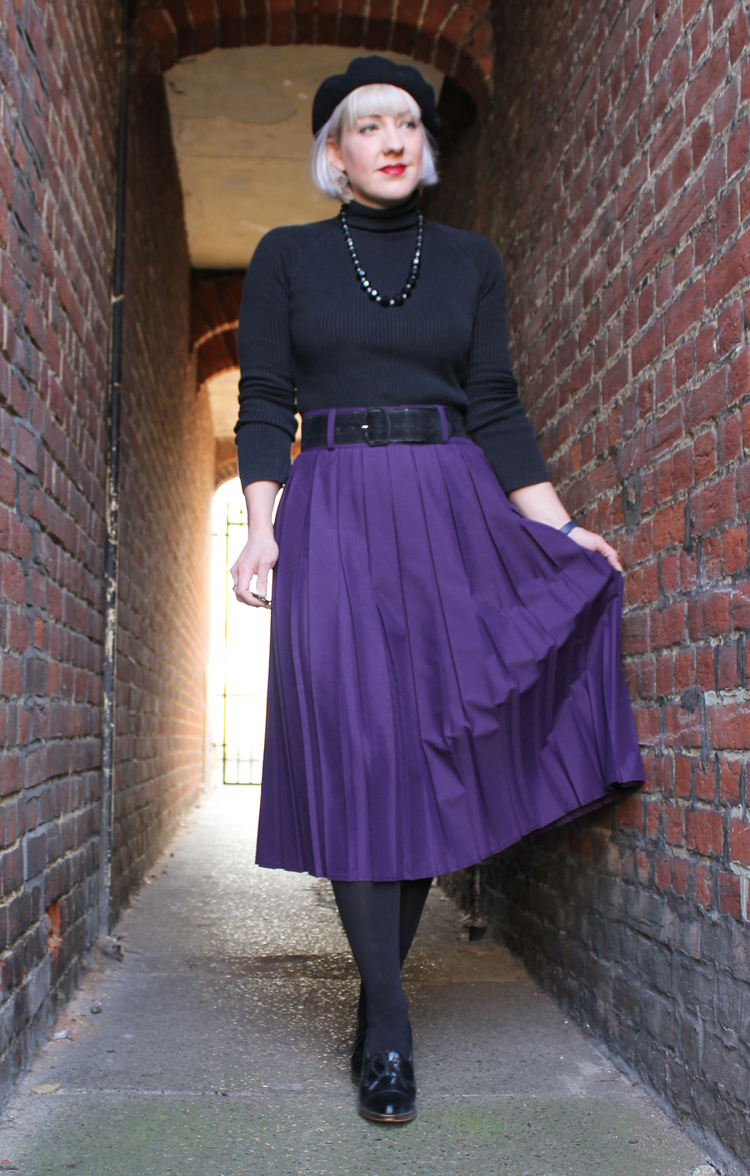 The necklace is a lovely faceted string of black and clear beads that used to belong to my Nana and I love wearing it over a polo neck. It also has matching earrings, though I normally wear those separately. I should try them all together in a glam evening look.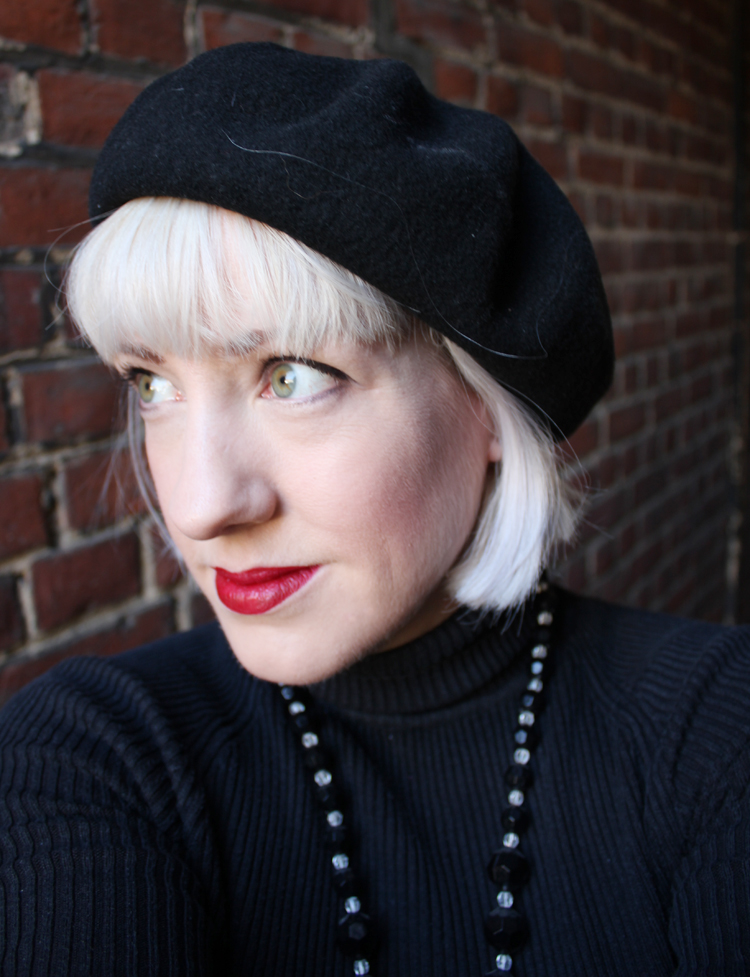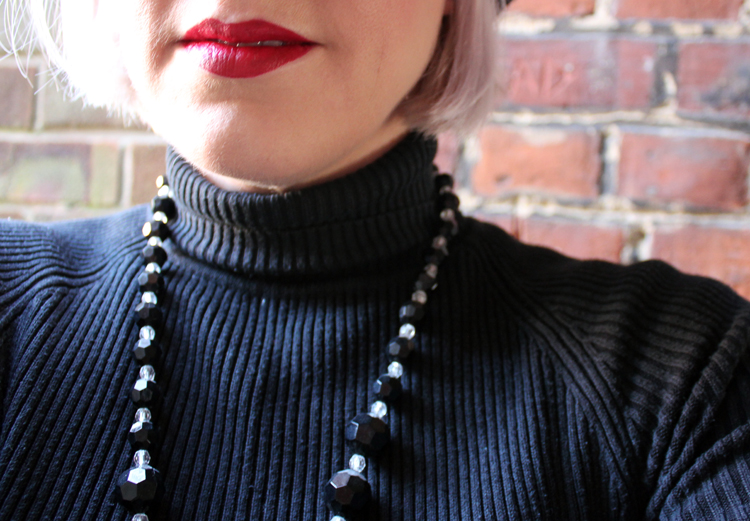 Also newly rescued after a rummage through the bottom of my wardrobe are these shoes. They have very high heels and a lace up front and they were my absolute favourites back just after I started my blog (I'm wearing them here in 2009!), then they needed reheeling and they joined my pile of "shoes I will get reheeled someday" never to be worn again.
Well, today I picked them up and it turns out that at some point in the last 6 years I DID get them reheeled, and then promptly forgot about it, so I can wear them again. Hurrah! Now to tackle the rest of the pile.
Other things I found during my wardrobe rummage included a box containing 4 pairs of knee high boots dating from around 2004-5 (and one pair that I think I actually bought around 2001). I had completely forgotten about all of them. 3 of the pairs have toes so long and pointy that I felt like a clown when I tried them on. Apparently that must have been a thing in the early years of the 21st Century, who knew. I could get rid of them, but it seems like I've had them so long now that if I keep them another 10 years pointy toed clown shoes might come back into fashion.
Regular readers with good memories might notice I am back in the alley behind my house for these photos. I haven't taken photos out there since August when I had my second encounter with my neighbour with the bike, but I decided I was ready to risk it again.
My face came out blurry in a lot of the photos, I think because of the angle of the tripod, but I'm not taking them again because frankly I was terrified of bumping into more of my neighbours. Everytime I heard a noise in the street behind me I have photos of me doing this.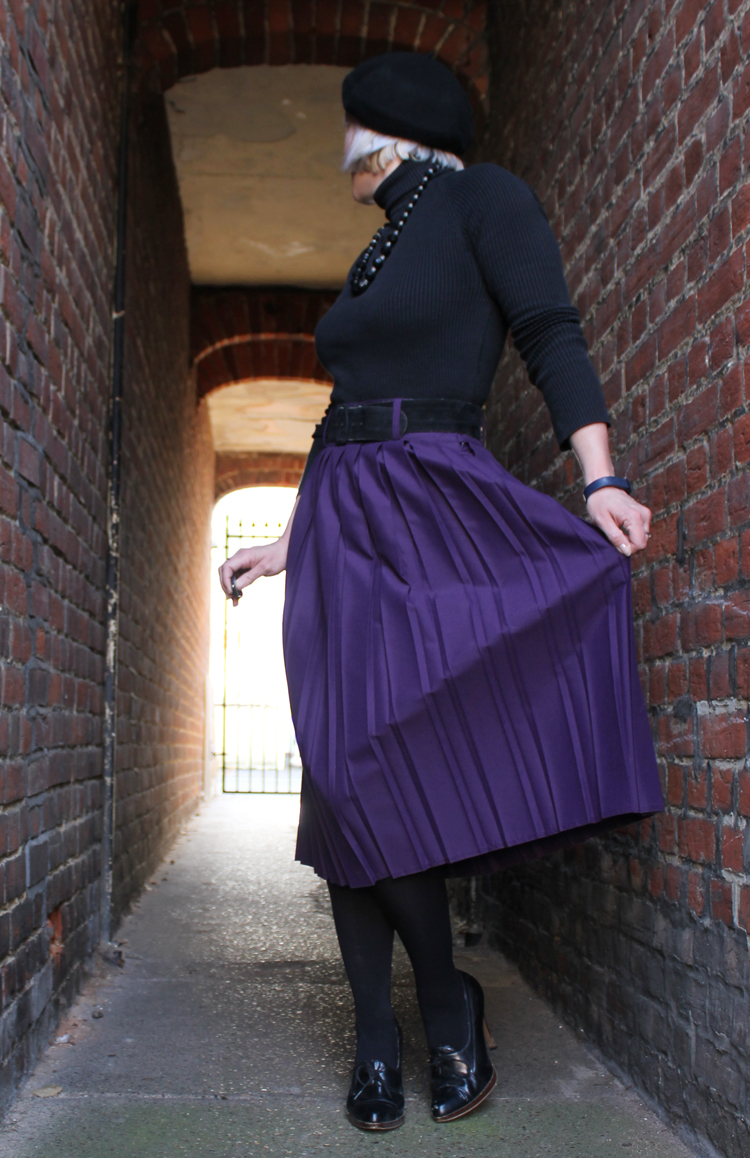 Lurking in dark corners in a beret, I feel like I should be a spy waiting to exchange top secret military documents. If neighbour with a bike had spotted me today maybe that's what he would have thought I was up to? Or maybe he'd have thought I was a burglar. Personally I'd wear flat shoes if I was going to burgle anyone, but in films female cat burglars always wear stupidly high heels, so maybe they're more practical than I thought?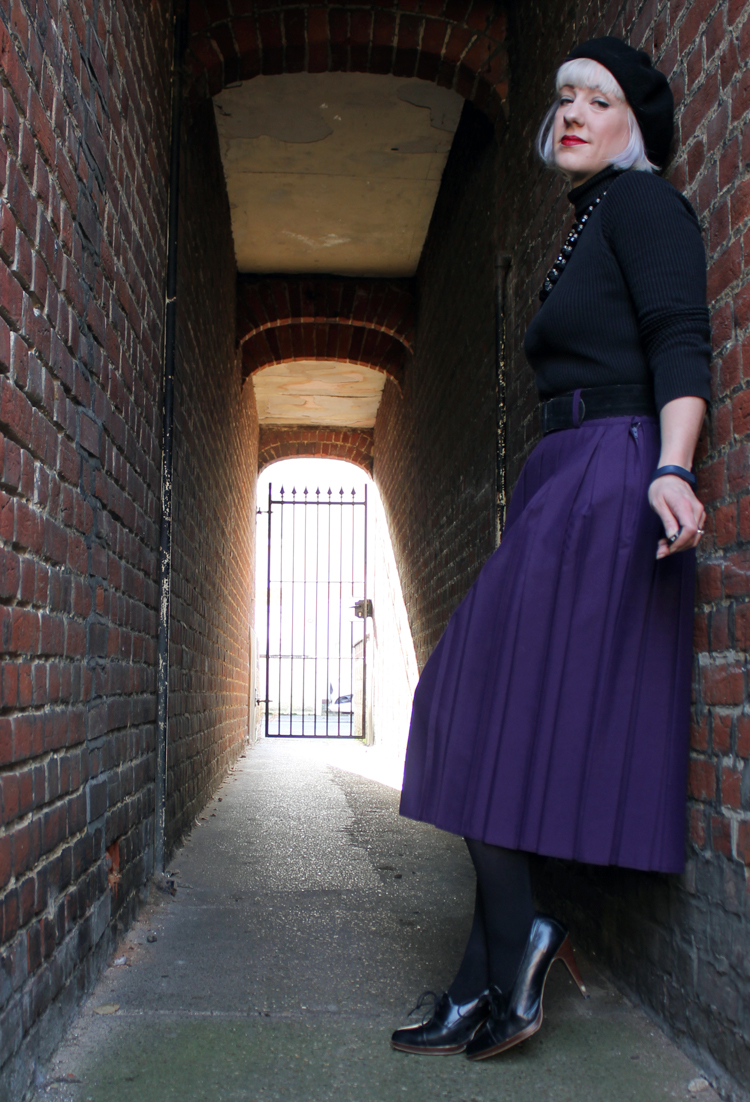 And now I'm rambling! I'm very happy with todays rediscovered outfit. Shopping in my wardrobe is definitely a winner!
♣ Beret – Tiger ♣ Necklace – Vintage from my Nana ♣ Polo Neck – Next, very old! ♣
♣ Skirt – Vintage ♣ Shoes – New Look ♣