I didn't used to be great at accessories.
I carried a bag and I wore shoes. Occasionally I'd wear a bit of jewellery, but that was about as far as I'd get. Over the years I started to realise just how vital they were to putting an outfit together. Eventually you stop thinking about them as accessories and just think about them as part of your wardrobe.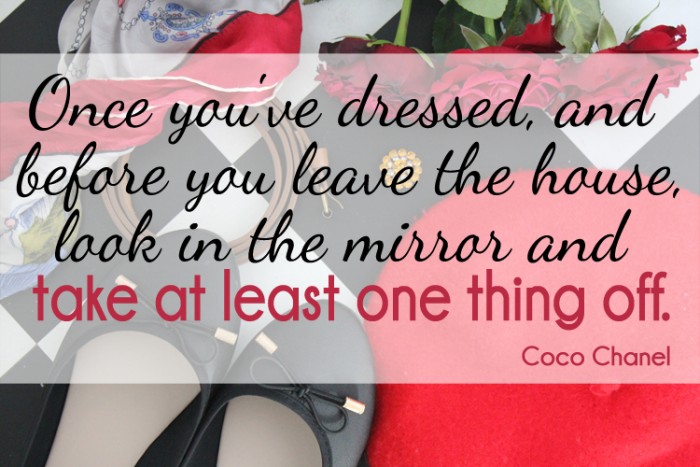 Coco Chanel was the Queen of chic, minimal fashion, and of course it is possible to over accessorise, but I blame this quote for making generations of Women scared of accessories, which means often they don't bother at all.
People have told me that they don't know where to start with accessories, but never fear, Retro Chick is here to give you some top tips!
Lets start small, we don't want to freak out the novice accessoriser after all. I've gone for my top 5 accessories, there's other things I'd put a little further down if I was doing a top 10, but this is a good place to start.
Belts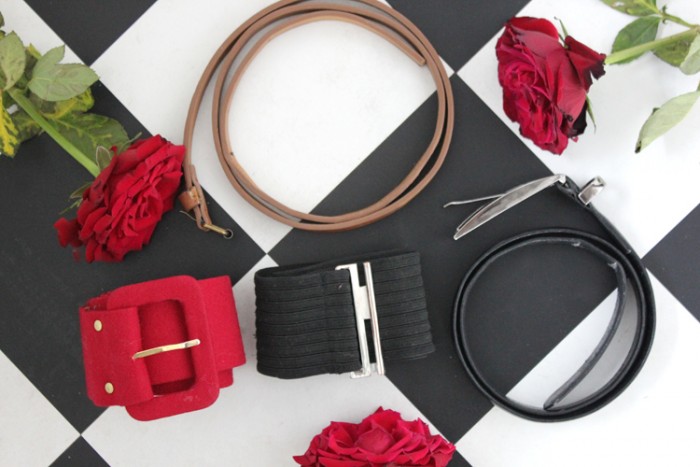 Lets start simple, with belts. I didn't actually own more than one belt for years, and that was solely for holding up my jeans. Then suddenly with a flash I realised how useful they were. Start with narrow or medium belts in black and brown. These are great for adding definition to the waist of a dress, which is a technique I use a lot (see here, here, here and here, just for starters!). Then maybe try some wider belts, either elastic, or like that ASOS Obi Belt that I wear all the time.
Once you've dipped your toe in the belt waters and realised how useful they are as a styling feature, and not just for stopping your jeans falling down, you can experiment with a bit of colour. I've found red, white and gold the most useful, but it depends what colours you have most of in your wardrobe!
Berets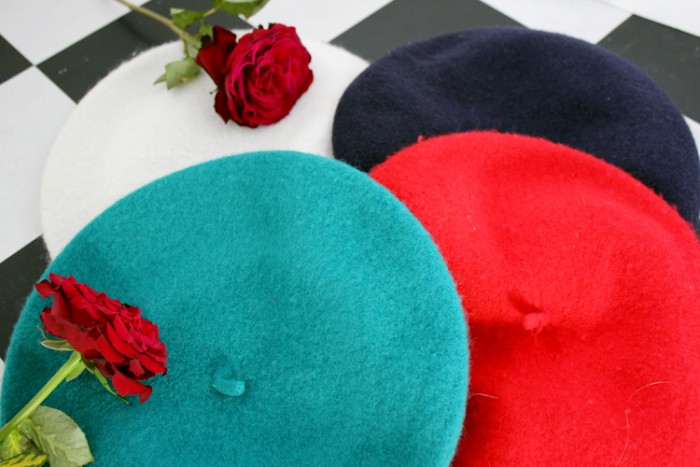 Getting just a little more advanced here, but for Autumn and Winter you can't really beat a beret. You can pick them up in a gajillion colours for next to nothing on eBay, they cover up roots and unwashed hair if you're in a hurry, and protect your barnet from force nine gales.
I promise once you start wearing them you'll be hooked! If you need some help to get started, then this post on 3 ways to wear a beret is a great place to start experimenting.
Start with black and white, then add in some bright colours. Red is a good one as it goes well with black. My favourites are also navy blue and green.
Scarves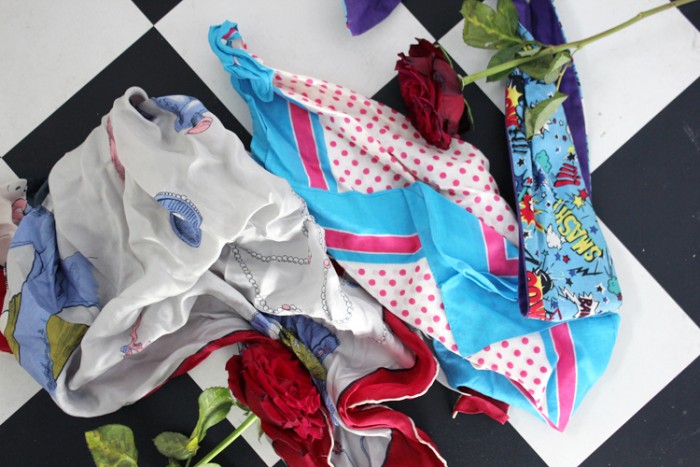 What berets are to Winter, scarves are to Summer. Cover your hair, keep it off your neck on hot days and add a splash of colour. There are many different ways to wear a headscarf, so play around and find what suits you! You can also tie them round your neck, or if you have one big enough turn it into a lightweight cover up.
I'd suggest starting with a cotton square, like a bandana, which are dead cheap on eBay. You can tie it round your neck, fold it flat to wear as a rockabilly headband, or tie it like a 1940s headscarf or turban. Those longer, thin flat scarves, like these ones from Bad Kitty are also handy as headscarves in Summer. I pin my hair up at the neck and use them to cover it up and keep it off my shoulders.
Larger square scarves in silk and polyester are easy to pick up from Charity Shops for next to nothing and make great neck scarves or head scarves.
Brooches
Heading into the world of jewellery, I think brooches are vastly under rated these days. Small brooches like the frog, the snowflake and the orange brooch (which was my Nanas) can be pinned to a beret for a bit of interest, or on a blouse collar. Larger brooches like the Flamingo and the Parrot can be used to add a bit more dramatic interest to a simple outfit, like a little black dress. Mim of Crinoline Robot once wrote a post for me with some great tips on placing of vintage brooches to create different looks
I've worn diamante Art Deco pieces pinned to the neckline of an evening dress instead of a necklace, and, of course, used them as decorative fasteners to turn a regular cardigan into a wrap cardigan.
Bracelets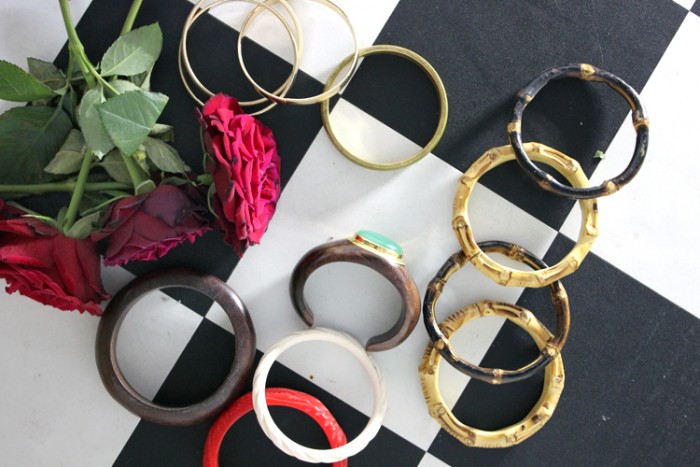 Last on my list today, is the humble bracelet or bangle. I particularly like to wear them stacked with Summer Dresses, but a single slim bracelet or a chunkier cuff like the one with the green stone can look very elegant with a 3/4 sleeve top.
I started with a selection of 3 white, green and gold slim bangles that I bought in a charity shop. You can often find them bundled together in high street shops like this, or this. The bamboo bracelets were also a total essential last Summer, if you have a Summer dress that is even vaguely Tiki or Tropical, they're a great finishing touch.
One tip. Bracelets aren't for the office. There is nothing annoying than trying to type while a bracelet repeatedly bashes on the desk.
Do you accessorise much? Are there any other essentials you'd add?
Related