I know blogging is my job, but sometimes I do stuff just because I think it might be fun.
This is one of those things.
I get an awful lot of emails asking me to do stuff. They fall into 4 camps. The fun stuff that I am interested in and comes with offers of reasonable payment or compensation (my favourite), the completely irrelevant, spammy or unconnected to my blog stuff that comes with offers of reasonable payment or compensation (Not so keen on these, they are tempting when you're skint, but you know you'll regret it), the completely irrelevant, spammy or unconnected to my blog stuff that people want me to do for free or very little (*DELETE*) and the stuff that doesn't come with much in the way of compensation but sounds kind of fun. That last category is one that occasionally I dip a toe in and today is one of those times.
House of Fraser got in touch and asked me if I wanted to take part in their #MyStyleMyDress campaign. They wanted to send me and several other bloggers a Vero Moda t-shirt dress and get us all to style it, and then share our posts on the same day (today, in case you hadn't guessed). I said yes, because the dress was something I would probably never buy myself in a million years, unless it was to wear in bed, and I somewhat bloody-mindedly thought that it would make a fun challenge to see what I could do with it.
The dress in question is the Vero Moda boxy shape t-shirt dress. It is basically a long t-shirt, with gorgeous full sleeves.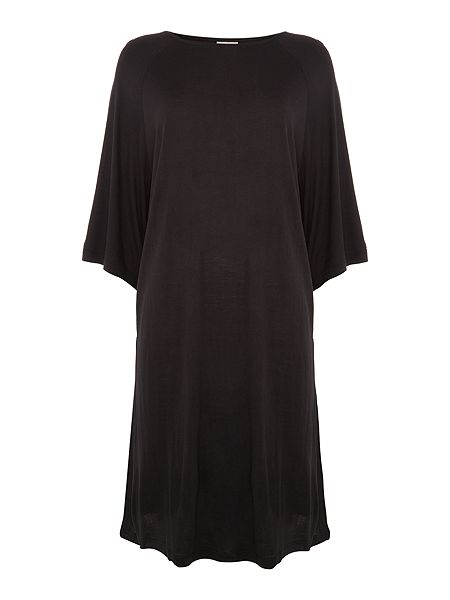 I will tell you now, worn as a simple jersey t-shirt dress this looks utterly hideous on me, as I knew it would. I cannot wear boxy shapes. I have always been a firm believer that with a bit of imagination and flair you can make a decent outfit out of anything, whatever your shape or size, but for a bit I did think I might have met my match.
I considered wearing it over jeans, or tucked into a skirt as a top, but that seemed a bit like cheating. I'd been sent a dress to style and a dress I was going to style.
In the end I took my new-found short skirt bravery and created a bit of a 1920s inspired look.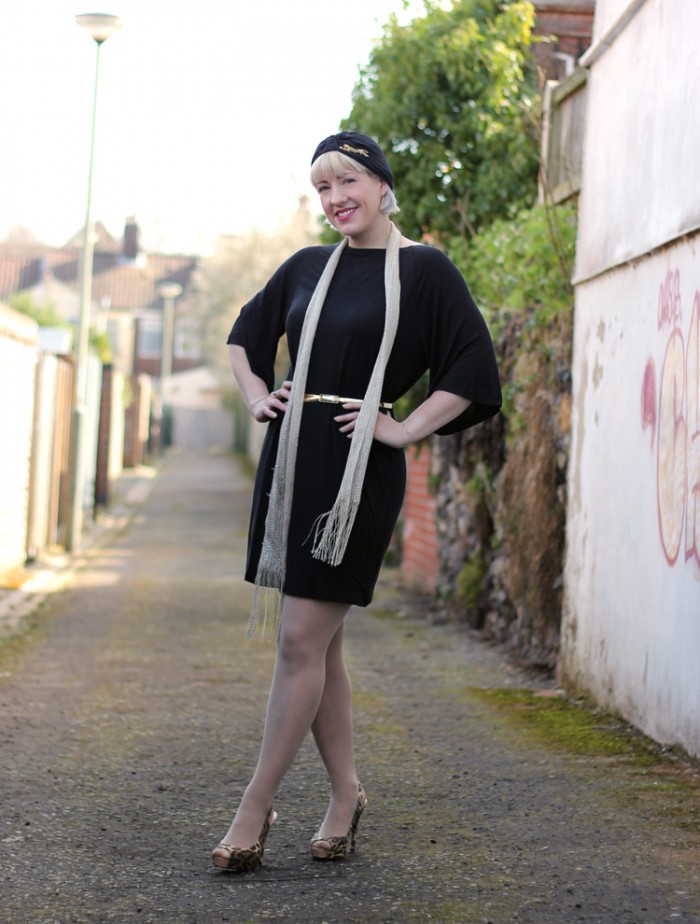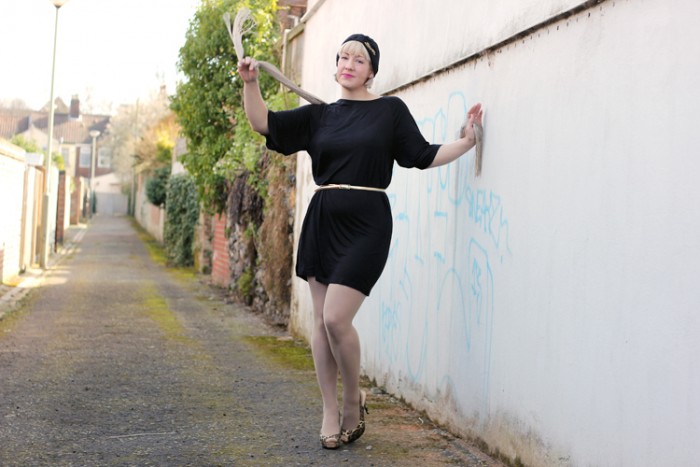 I was thinking kind of 1920s Bohemian artist, all Kimonos and fringing and tassles and turbans.
I got rid of that boxy shape by adding a gold skinny belt, and wore ridiculously high (and not at all 1920s, I said INSPIRED) leopard print shoes with a gold scarf and turban.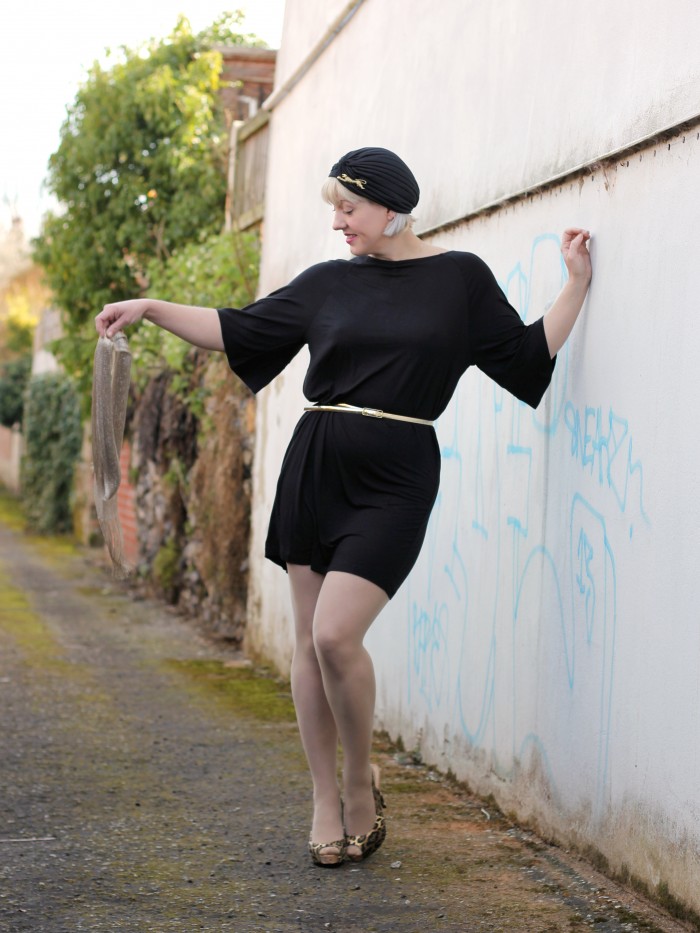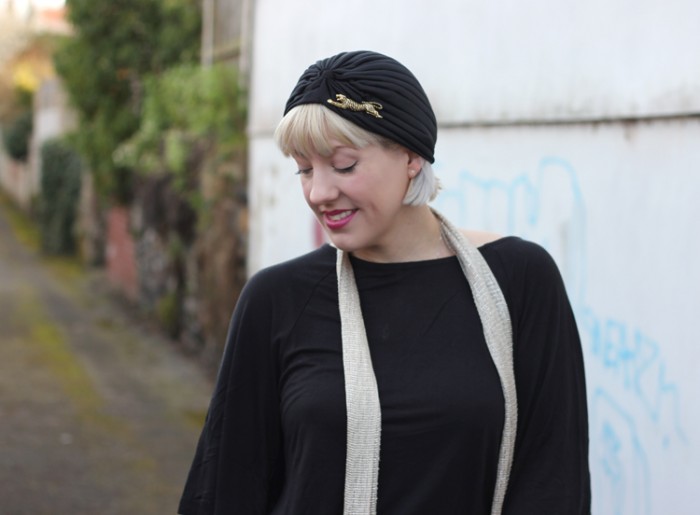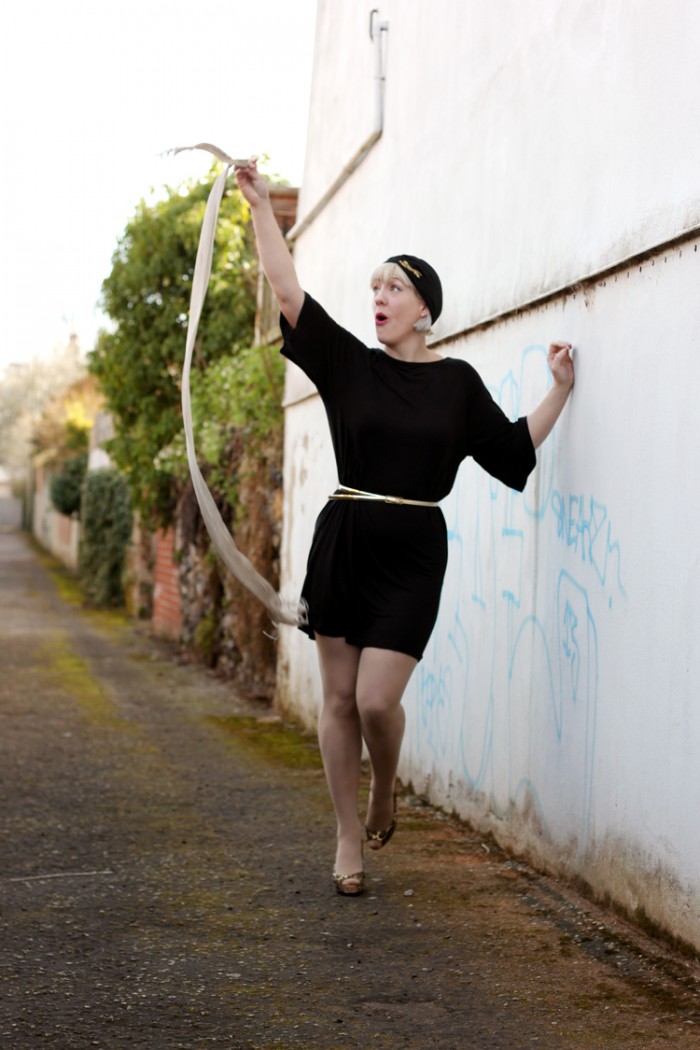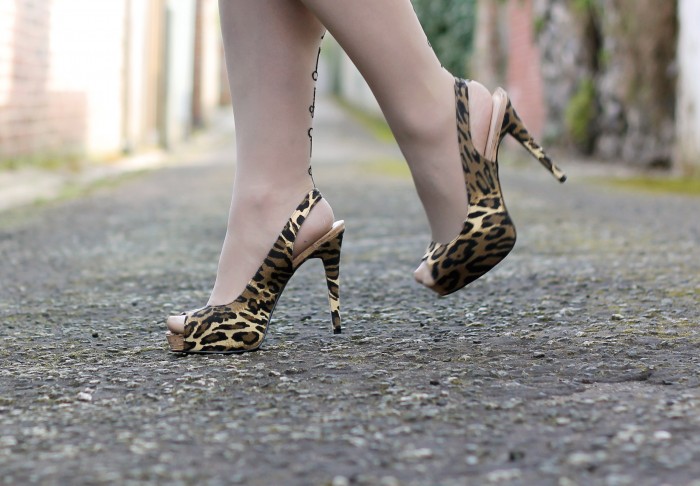 Really I wish I could have photographed this in a dimly lit cocktail bar while sipping a Martini, but there aren't any of those within 5 minutes walk of my house, besides, the light is always terrible in Cocktail Bars, so lurking in alley ways it will have to be!
♥ Vero Moda Boxy T-Shirt Dress c/o House of Fraser ♥ Scarf – Topshop ♥ Belt – Vintage ♥
♥ Turban – eBay ♥ Brooch – Vintage ♥ Shoes – Guess ♥