I'm going to be honest with you. Right now I'm so tired, and maybe just slightly hungover, that my eyes are a bit blurry.
I'm  a person who really values regular quiet time. Early nights with a book and a hot chocolate, quiet evenings in front of the TV, a lazy afternoon with nothing to do. So for some reason I decided it was a good idea to sign up for 3 Roller Derby games this weekend, AND a promotional pub crawl. The last of those games is approaching this afternoon, so if I make it through till 5pm I can binge on The Walking Dead whilst wearing pyjamas.
Oh yeah, and please don't spoil the latest series of The Walking Dead for me, since it finished on TV I've been dodging spoilers left, right and centre. Don't be that person.
Still not all of my week was so hectic,
This week I….
Had a Roast Dinner

Yes, that's right, it was a nice enough roast dinner to warrant a little headline all of its own under my weekly highlights.
The White Lion pub on Oak Street in Norwich is a little out of the way, but does gorgeous roast dinners on a Sunday, complete with huge yorkshire puddings, which are essential on any roast dinner. I strongly disapprove of anywhere that only serves yorkshire puddings with roast beef.
They also do a nice range of real ales, it's a proper pub. I like it.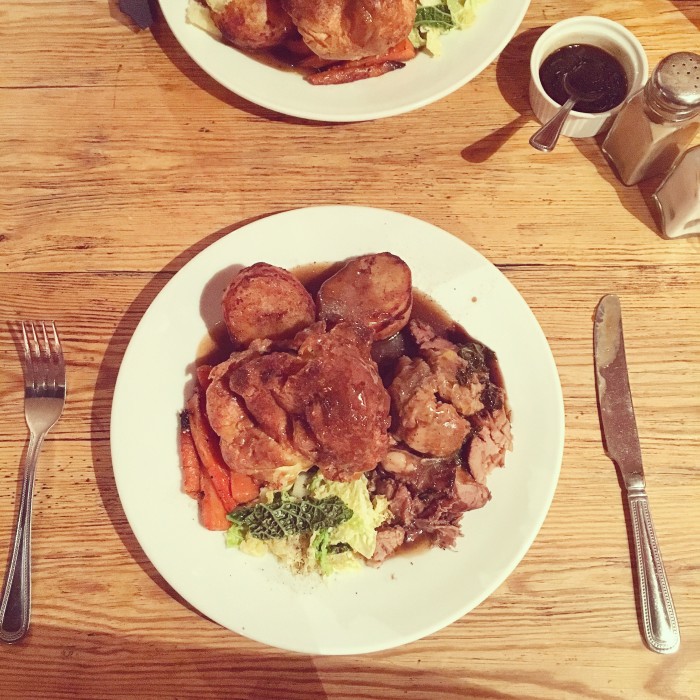 Had some of that Quiet Time.
And failed at it quite badly, to be honest.
On Tuesday night I was home alone and thought it was the perfect opportunity to go to bed early and watch Netflix on my laptop with a glass of wine. Like proper indulgent and relaxing.
Mr Chick had been trying to persuade me to watch a film called Still Life for some time, so I thought now would be the time to watch it. Afterwards, while I was gulping down sobs with a puffy face and stuffed up nose I reflected on what a bad decision that ultimately turned out to be.
These are my teary eyes, with no make up on, crying my little heart out at home alone. Don't look at it too long as it will sear itself onto your retinas and you won't be able to unsee it.
This photo was taken to remind me never to listen to movie recommendations from my husband again.
Afterwards I watched Frozen, it was much nicer.
If you want more suggestions of things to watch on Netflix that won't all make you cry, then that was Fridays blog post!
Found out Starbucks made their cups Pretty
I'm not entirely sure that does warrant a headline of its own. But anyway, they're so cute! They have birds and flowers on them!
Hopefully this picture of a cup will help you forget the trauma of the huge photo of my crying eyes!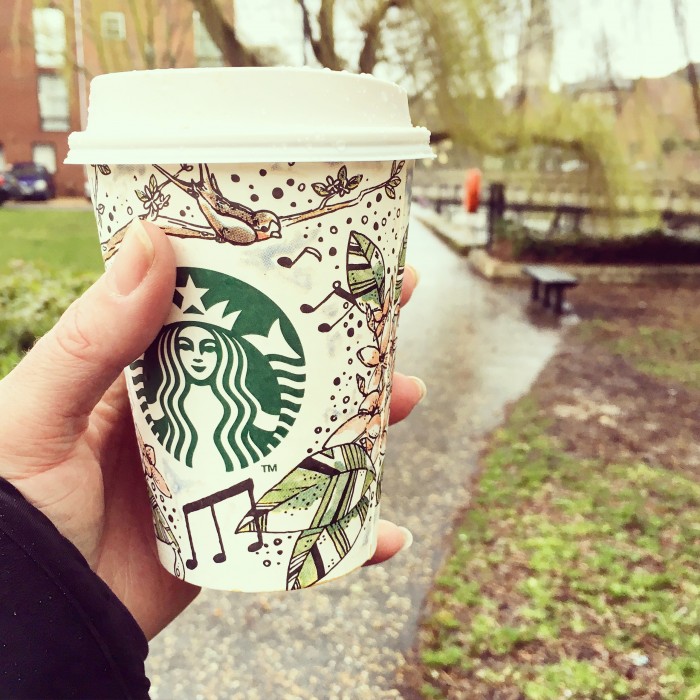 Went First Class
I love it when the first class tickets to London are only a few quid more than the regular tickets. For free WiFi, coffee and biscuits it's totally worth it.
Plus the seats are big and comfortable and there are now plug sockets in the new carriages.
When I got to London it was to play my first ever Roller Derby game for my challenge team, Team Wheezy, for asthmatics. We played against the Mother Blockers (for, er, Mothers) and we did a win.
It was also great fun, and Asthma UK came along to do some filming, so I'm hoping there will be some cool video soon!
Played More Roller Derby
Yep, Saturday was yet another Roller Derby game against Rebellion with my team the Norfolk Brawds, which we also won.
Followed by a pub crawl to promote next Saturdays game, you should come, it'll be fun, there's a bar, and food, and some stalls selling awesome stuff.
Mourned my FitBit
Sorry to end todays post on such a sad note, but we should all take a minute to mourn the final sad death of my FitBit Flex. After a few weeks of the battery draining faster than it should it has finally given up the ghost and won't charge at all.
I've contacted Customers Services, so you never know, maybe they will have some last minute resuscitation suggestions that will give it a last shot at life?
How was your week?